Setting-up a business in the early 1990s wasn't easy for a single person all alone. Growing the business was even harder. But that did not deter P Ramsubbaraj, who wanted to set up his own business. Ramsubbaraj along his wife R Saroja Ramsubbaraj set-up their own mill 'GPR Mills' in Pollachi, Tamil Nadu, with 8,264 spindles in 1992. At that time, with a limited budget he could not afford new machines. But as he wanted the best technology, he opted for an old Truetzschler blow-room, DK 803 cards and TD 03 draw-frames.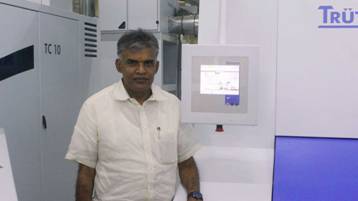 Determined as he was and with strong business acumen, Ramsubbaraj slowly developed a strong base of loyal customers by providing the best quality yarn. As the business steadily flourished and with the reputation and trust built in the market, Ramsubbaraj decided to expand the mill. In 2018, GPR Mills added a new unit of 1,200 rotors spinning 6's to 30's Ne with an average count of 20's Ne. With his long years of experience with Truetzschler technology, the mills opted once again for Truetzschler machinery, comprising latest blow-room line, 5TC 10 cards and 3TD 8 draw-frames for expansion.
"I always wanted to have the latest Truetzschler machines as they are the best and probably that's why I went on to put up a new OE unit. We are absolutely delighted with the excellent features the machines have which no other supplier could give," said Ramsubbaraj.
The unit's technical head N Kumar observed: "The best part of having Truetzschler machines is that one can forget about maintenance hassles and concentrate on production." He was happy that in their Truetzschler installation one can skip the breaker draw-frame passage and still get the desired quality yarn. Elimination of breaker draw-frames not only save space, but also save power and utility costs in the day-to-day running of the plant.
At present, the mill produces 5 tons of yarn per day. Even though currently the yarn is sold in the domestic market, the mill is also planning to export its yarn, as the quality of the yarn produced meets the demand of the international buyers.
Ramsubbaraj complemented the A.T.E. team for the support provided at all times. He was pleased to inform that all his future expansions too will have Truetzschler machines.