The new centralised air handling system for the textile industry: space-saving, efficient, economical.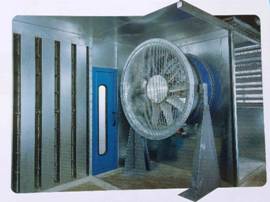 Luwa TexPac centralised air handling system - The solution which is compact, economically efficient and ready for connection
The Luwa TexPac plant system in modular design is preferred solution for use in the textile and other comparable industries to provide air handling, i.e. pre-filtration, fine filtration and air conditioning. The Luwa TexPac is textile air engineering's response to the rapid development in textile machinery design towards high productivity, automation, minimum down times, good cost-effectiveness ratios and the ability to convert production facilities quickly to suit changing market conditions.
Flexibility of application
Luwa centralised air handling units are reusable. They can be completely dismantled and then reassembled at a new location. Their modular design allows subsequent adjustments in application and performance, since further capacity can be installed parallel to the existing unit and/or additional functional units can be attached or even inserted. Maximum independence of building is also ensured, and this is particularly advantageous when the units are installed during on-going production - reduced loss of production during the change-over - with the additional effect of facilitating initial operation since the components are shielded by the housing from any negative structural influences.
Made-to-measure solutions
As a result of the modular design of over 20 functional modules, it is possible to construct centralised air handling systems which are as compact as possible in shape and are individually selected according to the capacity required and the space available. These can be arranged in-line, out-of-line, superimposed, L-shaped, U-shaped or in other arrangements. The design of the functional units is strictly governed by the basic requirements and supplemented by standardised complementary modifications or accessories when there are additional or increased demands in respect of protective coatings, thermal insulation, soundproofing, vibration damping, lighting, safety devices, monitoring, cabling etc. It is therefore possible to individually compose ready-made air handling systems which reduce expenditure in cost and project engineering effort, especially in the areas of civil construction and building design, and provide the necessary transparency so that costs can be ascertained more precisely.
Ease of maintenance/ operational reliability
The Luwa TexPac functional units are designed for continuous operations, trouble-free as far as possible and extending to 8500 operational hours per year, as is required by the textile industry of today. We assume here that the Luwa Multi Cell V filter (MCV) is used to achieve the necessary improvement in sealing quality, filtration efficiency and service life and thus keep the plant clean. Further sources of plant contamination such as dusty outside air and untreated and hard water should also be controlled at the point of origin, and we recommend a water treatment plant adapted to local conditions and appropriate filtration of the outside air. A further important feature is the extreme ease of maintenance ensured by the design of the Luwa Air Washer Unit AW.
Design features
The self-contained housing structure is extremely easy to assemble and essentially consists of 2 mm thick galvanized modular steel panels with double turns along the sides and single turns along the ends. Depending on the pressure level these are screwed in directly or reinforced by connecting sections inserted at the sides. The use of 2 mm thick galvanized modular steel panels rather than the usually applied sandwich construction is preferably in regard to noise attenuation and service life. The modular panels in the washer area are made of glass-fibre reinforced synthetic material. The remaining structural elements and components are surface treated, some being galvanized and some powder coated, and those in the washer area are made of FRP materials or stainless steel.
This construction ensures that the equipment retains its longevity and value to a high degree.
Modular design concept
The Luwa TexPac units are based on a modular unit construction concept of standardised Luwa equipment, components and installation elements for services. When built up from the basic units, modular system is specifically intended to allow multiple use of the individual elements in an economical way and also simplification and increased facility in concept definition.
The Luwa Rotary Pre-Filter Unit RPF is used for preliminary cleaning of return air streams heavily charged with waste. The Luwa Rotary Pre-Filter Unit RPF consists of a rotating pre-filtration disc with rotational speed, mesh size and air flow rate selected according to application. The waste collected on the filter screen is removed by suction using a fixed, radially mounted nozzle and conveyed to a disposal plant.
The 5 most important functional units of Luwa TexPac
The Luwa Mixed Air Chamber Unit MC is used to:-
- divide the return air into an exhaust and a recirculated air stream, and to mix the recirculated air stream with the outside air stream
- heat the recirculated air stream as necessary by means of an air heater.
The Luwa Mixed Air Chamber Unit MC is individually assembled, depending on the required air flow rates and damper arrangements (top, bottom, side), from standardised housing elements and components such as air control dampers and air heaters to produce the most compact shape possible.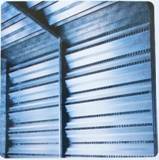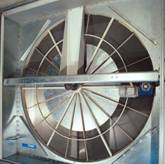 The Luwa Centrifugal Fan Units are used to convey return air. The Luwa Centrifugal Fan Units are constructed from standardised housing elements and components such as a centrifugal fan with blades, black-stop, deflector, collar, safety guard and a height-adjustable bracket with or without vibrations attenuator, depending on the required air flowrates, pressure gain and function. If it is necessary for the air flow rate to be varied during operation, frequency converters or variable speed disc drives can be used for continuous adjustment of the fan speed.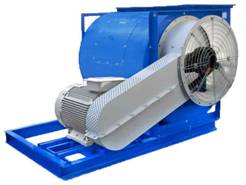 The Luwa Electric Panel EP is built in accordance with IEC standards and is dust-proof. It contains the complete electric equipment, such as main switches, indicator lamps, control switches and relays, and is wired completely on terminals.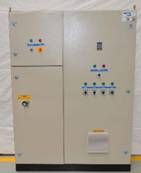 The new MultiCell Filter MCV is build up on these three objectives:
- Simple static and slim filter wall in V-Shape for maximum filtration surface area
- Simplified 2-axis suction robot with only two gear motors
- Larger filter surface area for reduced power consumption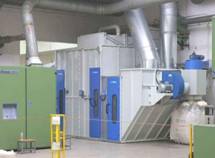 The MultiCell filter is built up as a filter wall in air conditioning stations for the filtration of return air which is contaminated with dust and fibers. The special design with bottom entry filter cells prevents clogging of the filter with fibrous material.
1. Only 1/3 space required compared to rotary filter
2. Shorter A/C stations - smaller service bay
3. Increased filter surface area for energy saving
4. Simple and sturdy 2-axis movement drive of suction nozzle
5. Fast and easy change of filter medium
Typical Drawing of TexPac Plant
The modular structure of the Luwa TexPac centralised air handling unit for automatic filtration and variable humidification with draw-thru air washer is convenient for installation on various levels of a building. Air flow rate may vary from 25,000 m3/h to 500,000 m3/h.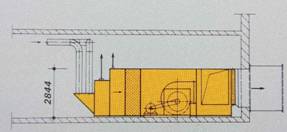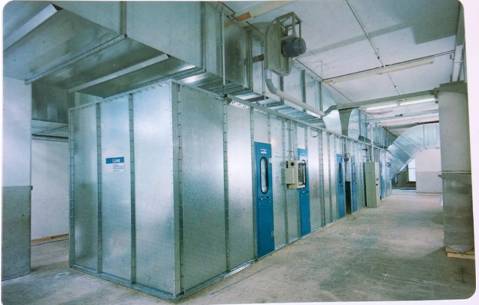 Convincing advantages of TexPac
1. No brickwork chambers required since the construction is based on a modular system
2. High degree of freedom in concept design
3. Short assembly times
4. Can be removed, dismantled and re-used
5. The compact design
6. Minimal space requirement
7. Low power requirement
8. No dirt deposits on floors
Extreme ease of maintenance and operation due to:-
1. Use of stored-programme control system, appropriate instrument indicators and malfunction signaling
2. External visual checking
3. Easy and rapid exchange of filter media
4. Easy replacement of soiled droplet eliminator units and nozzle connections
5. High degree of operational reliability as a result of study construction, designed for extended trouble-free operation
Design changes can be made with minimal need to change the equipment.