The apparel industry worldwide has a problem-that of sizing/fitting. Though the problem is as old as the industry itself is, technology lies at the heart of new-fangled solutions. Subir Ghosh reports.
If it is readymade, it is quite likely that it is not perfect; not for the body at least. And since the fashion industry virtually stands with a backbone made of readymade garments, the age-old problem suddenly appears to be one of imperfection (in the fashion industry). The apparel sector is seized of the issue, and professionals across the value chain are grappling with a worn-out issue that has found a new fabric. Take two relatively recent developments.
In June last year, six major British retailers including Tesco, New Look, River Island and Asos signed up to a new nationwide sizing survey that aims to provide data to help produce betterfitting clothes. The ShapeGB survey was to be the first there in 17 years and meant to create a nationally representative sample of around 30,000 adult men and women. It was to use new body volume technology originally developed in healthcare for the body volume indicator (BVI), which is a modern alternative to the archaic body mass index (BMI). The stated goal was to collect data from across the nation to better understand people who have the same clothing size but are different body shapes.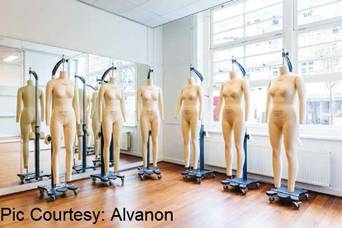 There was an incriminating context here. In September 2016, global professional services firm EY published the findings of a survey of 1,000 online shoppers in the United Kingdom in a report titled Zero clothing returns-Digital future or fairytale? It found that online shoppers returned on average 2.2 items out of every 10 of their clothing purchases. Of these returns, 76 per cent were sent back due to a fit or sizing issue. Similar surveys in other countries, not surprisingly, had delivered similar results.
Back home, in February, the Indian ministry of textiles announced the launch of INDIA size, a national sizing survey to be conducted by the National Institute of Fashion Technology (NIFT), New Delhi to develop a size chart for the ready-to-wear industry based on the body measurements of the Indian population. It was described as a scientific exercise wherein anthropometric data would be collected from a sample population in the age group 15-65 years to create a database of measurements for a standardised size chart that would be representative of the Indian population.
The two represent ends of the same problematic spectrum that has the global apparel industry in the throes of, pardon the cliche, an existentialist crisis.
Diminishing Returns
Sizing has been an issue since mass production of clothing started. And reporting on the sizing problem too has been around for just as long. As more consumers shop online and with retailers offering free shipping, returns for reasons of wrong sizing have become a financial burden on retailers.
So, if sizing-fitting was always an issue, why is it that the subject has suddenly gained currency? There are two reasons to this, with the second intimately related to the first. The fact is that as online sales have been booming, so has been the volume of returns, with most being returns because of ill-fits. According to a 2018 survey conducted by Alphawise, Morgan Stanley Research's evidence-based research arm, product fit and returns are two of the biggest barriers to online apparel shopping. And in many cases, the two are related to a considerable extent. Fit Analytics chief executive Sebastian Schulze puts the problem succinctly: "From a shopper's perspective, nothing else matters if the fit isn't right."
<![if !vml]>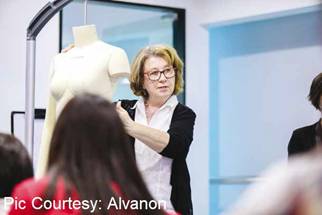 <![endif]>Returns are costly and wasteful for a retailer. As Alvanon senior consultant Emily RobertsonHood indicates, "Getting sizing right in terms of the customer's target market-and effectively communicating sizing to the consumer-is key to reducing costly returns. Brand loyalty can be built through consistent sizing and with a consumer having so much choice in who they buy from, producing a product that is reliably sized becomes important to retaining a brand's customer base."
Things will patently have to change and the demand for a solution is palpable, according to Isabelle Ohnemus, chief executive of EyeFitU. "Since free shipping is here to stay, the best way to ensure fewer returns is to make sure a consumer is buying the right size the first time. As technology plays a role in problem solving, many companies are using unique approaches and technologies to find sizing solutions that work for both the frustrated consumer and the retailer. Personalisation is slowly but surely evolving from a buzzword into an array of effective ways of targeting customers from a traditional customer service to a smart data usage. Sizing is an efficient way of sales and getting rid of dead inventories."
Brand and style preferences, preferred shopping times and promotional enticements have seen returns increase, but as Sarah Walter, chief creative officer at Metail, underlines, "the elephant in the room has been an unstandardised sizing system across the industry whereby consumers find it challenging to purchase clothing that will fit and suit their bodies. In the race to deliver a growing customer base, free deliveries and returns have been offered by many brands, particularly by Western companies. However, this strategy has encouraged multiple-size purchases which necessitate returns and thereby increase operational complexity impacting profits. Return rates as high as 60 per cent are often reported."
There is also the much-hyped "try" angle here, as BodyBlock AI's chief executive, Greg Moore, points out. "In the current market, online shoppers are often forced to turn to a 'buy to try' strategy, in which they order multiple sizes of the same item with the intention of returning the clothes that don't fit. The important thing to note here is that 50 per cent of people have the intention of returning clothes due to poor fit when they are buying-even before they've tried them on. Customers expect poor fit, which is a horrible expectation for any brand. This new customer experience flow has put a huge strain on the entire supply chain and creates huge inefficiencies at multiple levels."
<![if !vml]>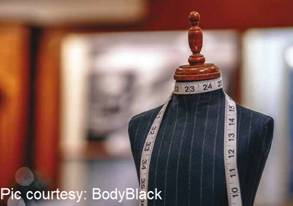 <![endif]>Moreover, online size charts often ask people to measure themselves and to compare these measurements to the size charts. "The reality is most people don't have a measuring tape easily accessible nor do they want to take the time to measure themselves," states Morgan Linton, co-founder and chief operating officer of Bold Metrics. So, in the end, online shoppers end up guessing what size to wear, and since every brand has a different definition of sizing, it's easy to guess wrong. "This leads to shoppers getting the wrong size and having a generally poor experience buying clothes online."
It is not solely a question of experience, but also the credulity of brands in believing that one size should fit all and that there can be only those few advertised sizes. Billy Pardo, chief product officer of My Size, asserts, "We are living in a time where society is pushing for inclusivity across all facets of live. This includes fashion where the stereotype remains a certain type of body shape. The fact is that majority of people on the planet do not fit that stereotype and are tired of seeing their body shape underrepresented both in advertisements and clothes on the shelves."
This poor experience becomes worse for women. As Nicole Levitt, vice-president at Sizer, argues, "Between vanity sizing-the practice of labeling clothing in a smaller size than it is in order to promote sales-and the sheer number of brands producing women's apparel right now, it's nearly impossible for consumers to find their definitive size across the board. Sizing is now a source of epic wastefulness."
This "wastefulness" has another dimension that many inadvertently turn a blind eye to. Declares Ohnemus, "There's now more focus on a brand's carbon footprint. The higher the number of returns, the higher the footprint for the obvious reasons such as transportation and reconditioning. We all need to be more conscientious in a world where online shopping is only increasing. Reducing returns is only a part of the solution, but it's one all brands and retailers should add to their focus."
Yet, it is not that the quandary is going away that soon for those manufacturers who do not change. Linton, in fact, suspects that the issues around sizing would become a much bigger problem in the very near future.
"Right now, only 10 per cent of apparel is bought online; fastforward a year or two from now and that could be 20 per cent or higher. So, issues around sizing will only get worse for brands that continue to use size charts." The problem, therefore, could worsen by the day.
A Problem at Hand
The drawback of sizing-fitting is that of industry's-particularly brands and retailers, with the onus lying more with the former. If all apparel manufacturers would use the same sizing guidelines-i.e create a uniform sizing system that would be a huge help in curtailing crippling returns.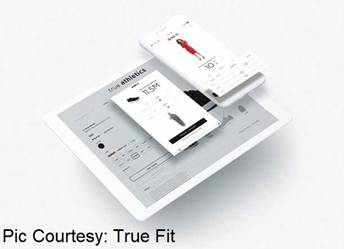 Ohnemus recollects an attempt towards this end being made in the United States in 1941, but it didn't work. Ultimately, she reasons, "brands need to do a better job at understanding and communicating their own sizing from the manufacturing of the garment to the online sale, and then together with a personalised sizing solution be able to offer the consumer the best possible shopping experience. The respect of how a designer intends a garment to fit is crucial for a sizing solution to reflect this."
Metail works on its solutions with the firm belief that every body is unique, and a size16 or size-6 woman looks completely different from another. So, it makes sense that with technological and manufacturing advancements, clothing could eventually be made bespoke to fit each individual. "This vision is not about a Saville Row tailoring experience, but something that offers substantial improvements on what currently exists.
For retailers, their personal connection with the consumer would support onboarding to a process and for manufacturers they would receive more consumer body data to inform the manufacturing of better fitting garments," maintains Walter.
Linton sees two sides to the sizing problem-the challenges that consumers have around finding the right size to buy, and on the manufacturing side that of defining the sizes to begin with. He believes that apparel brands are about to go through a major transformation when it comes to how they make their clothes. "Brands still use fit models and body blocks to define sizing and pattern gradations which, of course, means defining
sizing in the absence of their shopper's body data. So why don't brands use the body measurements of their shoppers? This is due to the previous constraints on available methods for getting body measurements. Historically obtaining shoppers' body measurements has been limited to body scanners which have significant scalability constraints, or taking a picture of yourself with a smartphone which has already been proven to have challenges around online conversions."
Bold Metrics uses artificial intelligence (AI) to accurately predict body measurements algorithmically which removes the cost and scalability constraints of body scanners, and with simple-to-answer questions removes the low conversion rates of photographic approaches. These body measurements can then be connected with garment specifications and return data to drive continuous learning for brands on how their clothes are fitting and how they could better define their sizing. "Fast-forward 10 years in the future and we will see ondemand manufacturing becoming the norm, the changes that are happening now will lay the groundwork for this evolution to take place," predicts Linton.
<![if !vml]>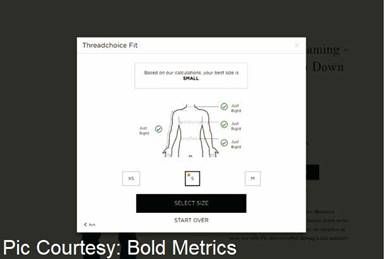 <![endif]>Retailers currently know everything about their prospective audience except for their actual body shapes and measurements-it's the missing link to correcting poor fit. The largest gains for better fit are tied to retention and lifetime revenue. A study by BodyBlock AI found that 89 per cent of shoppers would buy more clothes from a brand if the first item they ordered fit. This statistic dwarfs return numbers, indicating that each brand has the potential to nearly triple their revenues per customer if their clothes fit better. BodyBlock AI, according to Moore, plans to revolutionise manufacturing by enabling brands to make clothing sizes representative of their actual prospect base, which will directly impact customer satisfaction, inventory waste, sustainability, transportation costs and distribution.
Still, it would be wrong to look at the subject only from the point of view of returns. That would be too clinical and simplistic. It is, considerably, a push-back from buyers. For decades, insists Levitt, major retailers (at least in the West) have catered to one (White, slim) consumer even as body shapes have become more diverse. "With increased push-back and complaints from shoppers that clothes are smaller than expected or no logic to sizing, mass-market chains will now need to start carrying a wider range of sizes in-store and in particular not to ignore the millions of women with curvier figures."
A consumer is not going to stay loyal to a brand if the brand is not meeting his or her needs. In other words, according to Pardo, "the brands that really embrace inclusivity and address their sizing system, while ensuring a variety of options for all body types, have a chance to take a step forward because that's what consumers are looking for." Both manufacturers and retailers will have to take notice and adjust to meet consumer demands and be dynamic in providing precise solutions.
Schulze, however, expects this to play out more on the retail side as companies realise that traditional approaches such as static size charts are not fit in an omnichannel e-commerce environment-they are a 19th-century solution to a very modern problem. His company's Fit Finder size advisor is delivering both sizing certainty for shoppers and increased margins for brands. "Our global network of sizing partners such as ASOS, Calvin Klein, Tommy Hilfiger, Alexander McQueen and Hugo Boss have blazed a trail in this regard. This strong retail focus on sizing will also inevitably make itself felt on the manufacturing side. Through the Fit Source component of our platform, we're already working with firms to see how machine-learning driven insight can help them plan and produce apparel more profitably."
Size n Fit too is in talks with a consortium of apparel manufacturers in Europe and the Middle-East. Chief executive Jayesh Badani and chief technology officer Madhu Mani together believe that apparel manufacturers and brands are aware and will start working with retailers in solving the issue. According to them, retailers have been aware of the sizing issue for some time now and so have been experimenting with various solutions to solve the size and fit issue. "The solution provided by Size n Fit for Shoppers Stop, Manyavar and Puma is exactly to solve this problem. This is an area ripe for more innovation and we will see diverse approaches in the near future."
The Challenges Ahead
The problem is humongous. It is estimated that US retailers faced a potential of $300 billion of returns in 2018 alone. Only two links in the long-winding garment supply chain have to bear the immediate brunt-brands and retailers. So, if it is eventually a question about the product, then the responsibility will lie with the producer. But are apparel manufacturers well-geared to take up the challenge?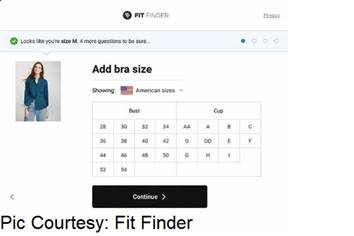 According to Linton, some are, and some are not. "A lot of large companies are used to testing different solutions and moving forward with none when they realise how much work it will take to change the way they are doing things. That said, with companies like Amazon rapidly adapting new technology and integrating it into their supply chain, retailers will need to play catch-up faster than they are today.
"The question many big retailers are asking themselves is if they can build what they need internally or if they need to use third-party solutions. While some can build internally, many can't and trying to scale up the teams to do this themselves is making them slip behind as other companies leverage third-party technologies that instantly give them access to years of innovation. There's a funny saying: innovate or die. It's a little dramatic, but we are going to see manufacturers who can't innovate fast enough struggling to stay alive as their competitors adopt and integrate technology faster than them."
It is a clear "no" from Levitt. "While it's unlikely any type of standardised sizing system will be put back in place, manufacturers must start to embrace a broader array of body shapes. Instead of taking the stance 'this is the dress, let's try to fit people into this'. They should be looking at people, and saying, 'Let's try to fit a dress for this body'." Walter too believes that even though some manufacturers are investigating ways in which they can deliver more personalised garments, "on the whole they are not able to take a data-driven approach to sizing, and the cost of block redesign is still too high." Robertson-Hood, however, asserts, "We hear that manufacturers are hungry for fit standards (fit forms, Alvaforms) in order to speed up the approval process. Whether the standard is a physical Alvaform/mannequin, or, virtual Alvaforms, manufacturers-especially in Asia-are clamouring for these."
Ohnemus thinks the first step should be to admit that sizing is a problem "which seems to be the trend with brands as they are experimenting with different solutions. It's a partnership between the brand, manufacturer and sizing solution, and with the right technology and approach that can change the way we shop. As more brands become aware of their environmental impact and circular fashion becomes a reality than a stated goal, apparel manufacturers will have to change on many levels."
The broad belief among sizing professionals is that as long as a manufacturer is willing to make the effort, there are technological resources available that can help them to effectively take up the challenge. Data is key and making judicious use of that data will make life better.
For instance, Pardo says, "Our QSize application is a full-service solution for manufacturers to ensure quality control, accuracy, and efficiency in apparel production. This can help decrease returns, increase conversions and gain customer loyalty. It also provides the manufacturer and retailer with valuable data they can use to leverage sales." As global supply chains become more complex and collections are turned around in weeks rather than months, the need for data-driven approaches is going to become more critical, adds Schulze. Herein, chips in Moore, "that's what makes BodyBlock so valuable to retailers-we can literally tell brands the body shape of every one of their customers. Our database of nearly 1 million scans is representative of every body shape on the planet."
For Badani and Mani, "we live in a hyper-connected world where social media and personalisation are not a choice, but an expectation from consumers. Apparel manufacturers have no choice but to design clothes based on the consumers fitting preferences and keeping their shapes in mind. There is a lot of data available for apparel manufacturers, and hence they are in a much better position to identify patterns and local preferences and design keeping that in mind. It is only a question of how they harness this data and derive meaningful results from this information."
A Virtual Future
Body scans, smartphones, AI-both singly and collectively indicate that matters will take a virtual turn as far as styling-fitting is concerned. But expecting the entire world to go virtual might be too much to ask for. So, does that mean that this solution will remain confined to the higher end of the market?
If anything, Ohnemus believes, it will only become more popular. "As the technology becomes more streamlined, affordable and efficient, virtual styling and eventually fitting will be more widespread (including at the mid-market stores) as an in-store entertainment factor that will ultimately be linked to a customer's online experience. Will there even be a mall left?"
Moore knows that these solutions will not remain confined to the high-end brands. "The reality is that mass-market brands always and eventually overshadow luxury when it comes to numbers (revenue, profit, etc). There is a reason why Volkswagen AG owns Porsche, Audi, Lamborghini, Bugatti and Bentley. These solutions are for every brand and the faster that mass-market brands adopt them, the faster we make a dent on the real problem. This will easily be a new standard for virtual measurement and predicting body shape. The economics of the situation will make it so that brands can't afford not to use smarter prediction technology. This is a $300 billion problem everyone wants to eliminate."
That could be the reason why, according to Linton, brands with the largest consumer reach are rushing to adopt virtual styling-fitting. "Right now, virtual styling-fitting is happening a lot more outside of the higher end of the market; in fact, the higher end is moving slower when it comes to adopting technology. The brands with the largest consumer reach are those who need this technology."
As things stand, higher end brands still see a lot of shoppers buying in-store since the price points are high enough and getting the fit right usually requires people to try something on in-person before they buy. For more broad-based consumer brands, since their shoppers are buying online more than ever before, they need to provide a better experience around size and fit immediately.
"Many of our customers are embracing technology a lot faster than luxury brands. At the end of the day, it's a win-win both on the upstream and downstream side for retailers who are embracing AI. They are not only providing their customers with an easier way to pick the right size, they are also providing their designers with more data than ever before about their customer's body shape and size so that they can make better-fitting clothes," discloses Moore.
It is also a question of perspective. Rather than a specific type of market being addressed, the use of virtual styling-fitting arguably comes from a myriad of individual customers' needs. Stresses Walter, "For some customers it might be the fact that they are time-poor and they are parents who are trying to quickly find suitable clothes in a department store while trying to look after the kids at the same time. For these customers, being able to quickly try on the clothes from their phones instead of having to visit the changing room can be a big assist." Keeping this in mind, Metail has identified three current core segments of customers who value using its try-on technology: (i) customers who do not feel their body shape is well represented in online photography, (ii) customers who are uncertain of what size they should purchase, and (iii) customers who are not confident shopping online.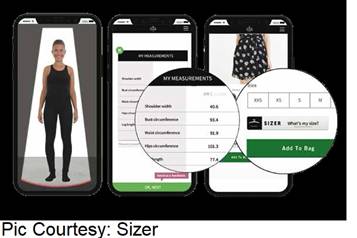 Consumers will remain central to the subject of sizing-fitting, either way. MySize believes that retailers will begin adopting sizing technology more broadly. Says Pardo, "Consider brands like Gap, J Crew, or Old Navy. They have millions of customers who need to buy the correctlysized apparel just as a high-end shopper would. The costs associated with returns due to incorrect fit affect everyone, not just high-end stores; so, we believe retailers will continue to look for technology solutions, like our MySizeID smart body measurement app, to combat this issue."
Eventually, virtual style-fitting could well become a part of every online shopper's purchase flow and most may not remain confined to high-end stores or malls which might rely on expensive 3D body scanners. Today there are advanced remote scanning solutions such as Sizer Technologies, which has developed a unique tailored level approach to taking extremely accurate body measurements and provides size recommendations.
Levitt contextualises the subject, "Sizer's proprietary solution is composed of a mobile app which utilises advanced self-scanning computer vision technology to scan and generate shoppers' body measurements, anytime and anywhere and a recommendation engine which uses deep learning algorithms to accurately determine shoppers' size recommendations for any retail brand. Due to its accuracy, Sizer's fit technology also enables traditional bespoke retailers to expand their made-to-measure businesses online and corporate apparel manufacturers to drastically improve the complex logistics and costs of uniform fittings. For a shopper, finding the right size should not be difficult. It should be easy and uncomplicated. Sizer believes that shoppers should just choose what they want, not worry about size and we make sure it fits. That's why our mission is to perfect the art of the proper fit."
Virtual styling is a crucial part of Fit Analytics' history as its initial explorations of the space involved a webcam solution. The body modelling expertise that the company gained from that initiative still today heavily informs its machine-learning algorithms. "One insight we gained early," informs Schulze, "was that consumers want the process to be as simple as possible. They want you to do the work for them, rather than the other way around. High-end stores are likely to lead innovation in brick-and-mortar fitting room technology, but that will soon expand to mass-market as the value becomes clear. We're already seeing great results with innovative partners such as Amaro in Brazil who have made our Fit Finder a key part of the in-store fitting experience."
In India, high-end stores and malls are likely to be early adopters of this technology. "But the core issue of returns and customer dissatisfaction due to size and fit issues will force brands to look at this seriously and work towards solutions. This is ultimately a win-win for both consumers and brands. It's an opportunity for brands to get to know their customers better and as far as customers go, it should make the entire shopping experience friendlier and save their time. We are in talks with few virtual fitting solution providers to integrate Size n Fit solution; this is because virtual fitting is more of a visual technology and it still needs solid data analytics to predict right size and fit," say Badani and Mani.
Raising a Fit
The global textiles-and-apparel industry has enough problems to grapple with-from overexploitation of natural resources to pollution caused by effluents, and from trade conflicts to postconsumer waste. One problem is not any less important than another-all need to be dealt with. That of sizing-fitting is as paramount as any other.