The apparel industry worldwide has a problem-that of sizing/fitting. Though the problem is as old as the industry itself is, technology lies at the heart of new-fangled solutions. Subir Ghosh reports.
If it is readymade, it is quite likely that it is not perfect; not for the body at least. And since the fashion industry virtually stands with a backbone made of readymade garments, the age-old problem suddenly appears to be one of imperfection (in the fashion industry). The apparel sector is seized of the issue, and professionals across the value chain are grappling with a worn-out issue that has found a new fabric. Take two relatively recent developments.
In June last year, six major British retailers including Tesco, New Look, River Island and Asos signed up to a new nationwide sizing survey that aims to provide data to help produce betterfitting clothes. The ShapeGB survey was to be the first there in 17 years and meant to create a nationally representative sample of around 30,000 adult men and women. It was to use new body volume technology originally developed in healthcare for the body volume indicator (BVI), which is a modern alternative to the archaic body mass index (BMI). The stated goal was to collect data from across the nation to better understand people who have the same clothing size but are different body shapes.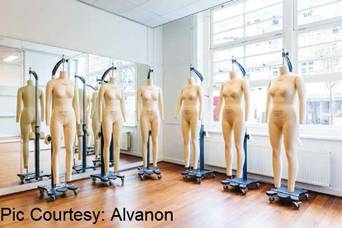 There was an incriminating context here. In September 2016, global professional services firm EY published the findings of a survey of 1,000 online shoppers in the United Kingdom in a report titled Zero clothing returns-Digital future or fairytale? It found that online shoppers returned on average 2.2 items out of every 10 of their clothing purchases. Of these returns, 76 per cent were sent back due to a fit or sizing issue. Similar surveys in other countries, not surprisingly, had delivered similar results.
Back home, in February, the Indian ministry of textiles announced the launch of INDIA size, a national sizing survey to be conducted by the National Institute of Fashion Technology (NIFT), New Delhi to develop a size chart for the ready-to-wear industry based on the body measurements of the Indian population. It was described as a scientific exercise wherein anthropometric data would be collected from a sample population in the age group 15-65 years to create a database of measurements for a standardised size chart that would be representative of the Indian population.
The two represent ends of the same problematic spectrum that has the global apparel industry in the throes of, pardon the cliche, an existentialist crisis.
Diminishing Returns
Sizing has been an issue since mass production of clothing started. And reporting on the sizing problem too has been around for just as long. As more consumers shop online and with retailers offering free shipping, returns for reasons of wrong sizing have become a financial burden on retailers.
So, if sizing-fitting was always an issue, why is it that the subject has suddenly gained currency? There are two reasons to this, with the second intimately related to the first. The fact is that as online sales have been booming, so has been the volume of returns, with most being returns because of ill-fits. According to a 2018 survey conducted by Alphawise, Morgan Stanley Research's evidence-based research arm, product fit and returns are two of the biggest barriers to online apparel shopping. And in many cases, the two are related to a considerable extent. Fit Analytics chief executive Sebastian Schulze puts the problem succinctly: "From a shopper's perspective, nothing else matters if the fit isn't right."