The modified FDI rules that were announced by the Union government a day after Christmas are likely to have a far-reaching effect on the e-commerce ecosystem in the country, writes Subir Ghosh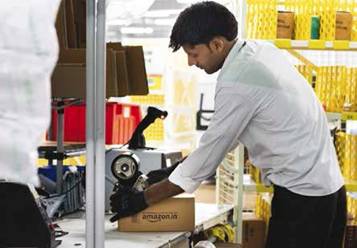 Right from the summer of 2018 when the draft e-commerce policy was being debated by stakeholders and experts, it was almost a given that the Indian government would sooner or later make that much-needed distinction between online marketplaces and inventory-based platforms.
Yet, the modified rules for foreign direct investment (FDI) in e-commerce that were announced by the ministry of commerce & industry on December 26, 2018 took many by surprise. Most had expected any such rule/guideline to be announced only through the long-awaited e-commerce policy.
Very broadly, the press release issued by the ministry's department of industrial policy & promotion (DIPP) made three things clear: first, an e-commerce entity that is a marketplace will not be able to exercise ownership or control over the inventory; second, the inventory of a vendor will be deemed to be controlled by marketplace if more than 25 per cent of purchases of such vendor are from the latter; and, an entity having equity participation by a marketplace or its group companies will not be allowed to sell its products on the platform run by that marketplace entity.
Hitherto, almost all trade in the e-commerce sector has taken place either in the absence of well-defined rules or the existence of too many grey areas that resulted from the lack of clarity. What the announcement has done is to make that intelligible distinction between marketplaces and sellers. It is, however, not that grey areas have been eliminated altogether, but it has sureshot ensured that all players will henceforth keep that distinction in mind.
Quite expectedly, the developments have thrown the e-commerce sector into a tizzy, prompting many to recalibrate their revenue models and equity holdings. From players to investors and from sellers to retailers all have gone into a huddle, while experts and observers have been dwelling at length on both the long-term implications and the immediate fallout. All the more so since the e-commerce policy itself remains to be announced, and the fresh guidelines come into effect from February 1, 2019.
The way things are currently understood: an online marketplace is an e-commerce entity that only serves as a platform for buyers and sellers to transact. As of now, 100 per cent FDI is permitted in marketplace e-commerce activities but is prohibited under the inventorybased model. In offline multi-brand retailing, on the other hand, FDI is effectively not allowed. Rules allow up to 51 per cent FDI in offline multi-brand retail with government approval, but no proposal has so far been cleared.
The December 26 clarification, therefore, means an effective blocking of backdoor FDI entry into online retail, since it is expressly disallowed. The clarifications are meant to prevent online platforms with foreign equity from distorting the retail market. A senior government official told a newspaper that the changes were aimed at tackling "anticompetitive" behaviour by e-commerce entities.