While quality, colour, creativity and design remain the main issues in printing, functionality is becoming more important, reports Jozef De Coster from the International Digital Textile Congress.
It's no surprise that professor Marc Van Parys is calling the International Digital Textile Congress in Ghent, Belgium "the place to be and the meeting point for progressive, creative textile companies as well as suppliers and research institutes," since he's the principal organiser of the biannual event.
At the end of September 2018, the Belgian association of textile engineers Unitex (of which Van Parys is the president), in collaboration with ESMA (European manufacturers of printing technology), organised the 5th successful edition of the Congress, this time focusing on the actual state-of-the art and future trends in digital technologies.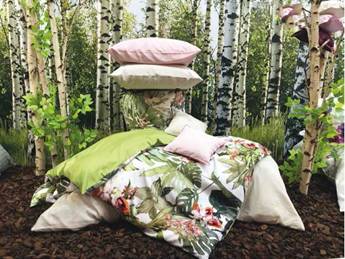 Van Parys insists that the world of textiles is changing in a big way. Textile companies need to find an effective response to each of the important challenges they are facing: globalisation, specific customer demands, environmental concerns and legislations.
These challenges cannot be dodged. They set increasingly pressure on the textile business. Fortunately, new digital technologies create new opportunities. According to Van Parys, these emerging technologies will have the potential to revolutionise business models in the industry.
Today quality, colour, creativity and design are the main issues. However, functionality comes more and more in the picture. Digital dyeing and coating/finishing technologies will enable the textiles industry to introduce more effective processes. They will enable cost-effective production of high-end products, more flexible production, and increased productivity with improved ecological footprint (minimisation of waste combined with efficient use of energy, water and chemicals, while reducing VOCs and HAPs). In combination with in-line UV-technology, layer-on-layer coating becomes possible. They also have a strong potential in production of new functional and smart textile materials.
The demands of fast fashion
At present the global textiles industry produces the majority of printed textile fabric by screen printing. However, as the world is irresistibly moving into the digital age, developments in digital printing on different levels (hardware, software, inkjet inks) find their way into the textiles market. Inkjet printing is growing while growth in analogue printing is said to remain stagnant or decreasing, especially in Europe. Comparisons between digital textile printing and conventional printing, made by Jorgen Lindahl, senior sales manager at SPGPrints (the Netherlands), reveal that digital printing fits with many of the demands of the fast fashion sector.
What does fast fashion want? Free choice of colours out of an infinity of colours, unlimited repeat and unlimited design flexibility. Fast fashion also wants, in name of its customers, the lowest possible costs. This means: low capital investment, low maintenance cost, low set-up cost and low variable cost. Also, time is an important factor. The fast fashion sector wants fast delivery times as well for first order as for repeat orders.
On the whole, digital printing scores better than screen printing except for the variable cost/lm, and for the capital and maintenance cost. Conventional textile printing has a maximum of 24 colours (typically only 6-8 colours). Repeat length per design is limited and so is design flexibility. The set-up cost is higher. The delivery time as well for the first order as for repeat orders is longer. The environmental impact is considerable. On the other hand, conventional textile printing requires lower capital investment and lower maintenance cost.
The suppliers of digital technology conclude that digital textile printing wins over conventional printing thanks to the unlimited number of colours, unlimited repeat and unlimited design flexibility. The environmental impact of digital printing is much lower, which increasingly will be seen as a very important comparative advantage. The set-up cost is lower (no screens) and the delivery of first order and repeat orders is faster. But the variable cost is higher. Also, a higher capital investment is needed and the maintenance cost (printheads) is higher.
Why small market share will continue rising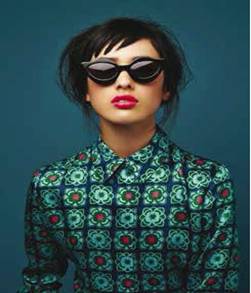 Long runs are cheaper in conventional printing: high initial costs are distributed over a large quantity of metres while variable costs are lower. On the other hand, short runs are cheaper in digital printing: higher variable costs per metre are compensated by the lack of initial costs. But according to Lindahl, a lot of other factors have also to be taken into account such as the number of colours (more colours means more screens), the number of colourways (more colourways means more metres with the same screens), the number of repeat orders (more repeat orders means more metres with same screens) and finally the number of designs (more designs means more screen costs).
As digital printing technologies are offering ever faster production and larger cost-effective print runs, digital printing will inevitably grow to become the technology that provides the majority of the world's printed textiles. Today, digital inkjet technology accounts for roughly 4 per cent (about 2 billion sq m) of the textile printed market according to several sources (WTiN, Dystar, Zimmer and SPGPrints). However, these figures are expected to rise as an increasing number of end users begin to run digital and analogue technology side by side or switch over to digital completely.
According to Van Parys, digitalisation creates a lot of possibilities for e-commerce and new business models. Thanks to digitalisation, the textiles and garment industry can more easily adapt to changing consumer behaviour. The trend is clear: production lines of brands are changing significantly under pressure of market demands. Digital printing will win market share because it's superior in the field of customisation, material sustainability, product quality, production on demand and just in time.
Digital printers in statistics and estimates
According to World Textile information Network (WTiN) more than 37,000 digital printers are in operation worldwide. In the first half of 2017, 2,300 new printers were installed. The number of printer units is estimated above 7,800 in Europe (share: 35 per cent) and above 12,000 in Asia (share: 45 per cent). Actually, the top five countries investing in digital technologies are China, India, Turkey, Italy and the US. Emerging countries include Spain, Portugal, Mexico, Bangladesh, Vietnam and Pakistan. In some of these countries the annual growth rate amounts to 17-25 per cent.
Although the number of operational digital printers in Europe is lower compared to Asia, the total production of digital printed textile is bigger.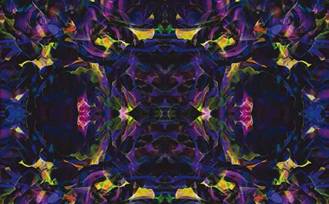 Today, transfer printing on PES still has the biggest market share with 68 per cent. However, developments on the level of printers, inkjet inks and chemicals allow to digitally print all imaginable kinds of textiles and fibres: from light-weight silk fabric and shirt textile to towels, window blinds and heavy articles like blankets and even carpets. The most important markets for digital printing are textile graphics, apparel and home textile (indoor and outdoor, a steady growing market). Futureoriented markets are technical textiles such as protective, architectural and transport textiles (for cruise ships, airplanes, automotive).
The digital printers based on piezotechnology can be divided and classified according to their production speed in several categories. The majority (85 per cent) of the printers are multipass printers. The 'F1' printers (MS from Italy, SPGprints from the Netherlands, Efi-Regianni from Italy) are based on single pass printers with comparable speed to traditional printing machines. According to WTiN the majority (over 60 per cent) of printed textile worldwide is done on printers belonging to category 3 (such as SPGPrints, Efi-Regianni, Durst, Zimmer, Konica-Minolta).
More sustainability in printing needed
Despite some successful resource reduction strategies, the printing industry still has the challenge and moral obligation to reduce its ecological footprint and especially to limit natural resources use (water, energy). Van Parys insists that to address the deficiencies of traditional printing there is an urgent need to switch (partially or totally) from analogue to digital printing. Water is becoming a major concern for the industry due to the ever-increasing scarcity of water and stricter regulations.
When using digital technologies, water consumption is strongly reduced (over 60 per cent) while the related thermal energy savings exceed 70 per cent and the usage of electricity is 30 per cent lower compared to conventional rotary screen printing. In addition, the amount of wastewater significantly decreases and the required space for machinery is strongly reduced.
Not for dummies
Successful implementation of inkjet technology in the textiles industry is based on machine integration, the proper selection and adjusting to one another of the main components (inkjet inks, printheads, RIP-software, pre- and postprocesses of textiles), and above all choosing the right strategies to match and adapt the specific needs of the individual application.
The inkjet ink is the key to the final performance and ultimate acceptance of the print and the application. The printhead defines strongly the print quality.
Many technological developments at the level of inkjet inks and printheads boost the digital printed market. Observers notice continuous improvements in the quality inkjet inks (disperse and pigment inks) and a broader range of inkjet inks (latex, vat inks). New printheads characterised by higher firing frequency and higher jetting volume, circulating printheads and self-cleaning printheads go beyond the inkjet boundaries to enhance application performance.
RIP-software (raster imaging processor) is important because the printer requires more than just the ability to print. RIP includes a variety of functions for different applications.
Consequently, an optimal software is required for successful colour design and management and can also contribute to less consumption of inkjet inks. However, production speed and print quality are not only printer related.
In case of printing speed, other factors such as fabric type of weave, fabric weight, design's coverage, kind of design and quantity of ink to apply also play a role. Print quality depends also on fabric quality, state of the preservation of the digital printer, production's chain cycles, human factor (operator's sensibility and job culture) and deals largely with fabric preparation, conventional and specific pre-treatment for digital printing.
Broad range of inkjet inks
A lot of inkjet inks are available. For signage, flags and banners most inks are still (eco) solvent-based. However, in the last decade there was a switch from solvent-based to waterbased inks for different fashion and home textiles markets which were struggling with increasingly stricter eco-requirements. Waterbased inkjet inks can be divided in different categories: reactive inks for cellulosic, wool, polyamide and silk, disperse dyes for direct or indirect (transfer or sublimation) printing of polyester, acid inks for polyamide, wool and silk, and pigment inks for almost all fibres and even blends.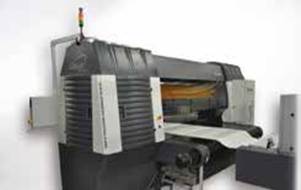 In case of waterborne inks, the drying and fixation steps, either for indirect or sublimation printing or direct textile printing are always mandatory. In the current digital textile market the largest ink market segment is still the disperse dye-sub market with a share of over 60 per cent for digital printing of PES substrates. The annual growth of this market is in line with the overall growth in digital textiles. The majority of PES is printed indirectly (transfer). Developments in inkjet inks comprise improved quality, new chromophores and a broader range of inkjet inks.
Innovations in pigment ink and other inks
During the last years, the pigment ink market for inkjet printing of textiles has been emerging rapidly. Pigmented inks use a pigment (insoluble in the ink carrier) rather than a dye (soluble in the ink carrier) to provide colouration. They are considered as "universal inks" because they contain resin binders which help the pigment particles to adhere to the fabric, meaning that the inks can be used across a very wide range of fabric types and even blends such as cotton/PES. A 'new generation' of pigmented inks was recently introduced by Kornit and Zschimmer & Schwartz (Germany). In contrast to the conventional pigment inks, the new development deals with the encapsulation of pigments.
Today, for polyester usually a transfer printing process is used. Profactor (Austria) developed new pigmented inks for industrial printing directly onto polyester fabric with optimum adhesion to polyester and polyurethane and soft haptic. Zimmer and Dystar also introduced vat inkjet inks for digital printing on cellulosic fitted for the Colaris printer (Dimatix printheads). Vat dyes are well-known in the textiles industry and used for end-uses with high priorities (interior textiles, work clothing, outdoor textiles such as tents and military usage for camouflage purposes).
UV-inks are often the preference choice for the digital printing of specialty fibres (aramid, glass or heat sensitive fibres such as PVC). Belgian company Allnex specialises in edge waterborne UV inkjet inks. With its latest products, it has put an extreme focus on the low migration potential for the inks. Allnex is working on the key features of novel binders and what they can bring to the market.
UVcurable systems, so-called hybrid inks, have less probability of ink migration through the substrate, since the inks are mostly composed of polymer particles dispersed in a watersolvent mixture.
Finally, new generation latex inks (HP) in some textile applications can be used as alternative inks. Latex ink dries and cures (at relative low temperature) within the printer, rather than requiring separate steaming or drying process. Latex inks produce odourless prints, which allow for fabric graphic and indoor applications. They also have good rubfastness on PVC-substrates and can be printed on multiple substrates.