The one-dollar t-shirt is now virtually an impossibility, and the social and ecological cost of producing the world's cheapest t-shirt is intolerably high. Jozef De Coster, reports from Apparel Sourcing Paris (February 11-14, 2019).
With around 350 exhibitors, Apparel Sourcing Paris (ASP), a half-yearly trade fair organised by Messe Frankfurt, is one of the biggest European clothing fairs. Parallel to the fabric trade fair Texworld at the same location in Le Bourget-Paris, ASP offers a contract manufacturing platform dominated by the world's leading clothing exporting countries, with China on top.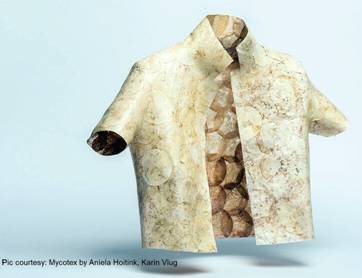 Imagine you are a retailer specialising in t-shirts. You wonder how you could make your shop 'the talk of the town' while making your customers happier than they already are. What if you could boast that your dear customers will be able to buy in your shop 'the cheapest t-shirt of the world'? Of course, it's possible that not all your customers would appreciate this kind of Barnum publicity. To play it safe, you could try to offer the more responsible shoppers a nice alternative: 'the greenest t-shirt' of the world.
So, instead of spending time at the Eiffel Tower or in Le Louvre, you roam the corridors of Apparel Sourcing Paris. You note that Chinese companies occupy two-thirds of the exhibition space. Apparently, the textile section of the China Council for the Promotion of International Trade (CCPIT Tex) strongly believes in the trade potential of ASP. Besides, in February 2019, it's probably more appealing to Chinese clothing exporters to look for business opportunities in the European market than in Trump's America. Also, the Export Promotion Bureau of Bangladesh was active at ASP. It had reunited ten companies in a national pavilion, while some ten others defended their interests independently. India and Pakistan were well represented at ASP, while the number of Hong Kong, Ethiopian and Cambodian companies could be counted on the fingers of one hand. The cheapest t-shirt According to some sources, the company that is most actively scouring the markets to find the cheapest possible t-shirts is Fruit of the Loom. This legendary American clothes manufacturer (started in 1851), which since 2002 is operating under the wings of the quasi-immortal investor Warren Buffet, reportedly succeeded buying last year a stock of basic t-shirts for a price of $0.8 per piece.
Could an exhibitor be found at the ASP exhibition daring to declare that he's willing to produce t-shirts for the same unholy price? Maybe some big, very efficient Chinese juggernaut with factories in low labour countries? Sally Yang, the vice general manager of Ningbo Orient Hongye Imp & Exp Co Ltd gives a clear answer: today, a t-shirt price of $1 or less is totally impossible. Ningbo Seduno Group, a garment supplier to brands like C&A, Zara, H&M, GAP, Esprit, etc, declares in its Vision text that it has the ambition of "building the world's most competitive knitwear manufacturer with wisdom".
Well, a one -dollar- per-piece t-shirt can't be manufactured 'with wisdom', neither in the Ningbo facilities of the group, nor in the group's production bases in Vietnam, Cambodia, Myanmar or Bangladesh. Yang says: "We can competitively produce t-shirts of all sizes and weights and with all kinds of ornaments in the price range of $2-4, but not for a lower price."
Also, Indian exhibitors at ASP confirm that today one-dollar-t-shirts are out of the question. Kishan Barvaliya, marketing director of Chirra Global Wears in Tiruppur, remarks that only big-scale t-shirt manufacturers can offer very low prices. He explains:
"Our unique selling proposition is that we accept very small orders, often of less than 100 pieces, from small and medium retailers. So, the cost per item is inevitably high. If for instance our European customers want air transport, we have to tell them that this transport will cost almost €20 per kilogram."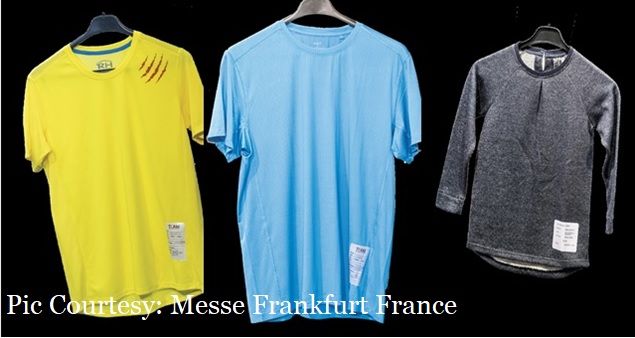 The two-star Indian company White House from Chennai, a vertical set-up with 2,500 employees, is used to dealing with decent customers like Hugo Boss, Gant, Benetton and Karl Lagerfeld who don't require the lowest possible prices for t-shirts, polos, sweaters and so on, and who really appreciate the sustainability efforts of White House. The Indian knitwear manufacturer was one of the exhibitors marked as a highly 'sustainable company' by the ASP organisers, because of its textile use (organic cotton, recycled polyester) and certifications (BCI, GOTS, Oeko-Tex 100, SA8000).
Searching t-shirt suppliers, traditionally or electronically
It seems that nowadays t-shirt manufacturers with the lowest prices have to be looked for in Bangladesh. Simura Fashions, from Dhaka, which is acting as a kind of buying house, confirms that it's possible to find suppliers of very basic, lightweight t-shirts (130 gm) in Bangladesh, who can offer prices of $1.50-1.60 per item. Some of them may even be capable to produce one-dollar t-shirts for big promotional actions.
Mostly, the foreign consumer has no idea of the FOB-price of clothing items produced in Bangladesh or other exporting countries. The professional buyers who purchase a quantity of very cheap basic t-shirts in Bangladesh will mostly multiply the purchasing price by three in order to cover the high retailing costs in their own country.
Nowadays, it's also possible to search and detect the suppliers of specific items via electronic networks. The dynamic German company Foursource which is rapidly building a global electronic network that is meant to function as a digital matching engine for the textile and clothing industry, occupied a large booth at ASP. Johannes Roewe, CPO of Foursource, argues that in order to be detected and contacted by potential customers, companies should not rely exclusively on their own website.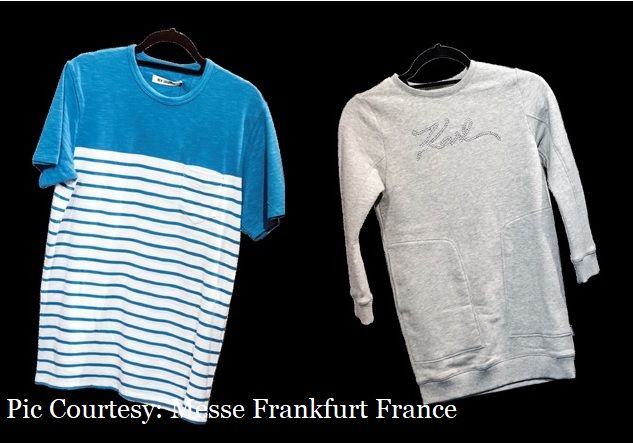 Professional buyers will prefer searching on platforms, where they can find detailed and verified company profiles and can take advantage of advanced search, matching and filter functions.
If for instance a buyer is looking for t-shirt producers of a certain kind, he can easily filter out the totality of t-shirt producers using some hard filters (order quantity, used materials) as well as some soft filters (quality level, price level, sustainability). Foursource has currently a team at work in India, helping textile and clothing companies to present the company and its products in a visually attractive way. In order to strengthen their presence worldwide, the Germans are teaming up with organisers of textile fairs (for instance Messe Frankfurt), compliance organisations (for instance WRAP) and sector associations (for instance the Tiruppur Exporters' Association).
The greenest t-shirt
The social and ecological cost of producing the world's cheapest t-shirt is intolerably high. So, being 'the cheapest' is being the winner of an unglorious competition.
What about the competition to produce the greenest t-shirt in the world? As far as the product offer at ASP February 2019 is concerned, three categories of green t-shirts could be distinguished. Most common were the t-shirts offered by labour and environment-friendly companies (example: Ewings, Bangladesh). A second category were the t-shirts developed by zero-waste champions (example: RBX Creations, France). The third category were the t-shirts-by far the greenest ones-which are still under development (example: ArtEZ, the Netherlands). Ewings Garments & Textiles from Dhaka, specialising in leisure wear and sportswear, is one of the many companies which can produce t-shirts according to REACH-standards (no harmful chemicals). Director Mark Ewing, of Swedish origin, is well aware that Ewings' t-shirts, though being decent products, are not the top in terms of sustainability. Ewings, for example, is using traditional cotton and not recycled cotton.
The young French company RBX Créations has very high 'green' ambitions. Manager Charles Reboux has a vast knowledge of many different raw materials. That's not only useful to guide his own company on the way to sustainability, but also to give advice to other companies as an environmental consultant. A t-shirt that RBX Créations was presenting in its booth at ASP was made of organic cotton and bamboo viscose and graphically embellished with waterbased ink.
However, the greenest t-shirt of the world is probably a product that has been invented and made, but only as an example, by the researchers of the Dutch project 'The Future of Living Materials'. The scientists who constitute this team come from the ArtEZ University of Arts and the University of Wageningen. Among them are specialists in plants science, in consumer behaviour, circular business models and cultural sciences. They collaborate with designers and entrepreneurs who are exploring the possibilities of biomaterials like algae and mycelium.
And yes, at ASP in Paris some totally sustainable (plant-based, 100 per cent bio-compostable) clothes could be shown and discussed. Green thinking fashion freaks will need some more patience. The Dutch researchers are still working to improve 'the touch' of the new super-green materials. Also 'green' consumers want to feel agreeably caressed by the clothes they buy.