Innovation would be at the heart of the Techtextil trade event that will be held in Frankfurt, Germany later this month. As exhibitors showcase their latest and the futuristic and buyers queue up to see what lies in store for the future, Subir Ghosh presents an overview of the industry.
Close to half a lakh people from across the world would be converging in Frankfurt, Germany in mid-May. They would be flocking to the Techtextil event for a reason- leading international exhibitors will be presenting the entire spectrum of technical textiles, functional apparel textiles and textile technologies at the Messe Frankfurt event. Texprocess, the leading trade fair for the garment manufacturing and textile processing industry, will take place concurrently with Techtextil.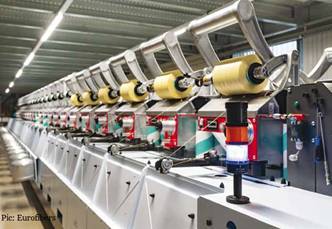 Visitors will be making a beeline to the sprawling exhibition area with a purpose-see and feel for themselves what innovations and inventions are set to roll out in the premier technical textiles theatre. At a simplistic level, it will be an intermingling of buyers/visitors and sellers/exhibitors. But a technical textiles event like Techtextil is much more than that-it is as much a convergence of cutting-edge ideas, as it is about the interplay between textiles and technology.
Better still, it will be futuristic in disposition.
Dominant Strides
The future of textiles, many believe, is technical. As apparel becomes more functional and textiles become more technological by the day, this is the aspect that could well dominate the next decade.
It would, therefore, be natural that the technical textiles sector should be driven by innovation. And as, Michael Jaenecke, director for brand management (technical textiles and textile processing) at Messe Frankfurt, underlines, "It is a fact that the technical textiles market is one of the most innovative in the world. It is reported to be among the top five technology-intensive markets with a great potential for advancement. The industry accounts for about 30 per cent of global textile production and it is expected to expand at an annual growth rate of more than 4 per cent to $198 billion by 2022. The positive development of the industry is reflected by the large number of exhibitors and visitors at Techtextil and Texprocess, the leading events for technical textiles and nonwovens and the processing of textile and flexible materials.
Already, technical textiles can be found in every field of our daily life. Jaenecke has an example: about 30 per cent of the Airbus A380 is made of fibre-based materials. So, as he points out, "Techtextil and Texprocess will feature a special event 'Urban Living-City of the Future' spotlighting some of the most relevant application areas for technical textiles. In collaboration with Creative Holland, the Dutch creative industries, Techtextil and Texprocess are focusing on life in the city of the future with the special event. Select examples will show how textile innovations can improve the way people live together in an urban setting today."
But before delving into the many applications of technical textiles, the global market development manager for US-headquartered Michelman, Timothy Davis, asserts that his company uses the Textile Institute definition :
"Textile materials and products manufactured primarily for their technical and performance properties rather than their aesthetic or decorative characteristics."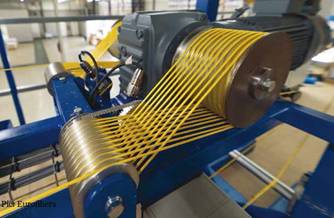 Davis sees the market as 14 different categories or "techs". "These include Mobiltech for automotive and transportation, Buildtech for building and construction, Geotech for geotextiles, etc. Various market studies and information from industry associations indicate a very healthy 8-15 per cent compounded annual growth rate (CAGR)-depending on geography-for each of the 14 segments. Transportation or Mobiltech is an example of a growth area, particularly where technical textiles are crossing into composite applications for light-weighting. These take the form of woven fibre pre-pregs, nonwoven surface veils to provide improved surface finish, and unidirectional composite tapes.
"The Geotech sector will experience significant growth in regions of the world with considerable infrastructure investment such as India, China, and the Middle-East. These technical textiles will take the form of needle-punch nonwovens and wet-laid scrim to provide reinforcement."
Certainly, technical textiles will have a more important role to play in certain sectors, according to Marcel Alberts, managing director at Netherlands company Eurofibers. "This process has already been set in motion, which we notice in the number and types of inquiries we receive daily."
Therefore, Eurofibers delivers an extensive range of high-performance fibres. "We see a very clear trend in which the use of high-performance fibres and new technologies improve the performance of regular textiles. To cater to this trend, we recently set up a sister company-Eurofabrics. Eurofabrics is the European Sales office-or SuperFabric-and aims to act as a breathing space for innovative fabrics based on high-performance fibres and technologies," informs Alberts.
A step away from performance, in today's world, is sustainability. Hence, in response to the growing demand for sustainable products, German company Freudenberg Performance Materials works continuously "to help our customers make more sustainable products and improve their environmental rating," says spokesperson Katrin Buttcher. "We aim to replace existing products with new sustainable products. An example is Freudenberg's 'comfortemp fibreball padding eco' for outerwear. It is the world's first padding made from 100 per cent recycled fibreballs. It replaces conventional products, providing the best performance." In addition, Freudenberg replaces more virgin raw materials with recycled raw material even in existing products. For instance, Freudenberg offers tuft backings made from 90 per cent recycled fibres providing the same high performance than the conventional version.
Likewise, the spokesperson for US-based Triad Polymers, Anna Watts, says, "Advances in sustainable textile technologies will continue, encompassing additives from sustainable resources such as hemp as well as bio-resins. Biomimicry, wherein textile technology mimics nature, will also be a growing trend."
Alberts identifies the major trends that, he believes, will create new opportunities for highperformance fibres and fabrics. "(i) environment: The demand for ecologically responsible and sustainable clothing; (ii) lightweight: 'travel light' in clothing, backpack, but also in aviation and automotive; and, (iii) violence: hardening society with more violence in different professions." The sectors where technical textiles will dominate in the future are sports, healthcare, personal protection/safety, and urbanwear.
Tomorrow's Functionalities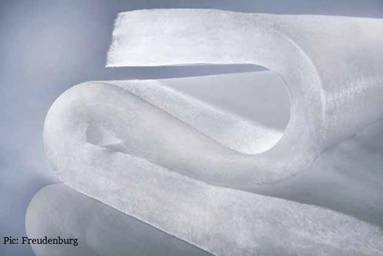 As textile technology is increasingly used in other industries and spheres, traditional textiles too are seeing newer, hi-tech applications with apparel becoming more functional.
The definition given by Jelka Geršak, author of Design of Clothing Manufacturing Processes, is widely used in industry: "Functional clothing is defined as that specifically designed and engineered to ensure predefined performance requirements and/or functionality for the user. This includes protection under harsh environmental conditions during work or sporting activities and protection against extreme hazards and environments. It may also include clothing for use in monitoring and evaluating hazards in conditions under which conventional everyday seasonal clothing would not be adequate. The functionalities required of clothing can be very different, depending on the end-use." Functional clothing can be classified according to the main application areas, defined by Techtextil, which defines 12 main application areas for technical textiles, divided into four groups: protective clothing (Protech), sports-functional clothing (Sporttech), medical-functional clothing (Medtech), and clothing for special needs.
All this means that even though people will not stop buying apparel made from traditional textiles or fibres, functional apparel will see more of technical textiles entering the sphere of traditional apparel.
Jaenecke, in the context, points out, "It was only a short time ago that the influence of workwear and outdoor clothing was once again to be seen on the catwalk. Vice versa, both working and protective garments are being increasingly designed with fashion aspects in mind. This is certainly not a new trend. However, it is a vivid example of how the different fields of apparel and fashion influence each other. This applies not only to design, but also to the materials used.
Heat regulation, cut resistance, water resistance and abrasion resistance are just a few examples of the properties that such materials must have. Smart properties, such as lighting, heating or communication functions, are also being used more and more."
Alberts picks up the thread here: "People are opting less for low-quality clothing because they understand the consequences for people and planet. Sustainability is the trend. Products have to last longer, which demands you to explore and make use of innovative materials. This is not only the trend in the B2B sector but certainly also in the B2C sector, to which various major brands are already responding. SuperFabric (an offering of his company) for instance offers an extremely high level of abrasion and uses it in ski clothing or mountaineering clothing. These products last considerably longer, which is good for the environment as well as your wallet."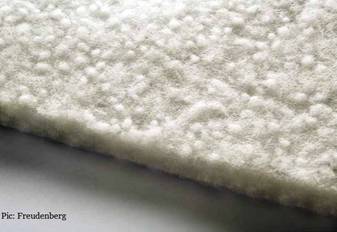 Buttcher chips in, "In recent years, formal dress codes have been softening in many areas of life. Fashion and athleisure substitute more and more formal men's and women's suits. Within this scenario, functional characteristics find their way into fashion/athleisure garments. Adding functional characteristics in these segments offers the possibility to differentiate. In performance materials, the trend is increasingly going all-in-one. An exemplary multifunctional requirement for a material could be that it should be ultra-light, cool, breathable and yet warm at the same time and can also provide rain protection if required. Combining all these properties in a single material is an exciting challenge. Of course, sustainability plays a role here as well."
Davis is more specific, "Technical textiles will continue to cross over into activewear and medical apparel because they provide multiple functionalities such as cooling, heat-retaining, moisturewicking, moisture barrier, and breathability capabilities. Additional versatility such as flame retardancy, temperature monitoring, anti-bacterial properties, and compression for injury healing are other functionalities added to safetywear, uniforms, and other Medtech applications."
Adds Watts, "Increased functionality will become the standard for all textiles, with multiple performance aspects inherent in the fibre or added at the finishing stage. Synthetic fibres will look to bio-derived additives and resin sources in order to offer functional aspects, and natural fibres will be mixed with synthetics to create hybrid blends with increased performance properties." She continues, "Functional textile properties that are currently being used in industrial textile applications will extend into apparel, footwear, and accessories as these technologies become commercialised and less cost-prohibitive."
Meanwhile, most technical textiles/nonwoven products remain industrial products (as in catering to automobile, health, construction industries, among others). The skew is all too stark.
Davis explains the slant, "The 14 sub-segments can accurately provide market segmentation for the technical textiles industry. If you consider just nonwovens, consumer products such as household wipes, diapers, and feminine hygiene products skew the global volumes."
As Buttcher points out, "In many industries, product specifications requested by customers are much more detailed and demanding in terms of performance. Of late, we have been seeing several big brands pushing for joint innovation projects in terms of sustainability. We think we will see more of this in the near future. Freudenberg's comfortemp fiberball padding eco is an example here."
The Coming Days
The overlap between textiles and technology could mean a change in the landscape.
Maintains Alberts, "For years, there had been a clear trend that the technical textiles industry was moving out of Europe towards Asia. You now see a clear reversal, partly because the wages in Asia are rising fast and lead times are getting longer. That is why the technical textiles industry in Europe is currently in a good shape. We don't see the number of players increasing, but the overall demand seems to be rising from, for example, the various sectors I mentioned earlier."
Buttcher offers another perspective, "Most nonwovens manufacturers focus on specific mass markets like hygiene or apparel. Accordingly, they match technologies with market requirements. This focus often comes at the cost of limited technical capabilities. In many specialty and industrial markets, we see a trend that customers have been demanding solutions that combine different functionalities in one new product, e.g. nonwovens that offer breathability and at the same time have high water resistance." So, Freudenberg creates new multi-layer solutions combining various functionalities. "We see this as a big opportunity to support customers in several of our key markets and in new markets, like e-mobility."
Some diversification has already been happening. Says Davis, "Over the last several decades, traditional apparel textile companies have diversified into technical textiles to counter-balance their more commoditised product lines. This diversification will drive innovation in both apparel and technical textiles, resulting in increased functionality requirements for these textiles. These include improved adhesion for binding, better anti-block for rolled goods, increased heat resistance for higher performance, and grip for higher bond strength for resin impregnation for composites."
According to Watts, companies will look for ways to team up and work together as startup partners with larger mills and manufacturers to commercialise their innovations, while larger retailers and brands look to universities and small research and development (R&D) firms in order to diversify their offerings and stay competitive.
Most agree that inventions and innovations will drive things ahead.
Alberts foresees, "The use of products made with high-performance fibres seems to be unlimited. New products and new markets are continually being explored and developed. The high technical demands for these products are translated in application development projects taking place in our well-equipped technical lab to improve our products or develop new products. Application engineers are putting a lot of effort in improving our current products and solving the challenges of the markets.
"With Bodyshield clothing, Eurofabrics aims to make a significant contribution to the prevention of cut and slash injuries, bite wounds and scratch incidents in a variety of industries. The comfortable multi-layered high-performance fabric protects the wearer against grenade fragments, debris, cut and slash incidents, taser effects, fire, heat, and abrasion. The wearers benefit from complete protection at maximum comfort level, resulting in less injuries and improved conditions during their daily activity as the fabric protects the wearer in life-threatening situations. The project demonstrates the role of high-performance fibres and fabrics as strategic assets for Europe, while reinforcing the European textile industry and protecting people around the word and the planet as a whole."
Money has to go in as well. Buttcher holds: "Being at the forefront of innovation, you have to invest. For example, Freudenberg invested €430 million in R&D in 2017. This commitment to innovation has allowed us to develop new high-performance products. One example is a nonwoven with a ceramic impregnation on a nanometre level that improves the safety of lithium ion batteries. This enables us to contribute to new markets like e-mobility and-in this case-to provide a safer alternative to the pre-dominantly used foils. In addition, our innovation-driven culture allows us to adapt newly-developed technologies to applications in other markets. An example is our comfortemp technology that served as a starting point for the development of lightweight acoustic pads for (e)-cars."
Innovation and diversification will continue in technical textiles, declares Davis, and these innovations will cross over into other industries such as composites (automotive, aerospace, sporting goods, among others), personal ballistic protection (military and law enforcement), medical (fabrics with sensor capability, anti-bacterial properties, and compression for advanced injury healing, etc). "Another area of substantial research is sustainability. We are optimistic that future technical textiles will offer sustainable functionalities such as recyclability and compostability."
Watts believes, "The recent passage of the Hemp Farming Act of 2018 (in the US) legalising hemp will lead to some interesting applications for textiles such as hemp-derived replacements for carbon black as well as cannabidiol (CBD) additives for textiles. Increased government support for recycling infrastructure could lead to increased efficiencies in the use of recycled resins, thereby driving down costs. Additionally, public sector support for biodegradable resin R&D could lead to far less harmful textile waste in the environment and change perceptions of the overall product lifecycle for synthetic textiles."
As things stand, innovation is not an end in itself-it is the means to an end.