As a study projects the global home textiles market hitting $170.5 billion by 2024, expanding at a CAGR of 3.1 per cent, here is a brief look at the sub-sector.
The home textiles sector, which covers items like household furnishings, towels, bedding, blankets, kitchen linen and floor coverings, has nurtured itself parallel within the textiles and apparel industry from the beginning as a default consumer need. Of course, the raw materials used and elements of design and aesthetics have evolved with time and the fashion quotient attached to it is a relatively new trend, primarily linked to the growing affluence in certain sections of society.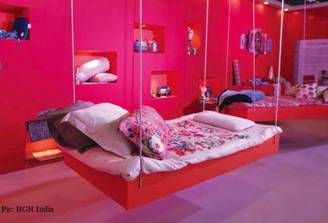 From simple stitched home textile products at the beginning, its varieties now include printed, embroidered, woven, nonwoven and even handmade. The choice and range of colours have also witnessed a transformation. The worldwide market for home textiles is expected to grow at a compound annual growth rate (CAGR) of roughly 3.1 per cent over the next five years, reaching $170.5 billion in 2024, from $142 billion in 2019, according to a new study by Global Info Research. An earlier analysis of UN Comtrade statistics by Wazir Advisors found the global trade stood at $79.5 billion in 2017, growing at a CAGR of 8 per cent for the last ten years-up from $54.0 billion in 2007.
Some of the big global players include Welspun India, Mohawk, SESA, Ralph Lauren Corporation, Hunan Mendale, Zucchi, Springs, Sheridan (Pacific Brands), Shandong Weiqiao, Pacific Coast Feather, 1888 Mills, American Textile, WestPoint Home, Franco Manufacturing, Luolai, Shenzhen Fuanna, Evezary, Amante and Allerman.
A report published in January this year by US-based Future Market Insights estimated the revenue generated from blankets globally at over $6,676.4 million in 2018 and is projected to rise at a CAGR of 4.5 per cent till 2027. Bold and dark colours in blankets are the latest trend and in Asian countries like India and China, there is a higher preference for blankets with exotic pattern, which, according to consumers, brings a unique charm to modern interior decorating and designing, the report found.
Trident and Dicitex are the two big Indian manufacturers in the home textiles segment. Indian brands include RR Decor, ABN, Birla Century, F&F, Maspar, Goldtex, Spread, Swayam, Mafatlal, Indian Drape, MYCK and Zyneand Super Net. Many international brands have witnessed decent annual growth in India market as well.
Home Trades
For calendar year 2018, the total Indian imports in the home textile furnishing segment accounted for $161.37 million with a decline of 0.61 per cent over the 2017 figure of $162.37 million, according to the Italian Trade Agency (ITA), which analysed statistics from the Indian commerce ministry.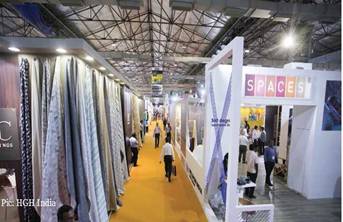 China led the countries from which such products were imported in 2018, with a share of around 92 per cent ($148.32 million), followed by Vietnam with 2.4 per cent ($3.95 million), the United States (US) with 1 per cent ($1.67 million), Germany with 0.7 per cent ($1.12 million). These were followed by South Korea, Hong Kong, the United Kingdom (UK), Bangladesh and Italy with minuscule shares.
The total exports from India in the home textile furnishing segment in 2018 amounted to $3.45 billion with a rise of 0.79 per cent over $3.41 billion in 2017, the ministry data revealed.
The US, UK and Germany have been the three big export markets for Indian home textile products. The US ($2.05 billion) led the countries to which India exported home textile items in 2018 with a share of 59.4 per cent (compared to 41 per cent in 2017), followed by the UK ($170.8 million) with 4.95 per cent (compared to 6 per cent in 2017), Germany ($168.62 million) with 4.88 per cent (compared to 6 per cent in 2017) and Canada ($88.22 million) with 2.55 per cent.
These were followed by Australia ($80.4 million), France ($68.12 million), Spain ($58 million), the United Arab Emirates ($58 million) and Italy ($56.9 million) in 2018.
Domestic Front
The wide and varied Indian market for home textiles and furnishing fabrics also has a big unorganised segment catering to lower-income consumers. The organised market has both affluent consumers as well as those from the mid-economy segment, which buys huge volumes. Rising awareness about environment, functionality, hygiene and safety is leading to increasing demand for better quality home textiles with traits like fragrance, flame retardancy and stain resistance.
Similarly, sustainability has turned a buzzword too and the industry is currently looking for modern solutions that deliver both performance and eco-friendliness, according to Gunjan Sharma, chief marketing officer, polyester business, Reliance Industries Ltd. Domestic consumption in India is slated to grow at a CAGR of 10 per cent for next few years-faster than the world average, said Sharma, who expects all home textile categories to see a sustained high growth.
"Though many retailers are not doing well globally, the demand for home textile products has not witnessed a fall here [India]. In the past five years, India has increased its share from 9 per cent to 11 per cent in the global market by registering a 4 per cent annual growth. Innovations in performance-based offerings along with quality, design, colours and better price quotients have provided Indian manufactures an upper hand among competing countries," Sharma told Fibre2Fashion.
Meanwhile, Mumbai will host from July 2 to 4 the 8th edition of HGH India event that will showcase new products and innovations in home textiles, home decor, houseware and gifts from over 700 brands, manufactures and importers from 32 countries. Around 35,000 retailers, distributors, interior designers, institutional and trade buyers from 500 locations across India are expected to visit the show for sourcing and trend information, according to Arun Roongta, managing director of the show.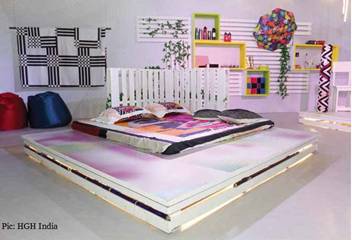 Visitors can find over 200 new exhibitors and several innovations from well-known national and international brands, especially from India, China, Turkey, Europe and the Middle East, in the home category, he said. Visitors can witness the latest trends at the 'Trends Pavilion' at the trade show. New collections will also be launched for 2019-20 in tune with the projected trends for the Indian market.