Anisha Silk Mills Pvt Ltd (Siddharth Industries) was established in 1985 by Ravi Juneja. In 2003, the company entered the embroidery market. Anisha Silk Mills is one of the pioneers in the field of embroidery. Currently, its factories have 124 embroidery machines.
<![if !vml]>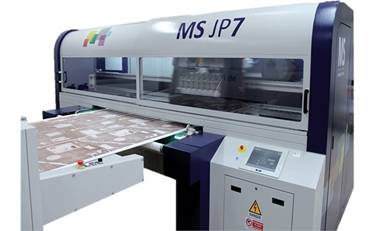 <![endif]>"We are one of the largest garment manufacturers in the country. Our objective has always been to produce the best products and focus on customer satisfaction; we have always firmly adhered to our morals and principles. For our customers, design and qualities are of utmost importance," said Karan Juneja, director, Anisha Silk Mills.
"This year we have entered into digital textile printing market. We have invested in Colorix Subpro I, a dye-sublimation machine from the Orange Group, due to its higher production coupled with great results and also the lower running cost," added Karan Juneja.
"Due to in house consumption and a complimentary to our embroidery, we have recently decided to purchase two direct-tofabric digital printing machine, MS JP7 from Orange O Tec," he added.
"The Subpro I prints with the new Flotec inks at a maximum output of 120 lm/h. Subpro I has edge over the competition as it provides better results at a reasonable cost," Aayush Rathi, director, Orange O Tec, said.
Subpro I: salient features
•Configured with 2 or 4 industrial proven Kyocera print heads
•Print speed up to 120 lm/hr
•Automatic periodic purging and wiping system
• Anti-scratch system with a laser sensor
•4, 6 or 8colour configuration
• Handles large jumbo transfer rolls up to 200 kg/1000 m
• Auto paper detect sensor
• Built-in three dryers helps to prevent the paper wrinkle