Lower tariffs and wages, welcoming regulations and other benefits are resulting in textile-apparel manufacturers in India and China shift production to Africa and Southeast Asia. Fibre2Fashion takes a look.
Introduction
China is the largest producer, consumer and trader of textiles and clothing in the world now. But its exceptional business ecosystem with unstable regulations on trade, rising labour costs, stricter operational oversight, stringent environmental checks and ongoing trade tensions with the United States have prompted the manufacturing industry to move elsewhere. China is also consistently increasing its minimum wage to boost domestic consumption and is pushing for more automation.
In 2017, China's textile and apparel exports reached $110 billion and $158.4 billion respectively, but its share in global textile and apparel exports went down to 37.1 per cent and 34.9 per cent respectively. In the same year, China, the European Union (EU), and India were the top three textile exporters followed by The United States, accounting for 70 per cent of global textile exports. The growth rates of China and India were 5 per cent and 5.8 per cent respectively.
The United States is not a prominent region for the textile and apparel industry's global supply chain, which is concentrated in Asia and Europe. US companies cannot afford locating suppliers or building factories in the United States, as it would be very expensive and not feasible and scalable.
Like China, India is also one of the topmost countries in the world that contributes significantly to the global textile industry. India's textile exports for fiscal 2017-18 stood at $36.6 billion, accounting for 15 per cent of the country's export earnings. India is the largest producer of cotton in the world and second largest exporter after China.
But the scenario is changing. Chinese and Indian textile manufacturers are now moving their production facilities outside the country due to lower tariffs and wages and other cost benefits in the emerging economies of Africa and South East Asia.
Moving Chinese textile factories to Bangladesh
Bangladesh was the first country where Chinese garment manufacturers had set up factories under joint ventures as the former is a competitive destination to relocate plants owing to the rising production cost in China. Chinese textile producers have also targeted Vietnam and Cambodia for investments in textile industries.
Bangladesh is attractive because there is a lack of skilled workforce and higher production costs in China and lower labour costs and mature management in Bangladesh. Its trade arrangements with the European Union (EU) and the United States are also attractive. Manufacturers are interested in investing in fabrics, garment, printing and dyeing facilities in the country, but it is yet to allow foreign investment in basic apparel manufacturing. Its textile and clothing exports have been showing consistent growth.
According to Robert Lok, managing director of Chinese company Merit Tat International Ltd, who was part of a Hong Kong business delegation to Bangladesh in early June, the skills of the young and energetic Bangla labour force is world class and as Chinese garment businesses may get affected by the ongoing trade war, companies want to plan joint ventures with Bangladeshi partners. Another Hong Kong-based Chinese garment maker Francis Man Piu Cheng said Bangladesh had better skilled workers and mature management compared to those in Cambodia.
Chinese factories are also looking at Uzbekistan as a textile and clothing manufacturing destination. Chinese textile and mechanical engineering giant Jinsheng Group has started a new textile project in Uzbekistan's Kashkadarya region worth $100 million, the second and third stages of which are currently under way. This group includes 77 companies and enterprises located in Germany, Switzerland, China and other countries. It will be commissioned in the first quarter of 2020 and its production capacity will be around 15,000 tonnes of mixed yarn and 10 million square meters of fabric.
Moving Chinese, Indian textile factories to Africa
China to Africa: Chinese textile producers are also exploring investing in textile projects in Africa. The reasons are lower labour and other plant-related costs, lower tariffs offered by the United States and the European Union and government-backed promotional events.
An investment road show on textile and clothing was organised by International Trade Centre (ITC) in the second week of March in collaboration with the China Chamber of Commerce for Import and Export of Textile and Apparel (CCCT) in Shanghai and Wuxi, China. It was organised as part of the Partnership for Investment and Growth in Africa (PIGA) project supported by UK Department for International Development (DFID). Around a hundred Chinese firms participated in the road show.
The Zhejiang Mengnah Socks & Hosiery Co Ltd and the Ethiopian Investment Commission (EIC) signed a memorandum of understanding (MoU) to implement a $30-million investment project. Some other textile and clothing manufacturers are in talks with Ethiopia for land acquisition. An MoU was signed between the EIC, the CCCT and the Shanghai Chamber of Commerce for Import & Export and other agreements are under negotiation. For textile industry projects, companies have invested nearly $200 million.
India to Africa: Under a collaborative partnership with ITC's Supporting Indian Trade and Investment for Africa (SITA) programme, India's KPR Mill Ltd has set up a garment unit in Ethiopia's Mekelle Industrial Park. This factory can produce 10 million items annually. It will provide jobs to 700 people and can export to Europe and the United States. DFID and SITA aimed at improving the competitiveness of the textiles and apparel sectors in five east African countries-Ethiopia, Kenya, Rwanda, Uganda and Tanzania-through partnerships with Indian institutions and businesses.
The US African Growth and Opportunity Act (AGOA) and the EU's Everything But Arms initiative act as catalyst for the textile and clothing sectors' growth in Africa. In addition, the African governments are also eager to sign new agreements for promoting exports and employment.
Exports in emerging African nations
The textile and clothing exports of Kenya and Ethiopia were an estimated $405 million and $128.37 million in 2018 respectively. Those exports were projected to grow to $543.71 million and $172.34 million by 2021 for Kenya and Ethiopia respectively from $398.66 million and $99.43 million in 2017 with a compound annual growth rate (CAGR) of 8.08 per cent and 14.74 per cent. As the Ethiopian textile and clothing industry has witnessed growth in the last few years, multiple foreign companies are coming forward to invest there.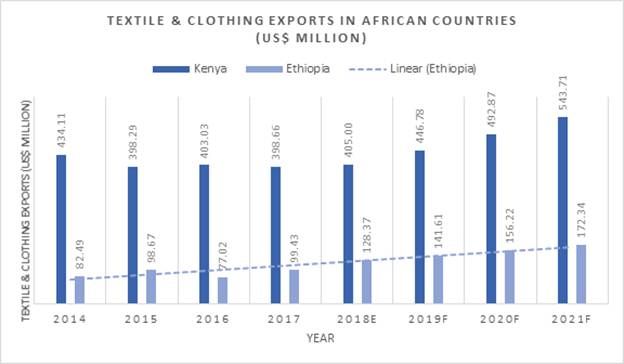 Graphic source: TexPro
Moving Chinese and Indian textile factories to Vietnam
A survey was conducted by Natixis SA on emerging Asian economies that could be selected as new manufacturing destinations and alternatives to China. The survey was conducted based on factors like low wages, the World Bank's Doing Business rankings, and logistics. Vietnam was ranked the best destination for manufacturing compared to China.
As per another survey by UBS Evidence Lab covering 200 manufacturing companies with significant textile and clothing export businesses, key drivers for moving textile and clothing production from China to Vietnam include increasing gross domestic product (GDP) and foreign direct investment (FDI) in Vietnam; its competitive environment and lower land acquisition and labour costs; its proximity to two big Asian economies; a growing skilled workforce; its status in the Association of South East Asian Nations (ASEAN); lower tariff and beneficial trade agreements; political stability; government investment in improving infrastructure; and the US-China trade conflict.
According to the Asian Development Bank (ADB) and Bloomberg, Vietnam's public and private sector infrastructure investment has averaged at 5.7 per cent of GDP in recent years-the highest in Southeast Asia. Nearly 40 companies have clearly stated their plans to shift production from China to Vietnam since January 2017. The country has five free trade agreements (FTAs) within ASEAN and six others with China, South Korea, Japan, India, Australia and New Zealand. Three FTAs-with Japan, South Korea and the EU-are expected to be signed in the near future. The Comprehensive and Progressive Agreement for Trans-Pacific Partnership (CPTPP) has also promoted new investments there.
Textile and clothing are two major contributors to Vietnam's export basket. Vietnam is the second largest textile and clothing exporter to South Korea after China. Industry experts anticipate the country will soon take the top slot. Recently, multinational retail giants like Nike and Adidas have expanded their manufacturing facilities in Vietnam.
Bilateral trade between India and Vietnam was worth $7.6 billion in 2017 and in 2018, it reached $10 billion. Indian players invested around $800 million in Vietnam and stood at 27th position among 125 investing countries. Both the nations are also engaged in a Comprehensive Strategic Partnership.
Textile-apparel exports of Southeast Asian nations
The textile and clothing exports of Vietnam, Indonesia and Thailand were estimated at $34.39 billion, $13.22 billion and $7.20 billion respectively in 2018. Such exports of Vietnam, Indonesia and Thailand are projected to reach to $46.89 billion, $17.74 billion and $9.66 billion in 2021 from $31.66 billion, $12.54 billion and $6.80 billion in 2017 with a CAGR of 10.32 per cent, 9.06 per cent and 9.17 per cent respectively.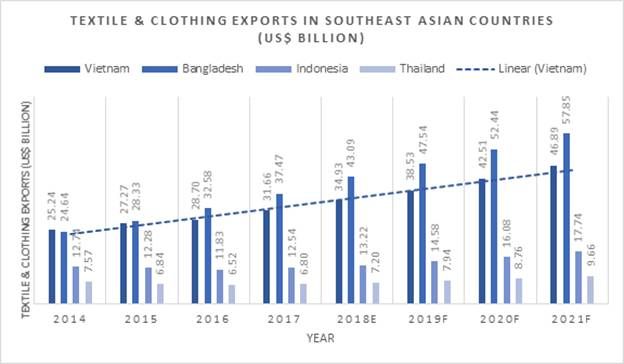 Source: TexPro
Textile and apparel exports of the emerging economies are set to rise in the near future and manufacturing shifts are further driving the trend. Barriers unfavourable to the movement of small players outside the country for manufacturing include relocation costs; access to suppliers; labour market-size, wages, skill development; supporting industries, logistics and infrastructure; and the tax and regulatory regime of destination countries.