So, what makes the states of South India different from those up north, or maybe towards the west as well? Some analyses and perceptions from those on the ground.
To look at South India from the standpoint of the textiles and apparel industry would be a fallacy-for one might invariably start with the idle assumption that it is a composite ecosystem on its own. But then, it is anything but that. The five states of Andhra Pradesh, Karnataka, Kerala, Tamil Nadu and Telangana differ from one another in innumerable ways-right from having their own respective textiles policies to the multifarious sectors of the industry that contribute to the overall Indian textiles economy. Then, within these states there are clusters and hubs that virtually stand on their own, and each state has its own singular textiles heritage. Yet, the more one delves into the manifest differences and seals the assertion that South India is indeed not one homogeneous entity by any yardstick, the more one discovers common threads running through the entire South.
Importance of Being South
When Fairtrade India was launched a few years back, it chose to operate out of Karnataka capital, Bengaluru. Fairtrade India's chief executive Abhishek Jani offers his insight: "There have been several hubs for handlooms, textiles and apparel production across the South-one can still find historic hubs for silk sarees and apparel in Mysuru, Kollegal, Kanchipuram and Dharmavaram, and hubs for traditional cotton-based textiles like Ikat in Nalgonda district (in Telangana) and Jamdani in Venkatagiri district (in Andhra Pradesh) and the Real Madras Handkerchief from Chennai.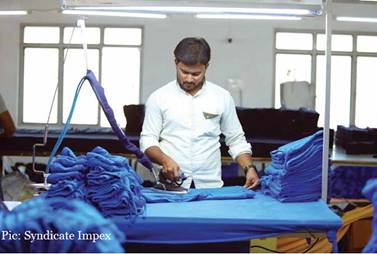 "In addition to these historic hubs, over the years, South India has also developed several other textiles and apparel manufacturing hubs which have emerged as centres for specialisation, especially for the international markets. Cities like Tiruppur have several integrated units and thousands of MSMEs (medium, small and micro enterprises) undertaking specific functions for yarn, textiles and apparel manufacturing making it the leading knits production hub of the country. Bengaluru in addition to information technology has also emerged as a major hub for fabrics and garmenting."
Cities like Coimbatore in Tamil Nadu and Telangana capital Hyderabad too have the presence of a large number of textiles and garmenting units. Karur (also in Tamil Nadu) and Chennai are specialised home textiles hubs, while Erode has evolved from being a handloom and carpet manufacturing centre to a powerloom / spinning hub. In addition, several specialised units can also be found dotted across South India landscape. These hubs have made this region a valuable and integral part of the Indian textiles-apparel landscape as a significant contributor to exports.
Contributing an overwhelming 90 per cent to the cotton knitwear exports of the country is Tiruppur, located on the banks of the Noyyal river in Tamil Nadu. Working out of this town is Syndicate Impex, whose marketing head Kathir asserts, "South India has always been the backbone of the Indian textiles industry.
We have a monopoly in cotton fabrics and are now also marking our footprint in MMF (man-made fibres). Managing director of Premier Mills, established in Coimbatore some 60 km westwards in 1949, K Srinivasan's understanding is similar: "South India has an advantage in the overall Indian textiles and apparel landscape in terms of skill, labour, trained technical staff, availability of certain raw materials (yarn) and historical background in textile manufacturing."
Chief marketing officer of Bengaluru based Laguna Clothing, Sandeep Raut, looks at the overall picture: "South India produces huge quantities of fibres, yarn, woven as well as knitted garments, and woven and knitted fabrics-the entire value chain. Bengaluru is for woven garments, as are Chennai, Coimbatore, Hosur and Tiruppur. There are woven fabric mills in Karnataka, Tamil Nadu, Andhra Pradesh and Telangana as well as Kerala. Tiruppur and Coimbatore form a vertical knitting cluster having their own spinning, knitting, dyeing, printing and finishing units. Besides, there are handloom and powerloom capacities which operate as a cottage industry.
"To add some statistics to the above information, South India accounts for 50 per cent of the country's yarn exports and 25 per cent of cotton textile production. It also accounts for 90 per cent of India's knitwear exports. About 35 per cent of the country's raw silk exports come from South India. More than 50 per cent of the country's readymade garmenting capacities are in South India."
Chief executive of ethical and sustainable apparel manufacturer Dibella India, Sreeranga Rajan, wraps up: "Historically, South India played a massive role in creating iconic products-from the Kanchipuram silk sarees to Mysore crepe to Ikat print techniques. There are hundreds of vertically integrated factories producing woven products, knitwear and home textiles which have made this region one of the foremost apparel supply bases for Indian as well as global retailers."
The Nerve Centres
The very mention of the South, and names of towns invariably spring up. Say Tiruppur for knits, or Bengaluru for garments. There are more. The question, however, that would naturally arise is whether the hubs / clusters of South India are any different from those elsewhere in the country.
Kathir outlines the Tiruppur narrative: "Since we work with any kind of MOQ (minimum order quantity) and lead time, we are always preferred by global buyers. We are more flexible and can handle fast-track orders. For buyers who want to work with sustainable fabrics, we are the right destination as we are the only cluster in the world to have ZLD (zero liquid discharge) facility, and also our cluster on the whole is operated with 100 per cent (renewable) wind energy. Infrastructure is good for many buyer audits and compliance too." Syndicate Impex happens to be a leading manufacturer and exporter of knitted garments for babies, women and men.
Also based in Tiruppur is the Armstrong Group whose Armstrong Knitting Mills was started in 1969. Managing director P Vivekanand talks about the process clusters. "All do not have vertical setups, but there are a lot of small and medium companies- each specialised in a particular process which caters to any other company's requirements from Tiruppur. Small and medium sizes of different ancillary units such as knitting, dyeing and bleaching, compacting, printing, embroidery, etc, that are required to produce garments, are within a radius of 70 km. Naturally, they work as clusters."
Points out Raut, "South India has separate clusters for woven, knitted and cottage industry handloom and powerloom sectors. Bengaluru forms a woven garment cluster and accounts for almost 30-40 per cent of India's garment production. Tiruppur accounts for 90 per cent of the total knitwear production. It's a little fragmented with separate dyeing, knitting and processing and garmenting units for knitted apparel. Bengaluru is also a hub for silk weaving and embroidery. Besides, there are silk saree clusters around Kanchipuram and Salem in Tamil Nadu and ikat weaving around Pochampalli in Telangana. An advantage of South India is the established vertical farm to store supply chains for a particular cluster in and around same cities."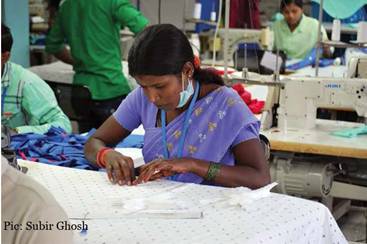 Southern clusters do have significant advantages in terms of material availability due to proximity to numerous value chain operators such as spinning, knitting, weaving and dyeing mills that produces different varieties of raw materials, says Rajan. "Retail is moving towards shorter lead-time products to respond quickly to fashion changes. Manufacturers and brands (here) are able to adapt to this change and offer more flexibility to retailers mainly due to ready availability of raw materials."
These textiles hubs, according to Jani, have developed over the years through a combination of organic entrepreneurship and government support and investment in infrastructure and manpower. This clustering has also helped these cities to develop as global sourcing hubs. While these factors have led to several enterprises developing in tandem, boosted by the network effect, it has also resulted in some challenges. Yes, there are some negatives as well.
Rues Kathir, "Our main drawback is the lack of skilled labour, and middlelevel management planning still needs to improve. We fail in delivery commitments, which can be a nightmare for a buyer. Labour attrition is to worry about. Since it is a labour-intensive industry, the relationship between management and labour has to improve. We also need more hostel facilities to accommodate labour in a healthy environment, which in turn will increase their efficiency."
Agrees Vivekanand, "Over the years, the business has been expanded, but the availability of human resources is becoming a challenge. Even though the Pradhan Mantri Kaushal Vikas Yojana (PMKVY) for skill development is under way in Tiruppur, the (output) volume of this programme must be expanded to meet Tiruppur's requirement. Moreover, government support is required to create more skill development centres in and around Tiruppur, besides accommodation facilities for migrant workers and ESI (Employees' State Insurance) hospitals for the working populations of the region."
Periodic scarcity of trained manpower and infrastructure bottlenecks have been challenges affecting growth, says Jani. "Unfortunately, some of these hubs have also had detrimental social and environment impact. Several studies have shown that the discharge from the textile dyeing units have severely polluted the Noyyal river flowing past Coimbatore, Tiruppur, Erode and Karur. There have also been reports of exploitation of vulnerable workforce at some of the units in these hubs. For catering to the growing international and domestic trend for sustainable fashion it is crucial that these social and environmental challenges are tackled systematically."
The problems include, what Raut describes as, "the government's changing policies for exports which has resulted in the closure of a lot of mills and garment factories. Then, the Tiruppur knit cluster is highly fragmented, and there are no integrated mill players who can control the entire supply chain resulting in huge unreliability, which affects quality. Plus, increasing costs and neighbouring countries getting dutyfree trade agreements is an additional disadvantage."
Organic and Fair
As the global textiles and apparel industry increasingly tries to shed its pollutant image and turn a sustainable leaf, trends from South India are clear: it is leading from the front.
Jani points out, "Within the Fairtrade system, India is a major manufacturing base for Fairtrade cotton textiles and apparel with over 45 per cent of the more than 300 units certified by Fairtrade being based in India. Broadly speaking, over 25 per cent of the global Fairtrade certified units are based in South India. Speaking in the Indian context, this would translate into approximately 55 per cent of the Fairtrade certified units in India being based in the South. Therefore, South India is the leading manufacturing hub. We have also seen a greater appetite for innovation and adopting the Fairtrade sustainability standards by South Indian textiles units. For instance, the first factory to commit to the demanding Fairtrade Textiles Standard is the Southbased Mila Clothing."
The numbers are clear. Considering that more than 70 per cent of the GOTS (Global Organic Textile Standard) and Fairtrade certified factories in the country are based in South, Rajan affirms, "Southern manufacturers are proactive in leading the sustainability initiatives such as Fairtrade and organic both in India and globally. Also, innovations in products and process, especially around sustainability, are seen more among southern manufacturers. Even the textile industry bodies in South India have been appealing to the Central government for a long time to direct the Cotton Corporation of India (CCI) to have a transparent and fair cotton trading policy which would ensure better livelihood for the farmers as well as workers in the supply chain."
A first-hand explanation comes from Vivekanand: "Customer demand gives us an opportunity to opt for the Fairtrade model and make greater commitments to communities we work with. Fairtrade is a big part of Armstrong's values and we've been associated with them for over five years. We source our cotton from Fairtrade-certified producer groups like Suminter Organics in Gujarat and Chetna Organic (headquartered in Hyderabad, and field offices in three states). Fairtrade ensures a premium for farmers, which is definitely better than the conventional prices.
"It's not just the premium for the farmers at the factory level; what it brings are social standards. More companies from the South are open to sustainable approaches-fibres and certifications. At the moment, the Fairtrade volumes are low, but the commitment has to come from Indian consumers and brands to increase the commitments. An annual audit by Flocert and Fairtrade is conducted at Armstrong, and it is important (for us). More units in the South are looking to be certified to international standards and follow code of compliance." This would beg the question: are consumers in the South different in their approach, attitude?
While there is a growing support (for sustainable/Fairtrade consumption) across the country, Jani says he has noticed that a significant number of early adopters and pioneers have been from South India. "India's first Fairtrade school Vidyashilp Academy has been sourcing Fairtrade uniforms since 2018; citizens from Puducherry and Kotagiri are working towards making these towns and cities Fairtrade consumer hubs through the Fairtrade Towns movement; FORCA Goa Foundation linked to the ISL team FORCA Goa has become the first football academy in the country to source hundreds of Fairtrade footballs; and a number of Fairtrade fashion brands have set up retail stores and are creating a distribution network for Fairtrade fashion across South India. This is a strong indicator of their confidence in the consumer demand for their products in the South."
One can for sure see traction, support and engagement for sustainable fashion from consumers down South.