Rooftop solar power plants can help MSMEs reduce costs, while also contributing to sustainability.
India's significant and continued economic growth has led to an increase in demand for power resources. One of the most looked-for ways to address this demand is the use of alternative energy sources, particularly renewable energy sources like solar which will also improve energy security for industry.
Key to this growth have been MSMEs (medium, small and micro enterprises). According to the 2017-18 annual report of the ministry of MSME, such enterprises accounted for 29 per cent of the country's GDP (gross domestic product) and created 111 million jobs. According to a Deloitte report published in April this year, most MSMEs spent between 5 per cent and 20 per cent of their operating income on electricity. This, of course, varies with the nature of industry and cost composition of the other raw materials.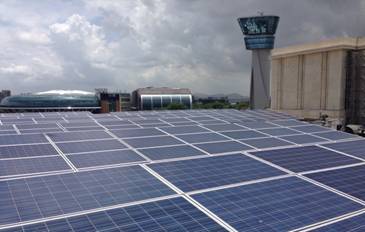 The Indian government has recognised this need and executed several plans to encourage renewable energy solutions among MSMEs and large industries. Under its National Solar Mission (NSM), the government of India has set an ambitious target of 100 GW of solar power capacity by 2022, and out of this 40 GW has been allocated to rooftop solar. Aligning with this mission, most states in the country have implemented dedicated solar policies and net metering regulations to enable the growth of on-grid rooftop solar systems among businesses. In India, rooftop solar power generation in commercial and industrial facilities is a financially viable opportunity which is yet to be explored to its full potential.
If we do the calculations, a commercial property which pays around ₹10 per unit of power, having a rooftop solar power plant can generate ₹150 per sq ft of revenue, which is almost 20 per cent of the rental yield that most of commercial spaces get annually. This can be achieved utilising a vacant space which otherwise has no commercial use. When it comes to industrial customers who pay a tariff of approximately ₹7-8 per unit, they themselves can generate around ₹105-120 per sq ft through a rooftop solar power plant.
On the other hand, the grid power costs in India are expected to escalate by 5 per cent year on year (YoY). Moreover, accessibility of grid power is challenging at some places, resulting in higher usage of diesel generators which leads in turn to increased energy costs.
Some benefits of on-site solar power generation facilities:
Utilisation of unused space: Companies can use commercially unutilised roofs to generate electricity at a lower tariff with a payback of 2.5-3.5 years depending on the tariff of a discom.

Accelerated depreciation tax benefit: According to central government policies, investment (Capex) in solar power plants is eligible for an accelerated tax depreciation of 60 per cent. This means that you can allow 60 per cent of the total project cost as depreciation in the first year, and 40 per cent of the remaining project cost in the subsequent years.
Hassle-free maintenance: A solar plant has no complex mechanical arrangements and moving parts, and thus, requires minimal maintenance. The routine maintenance of a solar plant includes regular cleaning of the PV modules over 10-15 days and a monthly checkup of inverters and PV modules. The solar inverters and PV modules have a 5-year and 25-year warranty respectively.

Zero investment plans (Opex): With a zero Investment option, companies can sign a power purchase agreement (PPA, or contract) with an investor who can offer less expensive energy at zero upfront cost. This eliminates Capex investment in solar energy.
Modularity: Rooftop solar PV system designs can be highly customised. System sizes can be specifically tailored to meet a company's energy, space and budget requirements.
Reduced dependency on diesel backups: Most factories depend heavily on diesel generators for continuous power. Solar power can reduce the dependence on diesel power, if not eliminate the need for it altogether. Solar power comes at a levelised cost of around a quarter of diesel power. Hence, it makes more sense to depend on solar power subject to the usage.

Become an environment friendly business: Generating electricity from solar energy means your company uses less fossil fuel, which in turn reduces pollution and greenhouse gas emissions. By switching to solar power, companies can contribute to fighting climate change. It also helps in creating positive public relations as an environmentally responsible company.
In this context, the textiles sector in India is one of the highest energy consuming sectors in the country. Textiles businesses run throughout the year, and energy demand remains in excess. The textiles industry in India pays around ₹7-8 per unit power tariff. On an average, the industry has enough space to accommodate 1-5 MW capacity of a rooftop solar plant with a payback time of 2.5-3.5 years, where the life of the plant would be around 25 years. The operation and maintenance of the plant can cost around ₹40 paise per kWh with a 4 per cent escalation YoY. Sensing the economic outlook of solar energy, both MSMEs and large textile businesses in India are becoming assertive in the use of solar energy.
A case in point: leading Swiss textiles machinery manufacturing brand Rieter took a step towards sustainability at their manufacturing unit near Pune, Maharashtra with the installation of a 2 MWp capacity rooftop solar power plant. This power plant is expected to generate around 29 lakh units of electricity annually and will contribute to the environment by reducing 2,500 tonnes of CO2 every year.
The world is adopting solar power at a rapid rate. India is also emerging in the global arena as a leading generator of solar energy. Today, the adoption rate of a rooftop solar power plant in the industrial and commercial sector is accelerating. It's the time to go green and go solar. Let the Sun power you.