The European Union has inked a landmark free trade deal with Vietnam, paving the way for tariff reductions on 99% of goods between the 28-member bloc and the Southeast Asian country.
The negotiations between Vietnam and the European Union (EU) over a free trade agreement (FTA) was keenly watched by many other countries and blocs, particularly India. When the talks eventually led to a deal being signed on the last day of June, it came somewhat as a double whammy for India-mostly from the textiles-apparel point of view. First, Vietnam's textiles-apparel industry has decidedly gained an advantage over India as far as exports to most European countries are concerned. And second, Vietnam has got the FTA that it badly wanted, stealing a march over India-the former's parleys with the EU began just as those of the latter ran into a bottleneck.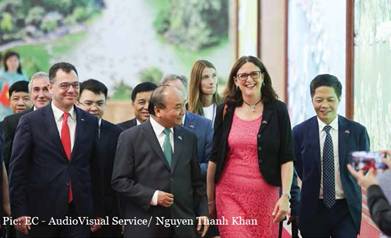 Of course, it is a big deal that will have a far-reaching effect on global supply chain.
There were two distinct agreements-a Free Trade Agreement (FTA) and an Investment Protection Agreement (IPA) under the ambit of the Vietnam-EU Comprehensive Partnership and Cooperation Framework Agreement (PCA) that will together see tariff reductions on an overwhelming 99 per cent of goods traded between the EU bloc and Vietnam.
Technically, however, it is not a done deal yet-it will now have to be presented to Vietnam's National Assembly for ratification and the European Parliament for its consent, besides the respective national parliaments of the EU member states in the case of the IPA. The passage in Europe may not be a cakewalk, given the strident opposition to the agreement by groups that are critical of Vietnam's human rights record.
Nevertheless, the agreements, signed in Hanoi by the EU trade commissioner Cecilia Malmstrom and Vietnam's minister for industry and trade Tran Tuan Anh, remain intrinsic to the framework established by the EU-Vietnam Partnership and Cooperation Framework Agreement, which would govern overall bilateral relations in areas, including development cooperation, peace and security, trade and investment, judicial cooperation, social affairs, good governance, rule of law and other issues of common interest. Both sides also agreed on the importance to ensure the implementation of the obligations under the Trade and Sustainable Development chapter of the trade agreement.
The Immediate Backdrop
The timing of the EU-Vietnam agreement may not have been remarkable, but the context certainly was. It came just two days after the EU and South American bloc Mercosur (an economic and political bloc comprising Argentina, Brazil, Paraguay, Uruguay and Venezuela) agreed to a free-trade treaty following two long-drawn decades of intensive talks.
As a result of the agreement, EU companies will now benefit from privileged access to a market of over 260 million consumers. EU exporters will gain from progressive tariff cuts that over time will bring these European companies annual savings of more than €4 billion. The agreement will, in a staggered manner, remove duties on 91 per cent of goods that EU companies currently export to Mercosur. In turn, the Mercosur countries will remove high duties on industrial products. This includes textiles (taxed up to 35 per cent) as well as clothing (also taxed up to 35 per cent).
The EU bilateral trade with Mercosur totals €88 billion a year for goods and €34 billion for services, according to the EU website. Every year, the EU exports to Mercosur countries goods worth €45 billion and imports products of nearly the same value. As far as services are concerned, the EU exports more than twice as much as it imports: €23 billion of services supplied by EU firms to clients in Mercosur versus €11 billion in services delivered to EU clients by firms from Mercosur countries.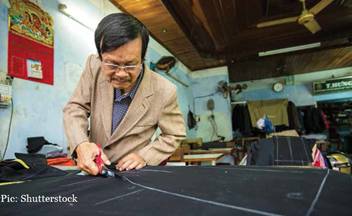 The EU has been hyper-active. In Asia, the Union already has trade agreements in place with South Korea, Japan and Singapore, and is in advanced stage of talks with Indonesia, Malaysia, the Philippines and Thailand. The EU-Singapore agreement is likely to come into force later this year.
Vietnam too has not been sitting idle-it has already signed about a dozen free trade pacts, including the Comprehensive and Progressive Agreement for Trans-Pacific Partnership (CPTPP)-an 11-country trade deal that will slash tariffs across much of the AsiaPacific.
Both the EU trade agreements were watched with some apprehension from India, especially its textiles and apparel industry which has been given a run for its money by a spunky Vietnam. Negotiations over a possible FTA between India and the EU were launched in 2007 and suspended in 2013 when the differences between the two parties came to a head. India would now want to ink that deal at the soonest possible, and maybe also look at the Mercosur grouping as well.
The European Front
Bilateral trade and investment negotiations between the EU and Vietnam were launched in 2012 and concluded last year. The EU's agreements with Vietnam are the second (following those with Singapore) to have been concluded with a Southeast Asian country. The trade and investment agreements are governed by the PCA that entered into force in October 2016. At the moment, Vietnam benefits immensely from the Generalised Scheme of Preferences (GSP) of the EU.
The EU-Vietnam agreement, once it comes into force, seeks to eliminate 99 per cent of tariffs, although some will be cut over a 10-year period and other goods, notably agricultural products, will be limited by quotas. The agreement is also expected to open up public procurement and services markets, such as for the postal, banking and maritime sectors in Vietnam.
"The European Commission and the Government of the Socialist Republic of Viet Nam welcome the signature of the Free Trade Agreement and the Investment Protection Agreement," Malmstrom and Tuan Anh said in a joint statement in June. "Both sides share a strong commitment to the effective implementation of both agreements and are cooperating closely to ensure full compliance with the obligations under these agreements." The EU said it will "support Vietnam through technical assistance in order to define and follow up on an implementation plan to facilitate the necessary reforms and adjustments, including in areas such as non-tariff barriers."
The EU is Vietnam's second-largest export market after the United States (US), with main exports including apparel and footwear products. In 2018, Vietnam exported $42.5 billion worth of goods and services to the EU, while the value of imports from the region was $13.8 billion, according to official data. According to the Vietnamese government, the EVFTA would boost EU exports to Vietnam by 15.28 per cent and those from Vietnam to the EU by 20.0 per cent by next year. The trade deal is expected to boost Vietnam's gross domestic product (GDP) by 2.18-3.25 per cent annually in another four years and by 4.57-5.30 per cent annually between 2024-2028, the government said.
The US-China Angle
Long before US President Donald Trump decided to go hammer and tongs at China, many firms were already either shifting factories from China to Vietnam or switching over to apparel suppliers there. China was slowly losing its marked advantage as a cheap source for products with manufacturing costs going up both in pace and scale. Wages had increased and an indeterminate number of factories were shut down over environmental violations over the last two years.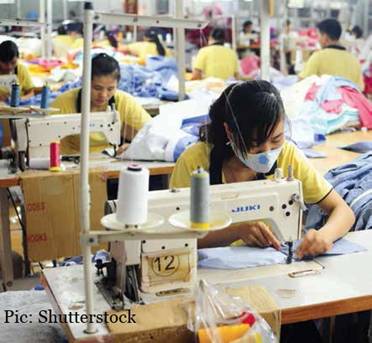 The best move for many multinationals was to shift base, but only by a notch, to neighbouring Southeast Asian countries like Vietnam and Cambodia. And with the flaring up of the US-China trade war, ASEAN has been the new preferred sourcing region. As things stand, African countries lag far behind their Southeast Asian rivals both in quality and efficiency. To repeat for emphasis: as things stand. It could be only a matter of time before African economies ramp up matters.
However, as things also stand, Vietnam is said to have gained the most from US-China trade war. According to a study titled Exploring US and China trade diversion conducted by Nomura Holdings Inc economists Rob Subbaraman, Sonal Varma and Michael Loo, Vietnam has been a clear winner with US importers looking to divert their orders to bypass higher tariffs.
Vietnam gained orders from trade diversion on tariffed goods equal to 7.9 per cent of gross domestic product (GDP) in the year through the first quarter of 2019. The findings were based on the study of world's 50 biggest economies from the first quarter of 2018 (Q1CY18) till the first quarter of CY19 (Q1CY19). The study covered US tariffs on $250 billion worth of imports from China and Chinese tariffs on $110 billion worth of imports from the US. The Nomura researchers saw evidence of US and China import substitution in 52 per cent of the 1,981 tariffed products.
Taiwan was a distant second with gains equivalent to 2.1 per cent of GDP. According to the study, both economies gained far more from US tariffs on China than from Chinese duties on the US. "American and Chinese orders for more than half of the 1,981 tariffed products in the US-China trade dispute thus far have been re-routed, upending the winners and losers in the global supply chain," it remarked. Incidentally, Taiwan's total direct investment capital in Vietnam is to the tune of $31 billion, focusing mainly on production and processing, and also contributing to the country's exports, particularly in the textiles-apparel and footwear sectors. The Vietnam Textile and Apparel Association (VITAS) wants to soon set up an information exchange channel with Taiwanese textiles-apparel firms in Vietnam in order to connect sources of materials.
Besides the two, Chile, Malaysia, Argentina, Hong Kong, Mexico, Korea, Singapore and Brazil are the other countries / economies among the top 10 that, according to the researchers, will benefit the most. Canada, Thailand, South Africa, Saudi Arabia, Portugal, Australia, France, India, Egypt and Colombia are the next ten. For India, the benefit was pegged at 0.2 per cent of 2019 GDP.
There have been other appraisals that have come up with similar indicators. According to a survey conducted by the Vietnam Chamber of Commerce and Industry and a US industry association, out of 566 firms surveyed, 31 per cent respondents said they had expanded output, and another 31 per cent anticipated rising sales in the years ahead. The survey drew responses from 200 local firms, 81 from South Korea, 66 from Japan, 35 from Europe, 22 from China and 14 from the United States as well as from other countries and regions. By industry, 26 per cent were textile firms.
Meanwhile, US Census Bureau statistics in early June showed that even though US tariffs were driving some manufacturing out of China, much of it still remained outside of the US. US imports from Vietnam were up 38 per cent during the first four months of 2019, compared to last year. Imports also increased by 22 per cent from Taiwan, 17 per cent from South Korea, and 13 per cent from Bangladesh. The numbers vindicate the Nomura findings.
Domestic Issues
There is also that proverbial "other side" of the story. Media reports, shortly after the EU-Vietnam agreement, pointed to the possible increase in labour costs in the coming days. "For many of these companies-who supply to some of the biggest brands in the world, including Nike, Adidas, Uniqlo and H&M- Vietnam is their biggest manufacturing base. But as Apple, Dell, Google and Amazon suppliers seek new production locations to avoid US tariffs on China, competition for land and local talent is expected to heat up," a news report indicated.
It went on to lay matters bare, "The minimum wage in Vietnam has risen over the last 10 years from 1 million Vietnamese dong ($43) a month to 4.18 million dong per month in 2019, according to the government, although this is still lower than China. The Vietnamese government also requires all manufacturers to raise wages by more than 10 per cent each year. Most foreign companies already offer much higher than the base pay, while the total compensation package should also include insurance as well as other employee benefits and bonuses."
A Fitch Group report earlier in May had asserted that Vietnam's low labour cost allure for foreign investors has been on a decline, in spite of reaping benefits from the US-China stand-off. It noticed that "Vietnam was among three countries with the largest minimum wage growth in East Asia, with an average year-on-year growth rate of 8.8 per cent between 2015 and 2019. Ahead of Vietnam were Laos and China, where the minimum wages rose 14.6 and 9.8 percent each year respectively."
Similar forebodings came from a World Bank report in December 2018. It found that Vietnam's labour costs, which it defines as the cost of all payments to all workers in a firm divided equally, was the highest among comparator countries in Southeast Asia. It said wage costs of about $2,739 per worker for the median Vietnamese firm was about twice as high as in Laos, Myanmar and Malaysia, and about 30- 45 per cent higher than in Cambodia, Thailand and the Philippines.