As the fashion industry gets ready to find out what is in store at the China International Sewing Machinery & Accessories Show (CISMA) in Shanghai next month, here's a look at how the sewing machinery sector is faring and-more important-looking at the future.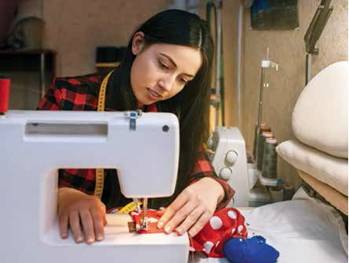 Clothing, as we know, came into being when human beings learnt to sew. The art of sewing remains at the core of garments thousands of years later. It remains labour-intensive as things stand, and it is on this front that the sewing machinery industry is likely to see the most cutting-edge developments in the immediate future. Manufacturers of sewing machines-of the industrial scale, obviously-are possibly among the most under pressure from apparel manufacturers to help the latter cut costs. In many ways, that is how it all started. The sewing machines that were made during the first Industrial Revolution had a clear-cut objective: to decrease the amount of manual sewing work at garment companies. The first of these was made by an English cabinetmaker called Thomas Saint in 1790. All subsequent modifications and innovations were built on Saint's work-till, of course, the modern sewing machine built in 1851 by Isaac Merritt Singer, an American inventor, actor, and businessman. Even today, Singer is more than a brand name- it is as good as a common noun.
Singer's contraption has since been escalated to an industrial scale, and it is the sewing machine that lies at the core of improving the efficiency and productivity of the apparel industry. Much of the way that clothes will be manufactured in the days to come will depend considerably on the sewing machine sector. This sector has seen only so much automation and is being keenly watched by manufacturers ever on the lookout to cut down on costs and narrow down lead times. The mandate for the sewing machinery sector is clear: get smarter. It should, naturally, be no surprise that the China International Sewing Machinery & Accessories Show (CISMA) in September this year should be focusing on 'Smart Sewing Factory-Technologies and Solutions' (see box: Smart Show).
Getting Innovative
The pressure on garment manufacturers to cut down on costs and on suppliers to narrow lead times is tremendous, in the face of end-consumers looking out for garments that cost less and are better in finish. Manufacturers, in turn, lean on machinery producers, including the sewing sector. Therefore, this sector needs to foresee apparel consumption trends and keep track of all other developments driving the global fashion industry-in some ways, it needs to stay ahead of the times.
One company doing all this for over 100 years is the Japan-based Brother Industries Ltd. Yasufumi Yamada, group manager of CS Planning Group (Industrial Sewing Machines Sales Department, Machinery Business Division) offers a global perspective to sewing: "Expectations are increasing towards productivity enhancement through automation, labour cost savings, and visualisation of production lines against the backdrop of manpower shortage and rising labour costs."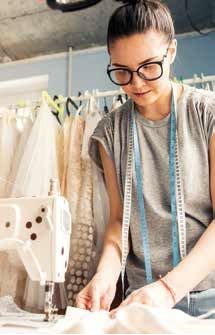 By the early 2010s, the global market of the industrial sewing machine had already matured. So, each sewing machine manufacturer was trying to respond to the customer's request for cost-saving by offering machines at as cheap rates as was possible. "However, the times have changed. No matter how much the initial investment for machines is brought down, the amount saved is still too small. So now, we contribute (to the apparel producer's costs) directly through the machines."
This is how Brother is doing it: If a customer has trouble in appropriately educating operators, it offers a machine for everyone-anyone can operate it without skills or any experience. If customers have to run a factory with limited labour, then Brother offers an automation machine for multiple processes. If customers want to improve their production lines continuously to meet their buyer's demand, Brother has a system for real-time production management with minimum costs involved.
There's more-the sewing sector is undergoing major changes due to the changes in customers' needs. Although Yamada foresees developments on the automation and internet of things (IoT) front, it does not mean that sewing machines will stop changing. He believes that it is worthwhile to pay attention to what a machine has to offer in terms of value rather than just the price.
The Brother Group in Germany is Brother Internationale Industriemaschinen GmbH. Here, area sales manager Mike Finke adds to the perspective. Finke suggests that the global sewing sector be seen from two points of view: apparel and nonapparel industry machinery.
In terms of apparel, "for sure some leading European fashion companies are thinking of coming back to Europe, mainly East Europe. That's a logical consequence by the fact that the old style of spring-summer-autumn-winter collections is not recommended anymore by consumers." Of course, fashion companies still offer ranges for all seasons, but the collections keep changing every month or two. "Such quick changes can be realised only when the way from production into the stores is short."
In case of non-apparel, "the trend goes to automation in order to compensate for the lack of operators. Even in Poland or Romania which are most involved in automotive production, the labour cost is too high-and we talk here of €500-750. So, we will see that automotive industry (airbag-seatbelt-seat) will move to cheaper countries like Morocco and other North African countries."
Similarly, Eoghan Murray, marketing manager at Poland-based Juki Central Europe thinks "we will see the industry push more and more into automation and deskilling of operators in the coming years. It has already been running in this direction, but with increased labour costs in Asia (including India) it is becoming increasingly important that factories should produce for the lowest possible unit cost while maintaining ever-increasing quality levels."
As sewing machine manufacturers work towards helping apparel manufacturers cut costs, they will need to cut down their own production costs as well. That bit is obvious.
Automated Sewing
Industry 4.0 is very much in, and slowly transforming much of the production process. The sewing machinery sector has a role to play here and will get more specialised over time.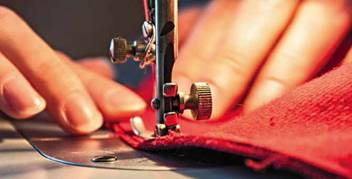 Points out Yamada, "Currently, the mainstream of IoT or production management system in the market is mainly aimed at managing the entire factory, production output and delivery date. There is hardly anything specialised in the production process. However, consumers have various needs. So, buyers' requests to a factory get complicated day by day. That's why we believe what our customer truly wants is a system specialised in optimising production line in their factory.
"The issue for the sewing industry is the lack of human resources. To achieve both superior productivity and sewing quality, the problem in the production line has to be found and solved immediately. In the near future, all sewing processes will connect with and be managed by an IoT system specialised in production lines. Of course, a sewing machine itself will need to connect with such systems as a standard. By collecting data directly from sewing machines, they can manage production lines real time without any trouble and solve the problem immediately. Through the productivity increase in the production lines, a factory's overall benefit will improve dramatically."
Finke chips in, "For sure, IoT is a part of our future in the industry sewing processes. IoT will open up for us much more possibilities and will help to provide a better after-sales service, and furthermore it will help to make a production flow much easier."
But as Murray notes, "As with household appliances, the sewing industry will become increasingly linked as more data from machines can be captured digitally and analysed to make better business and production decisions. You can see this already with Juki's digital sewing system offer which has expanded in the past three years to encompass nearly all our different product types. With digitalised machines, a factory can reduce its setup times and have consistency across a factory."
The Growth Catalysts
And, the Africa factor crops up again.
Murray believes that the African continent "is the next big growth catalyst for the sewing sector both in terms of production and demand. As the region becomes wealthier, there will be a middle class coming online that will have the income to buy more sewn products. In parallel to this as infrastructure improves in subSaharan Africa, more production will shift there from Southeast Asia and the Indian sub-continent. You can already see that China is making huge investments in the region and in the coming years this will slowly become a new sewing powerhouse."
On the other hand, Yamada considers three factors: intensification of trend changes; sharing economy (both clothes and facilities); and eco-friendliness.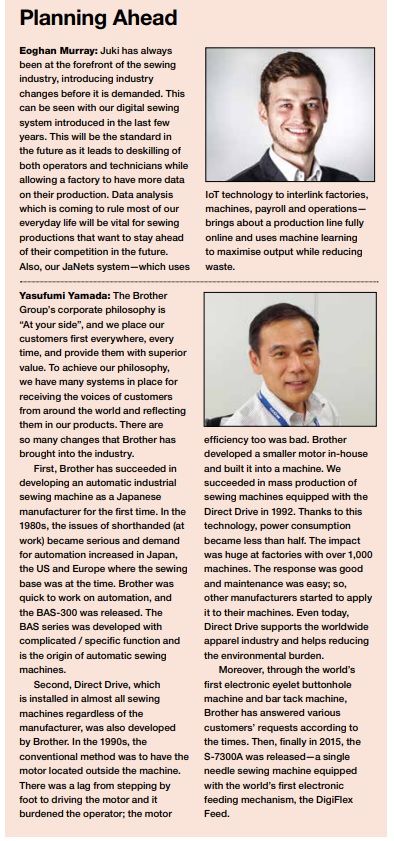 "Against these, I think the growth catalysts for the sewing sector, i.e., the future of this industry, can be consolidated into two points:
"First, local production for local consumption. The automated factory with IoT / AI analytics / robotics is already in. Although the sewing industry has relied on low-cost labour through globalisation and mass customisation, this will change from being labour-intensive to capital-intensive. The sewing business, which has moved base while being asked for lower costs, will run all over the world. That is to say-what people require next is uniqueness and added value of the land.
"Second, a change from selling facilities to selling services. If automation proceeds ahead, sewing factories around the world will be homogenised. In that case, manufacturers will have to change their business models from selling facilities to selling services to support the automated factory. Not only recyclable and unbreakable equipment, but we should also propose a comprehensive solution such as factory line improvement. And we at Brother have already begun to work on it."
Says Finke, "We believe it (the growth) will be country-specific and somehow worldwide too. Everything depends on labour costs, and let's say support from the government side as well. We might be seeing in the future slight differences in the homogeneity of growth catalysts by the fact that the textiles market needs support from many sides."
Going Circular
With the need and demand for a circular and sustainable economy driving change in the global textiles-apparel-fashion industry, the sewing sector has to chip in here as well with its innovations and processes. Contends Yamada, "Because people are calling for cost reduction throughout the industry, high value-added activities such as sustainability tend to be ignored. But the times do not tolerate this. Consumers are very conscious about activities that undermine the total value of society, environment and economy, as well as getting better products."
Sustainability is an area that Brother has focused on for a while now. "Brother determines to be compliant with the RoHS Directive (the restriction of the use of certain hazardous substances in electrical and electronic equipment) which came into effect in the EU, and also recommends obtaining of the 'Brother Green Label' which has been established as a voluntary environmental standard for products. Although it is our own standard, the checklist items are over 100. We are making efforts to reduce the burden on the environment and workers to the utmost."
But there are only few companies which maintain such a strict standard in the industry. "However, for the further growth of the industry, this area should be paid more attention. For example, just by adopting the machine structure that reduces power consumption or noise and vibration, we can be closer to the ideal. It seems to be a little bit difficult to step into the area, but if people consider their customers more, industry will automatically change." Brother keeps pursuing this thread.
Asserts Murray on this bit, "As the need for sustainability becomes more important, a factory will need to incorporate processes and machinery that maximise their output while reducing their waste and environmental impact. This shift will be driven by a cost analysis on the factory side as it will become cheaper to be sustainable in the long run. Thought-out sewing processes can ensure that minimal waste is created, and through automatic production less waste will be created. Using machinery with a lower electrical consumption is also vital, and Juki has been striving for nearly 10 years now to consistently reduce the power requirement of our machines-leading to lower costs for a factory and a small carbon footprint overall."
Finke concludes that consumers should understand that garments and other items like bags are not fully auto-produced. A lot of handcraft needs to go in, and here is the key question: whether our understanding has changed to a point where we're ready to pay more for garments.