Apparel and textiles veteran Steve Stewart introduces the industry's oldest newcomer, and outlines its plans to continue delivering value, performance and sustainability.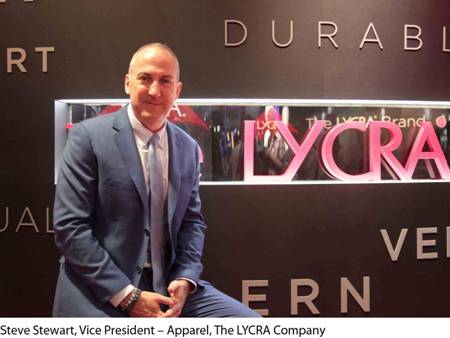 After 30 years in the apparel and textiles industry, Steve Stewart has seen it all. However, today the former Commercial Director - Greater China, for INVISTA's Apparel and Advanced Textiles business is facing a new challenge with one of the most established, but also one of the newest names in the industry. That's because when the Apparel and Advanced Textiles business recently separated from INVISTA and changed its name to The LYCRA Company, he took over as its Vice-President - Apparel for the entire Asia region.
On one of his first regional trips, Steve visited India to introduce what he calls "the industry's oldest newcomer," and outline its plans to continue delivering value, performance and sustainability.
Q: What brings you to India?
A: India has long been an important market for us, and I needed to get to know the business, meet the team and key accounts. We've traditionally been very export-oriented, focusing on denims and other cotton-rich applications for brands around the world. However, recently we've been working with domestic businesses. Indian consumers are looking for better clothes, fabrics and brands that they recognize - which offers a tremendous opportunity to bring the LYCRA brand and products here to India.
Q: What does the change in name and ownership mean?
A: I think the new name and ownership illustrate what we are all about. Earlier, we were an independent part of a US-based chemical and industrial products company. Now, we are still independent, but our majority shareholder is Shandong Ruyi, which is a very textiles-oriented group. They have wool farms in New Zealand, cotton farms in Australia, European brands and a major presence in China's textiles industry. They are also Asia-based, so they have an intimate understanding of the growth happening in this part of the world, including India, China and the rest of the region.
However, as a business we operate pretty much the same as we did before. Our leadership team is largely unchanged, and the company is still based in the US.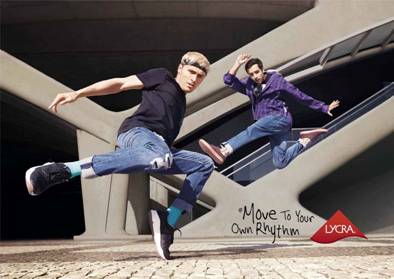 Q: So, are we going to see more of The LYCRA Company in India in future?
A: I hope we will increase our visibility in India, especially with mills and in retail. We have a large plant in Singapore that serves demand in this part of the world, and Singapore is also our business headquarters for South Asia and source of supply for India directly.
Q: Has it been an easy transition?
A: I'd say so. We chose the name "The LYCRA Company" because so many people already knew about LYCRA, it was an opportunity to align our corporate identity with our most famous asset - the LYCRA brand - in the same way that other global successful branded business, like Coca-Cola, have done. And, we also have other brands, such as COOLMAX and THERMOLITE fibres, which continuously complement our products brand portfolio.
Q: How will this change in ownership work out for your buyers, especially in business terms?
A: It should be a win-win. For a start, having a new majority shareholder who is also in the textiles business underscores our commitment to the sector. There are also synergies within the larger group that we can leverage, and we're working with customers, brands and retailers downstream on how to make the most of them. Shandong Ruyi is also very supportive of continuing our differentiated business, including investments in R&D to help buyers build their businesses.
An example is a new interactive innovation center that was just open in May in Nanhai, Southern China. We take new products, experiment with different textile applications and make them into fabrics and garments for visitors to see and evaluate. The center is strategically located very close to our manufacturing facility. With the new Hongkong- China high-speed train, important international buying buyers and customers, especially those with offices in Hong Kong, can get there pretty easy in just around an hour.
Q: How has the use and acceptance of fibres changed over the years?
A: When I moved to China 6 years ago, Western production was shifting to the East, many or our US customers were shrinking, and new value chains were being created. We helped customers make the fabrics the US and European markets were looking for. We are still doing that, but we are also heavily involved in local markets - both in China, and for the last three or four years in India - building capabilities and helping people understand the value our products can bring. The goal is to balance the domestic and export businesses, so customers aren't beholden to what is happening in the United States or Europe.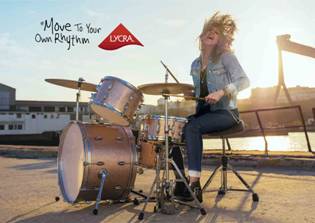 Q: Who buys your products the most? My guess is export houses rather than the domestic market. Has that proportion changed in recent years?
A: It has been changing. For example, in China about 40-50 per cent of our growth is now related to what I call China-For-China brands who are making fabrics that will never leave the country. But, sometimes domestic and export customers are the same people - today making fabrics for an oversea international brand, tomorrow working with a local brand looking for something special. Our understanding of mills, the market, and innovative capabilities can really help them on their journey to make quality apparel for China's exploding consumer base.
Q: Could you tell us about the tie-up with FBB?
A: It started with knocking on doors to find key domestic downstream players who might be interested to work together to deliver our product experience to consumers, and to align with some of our strategic mill partners who might benefit from the business pull-through along the value-chain. FBB were one when we met and we shared the same vision to offer differentiated products in a crowded market.
Q: Is the demand for your products driven more by manufacturers or end-consumers?
A: Ultimately it's the end-consumer, who sees the red LYCRA logo on packaging or hangtag and says that's what I want. That doesn't happen by accident. We do a lot of promotion globally, and we will be doing the same thing here in India. That means advertising with strategic partners who have used LYCRA fibre in their collections, and promoting the emotional and functional benefits of that collection so consumers hear the story and know where to find and experience it for themselves.
Q: We've heard that another big manufacturer plans to start spandex production in India. How will that affect your business?
A: Spandex makers over the world have been trying to compete with us for years. But, when it comes to performance or sheer brand-power, there really is only one LYCRA brand.
A big part of the LYCRA brand proposition is that we deliver more value than anyone else. Not just great stretch, but set stringent fabric quality standards that achieve end-use garment benefits of longer-lasting, wash-friendly, sag-resistance, or to produce garments that create less cutting waste.
Our efficient and qualified mill network reduces sourcing risk and makes it easy for customers to optimize cost throughout the entire value chain. We make the development process easy - mills submit fabrics for our lab testing. When they pass, they're entitled to use the LYCRA fibre brand. If fail, we help them fix the problem
And you can't underestimate the power of consumer satisfaction. For example, the biggest buyers of men's underwear are girlfriends and wives. If they've had a great experience with a bra, leggings or a sportswear item, they're more likely to buy their man briefs with that distinctive red LYCRA fibre brand hangtag.
It all adds up to added value and higher-performance products that apparel makers and retailers can rely on and which consumers trust, again and again. Our job isn't to worry about newcomers, it's to keep building on that foundation, so people continue to recognize, appreciate and seek out LYCRA fibre brand.
Q: Looking at stretch, certain trends keep recurring. Have you seen things change, especially in India? And what is the next thing that we might see in stretch?
A: Denim is a good example of somewhere we've seen stretch coming and going since at least the 1980s. The same goes for comfortable and wrinkle-free men's shirting, especially in China in the last few years. But we are definitely looking at new ideas. One of our biggest businesses is in personal care and hygiene, where we are bringing stretch solutions to children's and adults' diapers.
Stretch is also brought in other new segments such as ladies ethnic wear that may have been historically rigid in nature. Then there's COOLMAX fibre, India is a very warm place, cooling fibres can make very comfortable garments. So, this is another area where we are working with customers.
Q: What about the cost factor? LYCRA fibre is much more expensive than generic spandex.
A: We talk about value, and let customer decide whether LYCRA brand fibre worth it.
Our model enables a mill to take a slightly more expensive raw material - we are really talking about a few cents here - and convert it into much more valuable fabric. And it comes with all of the added benefits of certified performance, high consumer recognition and a reputation for quality. Brands then leverage those advantages to create even more valuable garments that they can sell to increasingly choosy consumers at a premium.
That's what you are really getting when you buy any of our branded products. Recent research proves that 66% of people worldwide are willing to pay more for LYCRA fibre performance.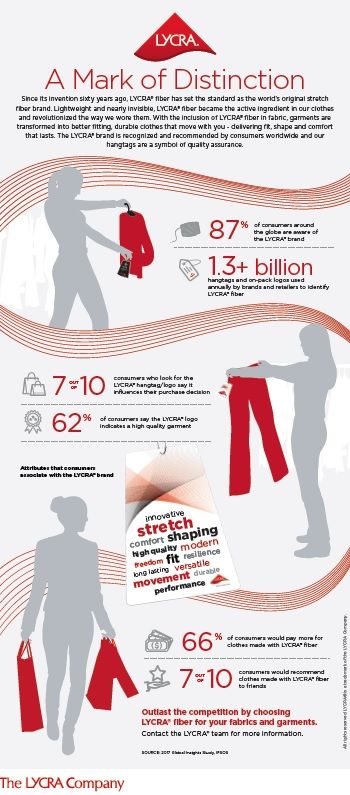 Q: Could you tell us about the last few products that you have launched, and what we can expect in the near future?
A: Well, we are working hard on sustainability with products like LYCRA T400 fibre with EcoMade technology, 68% of the fibre content is sustainable by bio-based renewable ingredients and recycled PET. Then, there are new denim platforms like LYCRA FREEF!T technology and COOLMAX Natural Touch™ technology that combine fibres in different ways to make them feel completely new.
Q: Could you also elaborate on the new sustainability platform?
A: We like to look at sustainability holistically. That starts with making sure we operate all of our plants in every geography to the highest standards. We also look at product attributes and where we can make positive changes. For example, we are launching an initiative where some of our new spandex products will contain up to 20 per cent of recycled material reclaimed from waste spandex.
Q: Are you enforcing sustainability standards with your buyers? After all, sustainability has include the entire supply chain.
A: This relates more to C2C (cradle to cradle), and you have to be certified to be part of that. For example, our spandex for denim is C2C certified. And a mill can be required by a brand to be C2C, so that organization will help ensure that all the raw materials are covered by that standard.
That is generally how we do it. We don't necessarily police our customers. We try to have a qualified raw material that meets the standard. It's the downstream brand that holds the value chain accountable.