Adrian Wilson charts some of the latest advances in the recycling of fibres and plastics for a circular economy
The entire plastics industry has its origins in synthetic fibres and effectively came into existence with the invention of nylon (polyamide) by Wallace Carothers at Dupont in the 1930s, leading to a further explosion of synthetic polymers like the now widely used polypropylene, high-density polyethylene, PET and polyester, polyvinyl chloride (PVC) and polyurethane.
It is only relatively recently, however, that the end-of-life options for all the products based on these polymers, whether hard plastics or textiles, has emerged as an issue that urgently needs to be addressed.
The year 2018 marked a sea-change due to the widespread media attention to the issue of non-degrading plastics in the oceans, as well as other issues like the so-called 'fatbergs' caused by synthetic wipes in sewer systems.
The potential in plastics recycling and alternative materials now has the full attention of investors and there is plenty of money and support available for any technology that can provide the industry with ways forward.
Today, however, well over 300 million tonnes of plastics, in addition to 66 million tonnes of synthetic fibres, are produced annually, posing varying degrees of challenge to recycling, especially when employed in combinations.
PET recycling
The recycling of PET polyester has been at an advanced stage for some time, with leading non-wovens manufacturer Freudenberg Performance Materials, for example, currently recycling around seven million PET bottles a day.

(Indorama Ventures (IVL) has highly integrated and automated operations for turning PET bottles into pellets and flakes, or back into bottles.)
Indorama Ventures (IVL) is one of the biggest manufacturers of synthetic fibres and fibre feedstock in the world, and its subsidiary Wellman is the leading European producer of polyester staple fibre from recycled PET material. It is also the largest recycler of plastic bottles in Europe, converting some 2.2 billion bottles each year. Further IVL recycling operations are now in place in the United States, Mexico and Thailand.
To build on the Wellman business in Europe, IVL in 2018 acquired the French plastics recycling company Sorepla, located in Neufchateau, in close proximity to Wellman's existing PET recycling plant in Verdun in northern France.
Sorepla is one of the largest plastics recycling operations in Europe, with a capacity of 52,000 tonnes per year, and IVL says the acquisition fits with its long-term business plans and sustainability objectives, expanding the opportunity to cater to the increase in demand for recycled PET.
For unadulterated PET polyester materials then, the route is straight-forward-it is only a question of advancing the collection infrastructure-but what when PET is combined with other polymers or even natural fibres?
Blended textile waste
The Hong Kong Research Institute for Textile and Apparel (HKRITA) has received significant funding from both the Hong Kong Government and the H&M Foundation to pursue a viable route to recycling widely-employed blended polyester and cotton fabrics, something infinitely harder than dealing with single polymer materials.
At its upcycling mill in Hong Kong, where it already mechanically recycles 100 per cent polyester, it has installed a new hydrothermal system that recovers polyester fit for recycling, along with cellulose powder that has several potential applications.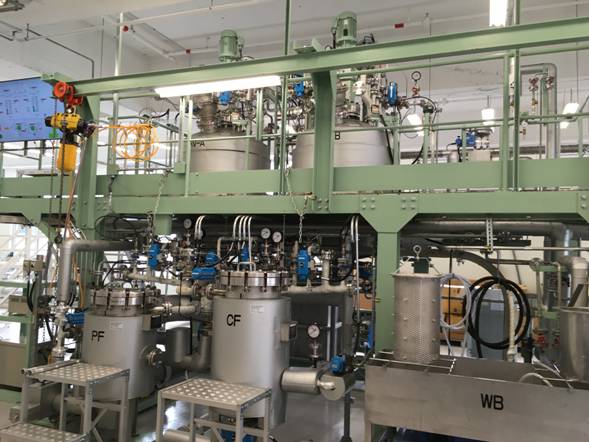 (HKRITA -The HKRITA's hydrothermal system for recycling mixed textile waste at its Upcycling Mill in Hong Kong.)
The system uses only water and around 5 per cent of a biodegradable catalyst and uses 19 gigajoule (GJ) of energy to produce a tonne of polyester, compared to 67 GJ for a tonne of virgin fibre. HKRITA is also exploring a biological route involving a pre-treatment applied to blended textile wastes to modify their structure, reducing their crystallinity and making them receptive to the action of enzymes, as biological catalysts during hydrolysis.
The enzymes employed in this recycling method are recovered from fungus grown on the textile waste itself over a seven-day-period at 28oC. Using a bioreactor, the pre-treated textile waste is then blended with the enzyme solution and undergoes hydrolysis under mild conditions. Within 48 hours, soluble glucose is generated from the cotton, while the polyester is separated in solid form via filtration.
The end result is polyester that can be re-spun into yarns and a hydrolysate that is subsequently purified by activated carbon to produce a glucose-rich syrup that can be converted into a diverse range of bio-based products.
Alliance
In the broader plastics industry, over 400 organisations have now signed up to the New Plastics Economy Global Commitment led by the Ellen MacArthur Foundation in collaboration with UN Environment.
They include close to 200 businesses that are part of the plastic packaging value chain, including many of the world's leading consumer packaged goods companies, retailers and plastic packaging producers, 16 governments across five continents and 26 financial institutions with a combined $4.2 trillion worth of assets under management, as well as six investors committed to investing a further $275 million.
With a range of broad objectives, the alliance is working towards the full decoupling of plastics from the consumption of finite resources, first and foremost through reducing the use of virgin plastics for which recycled content-where legally and technically possible-is essential, backed up by the use of renewable feedstocks.
Loop
Consumer goods giants, including Coca Cola, Danone, Evian, L'Oreal and Pepsico, have all recognised the potential offered by the technology of Canadian start-up Loop Industries.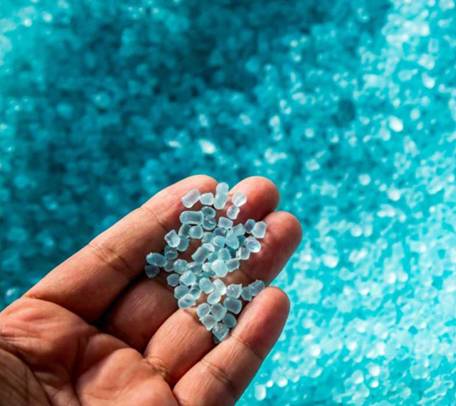 (Loop-Loop Industries has developed a process which enables used PET plastics to be diverted, recovered and recycled endlessly into new, virgin-quality polymers.)
Loop has developed a process which enables plastics like PET bottles and textiles of any colour, transparency or condition-even those retrieved from the oceans that have been degraded by sun and salt--to be diverted, recovered and recycled endlessly into new, virgin-quality PET.
The company is currently building a new plant in the United States with IVL and has also secured $35 million in venture capital funding.
Downcycling
Loop Industries, however, stresses that 'downcycling' is what most often happens in the traditional recycling process, when high quality goods like food-grade plastic are transformed into lower quality goods. This reduction in quality prevents recycling efforts from being truly circular, since a surprising amount of waste material still eventually ends up in landfills, and manufacturing from outside the process is required to retain product quality.
Through its patented zero energy depolymerization technology, the waste plastic and fibres are completely broken down into their constituent monomers-dimethyl terephthalate (DMT) and mono ethylene glycol (MEG). The monomers are then purified, removing all colouring, additives and organic or inorganic impurities. From there, the DMT and MEG components are repolymerized into new PET plastic.
Ioniqa
IVL also has a partnership with Ioniqa, which has built its first 10-000-ton PET plastic upcycling factory in Geleen in the Netherlands. It is now converting PET waste into high-grade, pure PET raw material, initially for food packaging.
A clean-tech spinoff from the Eindhoven University of Technology, Ioniqa's cost effective process exploits smart fluids and a unique separation process to recover virgin polymers with which new high-end PET can be manufactured via polymerization.
Bioplastics
Bioplastics that do not have petrochemical origins and degrade could also provide part of the solution to the overall plastics problem, although 'drop-in' solutions for PET and polyamide, which have only partial bio content, currently make up around 50 per cent or a million tonnes of the current global bioplastics production capacity of 2.1 million tonnes.
These drop-in solutions, however, can be considered works in progress, and may yet lead to 100 per cent solutions that will eventually contribute to the decoupling of plastics from the consumption of finite resources, which is being pursued by the New Plastics Economy Global Commitment.
In an important new development, LyondellBasell, one of the world's largest plastics, chemicals and refining companies, and Helsinki-headquartered Neste, the biggest producer of renewable diesel from waste and residues, have recently announced the first parallel production of bio-based polypropylene (PP) and bio-based low-density polyethylene (PE) at a commercial scale.
The joint project used Neste's renewable hydrocarbons derived from sustainable bio-based raw materials like waste and residue oils. The project successfully produced several thousand tones of bio-based plastics that are approved for the production of food packaging and being marketed under the brands Circulen and Circulen Plus.
LyondellBasell's cracker flexibility allowed it to introduce a new renewable feedstock at its site in Wesseling, Germany, which was converted directly into bio-based PP and PE. An independent third party tested the polymer products using carbon tracers and confirmed they contained over 30 per cent renewable content.
PLA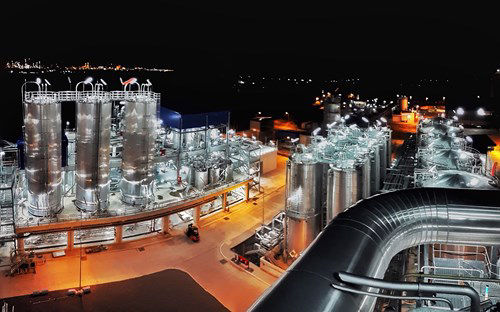 (Corbion -Total Corbion has recently started up a 75,000 tons-per-annum PLA bioplastics plant in Rayong, Thailand.)
PLA (polylactic acid) is a very versatile bioplastic that has excellent barrier properties and high-performance. PLA grades are an ideal replacement for several conventional fossil-based plastics like polystyrene and polypropylene.
The current leader in this field is NatureWorks, which opened its Ingeo PLA plant in Blair, Nebraska, back in 2001, but in the largest single capacity expansion for bioplastics, Total Corbion PLA, a 50:50 joint venture between Total and Corbion, has now started its 75,000 tonnes-per-annum PLA bioplastics plant in Rayong, Thailand.
The plant has successfully produced Luminy PLA resin that, being 100 per cent renewable and biodegradable and offering multiple environment-friendly waste solutions, makes a valuable contribution towards the circular economy.
The new facility will produce a broad range of Luminy PLA resins from renewable, non-transgenic sugarcane sourced locally in Thailand.
The initiatives discussed above represent only the tip of the iceberg when it comes to what is going on in the fast-moving field of developing a circular infrastructure for the production of plastics and synthetic fibres.
Clearly, the landscape will look very different ten years from now due to the wide-ranging efforts that are currently under way.