Do you need special footwear for simple running, walking, and exercise? Knowing what type of shoes to buy the next time Nike shoes are on sale can be difficult with all the options available. The wrong shoes can lead to poor foot health. How should your sneakers fit?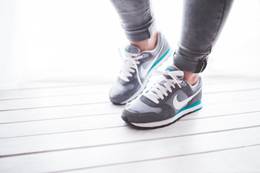 Podiatrists recommend every runner, athlete and casual jogger should have the right shoes. In fact, anyone who engages in any physical activity, even walking, needs to have the right athletic shoes. Good shoes will prevent shin splits, sprained ankles and bone damage. You will enjoy a lifetime of good foot health when you choose the right shoes.
Your shoes should be designed for your activity. What does that mean? Whether you walk, run, or do yoga, you need to have the right type of shoes designed for the activity. Why? Running shoes have additional cushioning and stability to reduce stress during impact. Exercising shoes meant for zumba and dance aerobics have a smoother sole to allow for greater movement. Shoes designed for walking have cushioning and stability, especially for older individuals.
Speak with your medical professional about the best type of shoe for your foot type. You may need specialty shoes if you have flat feet or a very high arch. Your doctor might even recommend physical therapy if you have suffered an injury earlier or experience pain while engaging in exercise and regular activity.
Your sneakers need to fit snugly, not tightly. You should have ample wiggle room for your toes, usually a few centimeters. Don't forget to leave room in the width. If your feet are very wide or very narrow, you need to find a special shoe size that fits your feet. You might need to order custom shoes or a specific brand that carries the right size sneaker that has good support and durability.
When you try on your sneakers, they should feel good right away. If you feel any stress or discomfort with use, then you need a different size. If you have had a pair of sneakers for a long time and they have been put through much wear and tear, you need to replace them. When you find the right type of shoe, buy multiple pairs. This will reduce the damage done to the shoe and will protect your foot for a longer period of time.
Keep up with the latest sneaker news when you shop. Why? You might find out about a new sale or specialty shoes designed for diabetes. Special features like inserts, gel and extra cushioning might be ideal for your feet.
When to Replace Your Shoe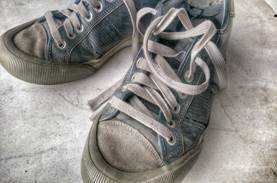 Knowing when to replace your shoes will protect your feet. Replace your shoes if:
1.There is noticeable wear and tear
2.You feel discomfort and pain
3.There is a lack of support
4.You notice visible holes and damage
5.You have used the sneakers for several months (or about 550 km)
Choose the right shoes next time you shop. Enjoy good support, strength and durability for a lifetime of great foot health.