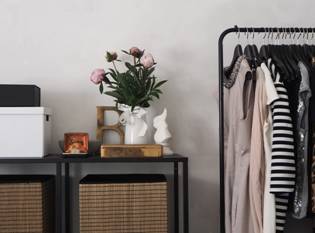 The capsule wardrobe is a modern, sustainable way to approach clothing consumption
37 pieces. 25 pieces. 16 pieces. The capsule wardrobe may no longer have a precise definition, but it's changing the way consumers think about their clothing. A consciously curated wardrobe with a few, high-quality pieces creates a sustainable solution to the pollution problems posted by fast-fashion. Younger fashion-forward buyers are latching onto the capsule wardrobe movement, and thus disrupting the clothing industry. Here's the past, present, and future of the capsule wardrobe, and a few specific pieces that many consumers are looking for to complete their minimalist look.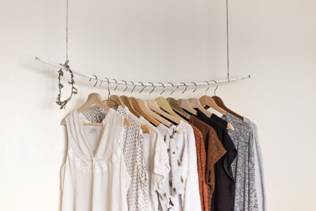 The Origins of the Capsule Wardrobe
Susie Faux, owner of the London-based boutique Wardrobe first coined the term "capsule wardrobe" as early as the 1970s. Faux described a capsule wardrobe as a small collection of essential clothing items that never go out of style. The original capsule wardrobe included skirts, pants, tops, and coats with a few seasonable items peppered throughout.
The idea was golden from the onset, but Donna Karan made the concept even more popular in 1985, when she released her own line of seven interchangeable professional pieces. These "7 Easy Pieces" of clothing, as we would now describe them, went viral. The popularity of the capsule wardrobe continued to grow over the years, specifically in Britain and America. It is now a common term referring to a small collection of interchangeable clothing, allowing the wearer to create a large number of outfits from a few coordinating items. The key to the capsule wardrobe remains a combination of classic styles and neutral colors.
The Official Guidelines to Creating the Capsule
There are five basic rules to follow when creating a capsule wardrobe. When consumers abide by these simple considerations, they are able to easily generate a long-lasting, coordinating capsule that fits the bill.
1. Body Shape. When buyers know what cuts and styles look best on their body, they are able to maximize these looks, and avoid all other, non-ideal clothing cuts. Every piece of the capsule wardrobe should be flattering to the owner's unique body composition.
2. Skin Tone. Similarly to the body shape consideration, buyers should pay attention to colors that aid the wearer in a healthy, bright appearance. Skin tone is one of the key considerations when following the next guideline…

3. Color Scheme. A capsule wardrobe typically consists of two to three colors that mesh well with each other (and basically everything else.) Popular colors include the classic black, white and grey, as well as brown and navy blue. Every piece, including accessories like coats and handbags, should abide by the color scheme. A few scarves and accessories may give a pop of bolder colour, but that depends on the style of the wearer.
4. Shapes and Patterns. Some patterns are part of fleeting fads, and may show their age more quickly than others. Those looking to create a truly timeless capsule wardrobe should turn to classic patterns, like stripes and solids.
5. Quality. Last, but certainly not least, owners of capsule wardrobes must seek out individual items that will last for a long time. High-quality clothing will allow for daily wear, and also more versatility in how clothing is used.
The Basic Staples of a Capsule Wardrobe
A sample capsule wardrobe can include anywhere from 10 to 40 items, but the bare-bones basics are listed below with some classic sample pieces.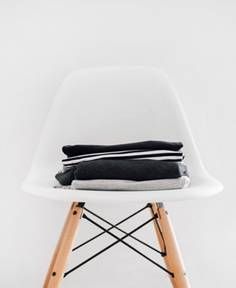 Trench Coat
This trench coat from ASOS is versatile and neutral, with the ability to be dressed up or down.
Skinny Jeans
Everlane is a great source for classic, high-quality skinny jeans like these.
White Shirt
Every capsule wardrobe needs a timeless white shirt, like this piece by Calvin Klein.
LBD (Little Black Dress)
When it comes to the LBD, buyers need not look further than The Devlin Dress by M.M. Lafleur.
In addition to these classic pieces, a capsule wardrobe will also require various t-shirts and camisole tops, a sweater or two, a pair of boots (like these from Madewell), flats and heels, and a few bags or purses for everyday wear.
Simplicity and Sustainability
The capsule wardrobe shows a clear movement toward a more sustainable fashion system. When consumers buy less, and keep their clothing for a longer period of time, there is a bit of relief in the pounds of clothing being sent to landfills. The simplicity of the capsule wardrobe is also an advantage for buyers who want to stress less about their clothing choices. This simple, sustainable change in closets across the globe mirrors a more eco-conscious consumer base when it comes to everyday fashion.
This article has not been edited by Fibre2Fashion staff and is re-published with permission from synzenbe.com