Cambodia's biggest industry-garment, shoewear and leather-employs some 1 million people and accounts for nearly three quarters of its merchandise exports. However, this industry is beset with problems.
Compared to three years ago, many more cars, gas powered tuktuks and hurried motorcycles fill the roads of Phnom Penh. High buildings arise everywhere in the city centre. So, you may think that Cambodia is on the fast lane to become an upper-middle income country by 2030, as is the ambition of the government. But wait, first some serious obstacles have to be overcome.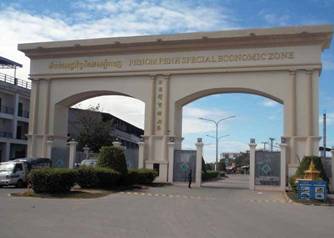 Let's focus on the obstacles faced by Cambodia's Number One industry: the garment, shoewear and leather industry, which is employing some 1 million people (included the workers in nonregistered firms) and which accounts for nearly three quarters of Cambodian merchandise exports.
It's clear that in a country with 15.3 million inhabitants (according to the Population Census 2019), one million workers and their families form, at least potentially, a political force to reckon with. That's why Prime Minister Hun Sen since 2017 visited a lot of garment factories allowing workers to take selfies with him. It's also clear that Cambodia's economy is over-dependent on the garment sector and should urgently diversify.
This year, Cambodian exports of garments, shoewear and bags will approach $10 billion, which puts the Kingdom of Cambodia on #8 position among the major exporting countries of these products. This is an amazing performance for a country that lacks a basic cotton and textiles industry of any importance and is beset by huge energy and infrastructure problems.
But for brands and retailers who were happily sourcing from Cambodia, for the manufacturers in Cambodia and their suppliers, and for the workers and their families, the future of the Cambodian garment industry is bleak. Here are some reasons why.
Speculative investments
The garment industry is part of a national economy which nowadays is neither well-balanced nor sustainable. It's true that since the late 1990s Cambodia has enjoyed an impressive economic growth of around 7 per cent annually. But what kind of growth? Look at capital Phnom Penh, which is hastily developing as if insightful books like The Death and Life of Great American Cities (Jane Jacobs, 1961) were never written. Jacobs warned that big money can shape cataclysmic, rather than gradual and beneficial changes in cities.
That's what is happening in Phnom Penh. In 2017, Cambodia's massive construction boom reached $18 billion, nearly matching the country's GDP of $22 billion. Besides useful investments in infrastructure improvements spurred by BRI (the Chinese Belt and Road Initiative) there was over-investment in real estate projects. Recently, the World Bank recommended that the Cambodian government should closely monitor the construction and real estate boom in the country by developing policies that could help reduce speculative activity.
Also, the fast increase of vehicles in Phnom Penh is not counter-balanced by smart investments in public transport and city mobility. This explains, e.g. why Ken Loo, the secretary-general of GMAC (Garment Manufacturers Association in Cambodia) wastes every day nearly two hours in his car to travel back and forth from the city centre to his office at the Phnom Penh Special Economic Zone.
Heavy reliance on China
The garment industry itself is highly dependent on Chinese capital, middle management and machinery. According to Sara Park, deputy programme manager of Better Factories Cambodia, 98 per cent of garment exporting companies in Cambodia are foreign funded, of which 70 per cent are from China / Hong Kong / Taiwan and 10 per cent from Korea. The overwhelming dominance of Chinese ownership in the industry implies that ups and downs of investment and employment in this industry could depend more on Chinese policies (e.g. the shift of garment production from China to selected Southeast Asian countries) than on Cambodia's own sector strategy. Some foreign investors may also fear that, in case of clash of interests, the Cambodian government would automatically, even unfairly, side with the Chinese.
Probably, the relationship between workers and supervisors and consequently the job satisfaction of workers would improve a lot in the garment factories if the production lines would be managed by Khmer-speaking Cambodian staff. Local staff would also better understand the cultural components of social protest expressed by possessions and mass faintings.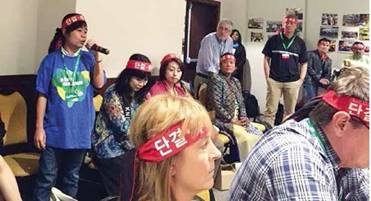 Andrew They, Centre Director of the Cambodian Garment Training Institute (CGTI) in the Phnom Penh Special Economic Zone, says that the number of Cambodians working at middle management level like senior sewing supervisor, compliance officer or quality assurance manager is steadily increasing. As for now, CGTI's annual targets are 2,000 short course students and 60 diploma students. However, though CGTI and other training institutes are doing a good job, the lack of Cambodian middle-managers and skilled workers remains a big problem.
Chinese machinery is the norm
The machine park of Cambodia's garment industry is increasingly becoming Chinese. The 8th Cambodia International Textile & Garment Industry Exhibition in Phnom Penh (22-25 August 2019) was dominated by Chinese stands. By the way, only one Indian exhibitor took the challenge: Kamal Desai of Sahiba Ltd from Surat, who boasts that his company has been pioneering in the fabric industry for well over 2.5 decades, is in constant competition with some of the giants in the fabric business and is still managing to stay on top.
Nancy Huang, specialist of the Business Division of the Taiwan Association of Machinery Industry, says factory owners in Cambodia are strongly focused on Chinese machines, forgetting that the Taiwanese supply high quality machines, at the level of Germans and Japanese machinery, but at more competitive prices.
Aaron, sales manager of Southeast Asia for the Chinese company Jack Sewing Machine, declares proudly that Jack continues taking an increasing share of the global $3.5 billion sewing machinery market. He admits that in Cambodia Juki is still bigger than Jack. However, Jack is on its way to surpass the Japanese sector leader in the Kingdom. Aaron says: "In the last three years, Jack has doubled sales in Cambodia. In 2019, our sales here will probably increase by 80 per cent." An 80 per cent rise of revenues is a surprising performance, since according to Aaron, especially the smaller garment manufacturers in Cambodia currently refrain from investing in new machines because they are worrying about Cambodia's possible loss of preferential trade status with EU and US.
The power elite's wrong choice
Brands and retailers who source from Cambodia or other Eastern Asian low labour cost countries hope to find in those countries the same degree of political and social stability and of operational predictability as they are used to enjoying in China. Thus, also in Cambodia, foreign buyers want to do business in a stable environment with strong, productive companies which have the capabilities to respond flexibly to their often very tough requirements.
However, there are two divergent ways to ensure, at country and at factory level, a high degree of stability and predictability. One can use either the stick or the carrot. The people at the top can either rely on repression or on cooperation with the country's intelligentsia, workers and unions.
What about Cambodia? For many foreign observers, the situation may seem confusing. Cambodia's garment industry especially is a paradox.
On the one hand, there exists, thanks to the ILO / IFC's programme Better Factories Cambodia, a rigorous monitoring schedule that permanently pays professional attention to working conditions and standards in the 660odd garment and footwear exporting factories. Also, Cambodian garment and footwear workers saw the minimum salary nearly triple from $61 in 2012 to $182 in 2019, while also some other social conditions have been improving.
On the other hand, the Cambodian military and business power elite surrounding long-governing Hun Sen (he's the world's longest-serving prime minister, since 1985), maintained a very repressive political climate and a highly confrontational industrial relations environment. In the run-up to the general elections of July 2018, the only credible opposition party was dissolved. In less than a year, Cambodia went from having probably the freest press in the region to being one of the most dangerous places to be a journalist. Also, union leaders felt unsafe. Considering that since 2004 already four leaders of the Free Trade Union of Workers of the Kingdom of Cambodia (FTUWKC) have been killed, General Secretary Sokny Say of FTUWKC fled to Thailand as a UNHCR refugee.
So, not much seems to have changed since the American filmmaker Bradley Cox dedicated the documentary movie The Plastic Killers to the question: "Who killed Chea Vichea?". Chea Vichea was a charismatic FTUWKC union leader who was shot dead in January 2004.
Sadly enough, Cambodia's power elite made and is still stubbornly holding on to the wrong strategical choice of repression instead of cooperation. Doing so, they not only caused much human suffering (when the prominent political commentator Kem Ley was shot dead in July 2016, an estimated 2 million mourners attended his funeral), but also put the Cambodian economy, and especially the export-oriented garment industry, in big trouble.
In the meantime, it's unclear if, or to which degree, garment and footwear manufacturers in Cambodia support the repressive policies applied by the power elite. Are firms like e.g. garment manufacturer W&D or Meng Da Footwear, which in local newspapers were described as harsh companies, the exception or not?
EU and US consider sanctions
On February 11, 2019, the EU started the process that could lead to the temporary suspension of Cambodia's preferential zero duty and zero-quota access to the EU market under the Everything But Arms (EBA) trade scheme. EBA preferences can be removed if beneficiary countries fail to respect core human rights and labour rights. High Representative for Foreign Affairs of the European Commission Federica Mogherini commented: "Over the last eighteen months, we have seen the deterioration of democracy, respect for human rights and the rule of law in Cambodia."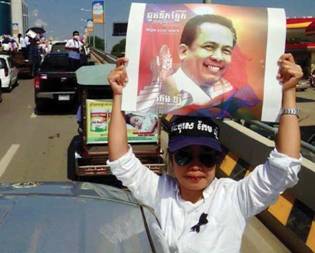 EU Commissioner for Trade Cecilia Malmstram said: "We now go into a monitoring and evaluation process in which we are ready to engage fully with the Cambodian authorities and work with them to find a way forward. There are severe deficiencies when it comes to human rights and labour rights in Cambodia that the government needs to tackle if it wants to keep its country's privileged access to our market." In February 2020, the commission will decide on the tariff preferences.
The dark clouds hanging above exports to the EU, Cambodia's principal market, is already impacting the garment industry. Loo says: "While over the five last years, garment exports to the EU averaged an annual growth of around 15 per cent, these dropped by 7 per cent in the first half of 2019."
In January 2019, two US senators introduced the Cambodian Trade Act of 2019 bill, requiring the administration to re-examine Cambodia's eligibility to access to the preferential trade treatment granted by the US under the Generalised System of Preferences (GSP). One of them declared: "Hun Sen and his regime must pay a price for their role in destroying the rule of law and violating the basic freedoms of the Cambodian people."
Larry Kao, deputy treasurer of GMAC and general manager of Manhattan Textile & Garment Corp, of Manhattan International (Special Economic Zone) and of Medtecs (Cambodia) Corp Ltd, hopes that in case trade sanctions would be imposed by EU or US, these sanctions will not apply to the garment industry, an industry that is of vital importance for Cambodia.
He argues that the international competitiveness of the garment factories has already been weakened by the recent steep increases of the minimum wage. He mentions also other problems which the garment manufacturers are currently facing: the financial burden of the new seniority indemnation, scarcity of skilled workers and frequency of power breaks. From March to May 2019, due to the dry weather and its impact on hydroelectricity production, the factories of the Manhattan Group experienced daily power breaks forcing them to burn a lot of expensive diesel.
Ongoing international support
In spite of the country's poor scores in the field of human rights and union rights, international organisations like Better Factories Cambodia, GIZ (Gesellschaft fur Internationale Zusammenarbeit), and ACT (Action, Collaboration, Transformation) continue their efforts to improve work conditions and wages in the Kingdom's garment industry.
Park says: "By the end of this year, we will sign our next memorandum of understanding (MoU) with the government and GMAC. The commitment of all parties is there for the continuation of BFC. Funding wise, we have governments supporting the programme, such as the Netherlands, Australia and US, in addition to the Cambodian Government and GMAC."
In July, the ministry of labour signed an MoU with Germany's international development organisation (GIZ), to improve the garment industry's sustainability, mainly by making the inspector system more transparent, effective and credible.
From September 11 to 14, 2018, a number of leading Western brands, members of ACT, met in Cambodia with the international union confederation IndustriALL and most of the important players in the Cambodian garment industry, to elaborate a plan aiming at implementing a living wage. ACT has 20 members, companies like C&A, H&M, Inditex, Primark, PVH, Esprit, Zalando, etc.
Frank Hoffer, the German executive director of ACT, says: "There is not yet a collective bargaining agreement. The main reason has been that GMAC prefers to suspend the negotiations until the EBA process is decided. As ACT we are convinced that pioneering a collective bargaining agreement supported by international brands is the single most important contribution employers, unions and brands can make to help to secure the EU trade preferences for the Cambodian garment industry."
Union leader Sokny Say (FTUWKC) remains sceptical. She says: "There are some 70 brands sourcing from Cambodia. Since only 20 of them support ACT, I doubt whether ACT can succeed."
Ath Thorn, President of the Coalition of Cambodian Apparel Workers' Democratic Union (C.CAWDU), continues striving for a living wage for workers. He argues that the monthly cost of living in Cambodia is $250-300. Thorn knows that as a union leader he must by all means avoid making sensitive statements. He thus focuses on technical aspects of e.g. the amended article 89 of the Labour Law (seniority indemnity) and the problems related to 'fixed duration contracts'. As for the Law on Trade Unions which was adopted in 2016, he regrets that this has undermined workers' right to free association. Also, legal strike action has become very difficult, if not altogether impossible.
This Article was first published in the October 2019 edition of the print magazine.