Planning to buy some stylish boys T-shirt to start your winter shopping? Here are some options to consider.
Your son is the apple of your eye whose charming smile and naughtiness make you adore him a little more with each passing day. As a proud parent, you always look for clothes that can help him look smarter, so that he can get compliments not only for his cuteness but also his style quotient.
But come winters and you worry about covering him well to help him stay warm enough. Nowadays, you get smart boys T-shirt and stylish jackets, all of which can help him look like a little hero, despite the chill.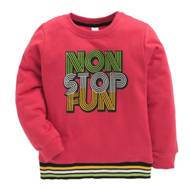 So if you have been planning to buy some stylish boys T-shirt to start your winter shopping, here are some options to consider:
Unlimited Fun
No matter what the season is, fun should never stop for your little champ. This fuchsia coloured full-sleeves T-shirt will be perfect for your son's adventure. The print spells fun and the stripe towards the lower end gives it an overall relaxed and refreshing look.
This tee comes in cotton fabric and gives a sweatshirt look. It can be paired with a pair of black denim and sneaker shoes to complete your little hero's winter look.
Blue-Blue, Bang-Bang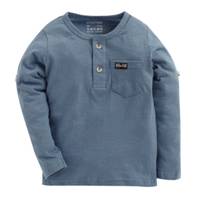 This blue full-sleeves t-shirt exudes a sound sense of style. The buttoned look further lends it a boyish charm that can be just right for your son, who is growing up fast. This T-shirt is warm and comfortable for light winter and can be layered with a smart black jacket when it's colder.
You can either tuck this in or leave it otherwise while pairing it with a pair of smart black or blue denim and shoes of the same colour. When your son sports this look, we are sure he will look like a little rock star in his distinct way.
Your Little Harry Potter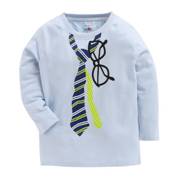 Your son has many sides, and as a parent, you love them all. For your little boy's soft and gentle streak, you should have some geeky T-shirts that can make him look adorable. This 'tie-glasses' print adds just the right touch to the T-shirt and will make your hero look like Harry Potter in his own right.
This white tee, when paired with a pair of black denim, is going to look both cute and cool. Soft and comfortable, this will be an excellent addition to your boy's winter wardrobe.
Let Him Fly
Your champ is made for big things.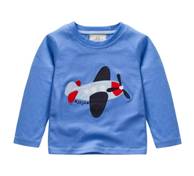 Let his clothes echo the same. This airplane applique full sleeves T-shirt that comes in a soothing blue colour can be a great option to consider for your son. He will not just be warm, but will also look smart. Buy a pair of blue trousers that can go with this T-shirt to make a smart winter attire for your boy.
When going out for an occasion, make him wear a smart denim jacket over this, keeping the buttons open, and he is sure to get compliments from people around.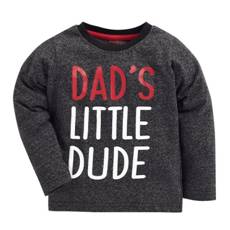 Shout-out To The World
Your son is daddy's little dude, and he takes pride in it too. Let him wear this boy's T-shirt that lets him wear his mind. The warm fabric will be right for him during the early winters and can be layered with a smart red or black jacket on top when it gets colder.
When your boy goes out with daddy, a picture session sporting this T-shirt can be a perfect idea to capture memories. You can even buy a nice woollen cap for your boy to wear along with this T-shirt to look like a little hero this winter season.
Make Winters a Stylish Affair
This winter, you should not let the chill in the air come in the way of your son looking his best. You should shop for the best clothes for him. Online kids fashion portals like Hopscotch now offer a delightful range of T-shirt, hoodies, trousers and other apparel. They also provide a good range of party wear, sleepwear, ethnic clothes and casual clothes for girls, boys and babies along with school supplies, games, toys and accessories. You can go online and order from a wide variety available.