The apparel and fashion industry saw amazing growth in 2019. After a turn-down in the last few years, the industry is all set to take its graph high in the coming year. The fashion industry is moving towards consumer centric approach and consumers are demanding sustainability and digitalization.
Players who can respond to changes in the fashion industry are the only ones who can survive, according to MC Kinsey and Company.
In 2017, 1875 fashion retailers shut down as changing consumer-spending patterns made it difficult for them to survive. In 2018, the situation turned worse – 9000 retailers outlets are believed to go out of business due to changes in consumer shopping patterns.
In the year 2019, the fashion industry could post growth of between 3.5 percent to 4.5 percent. And that's impressive!
On the other hand, the industry revenues are projected to rise from $481.2 billion in 2018 to $712.9 billion by 2022. As the saying goes, "Opportunity comes with Challenges".
Apparel and Fashion industry also has many challenges to win. The three major challenges of the year 2019 are
Sustainability, Digitalization, and Consumer Shift. Click to Tweet
Let's talk about each of these challenges to discover new opportunities in the coming years.
Sustainability
The fashion industry is one of the most polluting industries on the planet – and that's no more a secret. From manufacturers to consumers, everyone knows how fashion is killing our planet.
Brands are working to incorporate more sustainable practices into their businesses. And consumers are also choosing sustainable fashion over any other. But that's not enough to combat the massive amount of waste and pollution that fashion creates.
Although, millennials and generation after are demanding imminent change to attain sustainability. According to a Nielsen Study, 73% of millennials are willing to pay more for sustainable brands. Well, that's good news for sustainable brands and the planet.
A movement towards sustainability has resulted in a noticeable rise in new and emerging fashion brands that are fully sustainable. These brands are committed to reduce clothing consumption by shifting their value towards – second-hand, circular fashion, and recycled fashion.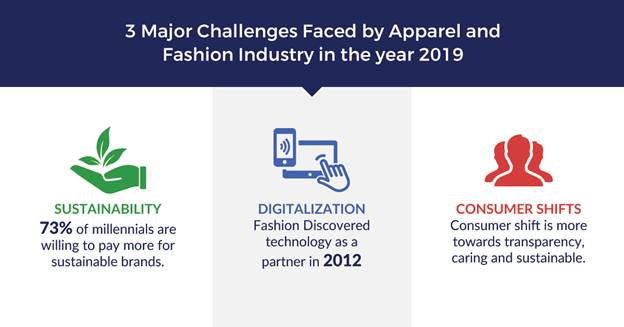 Learn more on: Opportunities and Challenges of Indian Exports
Digitalization
Fashion industry has seen downfalls in recent years due to poor technological strategy and execution. Slowly and gradually, the industry is embracing technology to meet market needs and demands.
The industry players launch new concepts to change the shopping pattern of shoppers. But the industry fails to take off. Beyond the consumer shopping behaviors and choices, there are deeper issues industry is facing, even at the transactional level.
To bridge the gap between fashion and technology, brands and retailers need a digital mindset. The apparel and fashion industry should focus on real innovation and long-lasting technology. The industry needs to analyze the pain points and should create partnerships to implement innovative solutions to solve their unique issues, always keeping KPIs in mind.
The entire textile values chain is embracing technologies to deliver better every day- a few names are: Blockchain, Digital Textile Printing- DTP, Radio Frequency Identification – RFID, Artificial Intelligence -AI, Augmented Reality – AR, and 3D design and printing.
Fashion Discovered technology as a partner in 2012 – Liz Bacelar.
Consumer Shifts
The fashion industry is continuously changing, which makes it difficult for market players to stay updated with current trends, consumers, and market needs. Players who can adapt the change with time are the only ones who are going to be in the game for long.
In today's shopping era, millennials and Gen Z are immersed in the digital world to access more information than ever before. They just don't want to pick anything, they want to pick the right goods, from the right place and at a super-right price.
Consumers want to know about the brands, fabrics, and styles they're interested in. They are demanding quality products at a fast pace. For apparel brands and retailers, it's quite difficult to match their products with changing consumer behavior, trends, and choices.
"Consumer shift is more towards transparency, caring and sustainable."
Read More on: Challenges and Opportunities in Textile Machinery Trade
Wrapping Up
The fashion world has a lot many minor challenges along with these major issues. The industry works hard to reshape the fashion world with innovative solutions, and sustainable products. Also, the industry needs to adapt to changing consumer expectations to deliver the right goods.
Globalization connects the fashion world with trends, cultures, and styles. Market players are competing on the global level. A big thanks to e-commerce for changing the fashion world upside down.
For upcoming years, fashion is committed to turning challenges into opportunities.
Discover opportunities on TexPro – A market intelligent tool for Apparel and Fashion businesses.