Benjamin Benmoyal is a fashion student who thinks way, way outside the box. While studying at Central Saint Martins in London, he wanted to push the envelope of sustainable, upcycled fashion materials. The latest eco-friendly fashion trends have gone in the direction of organic materials. Here on the SynZenBe blog, we have covered new fabric innovations from green tea to seaweed to grape marc.
Although exploring fibers that can be made from renewable, natural materials has great environmental benefits, the natural world isn't the only place to look for eco-friendly materials. Instead of looking outside, Benmoyal looked deep inside… closets, basements, and boxes. There, he found piles of defunct VHS and cassette tapes.
"It Was Better Tomorrow," a Recycled Clothing Collection
Benmoyal created an entire clothing collection out of discarded video and cassette tapes (with the help of some recycled yarn and Tencel). The designer hand-wove the garments himself. Though this is a highly-involved process (and makes the project less scaleable as-is), Benmoyal's use of loom weaving adds another level of meaning to his symbolic garments.
Weaving on a loom is a historic tradition, and though VHS tapes could also be considered a thing of the past, that past is much more recent.
"Many people and companies wanted to get rid of the tapes, as the digital age has made them useless," said Benmoyal in an interview with Dezeen. "I feel that using VHS tapes from my favorite childhood Disney movies ties to this nostalgic idea of my lost naivete--recovering the tapes into something new."
Benmoyal added to his representation of times past by designing the textured clothing in a way that reflected the styles of the 1960s and 1970s. The collection features flared pants and boxy shoulders, a nod to the time when videotapes possessed considerable popularity. The collection has a nostalgic-yet-futuristic feel, while incorporating the modern themes of recycled and sustainable clothing.
The incorporation of 1970s style was intentional for another reason. Benmoyal explained this in the same interview:
"This time seemed very optimistic, whereas nowadays we tend to think that the future will be bad or that it won't even exist." Benmoyal questions whether or not people are looking less to the future now than they were fifty years ago.
<![if !vml]>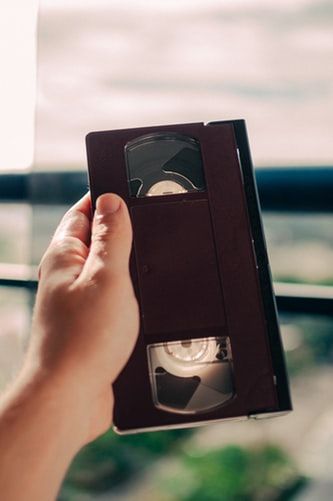 <![endif]>
Inspiring Optimism
The motivation for the project had a lot to do with Benmoyal's thoughts about the culture's current lack of foresight. The designer feels that the current, popular view of reality is overwhelmingly negative and nearsighted. He reflected upon his own life, and what motivated him to have a less pessimistic view of the world.
"After high school, I was completely lost in my life. I failed many things and needed to prove to myself I could do something that would push me, physically and mentally, to the limits." In response to this need, Benmoyal spent time in the army working as a commando paratrooper.
"I am French and Israeli, and in our country, the military service is obligatory at around 18 years old," he said. "That's why when I was called for military service, I applied to the commando paratroopers. However, after this, I felt kind of depressed about our world, so when I started my course at Central Saint Martins, I naturally based my work not on the army, but rather on how to feel better after this."
Benjamin Benmoyal wanted to design clothing that would motivate and inspire others to see the world optimistically, an attitude he believed used to exist in decades past. Using repurposed materials was key in his methodology. Though VHS tapes are a symbol of what is no longer needed or wanted in the world, that doesn't mean that they can't be useful. By creating practical art--something new out of something old--he showed people that nothing is useless.
<![if !vml]>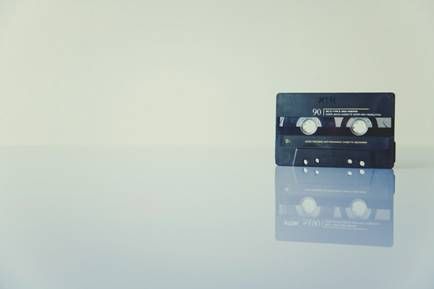 <![endif]>
A More Sustainable Future
Benmoyal's work was showcased as part of the Designing in Turbulent Times exhibition in London. This collection brought together a number of designs, all focused on a more sustainable future for the clothing industry, and other industries across the board. Other projects included a more sustainable way to brew coffee from dandelions, an effort by Daisy Nedwick to encourage biodiversity in Europe, and the wider world.
Though Benmoyal's collection may not disrupt the fashion industry, his creativity inspires other designers to think about different ways they can use the discarded materials around them. The sustainable fashion movement doesn't have to limit itself to natural, organic materials when there are piles of unwanted fibers hidden in the most unlikely places. Benmoyal teaches the industry the power of turning something old into something bright, shiny, new… and useful.
This article has not been edited by Fibre2Fashion staff and is re-published with permission from synzenbe.com