The concept of gender-free clothing is nothing new; modern-day unisex clothing took roots during the Victorian era. But today, it is a market segment in itself.
In 1965, American Beat Generation poet Allen Ginsberg coined a term that transformed the anti-war protests into peaceful affirmative spectacles: flower power. Hippie members of the counterculture movement took to Ginsberg's symbolism like fish to water. They dressed in clothes with embroidered flowers and vibrant colours. Early hippies imbibed the language to give way to the counterculture of the Beat Generation.
The counter-culture movement that swept through the West began in the United States as a reaction against conservatism and the US government's military intervention in Vietnam. The political philosophy of the youth got reflected in what they did and what they wore. And what they wore did not conform to traditional clothing, and there was little to distinguish the men from the women. The venerable Life magazine soon (in 1968) found a term to describe this: unisex clothing.
The term has persisted for half a century, but its origins were rather make-do: unisex clothing mostly meant women wearing (altered) men's clothing. Hardly an identifier, that.
The concept today has expanded, and there are a number of terms in vogue: gender-neutral clothing, LGBTQ fashion, gender-fluid clothing, and of course gender-free clothing. The terms are rather loosely used and are not exact synonyms of one another. Yet, one single thread runs through all of them: like the clothing preferences of the hippie movement, they do not conform to traditional notions.
But this is no more a notion confined to a few boutique designers. According to media analytics firm Commetric, "A growing number of fashion brands are trying to reframe their narratives so as to attract fresh clientele from the ranks of Generation Z and millennials, which are perceived to be the most important retail consumers, accounting for $143 billion in spending in the next four years.
"The latest seasons have seen luxury brands like Gucci, Saint Laurent and Haider Ackerman combining menswear and womenswear runway shows. Others, such as Proenza Schouler and Rodarte, have started showing women's pre-collections or
women's ready-to-wear during the back-to-back menswear and couture calendar. Meanwhile, fast-fashion labels such as Zara started releasing ungendered collections with models of both sexes dressed in the same clothes."
As brands crawl out of their closets, there are still designers who make gender-free clothing and remain at the forefront of a form of clothing trend that does not conform. It is a well-defined market out there.
From Desire to Design
There are those for whom designing non-binary clothes is a way of expressing their own inner desires; because their mental makeup is such, they feel about clothes in a different way than "conventional" designers. That was how the founders of brands like The Phluid Project (TPP) and Rebirth Garments started out and still like to be identified as "queer and unconventional".
After three decades in the retail space with corporate groups like Macy's and Nike, TPP founder Rob Smith quit his job, put on a backpack and left his heart, soul and ambitions in the fate of a global trip and all it had in store for him. While being away and tapping into indulgences most true to his heart, Smith realised that he all wanted was to create a gender-neutral shopping experience, and spent the following months creating and bringing to fruition that exact vision.
TPP-the world's first gender-free store-was born out of Smith's own queer lifestyle which he wanted to adapt to the type of clothes he would make or retail in the process creating a liberating experience for all gender-free and, should we say, non-conforming people. At the heart of TPP's concept is inclusion, symbolic of its name-Phluid-with an intentional 'ph' in place of the 'f' character. 'Phluid' represents fluidity in all, whether it is gender, identity, sexual orientation or otherwise, just as 'ph' represents balance, equality and openness, and thereby welcoming all races, genders and ages.
"Our customers consist of those who identify with us in their own different ways from all over the world. We are an overarching umbrella, harbouring multiple queer-owned brands as well as serving the community beyond just that transaction (of buying a garment)," says Smith.
Two other stories find resonance in with the TPP initiative.
Sky Cubacub, owner of Rebirth Garments, started out as a "queer-disabled" since he was 15 years old. Cubacub first dreamt about it when "I was in high school and really wanted a binder (a chest compression garment), but did not have access to one because those were either sold online and required access to digital money, or were sold in sex toy shops. I wanted to make a line that would be accessible to teens. I started looking for gender-affirming clothing in high school. I wanted a vibrant, colourful chest binder and packing underwear, but all the available options were boring and plain. Additionally, they were extremely scratchy and most of the seams were not finished properly.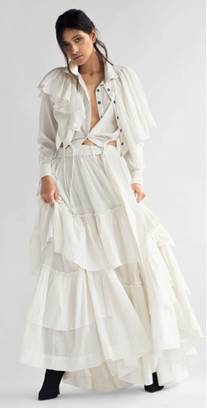 "I also wanted a packer that was not trying to look like human anatomy. I wanted something more sculptural that represented my gender. Being non-binary and making a clothing line that centres around non-binary folks allows me to come up with more imaginative garments that aren't suffocated by existing gender norms and show off a radically visible version of our identities."
Elsewhere, Gender Free World's director Lisa Honan and her partner once went shopping for shirts. Honan loved to wear shirts and was always frustrated by the availability of interesting shirts in 'menswear' departments which didn't fit her, and the riot of pastel colours, pink things, frills and ruching in 'womenswear' departments which she didn't want in any case.
As the duo explored the menswear / womenswear departments on the high street, they were struck by the odd binaries in both the buying experience-such as being forced to turn one way into the men's department or the other way for the women's, and being restricted in which dressing room to use, and also in availability of products. They realised what they wanted to do was expose some of this and seek a starting point to unpick some of the gender specific notions in clothing. Shirts was this starting point.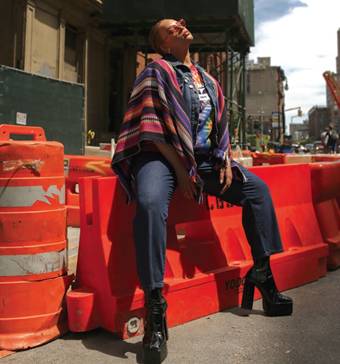 MI Leggett's "rebranding" process with Official Rebrand (OR?!) proposes a sustainable alternative to mainstream clothing lines, while reflecting the fluidity of identity. "I incorporated the brand in 2017, but the concepts behind it have defined my identity and creative process since childhood."
In highschool, Leggett worked for a sustainable agriculture non-profit in Boston, and "studying agriculture's significant environmental cost made me eager to understand the impact that other industries and supply chains have on the planet's resources. Official Rebrand is dedicated to being a sustainable brand within a historically high environmental impact industry, and impact education informs many of my lines and projects."
The Question of Options
On the other side of the spectrum are brands and designers, who simply want to celebrate the idea of gender liberalism and would like to give people an option to dress whichever way they want to.
"The LGBTQ idea has translated through media, people. But it's not an agenda that we were trying to pursue. I am not making any effort to place restrictions on people's clothing or redefining gender-less clothing. Our brand propagates the fact that a particular kind of clothing should not propagate gender," contends designer Pranav Mishra, owner of the brand Huemn.
"I, at a personal level, would not wear a skirt, but there are men who would like to get into women's skirts and that is why they feel comfortable in coming to our brand because we propagate that-a skirt should not identify with a particular gender. We don't consider clothes to be bound by gender, especially in today's world. The last problem should be who is wearing what. I think our role in this whole movement is propagating the thought itself, and not the product. The product was always there but initiating the conversation that 'look within you' is what we want to do," continues Mishra. Owners Sohaya Mishra of Mumbai-based Chola and Akshat Bansal of Bloni have similar outlooks. In fact, the latter's brand name was portmanteau from his surname Bansal and nickname Loni: "Be like Loni." Likewise, Chola was Sohaya's nickname, one that she could barely pronounce as a child.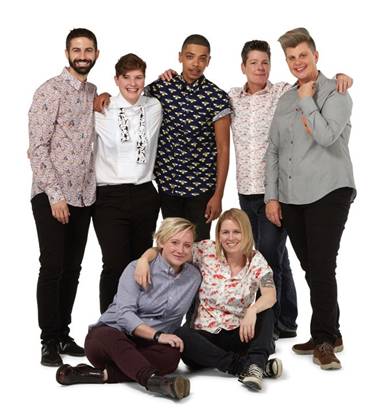 "We do not care what your gender is. We say that your gender is irrelevant. If you like a particular design or pattern you should not be denied it as it will not fit your body," adds Honan. By "we," she would mean herself and Nel Margerison. The clothes are designed by the two of them.
This idea does not remain confined to queers. Cubacub tries to focus not only on the queer community, but also the disabled and people of every size and age, even plus-sized people. He tries to remain as neutral as possible: "There are some things that were specifically designed with certain types of people or identities in mind, but I try to make it clear that anyone can wear it."
The founders of Gender Free World started by asking themselves first what the biological implications of sizing were. "Some people have breasts, some people have larger bottoms, some people have both, some people have neither. We started with splitting our shapes first. We know there are many more variations and we are not a bespoke service, but we wanted to be as close to that as possible. So, we came up with Charlie, Alex, Billie and then the following year Drew.
"We chose the names based on their neutrality and then decided that the sizes we would like to make our own because it was impossible to make references to people's existing buying experience without making it also specific to menswear or womenswear traditionally. This has been a challenge as there is very little common ground in sizing. We place a lot of emphasis on measurements," says Honan.
What differentiates one group of gender-free brands like Huemn, Chola or from the others is that they have mostly focused on comfort clothing-the clothes are not custom-made as done by Rebirth Garments or TPP. In Mishra's words, "Our clothes are comfort clothing; the wearer has a lot of ease to move in and move out from one event to another to a daily lifestyle. It translates, moves around in the timeline of a day very efficiently." Bansal believes in making 'oversized', 'fit to all shape' garments as they are sustainable, can be shared and used for longer periods of ever-changing body transformations. This, in turn, decreases the need to buy more, and ensures a sustainable lifestyle.
On the Expensive Side
A number of factors go into deciding the pricing of gender-neutral clothing. There is a contrasting outlook among designers when it comes to pricing. Some argue that the special design changes add to the cost of the clothes, whereas others are of the opinion that the final price of the product is dependent on the whole process of producing it, and it's not merely the designing which plays a big role.
Clothes at Gender Free World are made in small production runs in the UK, which render them relatively expensive. For Cubacub, the individualised needs add up to the final price. "My price points start at $26 for a very simple custom chest binder and go up. I have items in the $60-150 range. If a client wants a lot of colour blocking, it is $10 for each piece of fabric I cut out; so, it can add up."
Leggett too keeps it as affordable as possible: "Because I believe gender freedom would not be true freedom if it were accessible only to people with a large disposable income, I aim to make my work as accessible as possible, starting at $15. On the other end of that spectrum, I also sell much higher-end pieces in the $1,000 range. Although OR?!'s primary social emphasis is about challenging gendered expectations, it's also about resisting other norms that try to categorize and limit people. Individuals of certain demographics are told that they can't wear certain things, and that's exclusionary and unfair."
For Sohaya, the pricing has nothing to do with men, women or being gender-neutral. "My price range is ₹10,000-20,000 on an average; some pieces can go down to ₹5,000-6,000 and on the higher side it would be ₹25,000. It depends on individual piece and on our own costs. In fact, most of the clothes become costly as they are made in a sustainable way, rather than being just gender-neutral," she adds.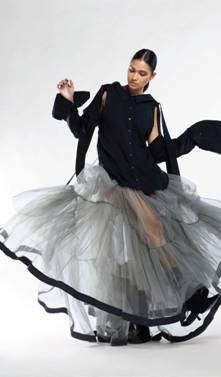 Mishra's garments come at ₹20,000-50,000. The higher bracket can run into lakhs. "For me, gender-neutral clothing is a normal thing; so, I cannot keep aside the thought and treat it as an entity which is different from other types of clothing. Second, the prices go up and down depending on how we are making the clothes-which include the factories where the clothes are being produced, what are the embroideries which are being put in, how they are packaged, the better the technician the costlier the manual labour-obviously the pricing goes up. All these add up to the final pricing of the clothes."
"Unlike mass-produced fashion, gender-neutral clothing requires a great deal of skill and knowledge to design and construct. My price points range at ₹7,000- 50,000," informs Bansal.
Customers Sans Constraints
The customers for gender-free clothing range from people who want to buy clothes based on their sexual orientation and body types to "usual" beings-both men and women, who for some part of the day, at certain point of time, want to try out something different depending on their mood.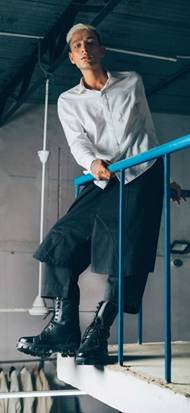 "We sell shirts to everybody. We market to the LGBTQ community, but not exclusively to them. We have a reputation for fun prints and well-made clothes. Anyone can find us online," says Honan. "Our lesbian customers are the most loyal as better-known brands do not meet their style needs."
Bloni believes that their line of clothing is for customers who like to identify themselves as "bold and non-conformist." Chola, on the other hand, is a brand which not only wants to remove the gender concept, but also the age constraints. "Kids, mothers and grandmothers wear my clothes. People are happy because they can just put on the clothes and not think much about it. They don't have to adjust it, unbutton it; those are not too tight, not too restrictive, and allows a lot of movement. At the same time, those are something that can transit from morning to evening. People appreciate the fact that they can wear them through various occasions and at different times," asserts Sohaya.
The majority of Cubacub's customers are differently-abled people, people with sensory sensitivities, transgender / non-binary individuals and plus-sized people. "Rebirth Garments are made to fulfil the aesthetic vision of my clients. On the face of what society tells them to hide, my clients are unapologetic individuals who want to celebrate and highlight their bodies. Instead of hiding the aspects of their identity that make them unique; Rebirth clients are 'radically visible'. Garments can be made with the seams on the outside for people with sensory sensitivities, pockets to hold gender affirming prosthetics, or insulin pumps. Everything is made from stretchy fabric, making it easy to slip on, accommodate weight fluctuation, and facilitate full-range movement," he says.
But affordability remains an issue with non-binary clothes the world over-a fact admitted by most designers. Their clothes can be afforded by only the affluent, and in that, they remain high-end.
"We understand that gender-neutral clothing is expensive and do our best to remedy this as best as we can, while still offering quality and working within the US and sustainable factories as much as possible. The prices at TPP range from the attainable to aspirational, with specialty items highlighted in rotating artist residencies," says Smith.
Admits Mishra, "We make luxury clothes and not streetwear, which limits our clientele, especially in a country like India. Whatever clientele we have are in the metropolitan cities. They are well-informed, well-travelled. They are aware of the brands they consume, and the prices of the pieces we make-because of the value that we put in making the pieces which in a market like India is on a higher side."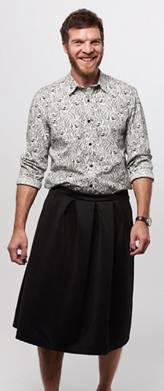 Bansal rues the fact that "millennials have a perceived high disposable income and are buying into fast fashion, and yet expect luxury clothing to be more affordable. That's a contradiction."
The Promise
The future holds promise for the gender-free apparel brands and each has its own aspiration. Some brands want to continue with their current line of clothing and improvise on the same; others want to start a new line of clothing altogether.
Bloni aspires to be recognised as a more sustainable and futuristic global fashion house, remaining true to its queer DNA. "In the future, we will continue to extend our product range. We intend to make waistcoats and pyjamas, and introduce more colours to our boxer range," says Honan.
Sohaya is little apprehensive about her future and is of the opinion that her "growth chart has been pretty decent till now. I have had much fun and people have been loving and appreciating what I am doing, but nothing concrete as of now. Probably, I will get into maternity clothes. A lot of women come to me demanding such clothes."
Cubacub has a different thought process altogether. "I am hoping to create a kids' line whenever I can figure out how to cut down on some of my costs. I am also always trying to develop more kinds of clothing items that focus on more specific types of different disabilities."
Mishra has the last word: "At the end of the day, the product must sell. The biggest challenge as a creative person is to translate your creativity into sales. Because something what you really like and really want to make, might not sell. Yes, it's a constant learning process."