2020 is just around the corner. Here are the hottest items for every holiday gift list.
We are still solidly stuck in winter… for now. But spring is just around the corner, and many 2020 fashion favorites are already cropping up on shelves. Here are some of the predictions for the hottest fashion trends in 2020, and where shoppers can find them this holiday season.
Big Collars are Back
...And not just any big collars… disco-style collars. We're talking about the flashy, poke-someone's-eye-out collars of decades past. Contrasting collars are particularly hot, especially on jackets. This loose fit, dropped shoulder trench coat with exactly the pointed collar everyone is looking for. The Jacquemus cotton coat can be found here.
Bold, Bright Colors
Bright, eye-popping colors go in and out of style as the seasons change… but designers say that this spring, bold colors are IN. From neon-pink sweaters to orange skirts, bright colors not only give consumers hope during the long winter ahead, but they make them easier to spot on the street as well… or on the beach. Is it too early to think about swimwear? Never. Snag this bright orange suit by Stella McCartney before someone else does.
Crochet All Day
<![if !vml]>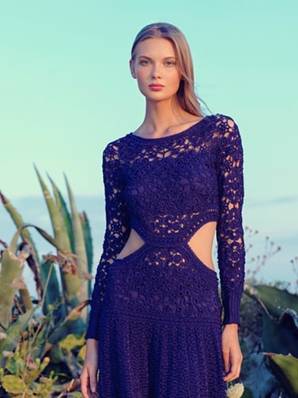 <![endif]>
Crochet is a century-old hobby… until it's a hot fashion trend. From dresses to suits to eveningwear, open crochet is definitely updated and in style. Not only does it look cool, but crocheted clothing has its own sustainable edge. Crocheting is a slow, handmade technique that represents the antithesis of fast fashion. Marc Jacobs gets it. The Redux Grunge Crochet Cotton Cardigan reminds us of doilies… in the best possible way.
Short Shorts
This next trend is pretty much the opposite of the age-old slow art of crochet… You guessed it! Hot pants. Super short shorts are back on the scene. Going full-on Daisy Duke may be a bit much for some consumers… so if they'd rather, they can go the classy Chanel route with an accompaniment of black tights. The Derek Lam 10 Crosby shorts are giving shoppers a jump-start on this trend. Find them here.
On the Fringe
Buyers can channel their inner Beatle with a 2020 must-have: fringe. Fringe can be added to literally any piece, from crop tops to lightweight jackets to… dare we say it… intimate wear. Here's a woven fringe sweater from LOEWE that consumers won't have to wait until spring to wear.
Ruff-Ruff-Ruffles
<![if !vml]>
<![endif]>
While we're on the topic of hem embellishments, we can't leave out ruffles! Big, bold ruffles debuted (again) on dresses during London's fashion week, and the effect was stunningly… pretty. ALEXACHUNG is cashing in on this trend with a multi-tiered ruffled skirt that is leaving no ruffle left behind.
Ombre
Did Ombre ever even leave the scene? Well, if it did (however briefly), it's back! A simple, subtle gradient color shift is definitely in, especially when we're talking about those bold, bright oranges and pinks. LI-NING takes ombre seriously with this purple hoodie, perfect for snuggling this winter.
Rose to the Occasion
To say that floral prints would be in this spring wouldn't be specific enough… we're looking specifically at rose prints. A number of designers debuted rose-printed dresses that are sure to put a spring in the step of many on the streets as winter thaws. This Prada dress is exactly the kind of rosy we're talking about.
Is it a Coat… or a Dress?
It's both. And it's AWESOME. The new coat dress is the perfect addition to everyone's wardrobe because of its event versatility. Buyers no longer have to match a coat to a dress… they'll have two in one! The coat dress style was popular on this season's runways, and buyers are likely to see a lot more of these gems next year. M.M.LaFleur's Suzanne dress is one way buyers can take hold of this style NOW.
SPARKLE and SHINE
There was one undeniable trend on the runways that is going to hit 2020 by sequin-studded storm: all of the sparkle and shine you can find. From eye-catching shiny fabrics to added glitter and gloss, shiny is the new black. Saint Laurent dove all the way into this trend with their Metallic Skinny Jeans.
The Sping fashion shows of this year gave us all a peek into the top styles of 2020, but shoppers can find some of those on-trend pieces during their shopping trips this holiday season.
But some brands are fighting the season and trend-based fashion traditions, and working to create timeless pieces that are in style all year round. Other consumers are looking into Wardrobe Recycling, or even learning about how and why they should wash clothing less often. Time will tell whether timeless pieces will win out over the long tradition of fashion seasons.
This article has not been edited by Fibre2Fashion staff and is re-published with permission from synzenbe.com