Launched in Fall of 2019, a new chapter in the history of knitwear began with the launch of THE GUESTLIST, a platform for creative minds. Founded by Karim Guest, Creative Head, and Anton Schumann, CEO, the platform is the go-to destination to fulfill luxury sartorial knitwear desires.
Kicking off with a collection from the Karim Guest New York label, designed by Karim Guest, THE GUESTLIST has been joined by selected designers from around the world. Upon exclusive invitation from Karim, each designer is provided with the necessary tools, guidance, and sustainable manufactory facilities to create their own distinctive collections.
The collections are produced in the small town of Mühlhausen, Thuringia, in Germany. Abiding to high standards of quality and sustainable methods, a team of 29 women handcraft each piece to order using a range of exclusive yarns, including 100% Fibre Nobili Cashmere, 100% Merino Wool, and exquisite Jaipur Silk. This supply chain ensures that the products are 100% Made in Germany.
Both Karim and Anton define success within the fashion industry through sustainable growth. "Within our strategy of growth, sustainability is a given, and this concept is at the heart of our brand" says Karim. "We ensure that nature, our working environments, and employees are treated in the best possible ways. Not only does this protect and support the sources of the noble products on offer in our collection, it also upholds our ethical values. We rely on a transparent supply chain, and only cooperate with suppliers of trust - those who have a similar understanding of what sustainability means."
Together with the University of Camerino, one of the most accredited Italian institutions for animal welfare, standards were developed for sustainable cashmere. THE GUESTLIST buys from suppliers that pay a premium for the finest and thickest cashmere fibres. In doing so, the suppliers encourage and incentivize herders to breed only from goats that produce to this high standard. Over time, this results in the improvement of the herd's yield; while keeping herd numbers low, meaning less pressure is exerted upon the land.
<![if !vml]>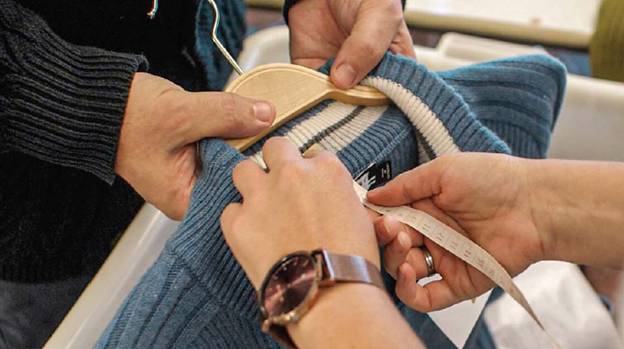 <![endif]>
Incorporating an even longer-term vision, the concept of the Cashmere Spa was developed by Karim and Anton. After each season, high-quality-cashmere-lovers are invited to send their cashmere pieces back to the factory to be pampered, treated, and brought as closely back to their original state as possible. Softness is restored, and each piece returns to its owner looking and feeling just as good as the first time that it was worn. Supporting the circular economy reduces the need for mass production from other cashmere sellers. The next step to this process, is the initiation of a Cashmere-recycling process, together with the Südwolle Group as a partner.