Since its launch in 2019, direct to consumer and online-only, Nudea has been breaking industry norms by modernising the measuring process with the development of a bespoke tape measure as well as the brand's online fit finder. With a true focus on user experience and customer satisfaction from initial online browse through to delivery, Nudea delivers expertly crafted, comfortable lingerie in contemporary, feminine designs for everyday performance and comfort.
Priya Downes, Nudea's CEO and Co-Founder, explains about the importance of fit: "Nudea's ethos is all about getting the right fit; we built the brand and our product range after working with over 600 women to understand everything from what they expect from their bras to how frequently they were fitted. What was evident from the very beginning was the inertia around getting fitted: whether it's a question of access, time or just discomfort, there is a reason why many women are wearing the wrong size. We want to change that and bring better tools to the customer, which includes our fit quiz but also our bespoke measuring tape for those that prefer to start completely from scratch when sizing."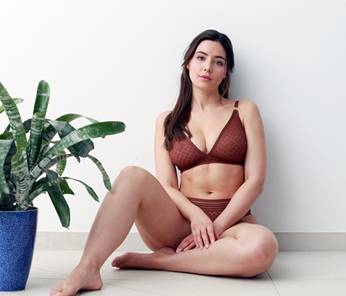 Nudea's bespoke tape measure
Nudea's bespoke tape measure has been designed to revolutionise the way women can measure themselves quickly and simply at home. Allowing for accurate, hands free measurement, with no complicated conversions or calculations necessary Nudea's tape measure has already won the influencer seal of approval and helped over a thousand women get their size easily, quickly and in the comfort of their own home.
In fact, Nudea's tape measure has garnered a fan base of influencers and now customers who have used it to size up at home, realizing they were wearing the wrong size, trusted their new size and have been overwhelmed with how much better their Nudea bra, in the right size actually fits.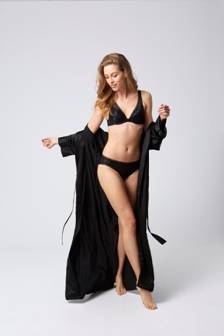 As the Coronavirus pandemic continues, and we all spend more time at home, hopefully taking more time for self-love and care, now is the perfect time to get your hands on one of these fast selling tape measures and finally time to get fitted for the right size. It's a small investment designed with good quality materials to last for repeated use. We should be getting measured 1-2 times a year; Nudea's tape measure can be kept in an underwear drawer as a reminder to measure yourself regularly.
Nudea's Online Fit Finder
Nudea's online fit quiz is based on intelligent algorithms created through months of research on 600 Women. The online-fitting tool recommends perfect fit, taking into account current fit issues, bust shape and height through a quick set of questions completed in less than 60 seconds. Since launch 1,500 Women have used the fit finder to get their size with higher conversions and lower returns rate (in the single digits for fit finder shoppers) than browsing traffic.
Good bra fitting is also about the right type of bra and our virtual fitting room provides style recommendations as well as size; all of this contributes to a better fitting and flattering product for each individual customer.
Carlotta Ghigi, Nudea's in-house bra technologist and expert fitter, has been instrumental in creating this online facility. She has personally fitted thousands of women over her 30-year career in the intimates world. Bra fitting is as much an art as it is a science and after watching her over countless workshops and hundreds of hours of fit trials, the Nudea team has brought the best of her "brain" to the online world.
Recent consumer testimonials include:
"I have been measured a few times before and no matter how many times I've been, I always feel self conscious stripping bare – not matter how lovely the shop assistants are. With Nudea they have an easy-to-use measuring tape, or you can use their online fit finder to figure out the right size for you.
I was able figure out my new size myself and the best part was that I could do so in the comfort of my own home.
No leaving the house, no booking an appointment to be measured… I was able to do this all when baby was asleep and then shop the range via my phone at my own leisure. My new bra arrived within a couple of days and the quality is amazing!
Considering I was previously a 32C, to see I was measuring 34DD using the Nudea tape I was a bit nervous as to whether the new size could be right? But the measuring tape is brilliantly accurate because the fit… oh the fit! It feels like the bra had been molded for my body.
Who knew what something as simple as a great fitting bra could make me feel so comfortable and confident! Heck, I'd even go so far to say I feel sexy – which does not happen very often being a mum!"