The withering away of a sari can be heart-wrenching for an owner, especially if it has been handed down generations. But today it is possible to restore a sari to its pristine state.
One of the most beautiful garments in the world is the sari. This amazing feminine drape can be styled in nearly 100 ways and remains a prized possession of every Indian woman, both young and old. The sari's heritage is as varied as its stunning beauty when shimmering weaves, intricate motifs and mesmerising colours create a visual symphony. When it comes to owning or bequeathing a sari, women ensure that the six-yard wonder remains in its pristine state. Saris move down generations, and it can be heart-wrenching for an owner to see its condition deteriorate.
Necessities bring about inventions, and problems often find innovative solutions. Today, there are a handful of expert textile and sari designers who can either revive the beautiful weaves and motifs or are able to restore a sari to its original state. Both methods are extremely painstaking, time consuming and extremely expensive. But when a lady is emotionally attached to her heritage sari, the cost factor is of least importance.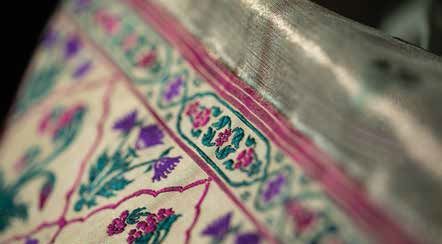 Saris and beautiful textiles surrounded two sisters-inlaw from childhood. One had graduated in history, the other in geography. They belonged to a Marwari family in Kolkata and had realised a gap in the sari market. That's when Swati Agarwal and Sunaina Jalan started their brand Swati & Sunaina in 2007 and went on a quest to Banaras. "We got so enamoured with the craft and yet were so disappointed with the disorganised manner in which everything was being done that we decided to work with the weavers there so as to try and salvage some of the old techniques. We didn't have any formal education in textile design but had a natural feel for textiles and a passion for saris. We learnt from the grassroots upwards.
The weaver was our teacher and the few available books on textiles provided us an insight into the history of textiles." The pair has 40 weavers in Varanasi and creates a collection once a year with a focus on reviving complex weaves and vintage patterns. The process of creating a sari is two phased—design and development for 8–12 months and on the loom for 4–6 months depending upon the weave.
When it comes to restoration, the duo explains, "Old saris can be restored by darning them from the affected area; the tarnishing of metal can be removed by dyeing the sari (however, introducing chemicals further weakens the fabric). Sometimes a fine textile is fused to the entire length of the sari. The process could take 3–6 months.
There is currently a welcome awareness among women about the worth of old textiles that they have in the wardrobes. We get many asking questions about care, upkeep or damage control. A lot of enquiries about restoration come our way. But most of the textiles we get to see are beyond repair.
"Restoration for us is not a business—it's the pure joy of seeing something of value being restored to a form in which it can still be used and savoured. We offer this as a service to fellow textile connoisseurs who have inherited textiles in a poor condition. It has no relation to our business and is not a source of profit for the company. A lot of Indian women are sitting on treasure troves in their trunks that have been forgotten. If ever, all of those were to come together in a collection, we would possibly have one of the finest collections of textiles as a country. So, whatever comes our way and if we are able to salvage those in any form, we always make a genuine effort. It's for the love of the sari / textiles and it is strengthened by our knowledge that even with the best of intent and unlimited resources some of those things cannot be made today—because the skill has been lost with the older generation of weavers." Repairing old saris is done only on request.
They continue, "Sometimes fine threads are pulled out from the inner edge of the sari to darn small holes or tear. Hot dyeing liquid can restore the shine of the zari, but the colour will change, and the chemicals weaken the fabric. The tear from folds is irreversible damage; therefore, it's more important to care for your textiles from the start itself. We always suggest preventive maintenance."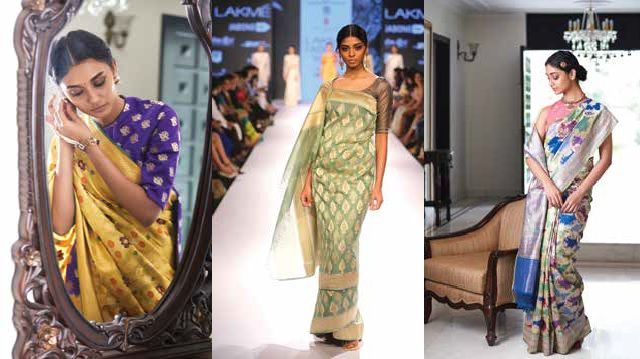 Agarwal and Jalan have been retailing from their flagship store in Kolkata for the past five years. Production for each design is limited to 12 in a pattern making each sari unique. "In each pattern we do 12 pieces, and each in a different colour. Therefore, each sari becomes one of its kind. All are equally popular and cannot be rated as per popularity due to the small numbers. We don't have any popular design as after 12 pieces no remakes can be made. The design is taken off the loom and the punch cards are destroyed. Motifs can be inspired by nature, architecture, old textiles, vintage jewellery or more recently in the Gyaser collection, religious textiles of another sect. Textiles woven at Varanasi for Buddhist monks and monasteries all over the world inspired the Gyaser collection. Motifs are primarily flowers, or forms that have been adapted from the perspective of the artist."
They use silk, cotton and metallic tissue with 98.5 per cent pure silver for which the designers give a certificate of authenticity. Pure zari is sourced from Varanasi as the quality of zari used—98.5 per cent purity of silver and 24 carat gold for electroplating— is made only by one last surviving artisanal workshop in the world. "It's family business run by a passionate and enthusiastic Shyam Sundarji who is almost 70 but is still raring to go. The silk yarn is procured mainly from Bengaluru. Buyers and sellers have to be registered with the National Handloom Development Corporation Limited (NHDC) to avail of special subsidies offered to the handloom sector. It is through the NHDC that most of the raw material is purchased by us for the textiles. There are multiple vendors and the supply depends on availability at the time of requirement."
Creating special saris for a buyer is their specialty. "We have a very special service called "commission a weave" where we spend time with the client and create a textile as per her choice with the help of our expertise. We have successfully commissioned a rare rangkaat lehenga (first in the history of Banaras) and a few saris."
Pricing for the saris starts from a few lakhs while promotion is by wordof- mouth and client recommendation, although they have an active social media and PR service if required.
"We were lucky enough to be invited to the Lakme Fashion Week Winter/ Festive 2015 when they had a show that was dedicated to Banaras. We successfully opened the Banaras show and won rare accolades. We did another Lakme Fashion Week Summer/Resort 2016 six months after. Following this, we started to do private exhibitions like one at Bikaner in September 2017, chronicling the history of gold in textiles and relevance of our textiles in that perspective. In 2019, we held a similar show in Mumbai detailing the history and journey of the Gyaser weave."
"We felt that to be able to successfully amass interest in Indian hand-woven textiles, we had to convey the story of what goes into making them. Hence the shift to serious exhibitions vis-a-vis a ramp show." Using old style janglas, which are an all-time favourite and creating new patterns they sell saris, lehengas, yardage and dress materials.
Keeping sustainability and CSR practices in mind, the duo believes in providing fair wages, constant employment with security of jobs and timely payment. They have planned for a pyramidal growth structure where they make lesser quantities but more complex textiles.
On the future of the sari they comment, "Demand has definitely gone up. It is a very pleasant change among the young women of India and we as textile enthusiasts welcome it. They are now understanding the effort and worth of a true textile and moving gradually towards wearing more and more of textiles. This shift has been due to the natural curiosity that has made them seek answers about their heritage and value a handloom textile for the labour, effort, skill and toil that goes into making one."
Belaa Sanghvi's Purnakala brand works with the revival of antiquated handloom and handcrafted techniques and her love affair with textiles started 40 years ago when she visited the Smithsonian Museum in Washington DC where Mughal textiles were on display. Fascinated by what she saw, Sanghvi researched the weaves and looms, and found a weaver in Gujarat. This started her on a revival journey when she brought her first design—the beauty of the parrot motif on a Jaal from which a sari was created after 3–4 months.
The actual restoration journey started four years later when a friend of hers who was emotionally attached to her grandmother's sari wanted to wear it at her brother's wedding. So, Sanghvi skilfully restored the torn pallav. Since then Sanghvi has revived 56 different designs and restored at least 70–80 saris in various techniques. Every year, Belaa targets the revival of at least two different collections in various techniques.
Her designing is a constant process—so, saris are woven in Gujarat, Maharashtra, Tamil Nadu, Odisha, Rajasthan, Kashmir, Uttaranchal, Chhattisgarh and the Northeast. The number of weavers varies since it's an unorganised sector, but she works with approximately 1,200 across the country.
Her collection of saris comprises aashaval, patola, bandhani, paithani, Orissa patola, kanchipuram and gadhwal and her embroidery ranges from kashmiri to zardosi, aari, pita, zari, with real zari being used. Weaving a sari varies in the time needed for the job to be done. A patola can take 18 months, while a block print could be ready in 15 days. Broadly, the restoration of a sari could take 3–18 months.
Sanghvi explains the restoration process: "We give customised solutions. For a banarasi, creating the design in jacquard and carefully attaching it to the worn-out part, we use brocade techniques. First, one evaluates the condition of the sari which needs to be restored—the overall condition, whether it's worn out, if the supporting yarn is strong enough to survive further wear and tear, the reason for deterioration of a sari, and whether it's restorable at all."
The Japanese method of showing off restoration makes perfect sense. If a patola needs restoration, colour dyes should be available or producible. "How can one attach yarn so that restoration does not show? But if I am supposed to show off restoration, then it becomes a conversation piece with a story."
The condition of the rest of the sari / textile is then examined—whether it would be able to take the weight of restoration materials. Often the cost of restoration may be higher than making a new sari altogether. "I do not give a new look to a sari as it may be a classical piece and the restoration area might be seen. It's better to reproduce than restore unless someone has an emotional attachment. Restoration is reactive. If it's torn due to stress, then the rest of the sari is still strong enough. Then, the warp and weft would be able to take the weight of another set of warp and weft, which will be attached. The design too needs to be matched along with the colours and the depth of the original sari. So, it's a very tedious process and mistakes are noticeable." Sanghvi uses natural yarns like silk, cotton, jute, pineapple and banana, while the zari is always real.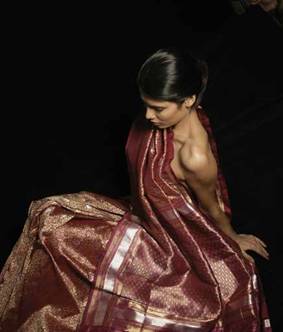 Her most memorable design is the Latifah collection named after the Naqshabandh karigar called Latif duringEmperor Akbar's reign whose large designs with repeats—known as 1.5 repeats (dedha repeats)—are difficult to create as the jaal has to be removed and restrung. There is also the popular nari (lady) kujar (elephant) motif.
Creating a special sari for customers as well as the jaals for each make it an exclusive piece. The price starts from ₹15,000, while restoration costs could run into lakhs of rupees for a patola as the size, colours and shades would have to be matched and darned or "raffued". An unusual black aashaval she created has a lotus jaal pallav with lions and a border of lagdi pato. This is not something Sanghvi would do unless a good sari is torn or stained. Besides, she creates fabrics for garments as well as dupattas, and designs customize blouses, ghagras, cholis and textile murals.
When it comes to the demand and future of the sari, Sanghvi observes, "There was a time when I felt that the sari was going the kimono way. But I am happy for weavers and our own cultural expressions that saris have bounced back. Individuals are now expressing themselves with saris and blouses in different ways. Saris are back in the mainstream. Earlier, it was believed that only traditional ladies wore saris, but now Bollywood stars are wearing them—it's suddenly sexy to wear saris."
She takes care of the people: "We care about our weavers. Many have been with us for 35 years. To be sustainable, we use azo free dyes only. We don't even use natural dyes as we look at the birthto- grave approach. We help karigars to realise their potential and work more."
Publicity and promotions mean social media and constantly participating in exhibitions in Mumbai or Chennai. Sanghvi has been retailing for 35 years and has a studio at Ness Baug in Mumbai. Her work is also on display at the Los Angeles County Museum of Art where she gave a talk on Mughal Textiles in early 2000.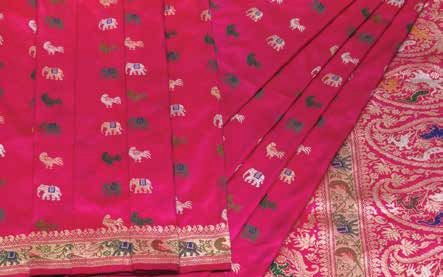 Born and raised in Banaras— the seat of art and culture— Sagrika Rai was always fascinated by this poetry from the skillful artisans around her. "The onset of powerlooms adversely affected the weaver ommunity and de-skilled them. Having an understanding and respect for the master weavers and their magical craft, I decided to become the voice of the artisans and motivated them to create variations in their skill set reestablishing an eye for this indigenous art form and bringing an acceptance of this fading craft. The inception of Warp 'n Weft in 1997 was purely a mission to promote the fabric of provenance in times when Indian fashion was drawing inspiration from the West and 'Banarasi weaves' seemed to be on its last breath. The famed brocade from Varanasi that enjoyed its glory in the realm of textile weaving since the 2nd century B.C. is the fabric of antiquity. I work with clusters of weaver families based out of rural outskirts of Varanasi. The numbers have been increasing progressively. I started with a handful of skilled senior artisans. Today it is a community of Warp 'n Weft master weavers."
Rai keeps the essence of the archival Banarasi form drawing inspiration from the classics, "We re-invent and re-visit the timeless in the modern adaptations. You can distinguish the Warp 'n Weft signature from another. Designing is a constant process comprising two to three months for a sari, while heirloom classics take nine months."
Rai gives a detailed insight into the type of designs she works with. "'Jungla', all over floral twine has varied flowers with silk threads in warp, weft and metallic zari threads only in weft, which creates the fauna of 'kadiyal nakshi' further enhanced with 'minakari', an enamel-like detail. 'Guldavari', is florescence of banarasi with rosettes and clusters that has inspiration from the Mughal and European era with patterns from rose, marigold, chrysanthemum, daisy, tulips, water lilies and lotus. 'Aada', a play of longitudinal, traversal and oblique stripes, is a fashionable foray of banarasi. 'Chouka', a geometric pattern that evolved with squares and rectangles can be used with floral designs."
"'Ashrafi' meaning 'coin' or 'mohur' is Persian marked gold coinage in the Indian monetary system introduced by Sher Shah Suri. 'Ashrafi' buta or dollar motif is an attempt of urbanity in antiquity. 'Khinkhwab' or 'khinkhab', is twilled in silken threads, metallic gold and silver zari. I have sketched the 'khinkhwab' with dreamy pink gold metallic threads from saris to lehengas, odhanis and textiles." "I use 'ragda patti', the threedimensional peg in design with chevrons and zigzags, to complete other designs. 'Rangkat', the crossover of yarns with colour blocking is the highest order of weaving technique, with surface play of floral / geometric detail. A 'rangkat' sari takes nine months to weave, literally the time it takes to nurture human life."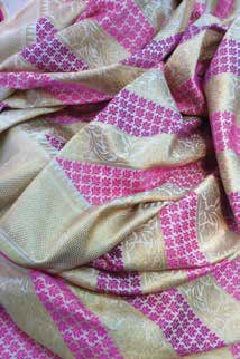 'Shikargah', the king of weaves is a depiction of the strong Persian influence. The story of the animal figurines in the delicately spun textile speaks of profuse artistic excellence of Indian craftsmen. The story of 'Sat Gharav', the seven weaver families from West Asia that brought with them the weaving art of 'kazazi' and khinkhwab holds significance till date.
"'Jamdaani', the mother of all weaves is usually a technique we use in the impeccable construction of our pure silver and gold zari saris in fine muslin cottons and gethua silks. 'Shwetambari' is white as pristine in universe, 'nilambari', in indigo natural dyes personifies the blue skies. 'Raktamabari', coming from 'rakt', the colour of blood intensifies the richness of love and life in red. 'Pitambari', that originates from the golden gleam of brass or 'pital' establishes the equivalence to gold or artistic wealth in India. 'Kadambari', the bird like rhapsody weaving in intense charcoal remains timeless. 'Dhanambari', is rooted in the land of culture and colour."
Sari restoration is another part of Rai's work. "I receive requests where the sentimental value is higher than the price. We start by checking the strength of the base fabric and if it's compromised, we look at the surface work / weave that can be salvaged and transferred to a fresh and sturdier base textile, while maintaining aesthetic sensibility and heritage value, polishing the zari to revamp its lustre. The main design is disengaged from the base fabric. It's a time taking process involving contribution of weavers and embroiders. Then we play with the placement of this design on a new base cloth. There are many ways of appliqueing, never to overpower the main weave that is being restored. There are successful attempts where we re-create and re-weave the design itself. This needs immense patience and evaluation of the costs of the restoration and re-weaving processes. We discuss with customers, take their approvals at each stage and the costs involved. The multiple processes could take a month or more depending on the strength of the old sari, which is only handled by very senior skilled hands."
Since the last 22 years Rai's Warp 'n Weft outlet at Marine Lines, Mumbai has been promoting banarasi handlooms. She follows the patterns that are bookmarked in the weaving history of Banaras and draws a different interpretation to it each season. "We have a team of artists who translate the vision first on paper and we work along from the conception to the final pattern adding and eliminating elements, considering the extent and scope of hand weaving along with its constraints."
The saris are exclusive pieces. "We like to cap the number of our pieces to each design to keep it exclusive. If requested, we weave the designs on demand and customise the colours too. Our range starts from a few thousands and goes up to a couple of lakhs for everyday wear to heirloom ornate jewel saris and bridal banarasi lehengas." When it comes to advertising and publicity Rai feels, "To my mind, there cannot be anything more luxurious than to don your heritage. This in itself is our biggest selling point. I have always believed in everything organic including our marketing strategies. For years, Warp 'n Weft was the discreet find of the tasteful and then I was written about on basis of pure merit in the by gone era of true editorials. We do enjoy presence on various social and media platforms, but our presentation is organic. We do not use any marketing agency. This does surprise my customers. But I have held this value since the inception of Warp 'n Weft and do not wish to increase our followers or patrons piggy backing on a third party's content and their digital creativity skills. The digital space is crowded, and the consumers are baffled by the expanse of what's available out there and is attracted time and again with just an eye catchy marketing gimmick and comparisons on price point. At the end, it is quality that is the biggest strength and the integrity to the art form. We certify our hand weaves. We stock at Este Couture in London, enjoy clients from all over the world with whom we engage on digital platforms and user-friendly chats to customise and personalise their shopping experience with us. We enjoy presence on few e-commerce portals like Nykaa fashion."
Working with cotton, muslin, kora, katan, munga, tussar silks, linen and chiffon with pure zari, the yarn is sourced from Banaras. Her collection comprises saris, lehengas, dupattas, textiles and dress materials.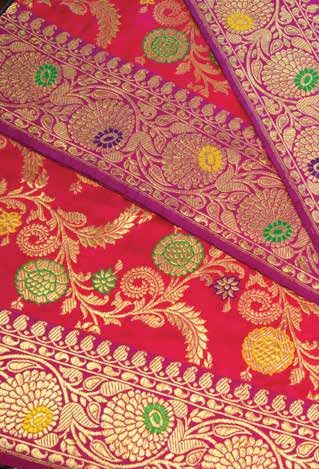 Rai does not encourage turning a sari into garments. "A sari is such a complete, graceful look for all ages. I endorse the 'sari' as a statement of being confident and glamorous. And we keep creating yards of 'thaans' from simple motifs to bolder patterns for the dramatic and conventional design silhouettes. To this effect, we even customise and create textiles for fashion houses at international platform."
Sustainable and CSR responsibilities are important to Rai: "Since 1997, Warp 'n Weft has been tirelessly working to safeguard handloom as an indigenous art. The onset of powerlooms ended up adversely affecting the weaver community and de-skilled them. This caused a chain reaction in the handloom sector affecting the livelihoods of tens of thousands of weavers and skilled craftsmen. We were the only institution to make a concerted effort to encourage the weavers and their families, by revisiting and redefining their treasured hand-weaving skills. We endorse handloom that is purely handwoven— right from dyeing to weaving process, take great care to hinge the production of the textiles on our ethics, sustainability and social responsibility. For the last two decades Warp 'n Weft has strived to protect the interests of the artisans and weaving community in Varanasi through fair wages. Earnings from the business are reinvested to promote the craft."
Hand-woven fabrics have imperfections, often mistaken as defects, but this is what makes the manufacturing process authentic and traditional. Fabrics being natural, chemical free and the process being absolutely organic, minimal or no impact on the environment and strong focus on bettering the working conditions of the labourers, employment generation are what constitute ethical fashion. Additionally, our yarns are hand-twisted, which effectively reduce the carbon footprint. We have always encouraged weavers to use vegetable based-dyes. We meet weavers to better understand their challenges and set about streamlining the supply chain and production process. While many brands / companies use 'handloom' as their claim to fame, Warp 'n Weft embraces the principles of ethical production and 'fair trade' to preserve the heritage / skills of weavers, the backbone of our brand. With an aim to further enhance the financial security of our senior weavers, Warp 'n Weft has set up a Weavers' Fund for senior artisans, encouraged young talents with cash rewards each year and remained a source of support for any medical exigencies."
Rai has noticed the increase in demand for the sari: "The demand for saris has seen an upward progression. I see the fashion aspect rooted in tradition in the young millennial women and their interest in sari. Customers are more aware today as saris or bridal lehengas enjoy unparalleled luxury in Indian fashion. They enjoy a heritage / traditional value, which cannot be compared to dresses and gowns at Indian weddings. A sari dotted through Indian history is timeless and shall stand the test of eternity."