With coronavirus pandemic engulfing the entire world, the demand for personal protective equipment (PPE) is on the rise. As US and EU are the most affected regions so far, demand for PPE from these regions have shown a sharp rise compared to rest of the world.
The global supply chain of the personal protective equipment (PPE) has been jeopardised due to the sudden outbreak and spread of the pandemic named COVID-19. It has hampered major activities (production and distribution) of all the industries including PPE industry. A sharp rise has been observed in the global demand of PPE, especially from the US and the EU.
According to UNICEF, the global market value of PPE products (surgical and protective gloves, face masks, coveralls or full body suits, medical aprons and gowns, and protective goggles) was estimated at $50.9 billion in 2019. After the outbreak of COVID-19, the demand of some PPE products has risen as high as 1000-2000-fold.
Global Demand of the PPE Products for Healthcare Workers Each Month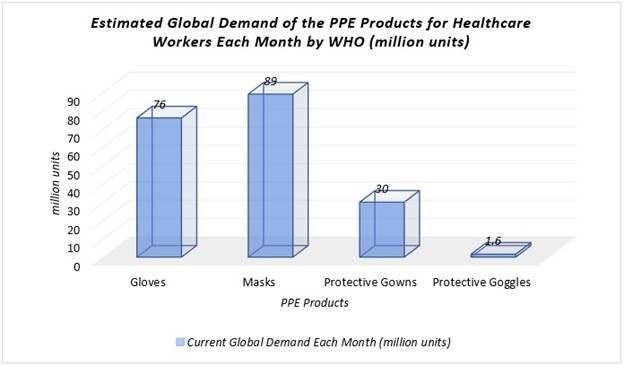 Source: WHO
According to the model developed by the World Health Organization (WHO), the requirements of frontline healthcare workers were estimated at 76 million gloves, 89 million masks, 30 million gowns and 1.6 million goggles every month during the COVID-19 response worldwide. In February, WHO had advised to industry personnel and governments to raise the PPE production by 40 per cent to meet increasing global demand. China contributes the major part of manufacturing and trade of PPE raw materials and finished products. China approximately produces 50 per cent of global production of surgical masks (20 million masks a day, pre-pandemic) and Taiwan accounts for 20 per cent of global face masks supply. The other major countries with considerable PPE production capacity are India, Japan, South Korea, Malaysia, Mexico, Thailand, the US, and some countries of the EU. After the outburst of COVID-19, China has enhanced the production of masks more than five-fold, with a daily production capacity of 110 million units.
China had imported 2 billion masks in a first five weeks period after the outbreak of pandemic, according to Chinese customs data. It is approximately two and half months of global production. China also imported 400 million pieces of other protective gear, from medical goggles to biohazard coveralls.
According to the Malaysian Rubber Glove Manufacturers Association (MARGMA), the pandemic would raise the demand for rubber gloves from 298 million pieces in 2019 to 345 million in 2020. Malaysian manufacturers can supply for approximately 65 to 67 per cent of global demand.
According to the tender document of March 24, India needs 1 million coveralls and goggles, 4 million N-95 masks, 2 million nitrile gloves, 600,000 face shield and 2 million triple-layer surgical masks. Northern Railway (the nodal procurement body for coverall-related material) has reported that the country needs around 15 million coveralls by June this year. The domestic manufacturers have already begun the production of the coveralls and government is working on the options to import the same.
From the outbreak of COVID-19 to present day, WHO has supplied PPE products to the following countries.
| | |
| --- | --- |
| Western Pacific Region | Cambodia, Fiji, Kiribati, Lao People's Democratic Republic, Mongolia, Nauru, Papua New Guinea, Samoa, Solomon Islands, Tonga, Vanuatu and the Philippines |
| Southeast Asia Region | Bangladesh, Bhutan, Maldives, Myanmar, Nepal and Timor-Leste |
| Eastern Mediterranean Region | Afghanistan, Djibouti, Lebanon, Somalia, Pakistan, Sudan, Jordan, Morocco and Iran |
| Africa Region | Senegal, Algeria, Ethiopia, Togo, Ivory Coast, Mauritius, Nigeria, Uganda, Tanzania, Angola, Ghana, Kenya, Zambia, Equatorial Guinea, Gambia, Madagascar, Mauritania, Mozambique, Seychelles and Zimbabwe |
US PPE Market/Trade
In order to fight against the spread of COVID-19, the US government has invoked the Defence Production Act (DPA) and restricted exports of PPE products such as respirators, protective masks, gloves and full body suits. The Federal Emergency Management Agency (FEMA) has limited the American exports of PPE products to Canada, Mexico and Latin American countries. Other countries have also retaliated against the US's Defence Production Act and previous tariff barriers have already limited the imports.
The US is majorly dependent on the imports for medical gear and their components. The US has imported more than five times the amount of the same respirators, masks, and gloves from foreign sources in last year. Now they are not going to sell it in overseas market.

Under the Defence Production Act and rule that FEMA issued, the following five products have been subjected to US export restrictions.
a) N-95 filtering face-piece respirators
b) Other filtering face-piece respirators
c) Elastomeric, air-purifying respirators,
d) and appropriate particulate filters/cartridges
e) PPE surgical masks; and
f) PPE gloves or surgical gloves
In 2019, the restrictions from the US government has curtailed an export of PPE products worth $1.1 billion, including disposable respirators and surgical masks ($511 million), air-purifying respirators ($415 million), and hospital gloves ($150 million). The export cut of the PPE products to Canada, Mexico and other Latin American countries started to backfire. An export cut of US masks and respirators to Canada and Mexico would be disastrous, even for the US residents as Canada is a major supplier of hand sanitiser to the US. Approximately 22 per cent of hand sanitiser worth $335 million was procured in 2019 by US.
Many countries in Latin America are majorly reliant on US exports of medical supplies. Jamaica gets more than half of its total imports of respirators, masks, and gloves from the US.
The most recent data of US imports of respirators, masks, and gloves from non-Chinese sources have climbed by 7 per cent in January and February 2020, compared to the same two months in 2019. The US imports from China of these three products have declined by 21 per cent during this period, affected by US-China trade tensions, under Section 301 of the Trade Act of 1974.
US imports of PPE products like respirators, masks, and gloves from the rest of the world have shown upward trend through February 2020. But this situation may reverse eventually with lingered export restrictions which can spread globally.
US Imports of the PPE Products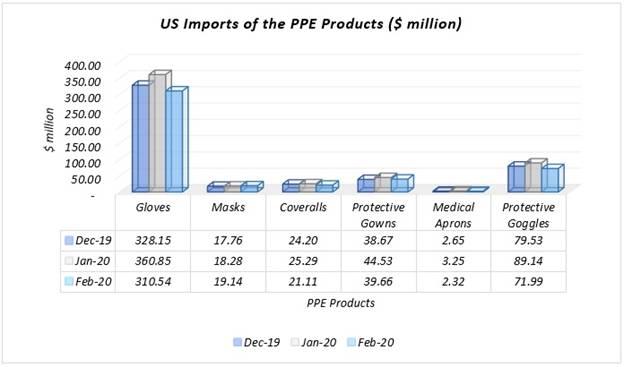 Source: Trademap
The US gloves import in December 2019 was $328.15 million and suddenly increased to $360.85 million in January 2020 with a rate of 9.97 per cent. It further dropped to $310.54 million in February 2020. The US masks import in December 2019 was $17.76 million and slightly increased to $18.28 million in January 2020 with a rate of 2.92 per cent. It further boosted to $19.14 million in February 2020. The US import of coveralls in December 2019 was $24.201 million and climbed to $25.287 million in January 2020 with a rate of 4.49 per cent. It declined to $21.11 million in February 2020.
A sharp rise has been observed in the import of protective gowns, medical aprons and protective goggles. An import of protective gowns, medical aprons and protective goggles was $38.67 million, $2.65 million and $9.53 million in December 2019 and surged to $44.53 million, $3.251 million and $89.14 million in January 2020 respectively with a rate of 15.13 per cent, 22.73 per cent and 12.08 per cent.
UK PPE Supply Chain
In the beginning of the COVID-19 outbreak in the country, approximately 170 million items of PPE were distributed, and now it has crossed the billion mark. The items have been delivered mainly to the NHS (United Kingdom National Health Service).
According to the latest figures of Department of Health and Social Care (DHSC), more than a billion items of PPE were delivered across the UK in 53 days from February 25 to April 18. Out of these items, 875 million items have been sent to NHS in England. These items consist of 132 million masks, 145 million aprons, 1.2 million gowns and 470 million pairs of gloves.
The areas with relatively low coronavirus infections consume 39,500 surgical masks, 11,495 gloves, 1,501 gowns and 4,201 highly protective FFP3 respirator masks, aprons and eye protectors on daily basis. The daily demand of the UK approximately remains between 7.5 million and 12 million items, far ahead than the 5.5 million of actual supply. France has released weekly consumption of PPE products which is 45 million masks a week.
PPE Imports of EU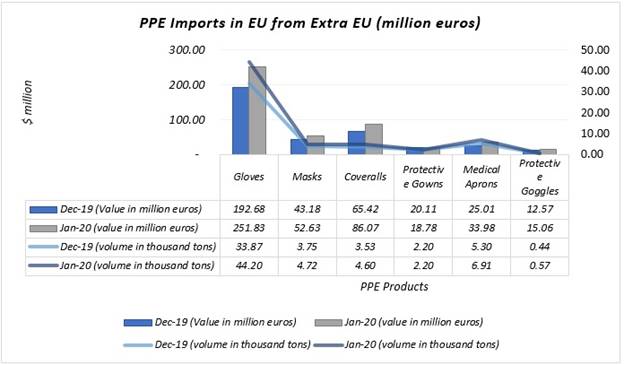 Source: Eurostat
A remarkable increase has been observed in the import of gloves, masks, coveralls, medical aprons and protective goggles in the EU in the beginning of 2020. Import of gloves, masks, coveralls, medical aprons and protective goggles amounted to €192.68 million, €43.18 million, 65.42 million, €25.01 million and €12.57 million respectively in December 2019 and escalated to €251.83 million, €52.63 million, €86.07 million, €33.98 million and €15.06 million respectively in January 2020 with the rate of 30.70 per cent, 21.87 per cent, 31.57 per cent, 35.84 per cent and 19.78 per cent.
Import of gloves in Dec-19 and Jan-20 by EU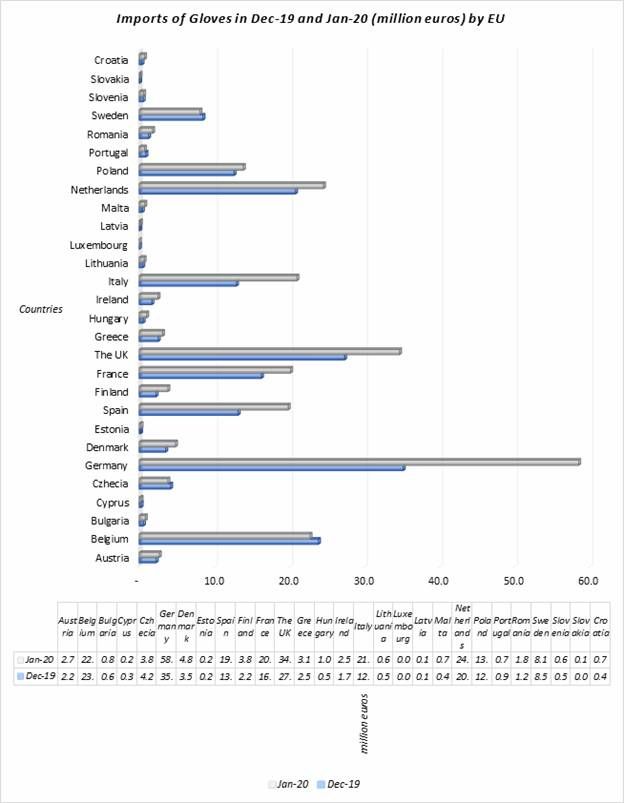 Source: Eurostat
Import of gloves in Dec-19 and Jan-20 by EU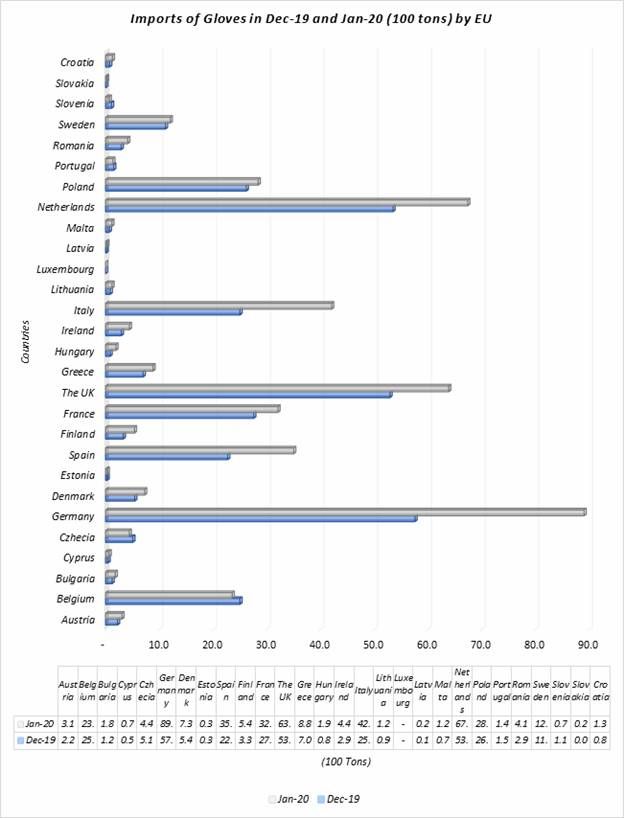 Source: Eurostat
Import of masks in Dec-19 and Jan-20 by EU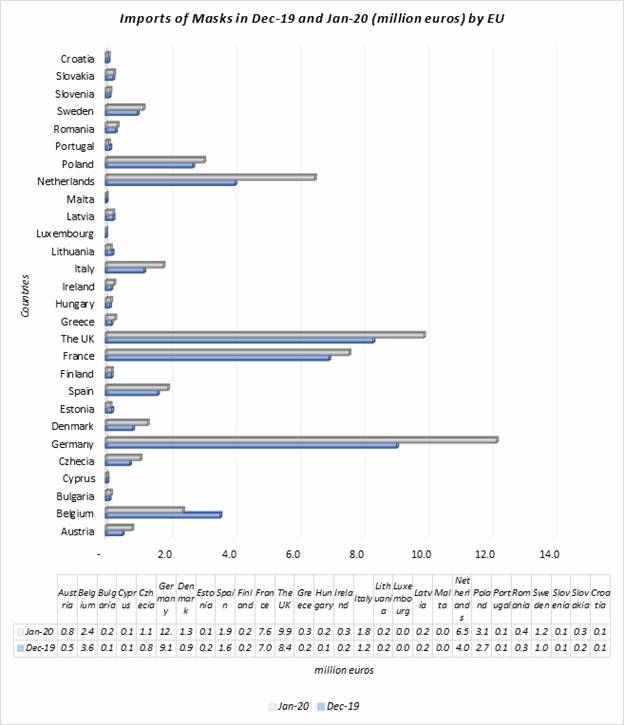 Source: Eurostat
Import of masks in Dec-19 and Jan-20 by EU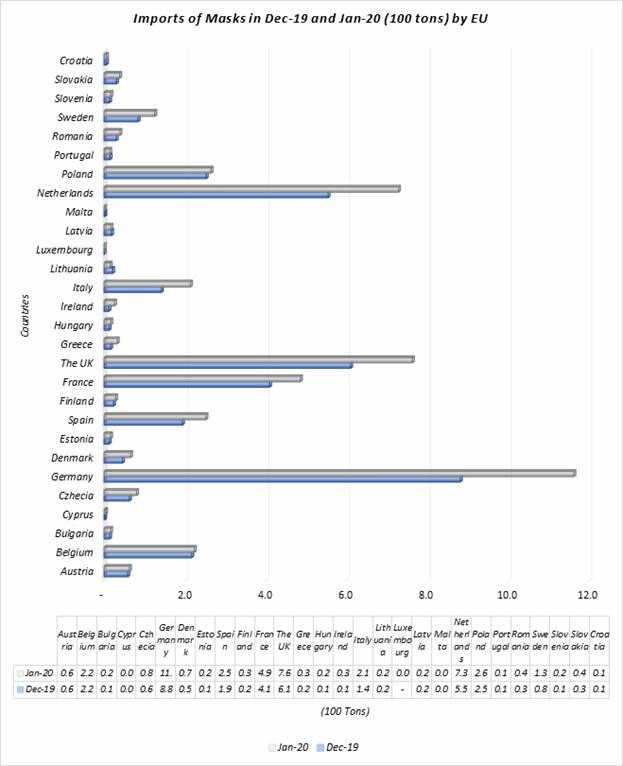 Source: Eurostat
Import of coveralls in Dec-19 and Jan-20 by EU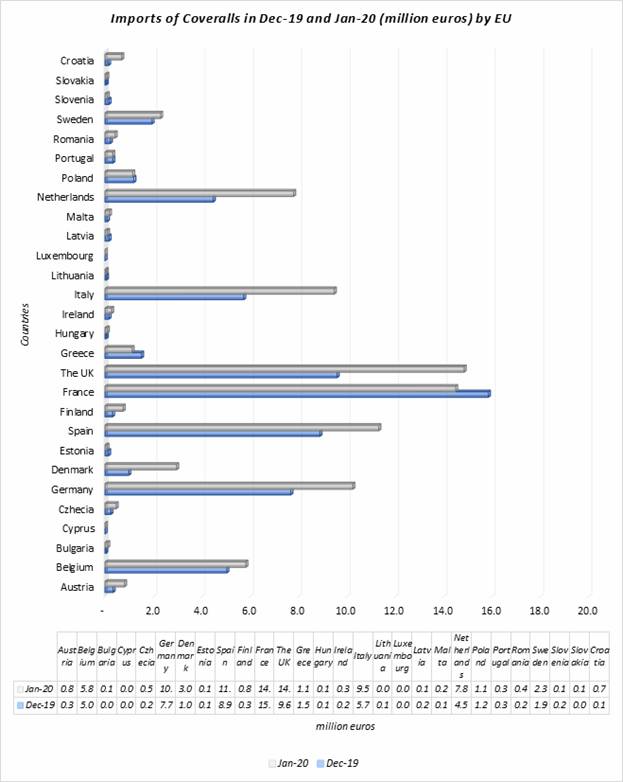 Source: Eurostat
Import of coveralls in Dec-19 and Jan-20 by EU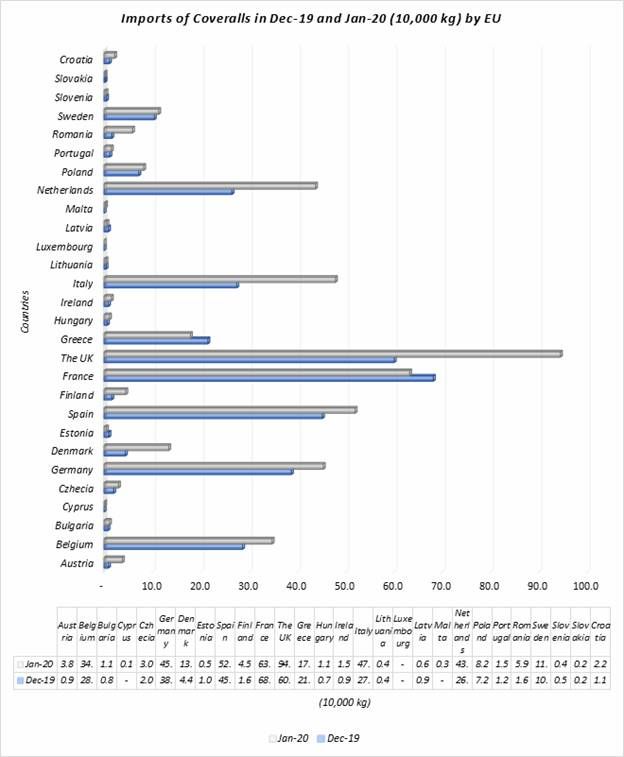 Source: Eurostat
Import of protective gown in Dec-19 and Jan-20 by EU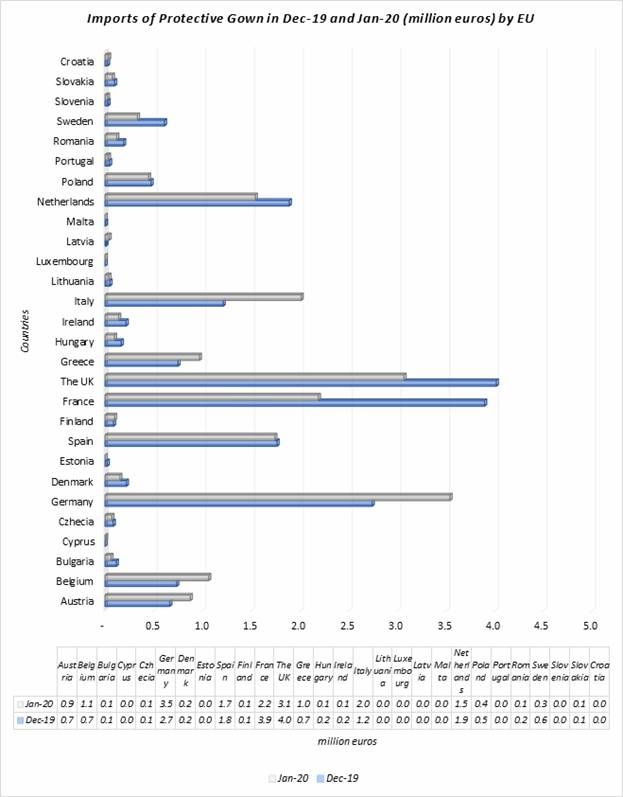 Source: Eurostat
Imports of protective gown in Dec-19 and Jan-20 by EU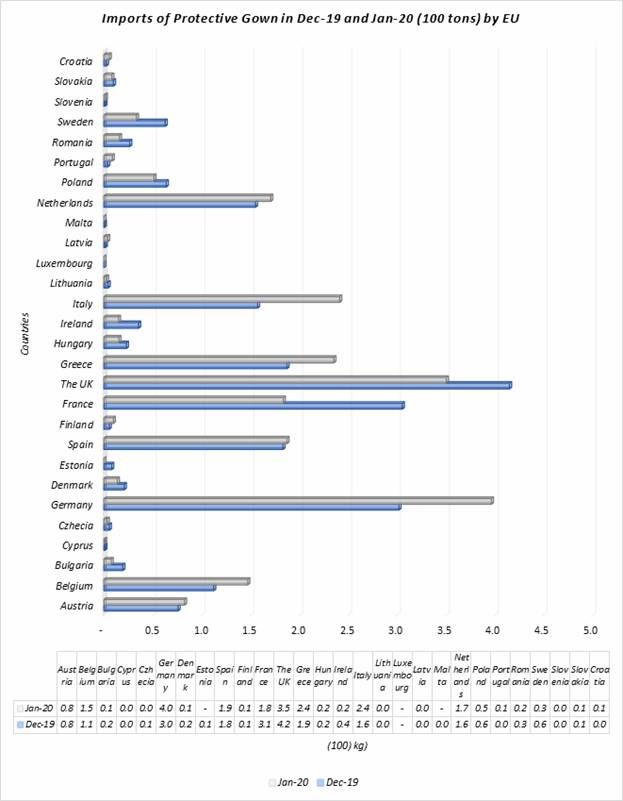 Source: Eurostat
Import of medical apron in Dec-19 and Jan-20 by EU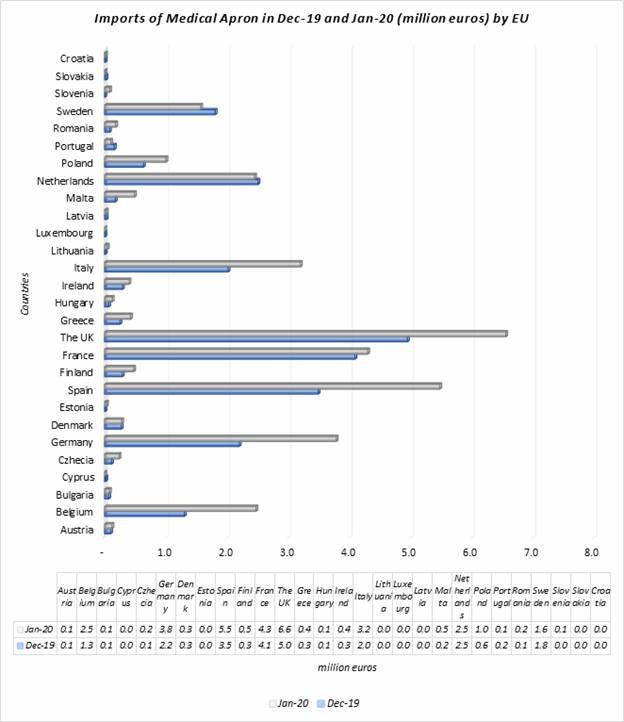 Source: Eurostat
Import of medical aprons in Dec-19 and Jan-20 by EU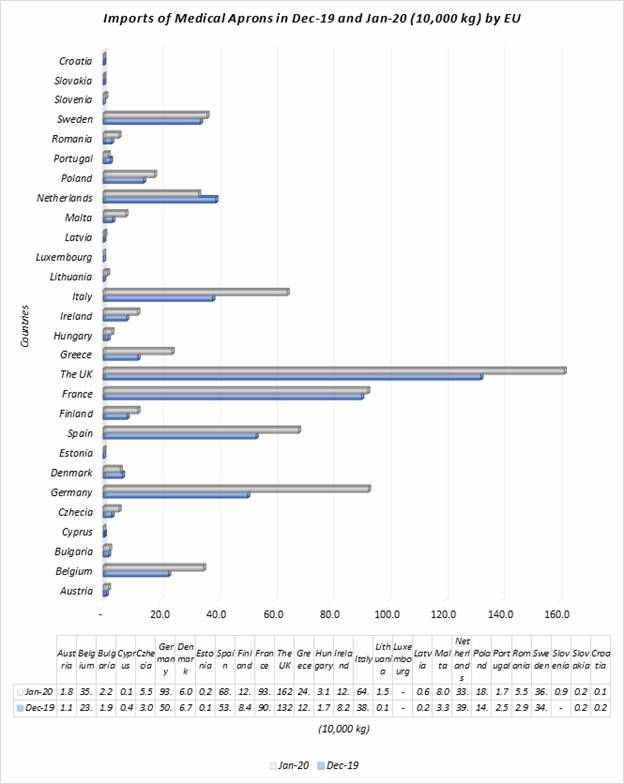 Source: Eurostat
Import of protective goggles in Dec-19 and Jan-20 by EU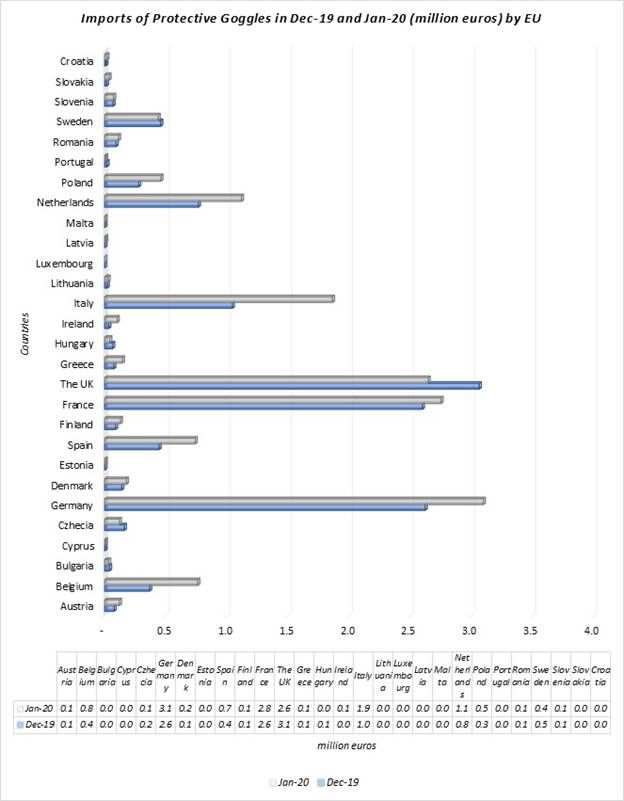 Source: Eurostat
Import of protective goggles in Dec-19 and Jan-20 by EU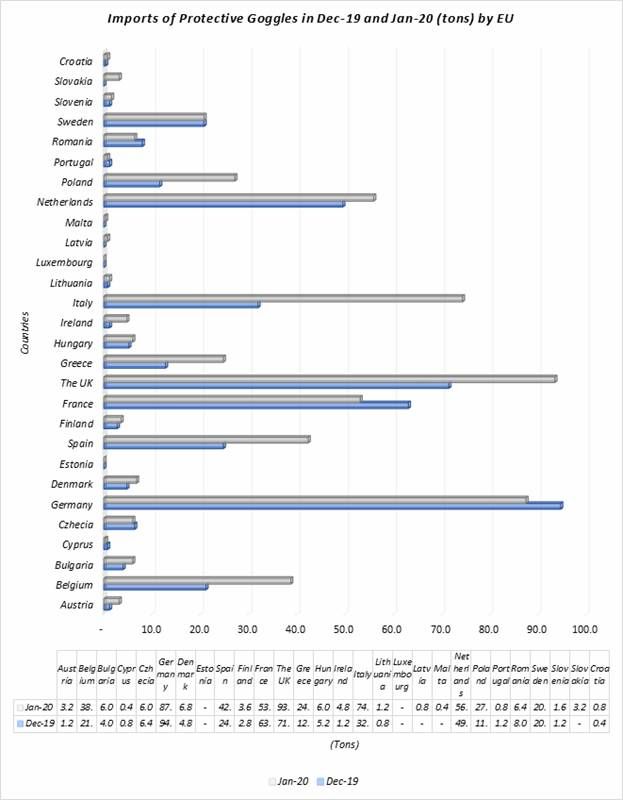 Source: Eurostat