Apparel manufacturing is Cambodia's largest employer, contributing 40 per cent of the nation's gross domestic product. But the recent COVID-19 pandemic has paralysed the country's key industries including the textile and garment industry by halting cross-border trade. Here is how the country is grappling with the situation.
Introduction of Cambodian Textile and Garment Industry
In the beginning of March 2020, Cambodia's multi-billion-dollar garment industry started facing difficulties in supply chain management due to the outbreak and spread of COVID-19. Apparel manufacturing is Cambodia's largest employer, contributing 40 per cent of the nation's gross domestic product. More than 600 factories and 800,000 personnel are involved in the manufacturing of textiles and garments for international brands such as Adidas, Levi Strauss, H&M and Puma. Cambodia's garment industry is recognised as the catalyst for the economic growth of the country. The sector contributed for approximately 86 per cent of all factory employees. Cambodia mainly exports jackets, jerseys and other clothing to the EU and the US.
The pandemic paralysed the country's key industries including the textile and garment industry by halting cross-border trade. Cambodia imported around $2.5 billion of textiles and clothing in 2016 from China and $484 million of other raw materials. Cambodia exported $9.3 billion (approximately 83 per cent of total exports from Cambodia) in clothing and footwear last year, according to the Ministry of Industry and Handicraft of Cambodia, with a year-on-year increase of 11 per cent. Cambodia has maintained better economic growth rate of 7 per cent in 2019 under Hun Sen government who actively accepted investment from Chinese companies. But this huge dependency on China made Cambodia more vulnerable. Cambodia has been importing most of the products from upstream process (making threads and textiles) from China as it requires heavy investment.
China is the backbone of Cambodia's textile and garment industry. Cambodia's garment sector worth $7 billion is dependent on China for 60 per cent of its raw materials, mainly textile fabrics, according to Ken Loo, secretary-general of the Garment Manufacturers Association of Cambodia. As per Loo, the immediate shift from China to India and other countries for sourcing much of the raw material could not be done. Negotiations with Chinese suppliers of raw materials ensured no shortage. But the production schedule in March and April would be partly delayed, subject to transport restrictions and the slow recovery of logistics in China.
Impact on Industry Stakeholders
With a depleting stock, factories have already started reduction in manufacturing and cut in overtime hours. As announced by the labour ministry, 10 factories have downsized the production lines by the end of February 2020. The daily shifts of approximately 3,000 employees have been slashed by five hours. The contracts of 1,000 temporary contractors have been terminated in the past few weeks. Approximately 200 factories are anticipated to face shortage of raw materials in March 2020. Approximately 90,000 employees in 200 Cambodia's garment factories were expected to be suspended in the month of March 2020 with reduced supply from China.
This could cause removal of 160,000 workers and employees (approximately 20 per cent of the industry's 800,000 workers and employees). The garment workers of Phnom Penh's manufacturing district fear for cuts in their crucial overtime pay. They became very concerned about their jobs as the cloth is no longer coming into the factories. The PM of Cambodia requested China to provide the materials to avoid suspending workers.
Cambodian textile industry's demand is outstripping supply as China's distribution got shuttered. They could slide further if the disruption to supply chains persist. Even if the shortage lifts and Chinese factories resume taking orders, it takes approximately 40 days for a Cambodian garment factory to receive its order of fabric from China. The companies with low fabric stocks may face substantial business loss.
Government Support
Cambodia's General Department of Customs and Excise (GDCE) has provided the guidance to recover the weak shipping and garment sectors with low or completely suspended raw material supply from China. Officers were instructed to facilitate shipments for firms complying with rules and those in special economic zones (SEZs). The green lane customs clearance system has been extended. Prime Minister Hun Sen announced the government's drafted plan to support businesses in the garment and tourism sectors with suspended status of EBA from the EU and the spread of COVID-19. GDCE has been advised to work more efficiently, act with professionalism and cooperate closely with SEZs, ports and airports authorities, and transportation companies.
In February 2020, the Ministry of Labour and Vocational Training offered to compensate garment workers who are suspended from work due to the halt in Chinese imports of raw materials. Employees will receive $100 every month from the government, and an additional, undetermined amount from employers.
Cambodia's government has committed to compensate workers for more than 60 per cent of minimum wages if they lose employment. Under the policy, employers must pay 40 per cent of minimum wages while the government would cover about 20 per cent. But the manufacturers in China are not likely to return to full operation anytime soon. Hence the labour unions are sceptical about the ability of companies to continue providing this compensation for unemployment. Prime Minister Sen had announced on March 9 that China was transporting raw textile materials to Cambodia to relieve some garment factories facing shortages. Five ships of raw materials were set at the dock of the Preah Sihanouk Autonomous Port and another two ships in Ho Chi Minh City, with expectation of first delivery in Cambodia on March 9.
Response of Corporates to COVID-19
Many firms including Levi's, Adidas were using expedited deliveries to maintain their supply chains. Second-order effects were also seen in the apparel industry of Cambodia. The factories located outside China rely on the production powerhouse for the raw materials they need to manufacture finished goods, driving the so-called second-order effect of the COVID-19 pandemic. At a high level, the Cambodian government had warned about a second order effect for customers of Cambodian factories resulting from fabric shortages from China, according to Panjiva study on the supply chain.
Levi Strauss and Adidas have sharply increased the imports to US from Cambodia while their sourcing of completed goods has been diversified. Uniqlo has seen a slip in shipments of at least two weeks despite aggressively moving its sourcing to Vietnam from China.
In Cambodia's garment and footwear industry, around one in six factories stood idle. According to the labour ministry, 91 garment factories in the Southeast Asian country have suspended work by the end of February 2020. 61,500 workers got affected, a rise of 86 per cent from less than a month ago.
Factories with halted production processes were accountable by law to pay 60 per cent of the minimum wage of $182 per month. According to the government, it was chipping in 'salary replacement' of roughly $38 per month. The Garment Manufacturers Association in Cambodia (GMAC), a trade group based in the capital of Phnom Penh, had appealed all overseas buyers to honour their purchasing contracts in order to ensure the livelihoods of its workers and the survival of its embattled factories.
GMAC has requested international buyers to pay for goods that are currently in production. They also urged international brands to put their frequently vaunted CSR principles into practice, starting with the people who make their products.
Industry personnel of Cambodia said that the brands typically forced all payment terms and conditions on manufacturers without leaving any room to negotiate. Also, the bigger companies were reluctant to make advance payments and follow the longer payment windows after goods were shipped than small- or medium-sized players.
According to Aruna Kashyap, senior counsel in the women's rights division of Human Rights Watch, the bigger clothing brands should not forget the factory workers who have been working for a long time for their branded products. She also said that famous brands should take steps to minimise the catastrophe of COVID-19 by helping the garment workers in their global supply chains
Partial Suspension of EBA for Cambodia
In February, the European Commission partially withdrew tariff preferences granted to Cambodia under the EU's 'Everything but Arms' (EBA) scheme. Along with EBA withdrawal, COVID-19 spread has depressed the textile and garment business in the country.
Thousands of workers are likely to lose their jobs, according to Garment Manufacturers Association in Cambodia (GMAC). Also, it would increase poverty in the country and make it more difficult to improve wages and benefits for other workers.
Recently, H&M (the retailer who has been sourcing from Cambodia since the 1990s and has 50 factories and suppliers based in the country) has announced a review of its sourcing strategy in the country.
Laura Moroll, senior manager at consultancy BearingPoint, who specialises in retail, said that the retailers sourcing from Cambodia can streamline their own processes in order to mitigate the cost impact of higher tariffs. They can also identify the areas where they are eroding margins and quite quickly recoup some of the higher tariff costs. They can shift production to other sourcing hubs, such as Vietnam and Bangladesh enjoying a free trade deal with the EU.
New Factory Installations and Rising Clothing Inventory
A secretary of state and spokesman for the ministry of industry, science, technology and innovation has displayed that the 77 new factories have been opened in the first quarter in the country. Out of the 77 new companies, 34 belong to the garment, footwear and travel goods sectors. Some factories were facing decline in purchase orders, but they expected to recover after the crisis.
For Cambodia, most of the garment, footwear and travel goods factories still operate as usual because China has constantly supplied raw materials despite the pandemic.
The stocks of t-shirts, skirts and shorts were excessively moved up at the clothing factories in the Cambodian capital of Phnom Penh, as a result of the biggest decline in US retail sales last month. Brands such as Gap and Old Navy can no longer do the clothing business and have cancelled orders. It kept factory owners and workers unpaid in an industry with little financial cushion to endure weeks without business. "They only got paid when the clothes were delivered," said Ken Loo, secretary general of the Garment Manufacturers Assn in Cambodia. They have zero income and zero cash flow. Loo also said that more than half of Cambodia's 500 garment factories would suspend operations by the end of April. About 100 have already closed their doors.
According to Loo, stocks of unwanted clothes piled up in some facilities which could not be resold elsewhere as the factories did not own the intellectual property for the garments. The Asian Development Bank has predicted the economic growth in Cambodia to drop by 2.30 per cent from the 7.1 per cent in the previous year due to the outbreak of COVID-19.
Safety measures have been introduced in the Puma factory. The body temperatures of employees are checked at the entrance. Workers are told to wash their hands regularly and are given hand sanitiser and face masks. According to Yang Sophorn, president of the Cambodian Alliance of Trade Unions, social distancing is not possible as one sewing machine is less than half a metre away from another. The workers sit very close to each other. A relatively low infection rate (122 confirmed cases as of Wednesday, April 15,
2020) has allowed Cambodia to resist the sort of lockdowns declared in other countries, but recent signs point to growing unease.
The country had dropped its New Year holidays in the week to prevent workers from traveling home and spreading the disease. Prime Minister Sen appreciated factory workers for forgoing the holiday and working on the sewing lines. He said that the decision of continuing work would ensure the well-being of workers' families.
Reactions from Top Brands
Several brands, including H&M, Inditex, Marks & Spencer, Kiabi, PVH Corp and Target, became ready to take in finished and work-in-progress garments from Cambodia. But many other such as Arcadia Group have cancelled orders and extended payment terms.
Nike Inc, L Brands (Victoria's Secret), Nordstrom, VF Corp (North Face, Timberland and Vans) and Tapestry Inc (Coach, Kate Spade, Stuart Weitzman), have remained tightlipped to the questions about their supply chains. J Crew Group refused to comment. Gap Inc, owner of Banana Republic and Old Navy, halted its factory orders.
According to the San Francisco company, the expenses were needed for the long-term health of the brand. The company has already closed 90 per cent stores and furloughed most of its store employees. Company personnel also announced that they can and will resume placing orders with their vendors.
Cambodia Textiles and Clothing Exports by ITC HS Codes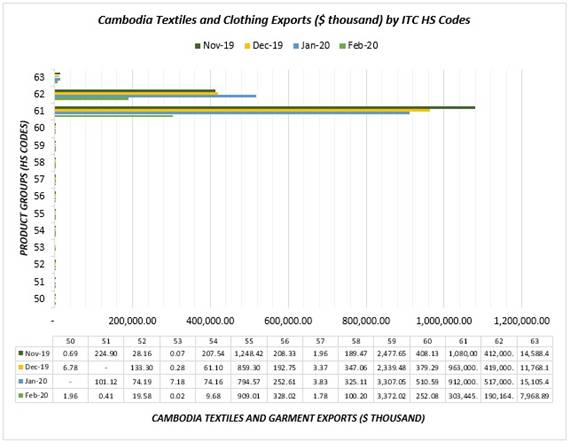 Source: TexPro
Cambodia Textiles and Clothing Imports by ITC HS Codes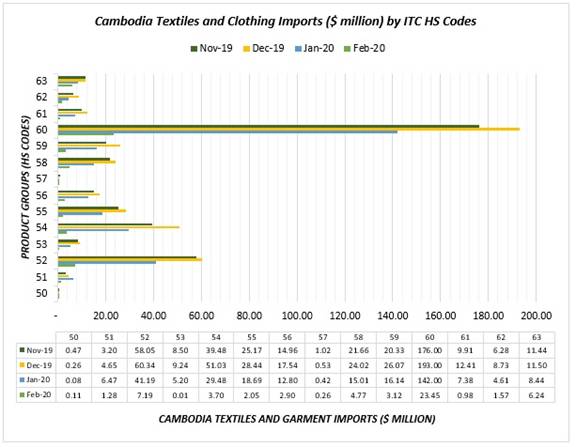 Source: TexPro