When mass production gives way to mass customisation, the result would be minimal waste. The latter, therefore, would be a sustainable approach.
The garment industry is experiencing a digital wave. The need for sustainable fashion has become one of the major reasons for technology to become so synonymous with fashion in today's era.
The textiles industry is the second biggest polluter after oil. In the era of fast fashion, about 3.8 billion pounds of clothing are being dumped annually. Mass production of garments also leads to a huge amount of textile waste. Factors like efficient manufacturing, digital inventory options and virtual customisation have led to the advent of mass customisation—the production of products that meet individual tastes has become more mainstream.
Mass customisation is not only specific to an individual's personal preferences but is also helping in making the fashion industry more ethical. Mass customization is slowly but steadily creating an impact on our textiles industry.
What is mass customisation?
Customisation has been a part of the fashion industry since time immemorial. Due to sociological changes, it is becoming a larger part of production and sales in the fashion industry. Mass customisation combines the personalisation and flexibility of custom-made products with mass production and specific target groups. While some 63 per cent of women struggle to find the right fit in retail clothing, mass production of garments leads to a huge amount of waste. The sizes manufactured are mostly in the XS–XXL range which often cause poor fitting, and 70 per cent of the time the garments are either returned or rejected without even being worn once.
Mass customisation reduces the chances of returns, eliminates excess stock inventory and thereby leads to zero or no inventory. Zero inventories save a huge amount of waste from being dumped annually into the environment. According to an April 2018 YouGov survey, 26 per cent of US consumers prefer to personalise a product. Apparel and footwear (29 per cent) as well as food and beverages (29 per cent) were the most common categories for buying personalised items.
Fashion technology plays a big part in today's textiles industry. It bridges the gap between sustainability and excess inventory. Technology in fashion can be a saviour for organic fibres that are being replaced by synthetic ones. By using digital customisation with organic natural fibres, we can work towards a better and improved industry with less excess inventory and no textile waste.
A custom-made process is often stereotyped as a slow and cumbersome process wherein the deliverables are received within a time frame of 15–21 days, which is why most consumers opt for retail sizing even if it doesn't fit them most of the time.
Time lag is another major challenge for mass customisation, but thanks to recent developments, traditional custom-made techniques are slowly becoming extinct and being replaced by digital customisation processes. In digital customisation, options are visible in the form of 3D mapping wherein a consumer can physically see and make the changes he / she wants. It is easy and efficient. Another interesting retail innovation for measurements (in custom-made orders) is 3D body scanning. Today, 3D body scanners measure body measurements in just five seconds with an accuracy of 99.9 per cent.
Also, with artificial intelligence and digital customisation, consumers have become more open. They understand the pain points and the excess inventory which results from mass production. In the coming years, mass production will be replaced by mass customisation, leading to no excess inventory and also zero waste. When a garment is customised, its chances of fitting the consumer are higher compared to the mass production process. Therefore, there is little waste.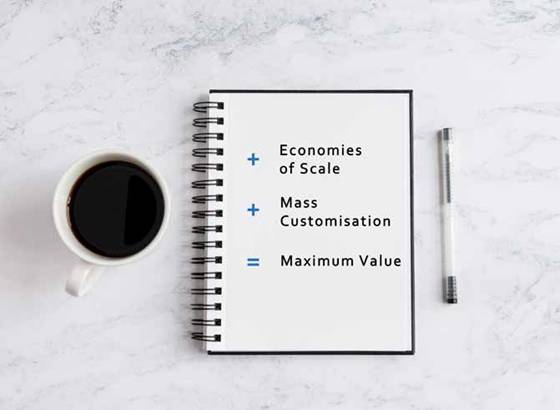 Many brands like H&M and Levi's are going the sustainable way. Even fast-fashion retailer Zara has announced that by 2025 they will produce clothing from 100 per cent sustainable fabrics. Mass customisation creates a sustainable approach as compared to mass production because in the former the garment is made for that one first and last time; so, there is zero waste of fabrics and no excess inventory.
How is mass customisation done?
Many are under the impression that mass customisation is a lengthy and cumbersome procedure, but by incorporating technology this concept can easily prove scalable. With technology, traditional garment practices can easily be converted into fast, semi-automated manufacturing. The measurement taken by a seamstress is being replaced by 3D body scanner technology. The 3D body scanning is beneficial because it takes 110 measurements in less than 5 seconds which makes things smooth for the consumer and also for the brand in creating an outfit that fits properly. Also, it saves a lot of time. The option to digitally provide personalized measurements through virtual screens present at a store provides a personalised retail experience as well. The automated CAD patternmaking offers a fast patternmaking process which is easy and versatile.
Semi-automated manufacturing has helped in manufacturing products fast and it offers a great fit to a consumer. This factor is going to be a game-changer for mass customisation. Consumers are offered the option to change the style and fit of a garment online, rather than trying out a number of styles; with digital customisation, this goes a step forward towards mass customisation. Mass customisation and semiautomated manufacturing give ease to fast delivery.
And since everything is digitalised, the process becomes much more efficient.
This article was first published in the May 2020 edition of the print magazine.