The global health emergency caused due to coronavirus might not affect Indonesia's economy severely as the country is not deeply integrated in the global supply chain. Nevertheless, the article talks about the various steps the Indonesian government and trade bodies have taken to safeguard the textiles and clothing industry.
Body
Indonesia's textile and garment industry have shown a rise of approximately 38 per cent in exports, valued at $13.8 billion in 2019, from $10 billion in 2018. 30 per cent of Indonesia's total production has been used to meet domestic demand and 70 per cent has been mainly exported to the US (36 per cent), Middle East (23 per cent), EU (13 per cent), and China (5 per cent). These were dominated by large manufacturers catering to global apparel brands.
Before the onset of the virus, according to the Indonesian Textile Association (API), the country's textile and garment industry was anticipated to move up at a compounded annual growth rate (CAGR) of 5 per cent. The government of Indonesia has planned to develop the country into the top five largest textile and clothing producers in the world by 2030 with the help of its Industry 4.0 Masterplan.
Trade Boost due to Outbreak of COVID-19
The new domestic and overseas orders to Indonesia's textile and clothing companies have grown by approximately 10 per cent this year as factories were looking for substitute material from China, according to Anne Patricia Sutanto of the association of textile and textile products makers. While the textile and clothing industries of Asia is suffering closures and layoffs, Indonesian textile and clothing companies were seeing the windfall by filling orders caused by a delay in shipments from China with the outbreak and spread of COVID-19 pandemic, according to company personnel.
Tangerang-based PT Pan Brothers has seen rising demand with 20 per cent more growth rate than expected for the second and third quarter, according to Sutanto, a vice chief executive of the company. The textile-to-garment company had initially projected a 15 per cent rise in sales this year. PT Sri Rejeki Isman, one of the biggest textiles and clothing manufacturers in Southeast Asia, had also shown an additional 15 per cent rise in orders, said company's chief executive Iwan Lukminto.
All these orders were placed by local clothing factories manufacturing for global brands.Along with coronavirus windfall, the sales of textiles and clothing were expected to move up as Indonesia-Australia free trade agreement would have been ratified this year. As per the Indonesia-Australia free trade agreement, Australia would cut a 5 per cent import duty on textile and clothing products.
Indonesia's textile and clothing industry consists of about 2 million employees. They were mainly dependent on domestic supply chains which remained safe from the outbreak in the beginning of the March 2020. Lukminto said that raw materials such as fibres and dye chemicals contributed for a very small portion of imports of the sector. Also, the companies, importing cotton from Australia and the US,did not face the difficulties from the pandemic as shipments were on.Indonesia has exported around $13 billion of textile and clothing products in 2019, mainly to the US and Middle East.
Indonesia Out from List of Developing Country by US
In February 2020, the US removed Indonesia from the list of developing countries which were enjoying the World Trade Organisation's (WTO) special differential treatment (SDT). Economists of Indonesia have urged the government to defend its developing nation status so that Indonesia can avail the benefits under special differential treatment (SDT). According to the economists at the Institute for Development of Economics and Finance (INDEF), Indonesia should be considered as a developing country based on its gross national income (GNI) per capita and parameters of social development.
According to the INDEF researcher, Indonesia's exported goods would be subject to higher import taxes under the new US policy, which could increase the price of the goods in the international market.According to a simulation by the INDEF researcher, import tax would rise by 5 percent from the current position. Country's export products to the US would suffer a loss of up to 2.50 per cent. Textile product exports would decrease by 1.56 per cent.
Impact on Workers and Government's Stimulus
Various policies to avoid the spread of COVID-19 include the large-scale social restriction for the working class. Unfortunately, layoffs and furloughs are still taking place on a large scale. As of April 5, more than 132,000 workers had been furloughed in Jakarta and more than 30,000 have been laid off. In West Java and Central Java nearly 300,000 workers have been furloughed as of early April and nearly 30,000 laid off.
The textile, clothing, and footwear subsector is vulnerable with high dependence on global supply chains and international brands. These industries are mainly located in Java. As per the data published in 2016, about 850 per cent of the country's textile, clothing and footwear factories were located in Jakarta and other parts of Java. Furloughs, unpaid leave and massive layoffs have severely impacted the women workers. As recorded by the International Labour Organization, women contributed for 58 per cent of the total workers (approximately 4.2 million) working for Indonesia's textile, clothing and footwear industry.
Out of all the work positions of the industry, 92.50 per cent are operational, such as production operators, production workers and transportation operators. Most of these operators are women. Around 69 per cent of female workers in the textile, clothing and footwear industry have permanent employee status compared to 75.50 per cent of the total male workers.
The Indonesian government has launched pre-employment card programme to fight against the pandemic's impact on businesses. Based on a new presidential regulation, it is a competency development programme for job seekers, workers affected by termination and that needing competency improvement. Under this programme, training facilities, certification and financial incentives have been provided to the workers.
Government Aid to Mitigate the Burden of COVID-19
Indonesian government has planned to partially remove restrictions on importing of goods to combat against the economic effects of the COVID-19 pandemic. Finance Minister (FM)of the country said that the government has planned to reduce the number of restricted import goods by up to 50 percent to motivate the business activities. According to FM, as many as 749 harmonised system codes were to be scrapped.Items included in the list of restricted import goods also consist of textiles and textile products and footwear along with other industrial and agricultural products, as given by the Customs and Excise Office.
Some manufacturers have complained about the shortage of goods as 20 to 50 percent of raw materials for the country's industries are usually sourced from China. Coordinating economic minister has said that the government is also planning to integrate the online Indonesia National Single Window system using "Inaportnet" to make logistical systems more efficient. The government has also planned for several stimulus packages that would expedite the import process for 500 importers with good reputations and reduce logistics costs in ports across the country.
The Asian Development Bank (ADB) said that Indonesia might not be affected severely by the global health emergency as they are not deeply integrated in the global supply chain. ADB president Masatsugu Asakawa said that the Indonesian economy, which was primarily driven by domestic activity, got an advantage during the global health emergency. The country is mainly dependent on domestic demand, with household consumption growing at 4.97 percent year-on-year and the fourth quarter of 2019 will account for more than 50 percent of gross domestic product.
Chairman of Indonesian Textile Association, Jemmy Kartiwa Sastraatmaja has requested for tax relief and stimulus package for producers to avoid mass lay-offs with massive squeeze in cash flow amid slowing of local and overseas demand. He also appealed to regulate imports to allow only raw materials needed for the local industry and to safeguard the import of clothing.The association is also seeking for the relaxation in debt refinancing and fresh credit at lower interest rate and a six-month reprieve in payment of company tax and waiver of fines.
Additional demands made by the textile associations include relaxation in VAT payment up to 90 days, use of 14,000 rupiah to a USD for calculation of gas price and delay of payment of 50 per cent electricity bill for 6 months as they expect exports to return to normalcy in June, July, according to Redma Gita Wirawasta, secretary general of Association of Synthetic Fiber Producers.
Closure of High Potential Markets
The largest textile and clothing market in Southeast Asia, Tanah Abang Market, closed in the last week of March 2020 due to spread of the coronavirus. Arif Nasrudin, president director of PD Pasar Jaya, told that the market would remain closed for 10 days starting March 27 through an agreement with traders. It was stopped as the number of the visitors (mainly from Greater Jakarta areas, and from other regions in Indonesia and from other countries, such as Malaysia, and some other Asian, European and African countries) rose sharply one month before the start of Ramadan.
Tanah Abang Market approximately recorded transactions up to 500 billion rupiah ($31,455) on daily basis. There were around 13,000 traders who had closed their business on April 5, 2020.Before the closure of Tanah Abang market, five big shopping centres in Jakarta had also been closed in early April.
Supplementary Actions of Government and Corporates
Indonesian textile and clothing companies have changed their production lines by producing protective gear for medical personnel and a local start-up was producing test kits to support the nation against its fight with the COVID-19 pandemic. The production of medical-grade supplies comes with major challenges. However, the textile and clothing companies were doing the mass production of masks and protective coveralls for medical workers, according to PT Pan Brothers deputy CEO Anne Patricia Sutanto. They planned to produce 20 million washable masks and 100,000 jumpsuits by April, as ordered by the government and retailers.
Government is taking steps to support companies that produce healthcare equipment.Government has made a list of all such companies and trying to fulfil their needs to increase their production capacity, told the finance minister of Indonesia, in a teleconferenced media briefing after a virtual G20 Leaders' Summit. Textile company PT Sri Rejeki Isman (Sritex) has been producing coveralls for medical workers since the last week of January and started delivery of the products in the first week of February. Both Sritex and Pan Brothers were facing shortages for medical-grade raw materials, as the demand from local producers was very high.
A limited number of companies can produce medical-grade materials as they require strict standards and certification. Other companies were facing the scarcity of materials to produce safe PPE.Local industries were not able to manufacture more complex medical equipment such as ventilators and hospital beds. A lack of technological capability in producing complex medical equipment has become a major hurdle for companies to shift their production lines, according to Indonesian Chamber of Commerce (Kadin) deputy chairwoman ShintaKamdani. She also said that factories across Indonesia have faced a decline in production capacity by an average of 30 percent with disruption of supply chains due to the spread of COVID-19. Indonesia-based start-up Nusanticswas preparing to make 100,000 test kits, in partnership with state pharmaceutical company Biofarma, the Agency for the Assessment and Application of Technology (BPPT) and the Indonesia International Institute for Life Sciences (i3L).
The government has assured the supply of personal protective equipment (PPE) for medical workers in Indonesia as the domestic textile and garment industry has the capacity to produce 17 million pieces per month. According to Wiku Adisasmito, an expert at Indonesia's COVID-19 rapid response task force, the number was made by considering combined production capacity of 31 textile manufacturers and 2,900 garment production facilities across the country. The Indonesian Textile Association (API) and the Indonesian Fiber and Filament Yarn Producers Association (Apsify) have agreed to help the government to fulfil the domestic demand and they are confident that they don't have to depend on imported equipment anymore.
The manufacturers would use polyester and polyurethane that comply with World Health Organization (WHO) standards on protective equipment. These materials would allow equipment to be washed numerous times and be worn by medical workers repeatedly. Muhammad Khayam, the Industry Ministry's chemical, pharmacy and textile director general, has estimated that Indonesia's PPE production per month would exceed demand. He also said that the country would need 3 to 5 million pieces of the gear by May 2020.
Medical workers were not ready to treat COVID-19 patients due to insufficient supply of protective equipment, especially after several health workers contracted the disease and some died after treating patients with the disease. Hence the Indonesian Military (TNI) has been deployed for the distribution of protective equipment from the national warehouse at Halim Perdana Kusuma Air Base in East Jakarta since March 23. Around 300,000 pieces of equipment have been distributed to all provinces of Indonesia by April 2, 2020. Health Ministry Disease Control and Prevention director general Achmad Yurianto told that approximately 85,000 items have been distributed to Jakarta as it is the epicentre of the disease.
Other Supportive Government Activities
The current government has improved the country's logistics by building new highways and ports. Government has also curbed the import of illegal textiles and has tightened import rules for textiles and textile products.
More vocational institutions have been developed in cooperation with local companies, in order to increase skilled human capital who can use the latest technology in production, such as 3D printing. Industry players have started the diversification of their export market. The US can impose tariffs on a variety of Indonesian products, including textiles at any time. Hence the new potential international markets such as Australia (the US and Australia ratified the IA-CEPA trade agreement in February 2020), New Zealand, South Korea, and Japan have been developed.Indonesia's Muslim fashion wear is showing higher demand in the Middle East and North Africa.
Current Challenges for Indonesian Textiles and Clothing Sector
Internal
Electricity and gas prices are high compared to othertextile producing countries.

Labour costs have increased year-on-year.

Increased minimum wage at8.50 percent for 2020.The country's minimum wage remains fixed based on the sector.Leading sectors or industries in a province, such as textiles and clothing can determine their own minimum wage rate, also known as UMSP. The UMSP must be higher than the provincial minimum wage (usually by 5 percent and above).
External
The depreciation of Indonesian Rupiah is impacting the production costs as raw materials,such as cotton, is being importedfrom the US, Brazil, and Australia in USdollars, amounting between $300 to $600 million per year. It impacts theprofitability of companies that cater to the domestic market. Exporters get thebenefits from the stronger dollar as it increases their revenues.
Indonesia's overall Trade and Economy
The median forecast of 14 analysts in the Reuters poll inferred that Indonesia will post a $760 million trade surplus in March, about a third of February's surprise $2.34 billion surplus. The range of forecast by the analysts were kept wide with fluctuations occurring due to COVID-19 pandemic, with the lowest at a deficit of $320 million and the highest at a surplus of $3.36 billion.
Trade figures may swing extensively in the coming months due to the pandemic, according to Wisnu Wardana, an economist with Bank Danamon. Exports in March have dropped by 6.73 per cent annually due to a poor demand from countries affected by the pandemic.This is the steepest decline since August 2019, compared with an 11 per cent jump in February shipments, when Indonesia managed to export different products including textiles and textiles products, including face masks. The government have forecasted the country's economic growth to be around 2.30 per cent for 2020, from 5 per cent in 2019.
Top diplomats from 13 countries of a cross-regional network, including Indonesia, Singapore and Canada, have agreed on key principles of keeping transportation links and supply chains open to cushion the impacts of COVID-19. Indonesian foreign minister Retno LP Marsudi said that any future cooperation "must be action-oriented" which would bring tangible benefits to the general public worldwide. The declaration, despite its nature as a non-legally binding political declaration, aimed to strengthen international norms and actions in handling the COVID-19 pandemic and to manage its social economic impacts. It identified many areas for concrete collaborative actions, outlining commitments to maintain an open flow of trade and investment, facilitate repatriation of stranded travellers, and to look for efforts to restore the post-pandemic global economy.
He also declared that he would continue to promote and protect free trade. The diplomats agreed that emergency measures designed to tackle COVID-19 must be targeted, proportionate, transparent and temporary. Also, the unnecessary barriers would not be created for trade or disruption to global supply chains. He ensured that the measures would be consistent with WTO (World Trade Organization) rules.
Indonesia Textiles and Clothing Export by ITC HS CODES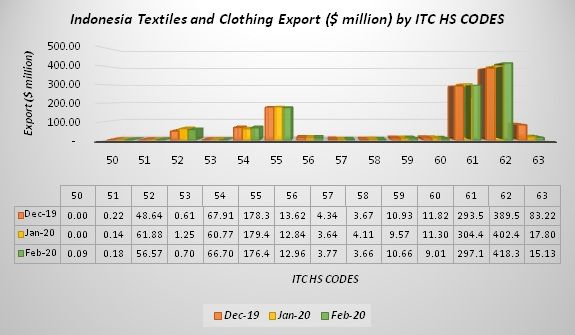 Source: TexPro
Indonesia Textiles and Clothing Import by ITC HS CODES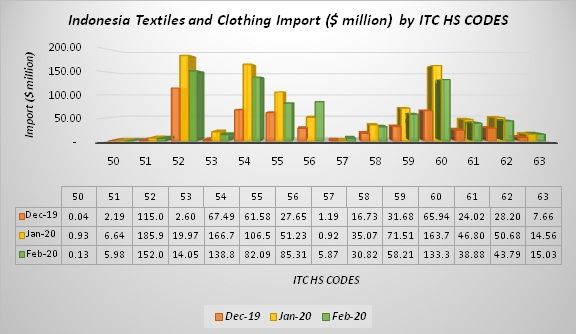 Source: TexPro