Madhubani painting is an ancient traditional folk art of Bihar. Various government bodies, designers and manufacturers in a collaborative effort can play a key role in promoting this art form and take it out of the state's rural confines to a global platform, say Yamini Jhanji Dhir and Deepika Grewal
India is a country with rich culture and heritage which is reflected in the expression of its folk art. Unity in diversity is not just in the dialect, lifestyle and cuisines of different states but also in costumes and traditional art, craft and folk culture. Due to diversified cultural mores and inspirations, each state has a special identity for its unique folk painting.
Legend has it
The traditional art form of madhubani painting -- madhubani meaning 'forest of honey' -- was developed in the surrounding villages of Madhubani in Darbhanga district of Mithila region in Bihar. It is believed to date back to the times of the Ramayana, when, legend has it that Janaka, the king of Mithila, commissioned artisans to embellish their abode with these paintings on the auspicious occasion of his daughter Sita's marriage to Lord Rama. The locals and artisans in the countryside and nearby regions of Mithila have religious beliefs associated with the paintings and even today decorate the ritual room or area and bridal rooms, main village walls during processions, festivals, rituals and ceremonial activities.
Practiced largely in the villages of Jitwarpur, Ranti, Rasidpur, Bacchi and Rajangarh, the painting is generally done by the women folk, though men are also involved in exploring the craft as a source of livelihood. The skill has been handed down through generations, keeping in continuity the traditional designs and patterns. The artisans have a strong belief that their art form encompassing several generations keeps them connected to their gods and is an emblematic expression of mundane experiences and beliefs.
Three traditional methods of paintings are prevalent among folk artists:
• Wall painting or mural (bhittichitra)
• Canvas painting (patachitra)
• Floor painting (aripana)
Among these, wall and floor paintings are the most popular in the Mithila region. The wall paintings in a rural set up are accomplished on freshly plastered or mud wall. However, the paintings are now being made on paper, canvas and cloth also.
This art form is not merely an aesthetic entity but expresses much deeper connotations, themes and narratives in the form of stories that are depicted in a series of panels. Apart from their decorative purpose, the paintings provide an aid for visual education like picture books depicting the rich heritage of the state. The simplicity, connotations and story-telling in the paintings leave the viewers spell bound and mesmerised at once.
The lovely canvas paintings in coloured or black ink with figurative motifs depicting nature and mythology are not just fascinating, but keep an individual close to his/ her roots and traditions.
These paintings have today become an integral part of modern decor.
Attributes and symbols
• The attributes of Madhubani paintings include:
• Use of bold natural and artificial colours.
• A double-line border with simple geometric designs or with ornate floral patterns.
• Symbols, lines and patterns supporting the main theme.
• Abstract-like figures of deities or humans.
• The faces of the figures feature large bulging eyes and a nose emerging out of the forehead.
Animal, human and several other forms are used in the paintings and each symbol has a specific meaning. Flora like lotus tree, bamboo forest; fauna like fish, tiger, serpent, peacock; and mythological motifs of gods, goddesses are an integral part of the wall and floor paintings.
Fish symbolises fertility, procreation and good luck; peacocks symbolise love and religion; serpents are indicative of divine protectors.
Animal forms
The paintings display an abundance of flora and fauna motifs as shown in Fig. 1(a) & (b).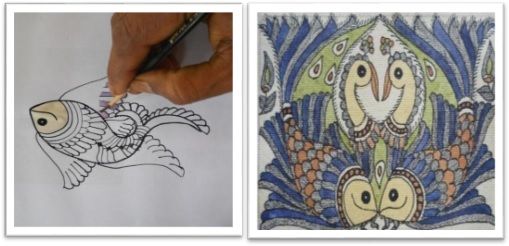 Figure 1(a)& (b) Madhubani paintings with animal forms
Human forms
Human forms are also frequently used. The figures depict mythological characters, deities, various gods and goddesses like Vishnu-Lakshmi, Shiv-Parvati, Rama-Sita, Krishna-Radha, etc as shown in Figure 2 (a) and (b).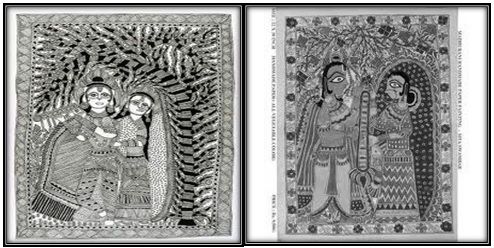 Figure 2 (a) & (b) Madhubani paintings using human forms & deities
Material and colours
Along with the walls, the floors also served as canvas for the paintings as long as the tradition was carried out with the objective of decorating the abodes. However, as soon as the artisans discovered the commercial potential of these paintings and the fancy of urban dwellers for this glorious art form, they started adapting themselves to accomplish the paintings on textiles, paper, cloth and other materials.
Colours for these paintings represent religious symbolism. Artists initially used vegetable dyes. Lamp soot served as a source of black, white from powdered rice, green was made from the leaves of the apple tree and tilcoat, blue from the seeds of sikkot and indigo and yellow were extracted from the parts of singar or jasmine flower, bark of peepal was boiled to make a part of saffron colour, red was made from kusum flower and red from sandal wood. The paintings were made durable and bright by mixing gum with colour. However, the use of synthetic colours and modern round brushes are replacing the cotton tipped bamboo sticks and stiff twigs that used to serve as brushes earlier.
The process begins with sketches made by artists that include meticulous details of subject matter completed with bold, straight and curved lines. The sketches are then filled with different colours. Figures are rendered with double outlines with the space in between filled with thin slanting lines.
Modern expressions
Apparel and accessory designers take inspiration from the lively, mythological and colourful motifs of this beautiful art form and have been extensively using them for design and development of a gamut of high-end artifacts, apparels, home textiles and accessories.
Accordingly, designers have been working in close association with local artisans that serve both alike. Revival and promotion of this traditional textile craft by incorporation in latest apparel and accessory merchandise can go a long way in boosting this traditional folk art on national and international platforms.
Furthermore, apparel and accessory range featuring madhubani prints—either handprinted or simulated using screen printing techniques—are gaining widespread acceptance among teenagers and young professionals. A range of apparels embellished with madhubani paintings like sarees, draperies, stoles, dupattas, kurtis, tops and accessories like umbrellas, footwear, handbags, jewellery, watches (figure 3) are taking the market by storm, particularly in crafts melas, artisan markets and handicraft exhibitions.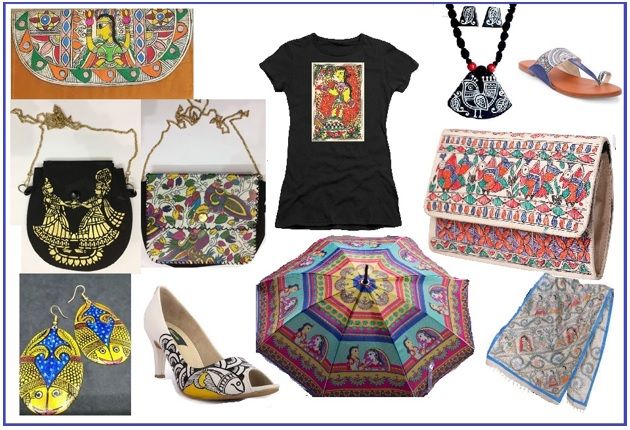 Figure 3: Adaptation of Madhubani motifs in apparels and accessories
Government role in revival & promotion
Though the art form has become quite popular, it can be further promoted by laying emphasis on its revival in different platforms, creating employment opportunities for artisans so that the art form does not die out and artisans are keen to pass on the rich legacy to their next generation. Government bodies, public sector organisations, designers and manufacturers can collaborate to play a vital role to promote the art form and take it out of rural confines to a global platform.
The office of development commissioner (ODC) (handicrafts) under the union ministry of textiles is working with the Bihar state government to provide an opportunity for local artisans to showcase their art on different platforms. The prime objective of the learning centres being established all over Bihar is to inculcate the required skillsets among artisans, to provide financial assistance and organising awareness-cum-training workshops and seminars for them. A training centre, Upendra Maharathi Handicrafts Institute at Patna, has been set up that offers short-term vocational courses on madhubani painting to encourage younger generations to take up this skill as an employment generating avenue.
The ODC (Handicrafts) has different types of schemes for revival and promotion of this rich folk art:
• Design and technology upgradation
• Training and extension
• Financial assistance to artisans
• Marketing support and service, Vikash Yojona, etc
• Upgradation of artisans' skills
• Improvement and diversification of product
• Development of new designs and prototypes
• Supply of improved/modern equipment to the craft persons
• Revival of rare crafts to preserve the traditional heritage by conducting fairs like Surajkund Handicrafts Mela
• Preservation of traditional art and crafts of high aesthetic value in national museums and places like Delhi Haat, which reflect and boast of rich Indian traditional culture of different states.
Apart from government efforts, fashion-conscious and heritage-loving Indians can also play a key role in reviving and promoting this, as also the other art forms that make this country so rich and diverse.
References
1. www.mithilaart.com
2. www.madhubanipaintings.com
3. Takur,U. (1982) Madhubani Painting, Abhinava Publication, New Delhi.
4. Dallapiccola, L. Indian Painting,The Lesser Known Traditions, Niyogi Books.
5. Das, N. (2013, Feb 3)Madhubani paintings- its existence and possibility, International Journal of Scientific and Research Publications.