Workwear for 'stay at home' scenario should be about not just comfort and ease, but also poise and chic. This is a tricky, yet an achievable, goal. Devender Kharb offers tips to ladies on choosing attire while working from home
The COVID-19 pandemic has left everyone with no other choice but to work from home. As people stay put in their houses, they can utilise the time to grow their fashion sense. The article discusses some of the fashion trends and tips that people can experiment with and yet stay stylish working from home.
It has become increasingly clear that the novel coronavirus is going to affect every individual in the foreseeable future in some way—physically, financially or otherwise. As we continue our social-distancing pledge, we are working from home at present.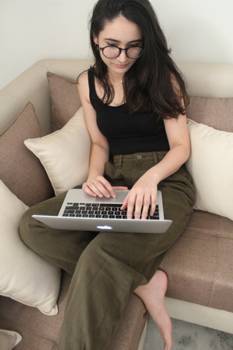 As video conferencing as a work medium has become a default choice, it means we are obliged to look presentable.
This unusual stay at home situation, though daunting, has its own benefits like it encourages one to experiment with their looks in the safety of their familiar environs. The time saved on travelling can be utilised to putting thought into how to project oneself without any fear of judgement.
Workwear for 'stay at home' scenario should be about not just comfort and ease, but also poise and chic. This is a tricky, yet an achievable, goal. The idea is to be able to lounge around on the couch and work but be insta-ready about a Zoom meeting with your office team.
<![if !vml]>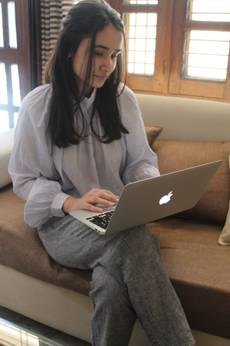 <![endif]>
Always be prepared for a surprise
Imagine you are at your most comfortable and yet most ungroomed persona. It is likely that a known associate or family member may drop by. An alarm gets triggered or God forbid you need to pop into the shops for essentials. It is therefore highly essential to build your lounge wear which tick marks all necessary requirement of cleanliness, decency and grace so that in case you need to dazzle the world at a rather short notice, you are ready.
The game is in the name—Ensure you read the label
Remember this is something you intend to wear at home but yet must be ready to dazzle if need be. Hence the garment must feel comfortable and make you look ready to take on the world at a moment's notice. One main component to look at when one buys online is the fabric composition. Fabrics like silk are soft, knit linen has silky luscious feel. Though spandex may not be a choice where denims are concerned but the stretchiness is a very desirable quality when we talk of it in terms of sweatpants. Pair with banker striped shirts, which are one of the biggest trends this season for womenswear, with plenty of accessories.
Embrace the cosy
As seen at the Chanel Cruise show, leggings can be fun again. For the ultimate work-from-home uniform, adopt the Parisian way to wear them by opting for high-waisted styles that are completely opaque. Again you can pair with banker striped shirts.
<![if !vml]>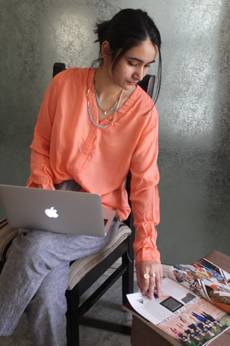 <![endif]>
Experiment with colour
For Indian summers, white is always a good idea. Off-whites and neutral tones work well with short, strappy kurtas. The garment is not only on top of trends charts right now, it can be paired with ripped denims, brocade pants or flared palazzos with equal sartorial impact.
Use this time to experiment with new colour combinations. Any outfit is elevated with a deep yellow tone and subtle gold finishes and works well with the typical Indian skin tone. You can get more out of your wardrobe by mixing and matching old favourites in new combinations.
Athleisure
Athleisure is getting revived again and having its moment. The idea is quality sweats look. Sweats can be and often are very much a purposeful choice. And given that they feel particularly relevant to our era of fashion with the rise of athleisure, there is no way around the fact that these are straight-up sweats. To make the casual wear look more polished, pair it with a matching sweatshirt for a monochromatic moment. Also note the matching top and bottoms is the biggest summer trend this year.
The Pants
If you are not sure of getting away with sweatpants, try cropped wide-leg pull-on pants. If you don't already own a good pair of trousers, there is no better time to invest than now. Look for loose wide legged styles with fabrics with stretch for comfort.
The T-shirt
Brands these days are all in a sort of loungewear space race to see who can produce the softest, lightest, stretchiest and cosiest. Cotton is always nice, but look out for modal, a super-soft fibre created from the beech tree that has an exceptionally good next-to-skin feel.
<![if !vml]>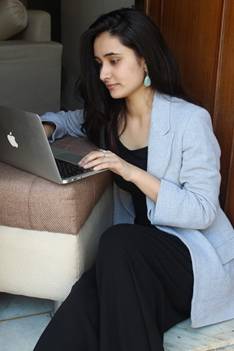 <![endif]>
Also, the 70's Disco Collars (large oversized and pointy) are back. You can layer up by wearing the shirt under the crew neck T-shirt top to be on trend. Other notable trends this summer are transparency, cut outs in geometric shapes and the waistcoat in checks or stripes.
Use a scarf to highlight or add a bit of formality to a basic top or T-shirt. I recommend wearing jersey or knitted dresses and if you prefer T-shirts, then hide the otherwise not work-appropriate necklines using chunky chain-link or crystal-embellished necklaces.
Shirt dresses
Midi-length dresses and skirts are no-brainers; simply update your wardrobe with one that is seasonally neutral in colour and print. Try polka dots for print as this trend is showing no signs of slowing down and is all over international catwalks.
When it comes to Indian wear, kurta is the most versatile silhouette and new contemporary designer labels are doing styles that are minimalistic, trendy, easy and comfortable to wear without compromising on quality.
The Shorts Power Suit
In case you want to look overly formal you are in luck as the Spring Summer trends for 2020 support the cause as well. One of the key trends this summer is the shorts suit. Inspired from the 80's, more fun than a skirt, and less formal than trousers, the trailblazing trend this season is oversized blazers with tailor fit loose shorts.... the chic and feminine version of more daunting power suits.
Other summer trends for 2020
Crochet is another reviving trend. It makes one think of dainty dresses and cool evening wear. Its structure somehow reminds one of cool breeze on a hot summer day. Handmade crochet structured into formal wear has a very quaint and unique touch to it.
Hot pants are making a comeback. Styling them with a pair of sheer leggings or footwear like high heeled pumps that emphasises the daintiness of your feet or boots that showcase the adventurous part of your soul are a matter of choice but are an instant hit. 
Light tiered dresses that manage to offer volume, high drama and maximum twirl-ability are in trend. You can try tiered skirts in tulle with a T-shirt or crop tops.
Waistcoats are also in trend this season. There is something quite dapper and appealing—not to mention endlessly flattering—about the almighty waistcoat.