MSMEs remain particularly vulnerable as the pandemic rages on. They will need to embrace technology if they have to emerge as survivors.
With a little over 4.1 million confirmed cases and nearly 285,000 deaths, COVID-19 continues to play havoc around the world. And, given the viral nature of SARS-CoV-2 that has caused this disease, it's most likely that governments will continue with partial lockdowns, restrictions on travel and many distancing measures for quite a few months-even as some vaccines are being prepared for human trials. By then, the virus would have taken a heavy toll on workers and the economy of countries.
Even as I write, millions have filed jobless claims with their respective governments. Further, according to the UN-based International Labour Organization (ILO) Monitor's 2nd edition: 'COVID-19 and the world of work', published on March 18, 1.25 billion workers are employed in the sectors identified as being at high risk of "drastic and devastating" increases in layoffs and reductions in wages and working hours.
Worldwide, 2 billion people work in the informal sector (mostly in emerging and developing economies) and are particularly at risk. The sectors most at risk include accommodation and food services, manufacturing, retail, and business and administrative activities. Besides, there is a high risk that the end-of-year figure will be significantly higher than the initial ILO projection of 25 million.
MSMEs remain more vulnerable
On the economic front, the UN Trade and Development Agency (UNCTAD) says the slowdown in the global economy caused by the coronavirus outbreak is likely to cost at least $1 trillion. Closer home, India's largest independent integrated research house, CRISIL Research, revised its growth outlook for India in fiscal 2021-down to 1.8 per cent from the 3.5 per cent estimated earlier, factoring the nationwide lockdown to stem the COVID-19 pandemic.
CRISIL's forecast, published on April 30, assumes the effect of the pandemic subsiding materially in the current quarter, besides a normal monsoon, and minimum fiscal support of ?3.5 lakh crore.
Conventional wisdom tells us that big businesses with more liquidity and cash in hand will survive this onslaught. Micro, small and medium-sized enterprises (MSMEs), on the other hand, will be crushed under the weight of debts and reduction in, or simply no, business.
According to CRISIL, MSMEs are more vulnerable than larger players, especially on the liquidity front. The research suggests that even in a relatively milder slowdown than is expected this fiscal, MSME working capital can stretch by over a month.
Retail MSMEs should think anew
There's a silver lining for retail MSMEs. For one, businesses and retail shops are bound to open in the next few weeks, and people will begin buying clothes again for themselves, their family and children.
Second, when schools resume, children will need uniforms too (the uniform market is pegged at $16 billion). Third, medical staff will require a steady supply of dresses. Fourth, but not the least, the $3 trillion fashion industry would require a range of costumes and designs.
However, hygiene concerns will necessitate a new approach. It will assume a lot of importance when purchasing apparel-shirts, tops, jeans, trousers, etc. The reason: shoppers may not be comfortable trying apparel in stores and retail stores, too, may discourage trials for the same reason. Hence, brands will have to ensure that they provide a safe shopping environment to shoppers to conveniently shop in their store.
Five ways tech can bridge problems
Stores will now have to innovate to give users a digital experience. For one, tape measurements may soon give way to digital fitting in virtual fitting rooms. Second, the textiles industry would also go through major transformational change, as manufacturers would be forced to make anti-bacterial fabric, without compromising on style or fashion.
Third, every store will have to ensure compliance with safety requirements-they may need a compliance certificate. Fourth, personalisation expectations have solidified in the last decade.
One only has to walk down the streets of New York or any major city around the world to witness hundreds of bespoke tailoring shops. These small businesses have very short sales cycles. Hence, in today's times, going digital with virtual fitting apps can help these MSMEs stay afloat.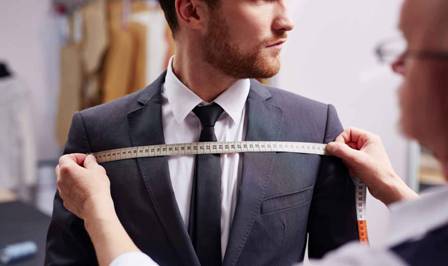 Fifth, technologies such as artificial intelligence (AI), computer vision, 3D, augmented reality and virtual reality (AR/ VR) will play a big role going forward as a great value add-on in a customer digital journey.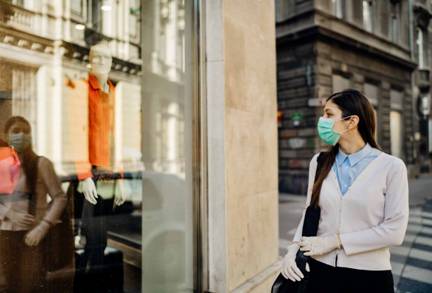 Cases in point
The goal is to create virtual stores where a customer could choose and buy products. VR in retail is predicted to reduce marketing costs, reduce product returns and offer efficient analytics and data. Retail giant Zara, for instance, uses AR for in-store displays. Customers can hold their mobile phones in front of a select shop window, and they will see models wearing pieces from the latest line.
Gap uses the DressingRoom, an AR app which lets customers try on clothes anywhere using a Google Tango-enabled device. You can customise an avatar based on your body type and see how the different pieces of clothing will look from different angles. And, if you're satisfied with the item, you can buy it straight from the app. Wannaby's Wanna Kicks is another AR iOS app that enables customers to try on different pairs of sneakers from the 3D models available.
While big technology companies like Microsoft, IBM, Google, Facebook and Adobe are in the online fashion game, smaller companies such as Stitch Fix, Wide Eyes and our own Mirrorsize, too, have similar and reasonably-priced technology options.
Proof of the pudding
We were more than surprised to have signed up a few small customers from geographies as diverse as Australia, the US, Pakistan, Morocco and even India. Other companies will have their own success stories.
The point, though, is that digital may not provide working capital but a reasonably-priced digital tool can help MSMEs rake in a lot more business even in these trying times.
Maxwell Maltz, an American cosmetic surgeon and author of Psycho-Cybernetics, puts it thus: "Close scrutiny will show that most 'crisis situations' are opportunities to either advance, or stay where you are." MSMEs may take inspiration from this quote as they ride the COVID-19 tempest.