How does the current Covid situation fit into the VUCA (Volatile, Uncertain, Complex, and Ambiguous) acronym and how can apparel firms navigate through the pandemic using Marketing 4.0.
A professional training programme a couple of years ago had used the acronym VUCA (Volatile, Uncertain, Complex, and Ambiguous) and its connotation in the business world, and how organisations should be prepared to deal with it. No one in the audience then, nor the speaker would have ever thought in their wildest dreams that the entire world would suddenly actually spin into a VUCA environment. There is confusion, panic, and stress of all kinds -- physical, mental, and economic everywhere. While this ongoing pandemic, which will last for more than a few months or maybe even more, has led to significant social and economic damage across the globe, efforts are on to save humanity and businesses too. Let us understand how the current situation fits into the VUCA acronym and how apparel firms can redirect their marketing efforts to regain the lost momentum in such a crisis.
Understanding VUCA
Nathan Bennett and G. James Lemoine in one of their articles published in Harvard Business Review identified the traits, examples and suggested responsive actions to deal with a VUCA situation. An excerpt from that article: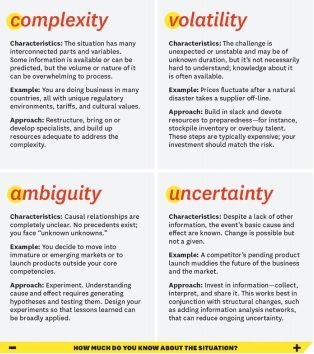 (Fig. 1: What VUCA means, Source: HBR, 2014)
"Looking at the complexity of the current situation, information about the novel coronavirus and its variant, symptoms of Covid-19, potential damages it can bring about in a human being, and the preventive measures for our safety are available. Since the business operations have come to a standstill as a result of such preventive measures, we are also aware of the declining demand of apparels, loss of jobs, pay cuts, furloughs, and the mental agony thereof".
Although there are many companies working on the vaccine, how soon the world will get its vaccine is not available. Companies are aware that this pandemic has led to a change in consumer behavior. However, ways to deal with the new consumption pattern are not clear, and apparel manufacturers and brands will have to unlearn old practices and relearn new ones. The volatile and ambiguous nature of the situation has led to a blurred future of fashion and retail, and we do not know how soon we can go back to the normal days. It has taken a toll on the buyer and supplier relationships and customer relationships as well. Human beings, as well as business entities, are only thinking about their survival first.
Marketing 4.O
"Marketing 4.0 is a combined marketing effort of online and offline interaction between companies and customers. In the digital economy, digital interaction, along with offline touch, paves the way for unique positioning. It is vital for brands to be more flexible and adaptive due to rapid technological trends. In an increasingly transparent world, authenticity is the most valuable asset."
Dr. Philip Kotler, in his book "Marketing 4.0: Moving from Traditional to Digital", has stressed the move to a more horizontal, inclusive, and social business landscape being driven by connectivity (Kotler, Kartajaya, & Setiawan, 2016). However, the current situation puts a question mark on the offline touch by the businesses. With the fear of the coronavirus being spread through contact, going 'contactless' is the new normal. Nonetheless, the answer also lies in being flexible, adaptive, and transparent. In the section below, the latest trends of Marketing 4.O and subsequent responsive actions for apparel manufacturers and retailers have been enumerated.
The Way Forward for Apparel Manufacturers & Retailers
Changing preferences of consumers towards essential items
With several governments imposing complete and/or partial lockdown to stem the spread of the virus, a new category of products and services have emerged in the market – the essentials. This is a category that caters mostly to home and personal hygiene products, groceries, medicines, and healthcare. This has led to a paradigm shift in consumer attitudes and preferences as the demand for these products witnessed a huge surge. With social distancing norms in place, there is also a surge in online shopping, digital payments for all kinds of purchases, and deferring of all 'non-essential' purchases, including apparel and fashion goods. This shift in their purchase behaviour is here to stay for a while. Resilience and agility are the best weapons for survival during this crisis.
Survival by quick adaptability to sell essentials
The fashion consumer is more conscious and responsible now than before. Many consumers have realised that one does not need much to survive. With such low sentiment, apparel consumption will continue to revolve around 'essentials' for a long time. All this has made fashion retailers' efforts on forecasts using machine learning null and void and resulted in disruptions in the fashion supply chain. Resilient organisations have three characteristics: a staunch acceptance of reality and an uncanny ability to improvise (Coutu, 2002). Accepting the harsh reality and adapting to this change by tweaking the business model is the only way of survival for fashion retailers. Many of them have already shown the way by sourcing, manufacturing, supplying masks and PPEs and supplying essentials. This has opened new doors of opportunities for apparel manufacturers as it does not require any additional investment. French luxury conglomerate Louis Vuitton is making surgical masks and hand sanitisers. H&M and Burberry are making use of their vast supply chain network to source personal protective equipment, including masks, gowns, and gloves. Brands like FableStreet, Wildcraft, Allen Solly, FabIndia have also started making and selling masks. Another option for the textile and apparel manufacturers lies in innovating products that take care of the immediate needs of the health-conscious consumer by developing anti-viral and anti-bacterial treatments for apparel products.
Communicate and Engage! Content is the key
With numerous apparel and fashion retailers not able to sell their products and services, communication has come in as a handy tool. The internet is probably the only respite for the tech-savvy customer to remain engaged and connected during the lockdown. Brands can connect and interact with consumers through creative and authentic content through regular emails, podcasts, webinars, posts on the social web, live broadcasts, etc on things they can do during lockdown for their physical and mental well-being and personal hygiene.
Manufacturers can also communicate the measures adopted by them to support their employees and partners during the pandemic. It reflects the company's concern for the employees, suppliers, and customers and fosters relationship management.
Transparency is the best policy
The current pandemic is only worsening the problems of overproduction and excess inventory in the fashion industry. Lean manufacturing is the road ahead. Responsible consumerism in the wake of Covid-19 has brought transparency of relationships in the supply chain network, policies, standards and practices of sustainability, and social issues into the spotlight. Increased vigilance of the stakeholders on the linkages in the textile and apparel supply chain can drive apparel manufacturers and retailers to operate more responsibly and be more transparent. If they continue to do so, they will undoubtedly regain the lost confidence of panic-stricken consumers.
References:
Bennett, N., & Lemoine, G. J. (2014, February). Crisis Management. Retrieved May 30,
2020, from Harvard Business Review: https://hbr.org/2014/01/what-vuca-really-means-oryou Coutu, D. (2002, May). Organizational Structure. Retrieved May 31, 2020, from Harvard Business Review: https://hbr.org/2002/05/how-resilience-works
Kotler, P., Kartajaya, H., & Setiawan, I. (2016). Marketing 4.0: Moving From Traditional to
Digital. New Jersey: John Wiley & Sons.
Vasesi, Anjori Grover (2020, April 14). Feature: Retail: Business. Retrieved May 29, 2020, from Apparel Resources: https://in.apparelresources.com/business-news/retail/fashionindustry-fighting-coronavirus-crisis/