The year 2020 will be remembered as the year of theCOVID-19 pandemic, with its lockdowns and social distancing. The fallout fromthe pandemic – such as low density on the shop floor, as well as the reversemigration of labourers – has affected industries such as textiles that arelabour intensive. Constrained supply chains will increase margin pressure.
Another effect of the pandemic is the increased interestof US and European businesses to diversify the countries they are sourcingfrom. However, to export to these countries, textile manufacturers have tofollow stringent norms and ensure that the quality of their products is high.COVID-19 has impacted production significantly. To stay relevant, textilemanufacturers need to change manufacturing processes and become leaner byoperating with less manpower. Manufacturers have no choice but to adoptautomation through accurate control systems equipped with data collection andanalytics.
Thus, to become more sustainable in the new normal,textile manufacturers need to
1. Move towards automated machines rather than machinesthat require manual operation
2. Follow rigorous export quality norms
3. Improve production efficiency as well as energyefficiency
4. Build quality during manufacturing   
For Indian textile manufacturers, the way ahead is clear –Textile 4.0 involving automation and real-time monitoring of manufacturingmachines and utilities is the solution to meet tomorrow's, post-pandemic,textile needs.
Plant Monitoring
Plant monitoring (a Textile 4.0 technology) involves thecollection and analysis of data from machines and utilities. The analysed datacan be used to improve processes and generate reports, based on which a usercan take decisions that ensure the efficient utilisation of machines to enhanceproduction and product quality.
Many companies now use ERP systems for managing theirbusinesses. However, inputs to these enterprise resource systems are donemanually which is prone to error. Ideally, data must be input into the ERPsystem directly from machines. To accomplish this, machines must first becapable of transmitting data to the system. It is here that automation plays animportant role – to effectively use any plant monitoring system, manufacturingmachines and utilities must transmit the data online to a central system. Onlyautomatic/PLC based machines can provide data in real time, thus enablingmachines to talk with each other and/or with the ERP system. Automation ofmachines is therefore the first step in implementing Textile 4.0 in a textilemanufacturing facility.
Automation has many other advantages in addition to makingmachines ready for Textile 4.0. It reduces labour, makes for safer workingconditions, improves productivity and product quality, reduces variability,eliminates human error, and reduces breakdowns.
Once machine automation is implemented, the next steps are:
1. Collecting correct and precise data online
2. Deciding KPIs and their measurement methods
3. Analysis of the data
4. Generation of reports/data analytics and using them to make process corrections
Typical machine connectivity for Textile 4.0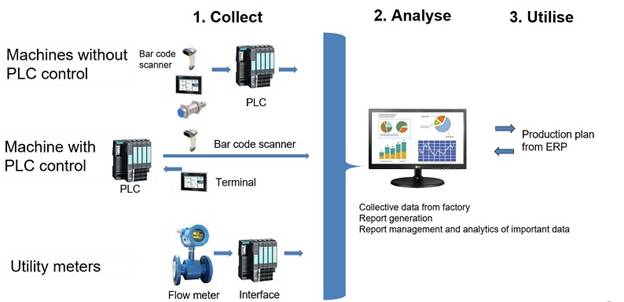 Automation and upgradation of old machines
Old machines can have several issues, such as:
1. Lower energy efficiency
2. Product quality depends on operator skill
3. A requirement of obsolete spare parts, which are hard to come by, but the lack of which can lead to machine stoppage at any time, for any period. This can hamper production
4. Data cannot be collected from the machines online
5. No interactive alarm/fault indication system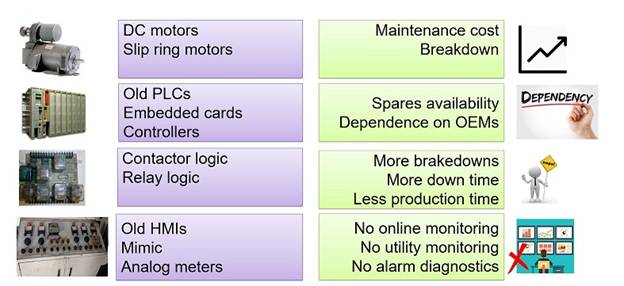 New machines are equipped with energy efficient motors, latest PLCs, interactive HMIs, SCADA software etc., and can also be connected to online data collection systems.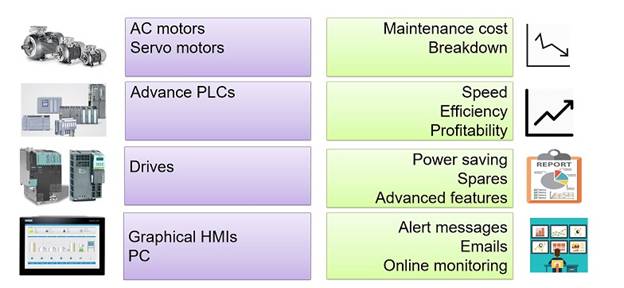 Machines used in manufacturing cannot be changed every 10 years, due to the high initial investment. In fact, most legacy machines are mechanically healthy. The root cause of their problems lie with the outdated control system, control panels, motors, etc. Upgrading and automating such legacy machines with the latest control systems enable them to work like new and provides a host of advantages such as:
1. Changing older inefficient motors with latest motors increases energy efficiency
2. Old and sluggish electronic controls can be replaced with the latest high speed and more capable PLCs that not only make the machine more responsive while improving productivity, but also add features to machines
3. Prevent down time due to non-availability of services and spare parts of old control systems by changing embedded systems with the latest generic PLCs and HMIs
4. Extend the life of the machine by 10-15 years by replacing obsolete parts
5. Upgrading sluggish, less energy efficient systems like PIVs with modern motor drive systems
6. Single motor machines can be converted to multirotor systems for better operation and synchronisation
7. User-friendly PC-based SCADA gives the operator all the information about the machine at one glance on a single screen. For example, quality parameters can be monitored online and quick preventive measures taken by the operator if there are any deviations. Also helps reduce breakdown time
8. Alarms/warning/events can be logged
9. Machines are ready for Textile 4.0
80 years' experience in the textile industry and deep domain knowledge of textile processes has made A.T.E. a reliable partner for all Indian textile manufacturers. An A.T.E. automation upgrade for legacy textile machines is a complete, ground-up revamp of the machine that involves the replacement of all existing hardware with new PLCs and OEM drives that are easily available in the market; easily adding 10 years of life to older textile machines.