Japan, the world's third largest economy, is reeling under the effects of Covid-19 pandemic. While the country is still debating the idea of shifting its production out of China to other ASEAN countries, import of masks from China has remained an all-time high.
The data from Japan's ministry of finance shows that Japan's exports fell by 11.70 per cent in the current year till March compared with a 10.10 per cent decrease expected by economists in a Reuters poll. According to Takeshi Minami, chief economist at Norinchukin Research Institute, the impact of COVID-19 is going to continue through this year which would hinder the economic activity from normalising. Japan's exports to China, its largest trading partner, have declined by 8.70 per cent in the year till March, reflecting a slump in items including textiles and apparels.
Japanese shipments to Asia, contributing to more than half of Japanese exports, declined by 9.40 per cent, and exports to the EU fell by 11.10 per cent due to the global spread of COVID-19. Imports fell 5 per cent in March, versus the median estimate for a 9.80 per cent decline.
Japan's total exports have moved down by 23 per cent in April and imports have fallen by 7 per cent from the same period a year earlier, according to data released by the finance ministry. Exports to the US plummeted by 38 per cent, while imports rose by 1.60 per cent. Japan's exports to the EU tumbled by 28 per cent in April, while imports from the region declined by 7 per cent.
Exports to China slipped by 4 per cent in April 2020 and imports from China jumped by 12 year-on-year. The overall exports totalled $48 billion, down from nearly $62.56 billion in the same month in 2019. Imports dropped to $57 billion from $61.63 billion, with major fall in exports of vehicles, machinery, chemicals and textiles.
From the perspective of market share, the proportion of China's share in Japanese textile and apparel import market has gradually declined in recent years, with the proportion of quantity falling to 47.20 per cent. The market shares of Vietnam, Indonesia, Thailand and Bangladesh have gradually increased.
Japan's Textiles and Apparel Trade
According to the latest data by CCF Group Tracker, the country's textile and apparel imports in March declined by 2 per cent year-on-year to 216,500 tonnes. Of these, imports from China declined by 4 per cent to 105,300 tonnes. In the first quarter, Japanese textile and apparel imports totalled 605,000 tonnes, down by 7.50 per cent year-on-year. In case of volume, the imports from China totalled 286,000 tonnes, declining by 13.10 per cent year-on-year.
Notable Rise in Demand of Textiles and Apparels of Japan in April 2020
As per the data from CCF group, Japan imported about 243,000 tons of textiles and apparel in April 2020, up by 8.80 per cent y-o-y and 12.30 per cent m-o-m. In case of China, import volume was 140,000 tonnes, up by 21.50 per cent y-o-y and 32.90 per cent m-o-m.
During January to April 2020, Japan's cumulative textile and apparel imports reached 848,000 tonnes, down by 3.40 per cent y-o-y, and that from China was 426,000 tonnes, down by 4.10 per cent y-o-y.
Japan's Textiles and Apparel Import Volume and Value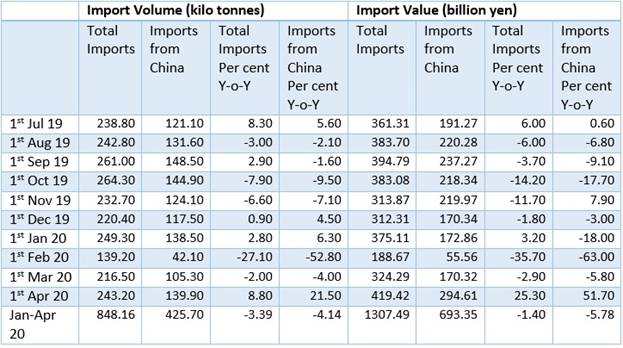 Source: CCF GROUP
In terms of value, import of Japan's textile and apparel in April 2020 showed an increase of 29.30 per cent m-o-m and that from China dropped by 72.90 per cent m-o-m. Japan's textile and apparel import demand in April was strong, and that from China has grown rapidly.
China is the largest supplier of Japan for textile and apparels, followed by Vietnam, Indonesia, Thailand, etc. In April 2020, China contributed 57.50 per cent of the Japan's textile and apparel import market, up by 6.10 per cent from the same period last year and 8.90 per cent m-o-m.
Japan's Textiles and Apparels Imports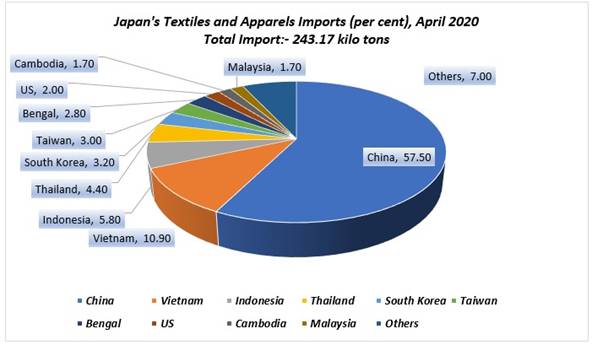 Source: Japan's Customs Office, CCF GROUP
An extreme rise has been observed in Japan's import of textiles and apparels from China in April 2020. According to the midstream and downstream of the Chinese market, the number of masks exported from China to Japan increased evidently in April 2020. According to statistics, the product group with HS 6307900 accounted for the largest.
Changes of Japan's Textile and Apparel Imports by Countries and Regions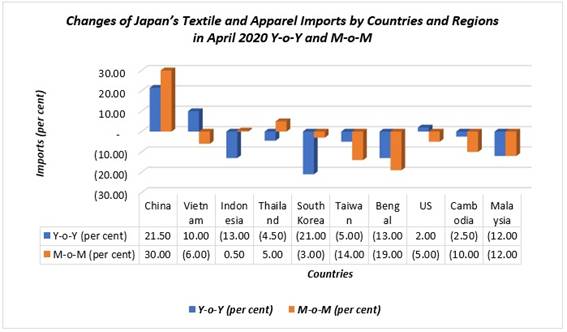 Source: CCF GROUP
Japan's Support to Shift the Production Outside China, preferably ASEAN
On April 19, Japan's PM had declared a state of emergency for the coronavirus pandemic and unveiled a massive stimulus package to help the economy and overcome the crisis caused by the spread of COVID-19.
Japan has allotted a massive rescue package of $992 billion to promote business which is approximately 2.7 times Malaysia's GDP (gross domestic product) and 20 per cent of Japan's GDP, biggest in the country's history. This package was aimed at mitigating the economic and social impact of the pandemic and target individuals, multinational corporations and small and medium-sized enterprises (SMEs).
The package includes an economic support fund worth about $2.4 billion to help finance local businesses bringing manufacturing back to Japan from China, or to move it to other countries in Southeast Asia and South Asia. The move is aimed at reducing future risks of supply chain disruption in case of another black swan. Approximately $2.05 billion have been allotted for companies shifting production back to Japan and $219.52 million for those planning to move to other countries.
According to a February survey by Tokyo Shoko Research Ltd, approximately 37 per cent of the 2,600 respondents were diversifying procurement outside of China during the pandemic. The trend to relocate manufacturing both of low and high-added value products outside of China is mainly a move to manage risk and prevent supply chain disruptions in case of major natural disasters, infectious disease outbreaks and trade wars among major economies.
Investor sentiment was bolstered in the country in May by hopes that the Japanese government may move ahead with lifting some coronavirus-linked restrictions in some parts of the country. Among the sectors, textiles & apparels remain as notable gainers in stock market.
Japan's Imports of Products with HS Code 6307900 from China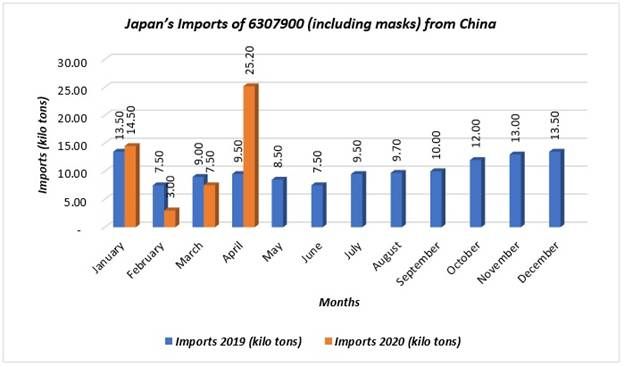 Source: CCF Group
Japan's import volume for the products of HS code 6307900 (including masks) was 25.20 kilo tonnes in April 2020, up by 165.26 per cent y-o-y, 236 per cent m-o-m, accounting for 18.01 per cent of the total textiles and apparels. Imports from China moved up by 6.70 per cent compared with the same period of last year, indicating that the variety was a hotspot imported by Japan in April 2020. Approximately more than 90 per cent came from China. According to some downstream exporters, cotton gauze masks contributed for the maximum share in the total.
Thus, Japan's textile and apparel imports increased significantly in April 2020 mostly from China. The products of HS code 6307900 contributed greatly in Japan's imports. Imports of products of HS code 6307900 accounted for 10.40 per cent of the total textile and apparel imports, and the value reached 26.30 per cent.
Fast Retailing, a big domestic player for textiles and apparels, has planned to sell face masks made from highly breathable and fast-drying materials to deal with the spread of Covid-19 at their Uniqlo casualwear store chain and on its online shopping platform.
FTA with the UK under Negotiation
Japan is in negotiation with Britain for FTA (Free Trade Agreement), based on the existing EU-Japan Economic Partnership Agreement (EPA). This would increase the trade flows between the two countries by approximately $18.60 billion, according to Department of International Trade (DIT), UK. The manufacturers of textiles and clothing are expected to be among the biggest winners of lowering trade barriers.