Kala cotton, in the process of being registered as a trademark, is an energy-efficient and carbon neutral crop. Hardy and resilient even under harsh weather conditions, it is completely rain-fed and grows naturally even in the arid, drought-prone areas of Kutch, where there is less than 40 cm of rainfall. Banhi Jha discusses the gradual rise of Kala cotton in the Indian fashion scene.
Archeological evidence of cotton samples found at the Mohenjo Daro site of Dholavira dated c.2750-3000 BCE indicate the source to be a plant closely related to Gossypium arboreum type, which was a dominant strain of native cotton in India. The history of cotton cultivation in India points to evidence of several domestic varieties of cotton. Kala cotton (Gossypium herbaceum) is an indigenous strain of rain-fed 'old world' cotton that was a part of India's cotton export to Great Britain during colonial rule when the forcible cultivation of long-staple variety of cotton led to disruption in the value chain between domestic cotton farmers, weavers, natural dyers and markets till its production was almost obliterated, resulting in the meltdown of the homespun industry. Even after Independence, in spite of its sturdiness and pest resistance, it was tagged for perceived 'inferior' status as compared to the long-staple American and other hybrid varieties.
Kala means 'black' in some Indian languages, often leading to the misconception that Kala cotton is black in colour, whereas it actually refers to the empty boll after extraction of the cotton fibre. Kala cotton has specific characteristics. This indigenous strain of cotton is genetically pure, which differentiates from the genetically modified Bt cotton. Kala cotton is hardy and resilient even under harsh weather conditions. Completely rain-fed and growing naturally even in the arid, drought-prone areas of Kutch, where there is less than 40 cm of rainfall, its high drought tolerance imposes minimal or no demand on scarce water resources, which makes it extremely water efficient.
Irrigation requires electrical or diesel energy to lift and supply water; manufacturing and transporting chemical fertiliser requires energy and produces greenhouse gases after usage; the use of pesticides poisons the environment, soil and water. For the most part, Kala cotton is grown without the use of irrigation, chemical fertilisers and pesticides, which makes its ecological footprint much lower as compared to other varieties of cotton. This is the reason that Kala cotton is considered to be among the most energy-efficient and carbon neutral crops in the world; more so in the present conditions of water scarcity in India.The trepidation about global warming and possible desertification also raises the present-day relevance of Kala cotton.
According to the Vision 2030 report published by Nagpur-based Central Institute for Cotton Research in 2011, about half the cotton growing areas in Gujarat are irrigated. The rain-fed Kala cotton continues to be grown in the Rapar and Bhachau taluka of Kutch as these areas suffer from water scarcity and irrigated farming has not yet reached them.
<![if !vml]>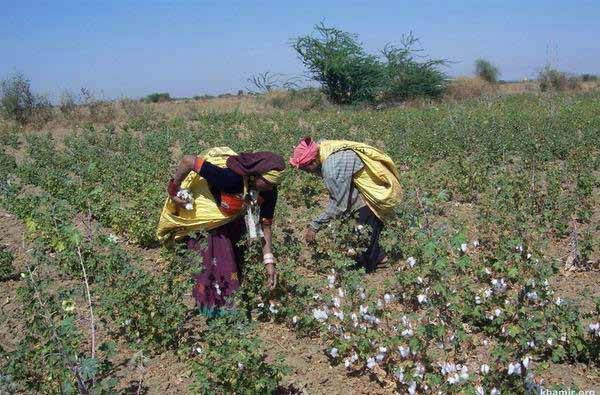 <![endif]>
Kala Cotton Initiative by Khamir
The uniqueness of Kala cotton was highlighted by Khamir, a nongovernmental organisation established in Kukma, Bhuj after the 2001 earthquake. A joint initiative of Kachchh Nav Nirman Abhiyan and the Nehru Foundation for Development, Khamir was formally registered under the Societies and Trust Acts in 2005. It is a platform for the promotion and sustenance of traditional handicrafts, practices and culture, community and local environments that have global relevance.
To address the socio-economic imbalance created by increasing industrialisation and mass production on one hand and the decline of traditional production systems and local partnerships on the other, Khamir initiated the Kala Cotton Initiative in collaboration with Satvik, an association of organic farmers in Kutch, to support farmers there through links with small-scale weavers. The preservation of agricultural and artisan livelihoods in Kutch necessitated raw material that was locally grown, environment-friendly and could potentially create social value.
Khamir leveraged the potential of Kala cotton as it subscribed to these criteria by consulting experts to develop a process to address the problem of spinning and weaving caused by its short-staple length. This resulted in the first Kala cotton product range by Khamir in 2010. Creation of an integrated supply chain between farmers, ginners, spinners and weavers to convert Kala cotton fibre into hand-woven textiles was reminiscent of India's legacy of weaving khadi reinterpreted for the modern Indian market. Khamir director Ghatit Laheru elaborates on the Kala Cotton Initiative as an example of a holistic approach to promote an indigenous species of cotton for textile production in tandem with the local ecology of Kutch by facilitating linkages that provide sustainable livelihoods for marginalized  farmers, spinners, ginners and weavers. Farmers receive a premium price, and therefore, are encouraged to grow indigenous cotton. Market support and sectoral increase in the remuneration for weaving have also contributed to the increase in the number of weavers in Kutch. The cumulative result is that the value chain of Kala cotton that had deteriorated for decades, is exhibiting resurgence.
The short- to medium-staple length Kala cotton fibre measures between 20 and 22 mm. This makes it difficult to weave it even on traditional looms, which, by extension, is a tribute to the dexterity of the weavers. Kala cotton is usually available in plain weaves with or without woven stripes and motifs, and even in twill weave. Its coarse texture against the skin is a reminder of the tenacity with which it survives in the arid landscape. It lends itself well to natural dyes. In a world of anonymous fashion, this indigenous cotton has a distinctive aesthetic that characterizes the finished products from items of clothing to home and lifestyle products.
Vankars of Bhujodi
In the villages surrounding the cotton fields of Kutch, hubs of self-employed spinners, weavers, printers and dyers work from their homes. After the 2001 earthquake, the resilient inhabitants of Bhujodi, home to the vankar (weaver) community, started revival projects founded on locally-sourced and -woven cotton and woollen textiles that became the community's main source of livelihood. The vankar families claim kinship with each other with several members having received national awards. The outstanding creativity and business acumen of some vankar artisans have contributed significantly to propagating awareness and demand for Kala cotton products. Bhujodi is home to the illustrious Vankar Shamji Vishram Valji, who carries on the legacy of his father Vankar Vishram Valji, who bagged the National Award in 1974 for exemplary work in Dhabla weaving. Shamji bhai is an early adopter of Kala cotton and oversees Vankar Vishram Valji Weaving, a multi-generational craft initiative for weaving and dyeing of fabrics, shawls, stoles, furnishings and rugs in cotton and indigenous wool, employing around ninety families.
In the last 20 years, Shamji bhai has transformed the venture into a prosperous business with clients in India and abroad. He is also the chronicler of his family history, Bhujodi village and the narrative of handloom weaving. His journey as a weaver and entrepreneur has brought him recognition as master craftsman and earned him the UNESCO Seal of Excellence. In 2014, he participated in the 'Hand Made' project exhibited in Bunka Gakuen University in Japan that highlighted the handmade qualities of traditional textiles produced in Bhujodi, including Kala cotton. In 2015, he participated in the project 'Cotton Exchange: A Material Response', which compared and contrasted the social, cultural and historical legacies of cotton manufacture and trade between England and India using Kala cotton that was handspun partly in Kutch and in the United Kingdom, and naturally dyed with iron and indigo. These international collaborations heightened the global awareness of the potential of Kala cotton. A recipient of several awards, Shamji bhai epitomizes a holistic approach to preservation of heritage, skill, ecology, identity and knowledge.
<![if !vml]>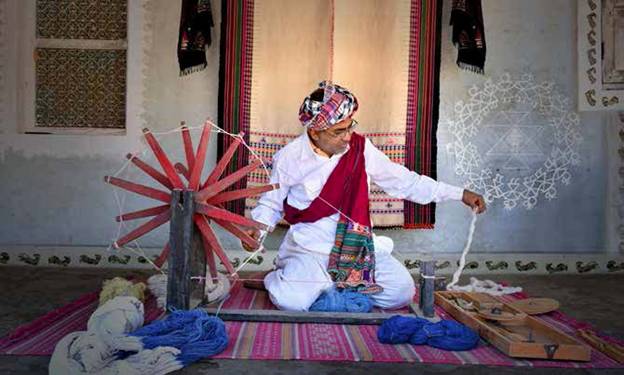 <![endif]>
Vankar Chaman Premji Siju hails from eleven generations of weavers and continues the textile lineage of his family. Chaman Siju is the recipient of the Gujarat state government award in 1999, the President's National Award in 2001 and several other awards. Committed to promoting indigenous artisans, he iterates the importance of using indigenous material, including Kala cotton, for regular orders as well as its potential as a fashion fabric to uplift the artisans' work using traditional handlooms. At Textiles India 2017 in Gandhinagar, Siju showcased an intricate handloom cotton sari illustrating Prime Minister Narendra Modi's 5F formula: 'Farm, Fibre, Fabric, Fashion, Foreign'. Kala cotton received a boost when Modi wore a Kala cotton stole woven by Siju. He aspires to create a local museum to house an exclusive collection of Kala cotton and other heirloom textiles.
Kala cotton and fashion
Design professionals at the intersection of people, processes and the environment are a critical component in the development of sustainable products. They are able to make decisions related to development processes and procedures that affect the final sustainability of a product (Hethorn & Ulasewicz, 2008). Understanding the perceived and lived experiences of design professionals may result in comprehensive descriptions that lead to a greater understanding of the essence of the phenomenon (Moustakas, 1994) of development of textile products from 100 per cent organic cotton. Though indigenous crops hold the key to more eco-friendly ways of fabric production, the conversion of the short-staple fibre to yarn and then into spun and woven fabric is not easy.
To promote Kala cotton, Alison Welsh, head of fashion research at the Manchester Metropolitan University, has been working with Vankar Shamji Vishram Valji on a project called 'Field to Fashion' in conjunction with Khamir. The attempt is to explore the possibility of creating a niche in the international market for organic cotton for its strength, durability and striking resemblance to linen, and to raise awareness about this fibre, which is used to weave denim. Welsh's interest lies in making garments that fuse Indian and Western aesthetic sensibilities by integrating their respective pattern cutting methods. Henrietta Adams, founder of the London-based label Henri, sources Kala cotton from Gujarat. London-based Stitch by Stitch produces home furnishings of cushions and towels of Kala cotton.
Contrary to the assumption of lukewarm response to the short-staple yarn, some Indian fashion labels are known for their conscious approach to material sourcing and production. Since 2010, Archana Shah, founder of Bandhej, has been mentoring the entire product development where products made during the pilot phase are marketed to various designers and boutique owners of varied demographic profiles. The perception of the product and feedback were reviewed. The Kala Cotton Initiative was launched at the Khamir exhibition titled 'Retelling the stories of crafts of Kachchh' in New Delhi in 2011. Hand-stitched detailing on the products and certification of the value chain have offered authenticity and an aspirational value to the Kala cotton product range.
To increase the marketability of the products and to project these handmade, environment-friendly, limited edition products in a niche category, initiatives are being taken for positioning brand 'Kala' as an aspirational synonym for the urban markets. Anavila Misra whose oeuvre is handwoven linen saris, combined the fabric with lotus yarn, muga silk, wool and Kala cotton for her Autumn/ Winter 2016 collection. The eponymous labels—Rajesh Pratap Singh, Urvashi Kaur, Maku Textiles by Shantanu Das, Deepika by Deepika Govind, and And by Anita Dongre Design—have used Kala cotton and heightened its distinctive visual and textural qualities. Celldsgn 11.11 by Shani Himanshu and Mia Morikawa is synonymous with khadi denim where the hand-spun denim is made from 100 per cent khadi cotton and is dyed in natural indigo. Himanshu claims that Kala cotton is very receptive to indigo dyeing in several layers as the effect is much richer on Kala cotton than regular cotton.
<![if !vml]>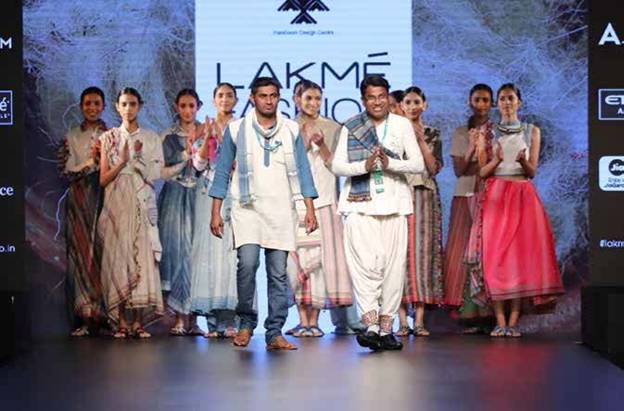 <![endif]>To encourage a closer, tactile interaction between visitors and handloom designers, Artisans, in collaboration with the Lakmé Fashion Week in 2016, presented an interactive three-day exhibition on its premises. 'Please Touch! The Handloom Experience' was a precursor to the Sustainable Fashion and Indian Textiles Day at the Lakmé Fashion Week, Mumbai. The purpose was to showcase original and blended versions of around seven fabrics including khadi, Kala cotton, eri and muga from the North- East, and Himalayan pashmina. The participation of Chaman Siju in Lakmé Fashion Week Summer/Resort 2017 with his Kala cotton collection with intricate woven motifs was expressive of the biography of the community in Bhujodi.
The narrative of Kala cotton is relevant for academia and conscious consumers as an example of the effectiveness of 'localism' (Fletcher 2008), where the geographical area for cultivation of the indigenous crop and its conversion to products is circumscribed within 150 miles. The integrated endeavours of the vankar community of Bhujodi village, its use by fashion designers and the efforts of nongovernmental organisations and fashion event organisers, have contributed to raising the awareness level about Kala cotton. The consolidated impact of these initiatives has resulted in the resuscitation of a languishing cotton crop as a sustainable alternative to Bt cotton. Kala cotton is in the process of being registered as a trademark. The underpinning story of courage, history and contemporaneity of Kala cotton produced through environmentally-conscious processes resonates with the discerning buyer and translates into increasing demand .
References
1. Beckert, S. 2014. Empire of Cotton: A Global history. New York: Vintage
2. Forster, E. S. 1942. Trees and Plants in Herodotus. The Classical Review, Vol. 56, No. 2 pp. 57-63
3. Fletcher, K. 2008. Sustainable Fashion and Textiles: Design journeys. London Sterling VA: Earthscan
4. Hethorn, J., & Ulasewicz, C. 2008. Sustainable fashion: Why now? New York, NY: Fairchild Books
5. Menon, M. and Uzramma. 2017. A Frayed History: The Journey of Cotton in India. Noida: Oxford University Press
6. Moustakas, C. 1994. Phenomenological research methods. Thousand Oaks, CA: Sage
7. Shah, A. 2013. Shifting Sands: Kutch, Textiles, Traditions, Transformation. Ahmedabad: Bandhej Books
This article was first published in the July 2020 edition of the print magazine.