In light of the coronavirus pandemic, face masks are in huge demand right now. With disposable masks in shortage all over the planet, seamstresses, tailors, and anyone who can sew are taking to their machines to make reusable cloth masks.
Since mid-March, the number of Google searches for DIY masks has gone up by 85 per cent. Whilst not classed officially as medical devices like their disposable counterparts, they none the less can serve as a protective measure against the spread of Covid-19. The CDC is advising their use not only to slow the spread of the virus but also to help prevent people who may unknowingly have the virus from transmitting it to others.
How Can Reusable Face Masks Be More Sustainable Than Disposable Ones?
1. They can be made at home for free: Disposable masks are like gold dust these days, with stock shortages across the globe. Reusable cloth face masks can be made from household items or common clothing materials at minimal or no cost. A study of homemade cloth face masks by Smart Air Filters found that 100 per cent cotton bed sheets (80-120 thread), denim (10oz), and canvas (0.4-0.5mm thick) scored best for reusable options in terms of breathability and filtration. These materials were tested as capturing up to 50 per cent of 0.3-micron particles, noting that human coronaviruses measure between 0.1 and 0.2 microns. They are also as easy to breathe through as surgical masks, which makes them comfortable enough to wear for several hours. Even bra pads performed relatively well, filtering 14 per cent of 0.3-micron particles, and 76 per cent of 1.0 microns.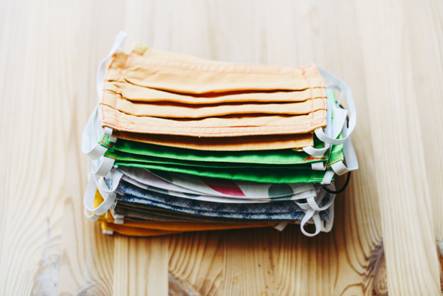 2. Reusable masks can also be purchased: If you don't sew, or fancy something a little more specialised, NEO masks may be another option. Made with high-density microfibre (of 1/1,000th the thickness of a human hair!), NEO masks only require boiling in 100 degree Celsius to sanitise. They are also particularly environmentally friendly as are they are dope dyed, which means the yarns are dyed before making into a piece of fabric, resulting in excellent colorfastness. No water is used during the dope dyeing process, and chemicals and carbon are reduced, as well as being a low energy production, so a win-win for the environment and for you!
3. They don't contribute to litter pollution: Believe it or not, disposable face masks have become a worldwide litter hazard. We see daily news reports of grocery store workers criticising 'shameful' shoppers for littering used masks, gloves, and wipes around store parking lots and shopping trolleys.
Discarded face masks are piling up on Hong Kong's beaches and nature trails, posing a huge threat to marine life mistaking them for food. The UK charity Keep Britain Tidy, has reported an alarming rise in the amount of PPE gear being dumped on streets rather than being placed in a bin.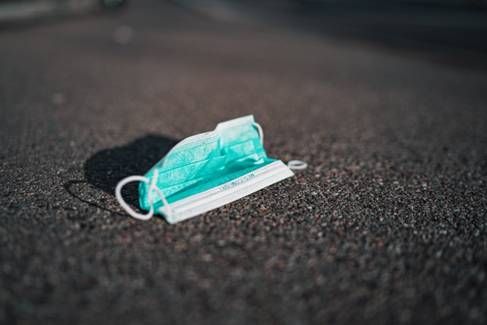 4. They are not a health hazard: Discarded masks pose another important problem, they can potentially carry and transmit the virus to others, who may come in contact with them. Grocery workers are being forced to pick up possibly contaminated masks and gloves. Reusable cloth masks can be rewashed and re-worn, therefore, they are much less likely to be dumped like the reusable ones.
5. They are not made from plastic: Anything made from plastic does not biodegrade; instead, it breaks down into tiny pieces, called microplastics, over time. As these microplastics enter our oceans and waterways, they act as toxic sponges, accumulating toxic chemicals (such as pesticides and PCBs) in the water at a staggering rate. Studies show that when fish and aquatic life consume these microplastics, the chemicals are passed up the food chain to larger fish and wildlife, and sequentially, they can end up on our dinner plates. Scientists have found microplastics in 114 aquatic species, and now they are trying to determine what that means for human health.
Disposable gloves, masks, and wipes are all typically made with plastic. Adrienne Esposito, from Citizens Campaign for the Environment, rightly states that "The PPE's are supposed to protect us from a healthcare crisis, not cause a plastic pollution crisis." Some of the masks can also include other materials, such as metal, which can also be dangerous to fish and aquatic life.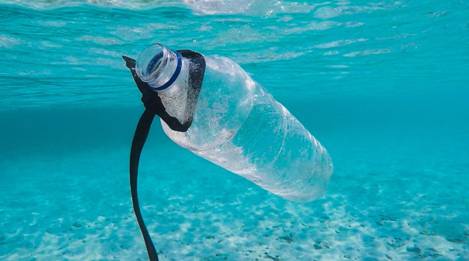 Natural fibres, such as those used in reusable masks are generally biodegradable, thus less harmful to the environment. So even if they are discarded after a time, they will not have the disastrous impact that plastic has.
Tips for getting the most out of reusable face masks
1. Boil the mask for 10 minutes: the current recommendation for washing is to boil masks for 10 minutes before use. This duration maximises the disinfection of all of the mask layers (WHO 2015). However, the CDC recommends just regular machine washing.
2. Double the layers: doubling the layers of material for cloth masks gives a small increase in filtration effectiveness, however, it can make the mask much more difficult to breathe through. Breathability is as important as filtration capability as the mask will not be worn for long if it's not breathable.
3. Wash your hands frequently: The central advice on preventing the spread of the virus is frequent hand washing, with an alcohol-based hand gel or warm water and soap, covering your mouth and nose with a flexed elbow or tissue when sneezing or coughing, and lastly, avoiding close contact with anyone who has a fever or cough.
4. Make your own mask: there are free patterns all over the internet, using different fabrics, filters, sizes, and designs. Do your own research to find one you are happy with.
5. Remember that no homemade mask can guarantee that you won't become infected with the coronavirus, but studies have found that any facial protection can reduce your exposure to viruses compared with nothing at all.

This article has not been edited by Fibre2Fashion staff and is re-published with permission from synzenbe.com