By: V.Ramesh babu

Dept of Apparel and Fashion Technology, Sona College of Technology, Salem
Email: salemramesh@yahoo.com
Abstract

SWOT Analysis of Garment industry in Salem simply means analyzing the Strength, Weaknesses, Opportunities and Threats of garment industry in Salem. From this we can know the areas where the Salem is strong and where the salem has to improve. In this research we have prepared a questionnaire and made a survey with it. This questionnaire was filled by various garment industries in Salem, Chennai, Bangalore, Mumbai and Delhi. This questionnaire made us to compare the various aspects like size of units, lead-time, productivity and CMT charges. Charts were prepared from the surveys and results were obtained from it.
By this project we can promote the details obtained to entrepreneur in various other places in India so that they can start up garment industry in near future.

1. Introduction

Salem is the 5th largest city of Tamil Nadu located in the central part of the southernmost state of India. Almost completely surrounded by hills, Salem is one of the major textile centers in the country. The name 'Salem' appears to have been derived from Sela or Shalya by which the term refers to the country around the hills.

Salem is also the capital of Salem district whose other major locations are, Mettur, Omalur and Attur. Salem was the largest districts of Tamilnadu before it was bifurcated in to two as Salem and Dharmapuri. Later Salem was again divided with the formation of new districts such as Namakkal. Gorgeous silks and gossamer cottons from the handlooms of Salem are well known to the ladies, The High Court Dhoties are to assuage the men folk.

Recently our weavers have entered the Textiles Export Market in a highway and the Government of India has selected Salem City to be notified as a Textile Export Zone. It is located centrally & is easily accessible from Bangalore, Coimbatore, Trichy, Madurai and Chennai. Located at a distance of 355 km from Tuticorin and 341 km from Chennai, which are the nearest Ports from Salem

Population Figures

Salem is the second largest city of Tamilnadu in terms of population density. In reality the net population of the city is more than that of Tiruchirappalli, which is said to be the fourth largest city. The total urban population of Salem district is about 13, 90,000 whereas that of Trichy is only 11, 39,000. Salem is the second largest city of Tamilnadu in terms of population density.

Economy

Salem is known as the Mango city in Tamilnadu. It also has a Steel plant run by the SAIL and the brand Salem Stainless Steel is very widely known. Salem is also occasionally known as Steel City. It's also famous for Sago, Bauxite, Lorry Body building and Hand loom weaving. It has Magnesite deposits, second largest in India. The companies like Dalmia and TANMAG have mines here. Salem also boasts of a large Sago industry. 90% of sago supplies to the country are through Salem.

2. Salem Textile Background

1960s: Status of Textile Industry in the district

Very few Spinning Mills (Two)
Handloom weaving in private and Cooperative sectors Large scale
Few conventional hand dyeing units
Few exporters

This condition of Textile Industry changed drastically to some extent in the year of 1980.

1960 1980s Status:

Many major spinning mills and waste spinning units came up
Many Handloom societies were established
Increased number of dye houses in and around Salem
New and Increased number of Power Loom units in places like Gugai, Ammapet, Attayampatti, Vennandur, Magudanchavadi, Rasipuram, Komarapalayam and Pallipalayam, Jalakandapuram and Ellampillai.

The Textile Industry of Salem now has developed to the maximum though not in garment production but in fabric production.

2003 2005: The Present Status

The present Salem district (even after bifurcation into 3 districts) has
More than 125 Spinning Mills
Many modern Weaving units with imported looms
Several modern dyeing units
Garment units
Export houses

FEATURES

Salem is well known for Silk Sarees.
Important industry of District is WEAVING.
1. 1.75 Lakhs of Power looms
2. 4000 Auto looms
3. 3000 Shuttle less looms
Processing units are nearly 15.
In early 1950s there were 1.5 lakhs handlooms out of 4.5 lakhs handlooms in entire Tamilnadu and 20 lakhs in India.
At present only 50,000 handlooms are there.
5000-crores/year value fabrics produced.
15 20% exported to other countries like Ceylon, Bangladesh, Nepal, USA and Germany.

Variety Of fabric type produced in Salem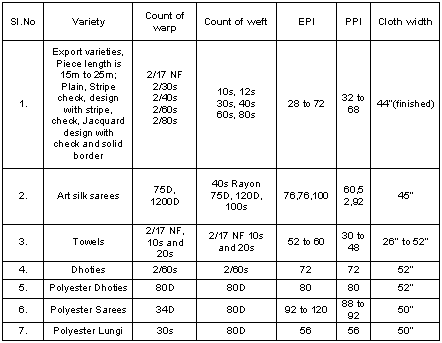 3. Results Obtained From the Survey (Comparison Analysis)

3.1 Machine Capacity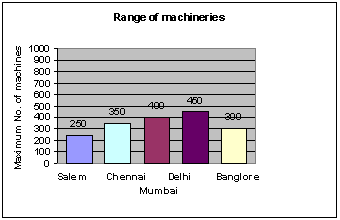 The machinery availability in Salem is nearly in the range of only 250, which is very much less compared to Chennai, Delhi, Bangalore and Mumbai.
This is a great drawback for Salem textile industry.

3.2 Manpower Availability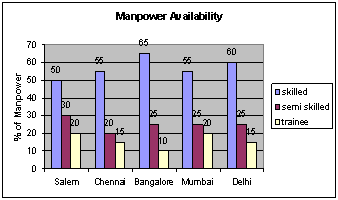 Manpower Availability of Skilled labours is only in the range of 50%, Semi skilled labour 30% and trainees are 20%.
This is also less compared to other cities. Skilled labours will increase productivity.
So we have to train up labours side by side which will have a drastic change in our productivity.

3.3 Lead Time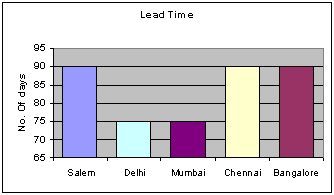 The lead-time provided by most of the buyer is maximum of 45 days to 90 days.
This lead-time is more or less same for Salem, Chennai and Bangalore.
So Salem is in track with other cities also.
Reduction in the lead-time like Mumbai and Delhi to 75 days can get us more number of export orders.

3.4 Productivity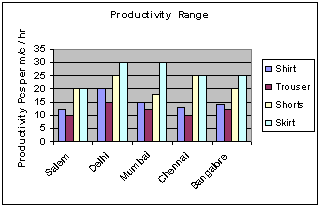 The productivity of various garments like shirts, trousers, shorts and skirt is more or less same for Salem, Chennai, and Bangalore.
In case of Delhi and Mumbai it is very high.
This can be improved by increasing number of machines and skilled labours.

3.5 CMT Charges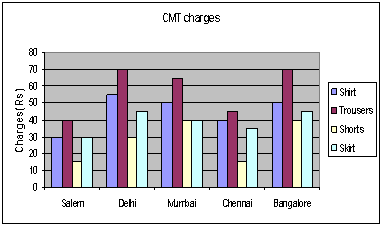 The CMT charges, which are known as cut, make and trim charges plays a vital role in garment industry.
This CMT charges can affect the production cost directly.
Salem, Chennai are nearly same in their CMT charges.
Whereas Delhi and Bangalore are very high.
So it is an advantage for Salem.
Many job orders are received by Salem from other cities just for the sake of their CMT charges.
This makes their production cost reduced.

4. SWOT ANALYSIS

4.1 STRENGTH

Export and Exporters of fabric and garment

Established market linkages by the small directly exporting segment who also have garment manufacturing units in Chennai and Bangalore
Easy assess to necessary inputs and related enterprises
Established product reputation of input (Yarn dyed fabric)
Ability to offer low volume customized products.

Weaving/ Weavers

Traditional skill based with ample man power resources
Good networking with yarn suppliers and also fabric users in the cluster.
Experience in successfully working with quality and delivery conscious exporters

Related Enterprises

Well-developed resource base in terms in numbers of enterprises.
Ability to offer low volume customized volume

4.2 WEAKNESS

Export and Exporters of fabric and garment

High cost of inputs (dyes and chemicals), power, blocked working capitals and hence high interest cost affecting cost competitiveness.
Inadequate (Direct) market linkages with buying houses, buyers agents etc.,
Inadequate information on fashion trends requiring the enterprises to remain dependent on exploitative middlemen.
Scope for skill up gradation of labour on garment manufacturing front.
High levels of fluctuation in input prices.

Weaving/ Weavers

Poor access to institution credits leading to low net realization.
Poor levels of Technology up gradation.
Poor linkages among weavers to jointly resolve their problems.
Inadequate up gradation in terms of efficient rapier looms
Poor management skills amongst the weavers.

Related Enterprises

Scope remains for improving dyeing practices.
High cost of dyes and chemicals and inefficient pricing profile
Inadequate levels of cooperation and trust amongst enterprises
Unhealthy price competition amongst the processors.

4.3 OPPORTUNITIES

Export and Exporters of fabric and garment

Scope for move toward garment infrastructure and value added production
Scope for effectively exploiting markets with phase out quota regime effectively
Networking with buying houses and import promotion agencies abroad.
Scope for capitalizing on Salem reputation

Weavers

Scope for Technology up gradation on equipment front
Availability of core material for necessary up gradation.
Scope to work together on various common business plan as to enhance cost and quality competitiveness

Related Enterprises

Scope to work together to some considerable cost reduction on the production front.
Source from optimal sources in India and abroad and develop performance with growth.
Scope to enhance water consumption efficiency, energy use and pollution issues by utilizing international expertise.
Scope to start up buying houses for which entrepreneur in other cities are looking for.

4.4 THREATS

Export and Exporters of fabric and garment

To enhance competition from other cities in India and also from other countries.
Introduction of non- tariff buyers by importing nations

Weavers

Threat of removing b to b based then evolving b to c oriented cluster hence leading to continued exploitation by middlemen in the absence of synergized initiatives of clusters.
Enhanced cost and quality competition from Pakistan, China and Bangladesh.
Inadequate direct information base on competitors as also international markets affecting performance.

5. Conclusion

Raw material, which is most important for garment production is available in a large amount here and hence the lead-time is comparatively reduced.
Moreover the cost of fabric is also very less compared to other places which in turn reduces the cost of production.
Labour cost of Salem is very less compared to other cities like Chennai, Bangalore, Mumbai and Delhi, which reduce the production cost.
Productivity is very less due to fragmented units and size of machine that is small comparatively.
Skilled manpower availability is less in Salem that reduces productivity.
Salem entrepreneurs can do joint venture. Moreover Entrepreneurs from other cities are now coming forward to start garment industries in Salem.
Apparel Parks, which are in progress, can look into the benefits of garment industries in Salem.
Salem Lacking behind the Value Added Products.

About the author:

V.Ramesh babu is Post Graduate holder in Textile Technology and has wide experience in the field of Textiles and Apparels such as Industrial Engineering, Merchandising, Quality and Teaching in India and Abroad. He have presented papers in International and National Conferences and published papers in National Journals. Right now he is working as Sn.Lecturer in the Department of Apparel and Fashion Technology, Sona College of Technology, Salem, Tamil Nadu, India.
salemramesh@yahoo.com
---
To read more articles on Textile, Fashion, Apparel, Technology, Retail and General please visit www.fibre2fashion.com/industry-article

To promote your company, product and services via promotional article, follow this link: http://www.fibre2fashion.com/services/featrued-article/featured_article.asp