Our ethical fleece is a sustainable fabric consisting of Lenzing Ecovero (viscose rayon) and recycled polyester. Derived from certified renewable wood sources using an eco-responsible production process, Lenzing Ecovero fibres are combined with recycled polyester to create a more eco-friendly fleece. The recycled polyester component is GRS (Global Recycled Standard) certified, and together, they offer the warmth and durability of fleece fabric with a reduction of the environmental burden.
How is Ethical Fleece Made?
The first component of our ethical fleece is Lenzing Ecovero, coming only from certified and controlled wood sources of either FSC (Forest Stewardship Council) or PEFC (Program for Endorsement of Forest Certification Schemes). Ecovero branded viscose fibres are certified with the internationally recognized EU Ecolabel. This label of environmental excellence is only awarded to products and services, which have a significantly lower environmental impact throughout their lifecycle: from raw material extraction.
The cellulose fibre is produced on-site at a state of the art facility via a new, innovative environmental process which has 50 per cent lower emissions and water impact than generic viscose. 60 per cent of the trees used to produce Ecovero fibres come from Austria and Bavaria to minimise emissions and the fibre's transport eco-footprint as its processed on-site in Austria. Fibres are then made into yarns on-site using a closed-loop system developed by Lenzing, who are the world's leaders in cellulose fibre production. Almost all the chemicals used are recovered and reused, and the pulp bleaching is 100 per cent chlorine-free.
The recycled polyester element is GRS certified, so the content of recycled materials in the final product is tracked and verified. This applies to the full supply chain with the goal of increasing the use of recycled materials in products and reducing/ eliminating the harm caused by its production.
Unlike virgin polyester, recycled polyester uses PET as the raw material. This is the same material that is used in plastic water bottles. The collected PET bottles are sterilised, dried, and crushed into small chips. They are then heated and passed through a spinneret to form strings of yarn which is wound up in stools. This fibre is then passed through a crimping machine to create a wooly fluffy texture. Lastly, it is baled, dyed, and knitted into polyester fabric, and often combined with another fibre, as it has been in this fleece material. The whole process requires much less energy than in the case of virgin polyester. In fact, it takes 33-53 per cent less energy.
Advantages of Ethical Fleece
Ethical fleece is breathable and comfortable to wear. The fibres do not get static, they maintain their soft texture, and they keep their colours very well. It has a luxurious and silky feel and is a great choice for active and leisurewear.
Ecovero fibres have been certified with the EU Ecolabel as meeting high environmental standards throughout their life cycle: from raw material extraction to production, distribution, and disposal. Recycled polyester keeps plastics from going to landfills and offers a second life to a material that is not biodegradable. It also reduces the extraction of crude oil and natural gas. Another huge bonus is that recycled polyester doesn't require agricultural land, or consume gallons of water like cotton, so it is generally a more sustainable option.
Disadvantages of Ethical Fleece
Ecovero is still a semi-synthetic fibre that does use chemicals, it is, however, important to note that Lenzing have invested heavily in their production to ensure they are dramatically more environmentally sustainable than regular viscose. Whilst recycled polyester keeps plastic from reaching the ocean, it still does, as man-made fabrics do, release microscopic plastic fibres the infamous microplastics into our aquatic systems. It doesn't matter if garments are from virgin or recycled polyester, they both contribute to microplastics pollution. Still, it is a huge step in the right direction.
Where is Ethical Fleece Made?
Ecovero is produced by Lenzing based near Attersee Lake in Austria, using sustainable wood from controlled forestry sources. Combined with recycled polyester, our source of ethical fleece comes from Yagi & Co's Forethica collection. Forethica is an ethical collection of environmentally friendly materials, consisting of recycled and sustainable fabrics, from this Japanese based source.
Ethical Fleece Fabrics from our Showroom
Ethical Fleece made from Recycled Polyester
<![if !vml]>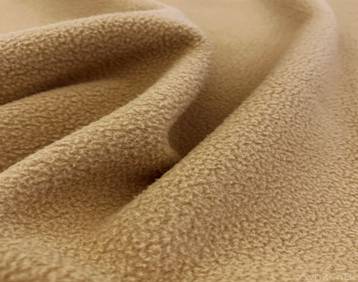 <![endif]>
<![if !supportLists]>• <![endif]>Content: Polyester (Recycled) 100 per cent
<![if !supportLists]>• <![endif]>Fabric Type: Knit
<![if !supportLists]>• <![endif]>Weave: Fleece
<![if !supportLists]>• <![endif]>Length: 49 yd
<![if !supportLists]>• <![endif]>Width: 59 inch
<![if !supportLists]>• <![endif]>Weight: 283 g/s'm
<![if !supportLists]>• <![endif]>Country: Japan
Ethical Fleece made from Lenzing Ecovero & Recycled Polyester
<![if !supportLists]>• <![endif]>Content: Ecovero 23 per cent, Polyester (Recycled) 77 per cent
<![if !supportLists]>• <![endif]>Fabric Type: Knit
<![if !supportLists]>• <![endif]>Weave: Fleece
<![if !supportLists]>• <![endif]>Length: 44 yd
<![if !supportLists]>• <![endif]>Width: 59 inch
<![if !supportLists]>• <![endif]>Weight: 283 g/s'm
<![if !supportLists]>• <![endif]>Country: Japan
This article has not been edited by Fibre2Fashion staff and is re-published with permission from synzenbe.com