As a fashion start-up, you may want to see your range stocked in major fashion chains. To pursue this goal, you will need two things: a professional approach, and something called a fashion line sheet. If you have never heard of this, this article will guide you through what this valuable document is and its importance in the wholesale fashion chain.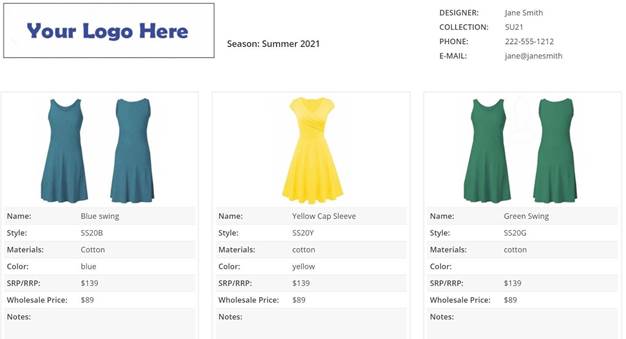 Put simply, a line sheet is a sales tool designed to visually communicate all of the product information necessary for a fashion buyer to make choices about your collection and to place orders for same. It needs to be simple, clear and concise, and answer any basic questions a buyer might have about your products. It is important to get it right before you begin approaching the buying team of a fashion chain, as you may only get one chance to wow them.
What a line sheet should contain:
1. A Cover Sheet
This cover sheet should contain a brief brand introduction. It should be simple and clear with one short paragraph detailing your brand and collection. Above this paragraph, place one visually strong image representing the brand or even a logo.
2. General Information
Create a template form (similar to the one below) in Excel or Google documents that includes all of the important information of the collection. Alternatively, platforms such as Brandboom offer a free line sheet creator tool. Your brand and contact details should be easily to recognise at the top of your line sheet. Here you should list your:
• Business name and logo
• Contact name
• Contact email and phone number
• Brand bio and/or tagline - a few sentences about your brand to personalise your line sheet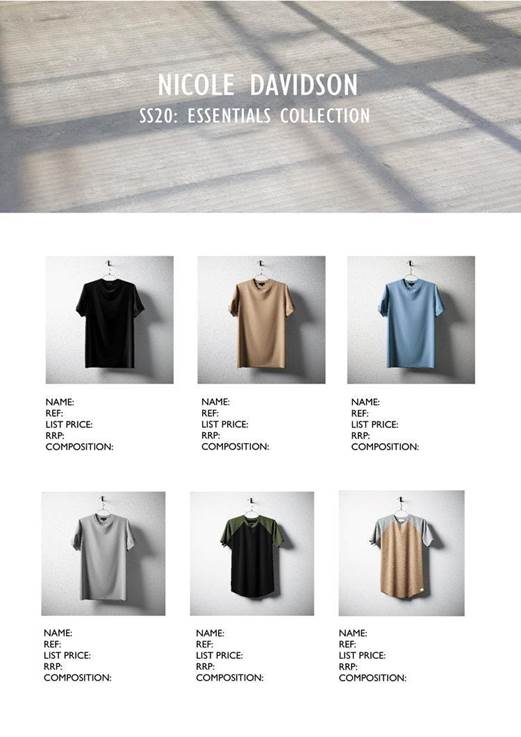 3. Product Information
Product photos
Photos as opposed to flat drawings are preferred, that bear an exact resemblance to the product you are selling. There should be no frill full colour shots using light backgrounds to help display products clearly. Show the front and back of the garment.
Product information
Under the product photos, there should be a small table of information that includes:
• Item ID: Use a maximum of 5 digits per style to keep things simple and easy to follow.
• Style name: Keep it short and to the point.
• Style description: Reference the key elements of the garment.
• Main fabric: Give the percentage of the main fabrics used.
• Colour Choices: It is best that you show these with small squares of colour, or even better to attach small swatches of the actual fabric or list the colour names.
• Sizes: Use something such as "XS-L" or "6-12" to show size range.
• Wholesale price: Listing your prices in multiple currencies is a good idea, unless you are sure that you only intend to sell locally.
• RRP (Recommended Retail Price): Make sure to finalise your costs before deciding on the RRP! Remember that you won't be able to change the prices after you have met the buyer and handed them the line sheet.
• Minimum Order Quantities (MOQ): This can be stated as an accrued currency amount, or the number of items per style, or a combination of both.
4. Order Form
Include a separate order form with your line sheet. It should include sections for the buyer's name, address, contact details and tax information. It is also useful to include a section for the date the order is placed, along with the season to which the order refers. Sections for the delivery date, method of delivery and payment terms should also be clearly defined. Your sales terms and conditions need to be set out in full. These pertain to orders, deliveries, shipping, payments, and conflicts.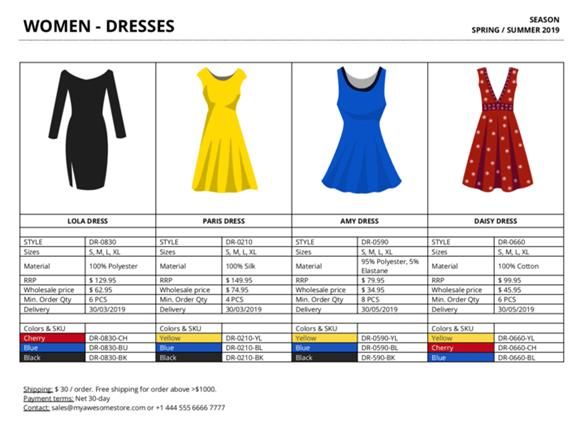 5. Wholesale information
Payment Terms
Specify the payment methods you accept and any conditions upon order such as deposits or payment upfront. It is common to ask for "pro-forma" which translates to part of the whole payment upfront, and many large chains appreciate that small brands need a cash injection to bring their collection to life.
Lead Times
State how quickly you will be able to deliver an order. Be realistic here and do your homework prior to making any decisions by communicating with your suppliers and manufacturers in advance.
Cut-off and Cancellation Dates
The cut-off date for accepting orders from your clients allows them some time to decide what they want and at the same time allow you an end date to commit to your production. Equally important is to have an order cancellation date. That means a date by which should anything unforeseen was to happen, the buyer can cancel the order without losing their prepayment.
Shipping Policy
Decide whether you will cover shipping costs for the client, or the client must cover shipping costs themselves. Note that usually, it is the buyer who is responsible for all of the shipping costs.
Return Policy
This section should state explicitly your policy on client's returning products after order. Plus, include the conditions for return such as time limits and reasons.
Expiry Date
Price and availability change frequently. It is wise to state an expiry date for the information on your line sheet to avoid miscommunication.
Conclusion
Line sheets are time consuming but relatively easy to create and form one of the essential tools for brands looking to upscale their business efforts. Creating a template and gathering all the visuals and information in advance of the line sheet creation, makes the whole exercise of the creation of the sheet more doable.
If you are keen to get your collections in a brick and mortar store, then having a strong line sheet (and a strong collection obviously!) will greatly aid your chances of success.
This article has not been edited by Fibre2Fashion staff and is re-published with permission from synzenbe.com