The textile and textile products (TPT) sectors in the four textile and garment manufacturing countries:of India, Bangladesh, Sri Lanka and Pakistan had their share of problems arising out of the pandemic-induced crisis. A look at the individual nations…
South Asia is home to four major textile and garment manufacturing countries: India, Bangladesh, Sri Lanka and Pakistan. The textile and textile products (TPT) sectors in these countries had their share of problems arising out of the pandemic-induced crisis. That included factory closures, restrictions on staffing, job losses, export decline and a scarcity of personal protective equipment (PPE) followed by an exponential increase in domestic PPE production and a temporary ban on its exports. But all four are now in the process of slithering out of the quandary. Let us take a look at the individual nations:
India: Onerous Efforts To Fight Pandemic Impact
Like the rest of the world, beginning March, the novel coronavirus pandemic left its imprint on each segment of business and industry in India for most part of the year. Rating agency ICRA expected Indian apparel exporters to witness a decline of 20-25 per cent in their turnover in fiscal 2020-21, while those focused on the domestic market to see a 30-40 per cent decline in revenue due to the pandemic.
Exports of cotton yarn, fabrics, made-ups and handloom products showed a positive growth of 14.82 per cent in September 2020 compared to the same month last year, according to government data. Exports of readymade garments (RMG) also rose 10.21 per cent during the month. In November, the wholesale price index (WPI) for textiles increased by 1.48 per cent and for apparel by 1.01 per cent.
According to India Ratings and Research (Ind-Ra), apparel retailers are closing this fiscal with a 40-45 per cent decline in revenues as these businesses saw a severe slump in demand. Within manufacturing, the textile sector's wage bill fell by 29 per cent by April—the maximum—which implied a very sharp fall in employment, said the Centre for Monitoring Indian Economy.
Dozens of apparel and textile companies ventured into producing personal protective equipment (PPE) to cater to the rising demand during the pandemic. Many faced order cancellations from the West and disruptions in raw material supply chain from China.
Higher in-home consumption due to increased stay-at-home period and a sharper focus on health and hygiene amid the pandemic are helping Indian home textile exporters weave their way out of the downturn faster than other textiles segments, according to rating agency CRISIL.
Revenue de-growth for home textile exporters will be limited to 10-12 per cent this fiscal compared with 30-35 per cent for the overall textile sector, indicates a CRISIL analysis of 50 companies that account for over 60 per cent of India's home textile exports. The ₹55,000-crore Indian home textile sector derives 60-70 per cent of its revenue from exports.
The prices of textile products in India gained traction in October, with an incremental and gradual demand recovery due to the festive season and unlocking, Ind-Ra said.
Policy
As the country kept waiting for a new textile policy, the year witnessed a slew of policy amendments and announcements, initially for the textile and textile products (TPT) sector and later, to handle the severe impact of the pandemic on the industry in general.
In January, a special one-time additional ad hoc incentive of up to 1 per cent of free-on-board value for exports of apparel and made-ups was announced to offset the difference between the new rebate on state and central taxes and levies (RoSTCL) and the previous rebate on state levies (RoSL) and the Merchandise Exports from India Scheme (MEIS). The government also later withdrew the 4 per cent benefit on exports of made-ups and garments under MEIS retrospectively from March 7, 2019, making exporters unhappy.
A marginal increase in duty drawback across the textile value chain came into effect from February 4. Beginning April, the country saw export restrictions on personal protective equipment (PPE) and raw materials needed to manufacture those. The temporary restrictions were later lifted. In August, curbs on exports of certain kinds of non-woven fabrics were done away with.
In April, the government extended the existing foreign trade policy for a year till March 2021 due to the pandemic and exempted PPE imports from basic customs duty and health cess. In May, a collateral free automatic loan scheme for micro, small and medium enterprises (MSMEs) was announced.
Within days of scrapping the handloom, powerloom and handicraft boards, the textiles ministry abolished the Cotton Advisory Board and the Jute Advisory Board with effect from August 10. The status of eight textiles research associations was changed from 'affiliated bodies' to 'approved bodies' and ministry officials representing in the governing bodies of these associations were withdrawn.
The cabinet in September approved a memorandum of understanding (MoU) between India's Textiles Committee and Japan's Nissenken Quality Evaluation Centre to improve quality and testing of Indian textiles and clothing meant for the Japanese market. The government also contemplated measures to discourage silk imports from China and improve the quality of cotton and wool production to reduce imports.
Anti-dumping duty (ADD) on imports of acrylic fibre originating in or exported from Thailand was significantly reduced. The withdrawal of ADD on purified terephthalic acid is expected to make man-made textiles and its products more affordable. In November, an anti-dumping investigation was terminated on imports of mono ethylene glycol, a major feedstock for polyester fibres, from the United Arab Emirates, Oman, Kuwait and Singapore after the petitioner, Reliance Industries Ltd, withdrew the application.
In the same month, the government extended till December 31 ADD on imports of fully drawn or fully oriented yarn, spin drawn yarn or flat yarn (FDY) of polyester from China and Thailand. The duty was first imposed in October 2015 after the Directorate General of Trade Remedies (DGTR) had discovered that the imports were affecting the domestic industry. FDY is used in making shoe upper fabrics, luggage/bag and curtain fabrics.
The cabinet approved in November a financial outlay of ₹10,683 crore for man-made fibres (MMF) and technical textiles segments under the Production-Linked Incentive (PLI) scheme meant for 10 key sectors. The government is working on major interventions to position the country as a global hub in these segments, including setting up five integrated mega textiles parks, a world-class testing lab and starting a Focused Product Scheme.
In November, guaranteed credit for supporting stressed sectors was announced under the Emergency Credit Line Guarantee Scheme (ECLGS) 2.0 for five years, including a year-long moratorium on principal repayment. The scheme will be available till March 31, 2021. The ₹3 lakh crore ECLGS 1.0 was announced earlier.
A study led by Niti Aayog on the Technology Upgradation Fund Scheme (TUFS) of the textiles ministry revealed that India imports ₹13,000 crore worth machinery and the country has reached nowhere in terms of technology upgradation except in the spinning segment. Hence, the government is willing to offer capital investment subsidy for setting up machine manufacturing plants to textile industry players interested in forging joint ventures, provided the foreign partner agrees to supply machines to domestic firms at a particular price.
For the jute sector, the Cabinet Committee on Economic Affairs made it mandatory that cent per cent of food grains and 20 per cent of sugar be packed in diversified jute bags.
The MSME and textile ministries are jointly devising a Solar Cluster Scheme for the handloom sector in which two solar charkhas (spinning wheels) each will be given to 10 lakh women, helping generate employment opportunities.
To boost the khadi industry, the finance ministry made it mandatory for all government departments to buy at least 20 per cent of their textile requirement from the Khadi and Village Industries Commission (KVIC), handloom clusters and registered weavers.
The textiles ministry empaneled the Tiruppur Exporters' Association (TEA) as an implementing partner under the Scheme for Capacity Building in Textile Sector (SAMARTH). TEA will impart training to fresh workers in the Tiruppur knitwear export sector. It has a target to train 16,508.
Cotton
The first ever brand and logo for Indian premium cotton, 'Kasturi cotton', was launched on the second World Cotton Day on October 7. The government claimed the brand represents whiteness, brightness, softness, purity and lusture. The Cotton Corporation of India (CCI) launched another brand Hira.
The textile ministry's committee on cotton production and consumption projected cotton production at 357 lakh bales (each of 170 kg) for 2019-20, with a rise of about 2 per cent in the yield at 453.82 kg per hectare as against 444.74 kg last year. In its official estimates for cotton crop and sowing, the newly-formed committee projected India's closing stock for 2019-20 at 105.44 lakh bales following a sharp dip in consumption by mills and small scale industries.
The committee in September reported a sharp jump in cotton yield in Maharashtra with over 11 per cent rise at 337.6 kg per hectare (ha), as against 304.29 kg per ha last year. While the yield has declined in North India by about 14 per cent on an average over the last year, the same increased in south India with an average 15 per cent jump over last year.
Releasing its first estimate of the cotton crop for the new season 2020-21 which began on October 1, the Cotton Association of India estimated the crop at 356 lakh bales of 170 kg each, equivalent to 378.25 lakh running bales of 160 kg each. The estimate for the ongoing season is less by 4 lakh bales than previous year's crop of 360 lakh bales. The reduction was on account of damage reported in some pockets due to excess rains and pink bollworm infestation.
While cotton prices continued to gain by 2-4 per cent month on month in October on account of the resumption in demand from the casual wear, knitted and home textile segments, they were lower by about 5 per cent year on year (YoY), Ind-Ra said.
Silk
Amazon India signed an agreement with the Silk Mark Organisation of India to launch an exclusive Silk Mark store with Silk Mark-labelled products. The launch showcases over 3,000 products initially. KVIC opened a silk training-cum-production centre in Chullyu village in Arunachal Pradesh.
<![if !vml]>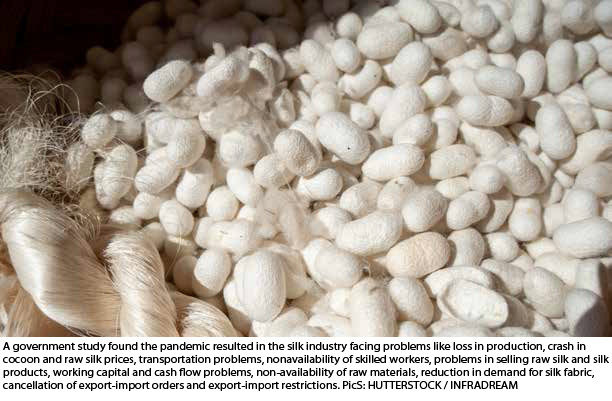 <![endif]>Meanwhile, a government study found the pandemic resulted in the silk industry facing problems like loss in production, crash in cocoon and raw silk prices, transportation problems, non-availability of skilled workers, problems in selling raw silk and silk products, working capital and cash flow problems, non-availability of raw materials, reduction in demand for silk fabric, cancellation of export-import orders and export-import restrictions.
Announcements & launches.
Uttar Pradesh (UP) led the announcement bogie with chief minister Yogi Adityanath declaring a textile park in Bareilly and a textile hub Gorakhpur. The state also earmarked more than 77 acres for the proposed Noida Apparel Export Cluster, aiming to get private investment worth ₹900 crore. The cluster, consisting of nearly 55 manufacturing and export units, is expected to generate employment for more than 100,000.
Two textile parks—one in Shiggaon in Haveri district and another in Karkala in Udupi district—will be set up in Karnataka.
While the Khadi and Village Industries Commission (KVIC) launched the first-ever khadi footwear made of silk, cotton and wool, bed linen manufacturer Indo Count Industries Ltd forayed into the ₹12,000-cr value-driven Indian bed linen market by launching its new brand 'Layers', offering anti-microbial and anti-fungal properties.
A mobile app and website for the Handloom Mark Scheme was launched on the National Handloom Day in August. The Women's Indian Chamber of Commerce and Industry launched its National Handloom Council on the day to preserve and patent regional indigenous motifs and weaves.
Corporate initiatives
Asahi Songwon Colors announced in December that Asahi Tennants Color, its joint venture with UK-based Tennants Textile Colours, has commenced commercial operations at its plant in Dahej in Bharuch, Gujarat. The AZO pigment plant, with an installed capacity of 2,400 metric tonnes per annum, will make red and yellow pigments.
While KPR Mill Ltd is establishing a garment factory near Coimbatore with a production capacity of 42 million garment pieces per year, the Welspun Group pledged investments worth ₹2,000 crore in Gujarat's textile sector. The Yamuna Expressway Industrial Development Authority in January approved land allotment for 64 industries for an apparel park at Yamuna City in Uttar Pradesh's Greater Noida. The hub, planned across 300 acres, will host 150 textile units.
Reliance Retail's Indie by Ajio and Swadesh—programmes started to provide avenues for sales and employment to local craftsmen—now engage more than 30,000 craftsmen, representing over 600 art forms across a wide spectrum of clothing, textiles, handicrafts and handmade natural goods.
HRX, India's first homegrown fitness brand, launched online retail operations in the United Arab Emirates, by partnering with two of the region's leading fashion and lifestyle e-commerce platforms, Noon.com and Namshi.com.
India in May initiated anti-dumping investigation concerning imports of polyester spun yarn from China, Indonesia, Nepal and Vietnam following a joint application filed by eight domestic yarn manufacturers.
Japanese retailer Uniqlo launched its 'Shop From Home' service in India through a special website online.uniqlo.in. S.P. Retail Brands, promoted by Chenduran Sundar, one of the directors of Indian kidswear manufacturer SP Apparels, recently acquired UK-based premium kidswear brand Angel & Rocket.
The Indian Oil Corporation board approved setting up of an integrated para-xylene and purified terephthalic acid (PTA) complex project at Paradip, Odisha, at an estimated investment of ₹13,805 crore. The complex, to be completed by early 2024, will be integrated with its Paradip Refinery and have a PX production capacity of 800,000 tonnes per annum, which would be the feedstock for production of PTA, whose production capacity would be 1,200,000 tonnes per annum.
E-commerce firm Flipkart created a special collection of products as part of its flagship initiative, Flipkart Samarth, to bring the rich and diverse art forms of India onto its e-commerce platform. The programme has grown through multiple MoUs with government bodies in several states.
Among community initiatives, erstwhile royal families and historic properties came together in November to work with local designers from three places—Mayurbhanj in Odisha, Jaisalmer in Rajasthan and Gwalior in Madhya Pradesh—to launch a  garment installation for virtual viewing for three months. In the campaign 'Karkhana Chronicles: The Royal Edition', each royal house has set up a textile installation inspired by local arts. The aim is to start a conversation on circularity, history and social equity, while striving to ensure recognition and upliftment of local Indian artisans.
Statistics
TPT exports fell by 5.84 per cent to $33.8 billion in fiscal 2019-20 compared to $35.9 billion in the previous fiscal
Bangladesh: Hopes Plummet As 2nd Wave Hits Us, Europe
As a country where the TPT sector is one of the lifelines of the economy, Bangladesh was immensely hit by lockdowns, halted shipments and order cancellations by US- and Europe-based retailers. Most RMG factories were closed from March 26 to April 25 during the lockdown. A gradual reopening began April 26 onwards.
Livelihoods of 82 per cent of RMG workers were affected by the pandemic, with more than half of the affected been forced to spend savings and borrow money to cover their expenses, a survey by the Dhaka-based South Asian Network on Economic Modeling and the Microfinance Organisation found.
Another study by the Bangladesh Institute of Labour Studies found that more than 324,000 RMG workers lost their jobs during the pandemic and over 1,900 RMG factories were shut down or its workers were laid off. Four-fifths of them had no savings, while 27 per cent had reduced their food expenses as monthly wages turned irregular.
The pandemic worsened the condition of women RMG workers due to underlying challenges, including discrimination and harassment, underrepresentation of women's voice, wage gaps and unevenly shared unpaid care and family obligations, according to the International Labour Organisation.
RMG exporters heaved a sigh of relief in April when Spain's Inditex, British retailer Marks and Spencer, France's Kiabi and US firms PVH and Target assured the Bangladesh Garment Manufacturers and Exporters Association (BGMEA) that they would accept the ready goods along with the goods in production.
The profits of several listed apparel firms in Bangladesh dipped between July and September. Of the 56 TPT companies listed on the Dhaka Stock Exchange, profits of 15 were lower than that recorded in the same period a year ago. Nine returned to red after making profits in the same period last year and five extended their struggle to return to profits.
The sector witnessed export growth in August and September after several months, but returned to the negative zone in October. As it began showing signs of revival with expectations of a surge in foreign orders before Christmas, a second COVID-19 wave hit the United States and Europe, putting cold water on the hopes.
However, foreign minister AK Abdul Momen said in October that the government had managed to restore 40 per cent of RMG orders that had been cancelled by foreign buyers amid the pandemic. Even before the pandemic hit, 63 RMG factories under the ambit of BGMEA closed in 2019, leaving over 32,582 workers jobless.
Iqbal Hussain was appointed the first managing director of the Bangladesh RMG Sustainability Council, which on June 1 officially took over the work of the Bangladesh Accord on Fire and Building Safety, comprising more than 200 brands, mostly European. The textiles ministry in August recognised the Bangladesh Garment Buying House Association (BGBHA) as the authority to issue certificates to registered garment buying houses, leaving BGMEA, which has been at loggerheads with BGBHA, dissatisfied.
In June, the country decided to close all 22 state-run jute mills and lay off 24,886 workers due to heavy losses incurred by the Bangladesh Jute Mills Corporation (BJMC). The mills will be modernised and reopened later.
The Bangladesh Silk Development Board in February planned a mega project worth Taka 1,000 crore to revitalise the traditional silk sector. It also planned to add more looms of the partially functional Rajshahi Silk Factory, which has been dysfunctional since 2002.
Government initiatives
The government arranged for a series of assistance measures and incentives to absorb the deleterious impact of the pandemic. Prime Minister Sheikh Hasina in April unveiled a set of stimulus packages by allocating Tk 67,750 crore, taking the total financial assistance to address the impact of the novel coronavirus on Bangladesh's economy to Tk 72,750 crore—nearly 2.52 per cent of the gross domestic product. Earlier, she had declared a Tk 5,000 crore emergency incentive package. In July, the labour and employment ministry announced donating Tk 83.71 crore from its central fund for the welfare of garment industry workers.
The Bangladesh Bank approved low-cost funds up to Tk 30 crore for RMG factories for investment in improving their workers' safety to overcome the pandemic-induced crisis. RMG owners received the fund, sponsored by Agence Française de Développement for safety retrofits and environmental upgradation, under a government programme for the sector. The bank also extended the tenure of its policy support for TPT businesses for export-import—scheduled to end on September 30—till March 31 next year.
Bangladesh's Export Promotion Bureau in November reduced the service charge for the Registered Exporters System (REX) of the European Union (EU) as RMG exporters termed the fee illogical. The system was introduced in July 2019.
A five-year project on production and extension of higher technology-based jute and jute seed was taken up by the directorate of jute to increase the quality of jute and attain self-sufficiency in jute seed production. The project is being implemented in 46 districts.
In August, Dhaka sought a post-pandemic extension of the United Kingdom's generalised system of preferences (GSP) benefit for its products until 2030 to boost bilateral trade. The reason cited was the need for early recovery from the losses suffered due to unprecedented cancellations and non-payment by UK and global retailers.
Towards the end of the year, the government initiated formal negotiations with the Association of South East Asian Nations (ASEAN) for a free trade agreement to enjoy greater market access in the bloc after graduating from the least developed country (LDC) group.
But a December report by Transparency International Bangladesh said around 42 per cent, or 1.4 million apparel workers in the country, were deprived of government's pandemic-related incentives for salary between April and July.
External assistance
Each worker terminated in export-oriented RMG, leather and footwear sectors in Bangladesh following the pandemic would receive a monthly allowance of Tk 3,000 from the government for three months, it was announced in October. The funds came from €334 million that the European Union and the German government earmarked for Bangladesh to fight the pandemic's impact.
The International Finance Corporation, a member of the World Bank Group, provided a loan of up to $30 million to The City Bank Limited to provide financing to keep SMEs and private firms affected by the pandemic going and preserve jobs.
In July, the H&M Foundation initiated a long-term project to support women RMG workers in the country, starting with their urgent needs related to the pandemic. In November, the country received $256.5 million from the UN Green Climate Fund to promote private sector investment through large-scale adoption of energy-efficient technologies in the textile and garment sectors.
Exports & imports
RMG exports were the worst hit due to the pandemic. A safeguard investigation related to import of apparel products initiated by Indonesia may negatively affect Bangladesh's RMG exports there. The move came at a time when both the countries are negotiating to sign a preferential trade agreement.
Despite China offering duty-free market access to 97 per cent of Bangladeshi products, the step is reportedly not of much help to RMG exports to China as more than a third of Bangladesh's total RMG exports to that country is still out of duty-free benefit coverage, BGMEA lamented. It also expressed concern over the revised rules of origin for 40 per cent value addition set by China to avail duty-free access to its market.
RMG manufacturers urged customs authorities in November to raise the amount of wastage permitted during production from items imported free of duty under bonded warehouse benefit. The demand followed a decision by manufacturers to shift production from basic garments to high-end value-added items. A portion of fabrics is wasted during manufacturing. The process of making fancy or high-value added garment items generates more waste compared to the production of basic apparel products. Manufacturers at present are allowed to waste 7-9 per cent of the required materials while making export-oriented garment items.
Dhaka in November sought export duty waivers from the United Nations on its products for 10 to 12 years past its graduation from an LDC to a developing one in 2024. It has been lobbying with international forums for the waiver. The reason is severe damage from the pandemic to the country's economy, exports, supply chains and employment.
Private sector
Among other developments, niche denim manufacturer Denim Expert Limited was recognised as a 'New Champion' by the World Economic Forum for its sustainability practices. It is the only apparel and textile entity in the world that received the prestigious recognition this year.
Regent Textile Mills acquired 99 per cent shares of Legacy Fashion, a cent per cent export-oriented RMG firm. Z&Z Lingerie announced it will set up an intimate garments factory in Chittagong Export Processing Zone with an investment of $25 million.
Three top RMG companies—the Tusuka Group, the DBL Group and the Mohammadi Group—presented energy efficiency action plans to their top managements in November under the regional digital small energy efficiency group programme, initiated in September in the country. The programme comes under the framework of the German development agency GIZ's internal sector network called TUEWAS.
BGMEA in December signed an MoU with aamra Resources Limited to set up a Centre of Innovation, Efficiency and Occupational Safety and Health for its member factories to increase competitiveness in the industry.
A typical trend observed this year was that the presence of female workers in the garment industry dwindled to 58.3 per cent from previous unsubstantiated claims of 70-80 per cent, according to a survey by Mapped in Bangladesh, a four-year research initiative started in 2018 by the Centre for Entrepreneurship Development of Brac University to digitally map the export-oriented RMG industry across the country. Laudes Foundation and the Netherlands fund it, while BGMEA and the Bangladesh Knitwear Manufacturers and Exporters Association are strategic partners.
A positive streak of news finally arrived for unemployed RMG workers in December when foreign minister Momen announced that Jordan's RMG sector will recruit over 12,000 skilled workers from Bangladesh within a year.
Statistics
<![if !supportLists]>• <![endif]>More than 3,200 export-oriented apparel factories
<![if !supportLists]>• <![endif]>RMG exports decreased by 18.12 per cent in fiscal 2019-20 that ended on June 30 to $27.949 billion compared to the figure of $34.133 billion in the previous fiscal
<![if !supportLists]>• <![endif]>Apparel sector target for fiscal 2020-21 is $33.78 billion with a 20.88 per cent growth, of which $16.70 billion to come from knitwear products and $17.09 billion from woven goods
<![if !supportLists]>• <![endif]>RMG export to China declined by 34.35 per cent to $72.21 million in Q1 of fiscal 2020-21; it was $109.99 million during July-September period of the last fiscal
Pakistan Exempts Garment-Textile Units During Lockdown
The European Union (EU) granting Pakistan in March another generalised scheme of preferences plus (GSP) status till 2022 and the second phase of the China-Pakistan Free Trade Agreement (CPFTA) becoming fully operational from January 1 were probably the biggest news for the TPT sector there in 2020.
The EU development implies Pakistan can export goods to Europe without application of regular duties. Pakistan first received the GSP status in 2014. The CPFTA waived or eased 75 per cent of tariffs imposed by each side over 15 years. Beijing immediately dropped tariffs on more than 300 Pakistani exports, including textiles and garments.
The country's power loom industry partially restored operations in May due to the unavailability of workforce as almost half of the workers had shifted to their native places due to the lockdown. The Faisalabad yarn market also reopened, but the power loom owners, cloth merchants and brokers witnessed a shortage of certain products.
The TPT sector in Pakistan has witnessed ups and downs in the past several years due to high manufacturing expenses, frequent power shortages, faulty strategies and lack of supportive policies from the government. This year too, its various textile trade associations were on a perennial complaining mode against government policies and services.
By March, an extreme cash flow crunch had squeezed financial streams of the country's TPT sector. The pandemic unsettled it further as buyers abroad started cancelling and deferring orders. The Pakistan Textile Exporters Association (PTEA) cited massive de-industrialisation, a significant fall in exports and an unmanageable level of unemployment as a result.
Exports & imports
The Pakistan Readymade Garments Manufacturers and Exporters Association (PRGMEA) said the country has garnered business worth over $200 million since the 35th International Apparel Federation Fashion Convention was held in November last year in Lahore.
Prime Minister Imran Khan tweeted in November about the Faisalabad textile industry was witnessing a massive rise in demand and export orders and the resultant shortage of 0.2 million labourers to meet the demand. Textile hub Faisalabad is now witnessing a financial boom as 50,000 power looms have started operations there and another 30,000 such units are expected to start functioning soon following the government's recent announcement of supplying electricity to the industrial sector at reduced rates.
Policy
In March, Pakistan's commerce ministry released Rs 9.37 billion to textile exporters under various schemes. A total of Rs 27 billion was paid to the textile sector in three months.
But the country's approach towards the TPT industry during the pandemic-induced lockdown was different from its neighbours. Factories started production in April following a government announcement exempting the sector from the government-imposed lockdown.
The government offered up to Rs 100 billion in packages to the industrial sector to support companies during the crisis. Keeping with the worldwide trend, hundreds of units manufacturing garments, sports goods and textiles shifted to manufacturing PPE.
The government has reportedly finalised the Textile Policy 2020-25 with cash subsidies and lower rates on utilities to boost TPT production. It, however, awaits cabinet approval. The last textile policy was announced in 2014.
In June, the government released Rs 6.2 billion for the textile sector as cash subsidy under the PM's Export Enhancement Package. The government had extended cash subsidy at the rate of 4 per cent for garments exports, 3 per cent on home textiles and 2 per cent on processed fabric.
In January, China and Pakistan agreed to forge a textile cooperation framework under the China-Pakistan Economic Cooperation by focusing on RMG, man-made fibres and textile skill training.
Pakistan's Federal Board of Revenue (FBR) in October decided not to charge additional customs duty and regulatory duty on the import of many textile items. It also abolished regulatory duty on import of woven fabrics of artificial filament yarn and artificial staple fibre.
The September decision by Pakistan's cabinet to allow production of hemp by the government for medical and industrial use could generate $1 billion in revenue for Pakistan in three years, minister for science and technology Fawad Chaudhry said.
The Quaid-e-Azam Apparel Park was inaugurated in March near Motorway in Sheikhupura.
Cotton
Over 4.027 million bales of cotton arrived in 2020-21 season at various ginneries in Pakistan as on November 15, down by 41.27 per cent compared to 6.857 million bales during the corresponding period of last season.
According to the Pakistan Cotton Ginners' Association (PCGA), in the major cotton producing province of Punjab, total cotton arrivals increased by 41.72 per cent year-on-year to 2.151 million bales, while in Sindh, cotton arrivals decreased by 40.74 per cent to 1.875 million bales as on November 15 during the 2020-21 season.
While in the previous cotton season, Pakistan had produced around 8.571 million bales, production is estimated to remain around 5 million bales this season due to water shortage and attacks by cotton leaf curl virus and other pests. It would be the smallest harvest since 1984-85.
Pakistan in January waived all duties and taxes on import of cotton and allowed its import via the Torkham land border from Afghanistan and Central Asia to meet the demand of the value-added textile sector. The government had in 2014-15 imposed one per cent customs duty and 5 per cent sales tax on cotton import. Over the next few years, its import was subject to 3 per cent regulatory duty, 2 per cent additional customs duty and 5 per cent sales tax. The duties were withdrawn in January-February 2017 and re-imposed in July-August.
In March, the country provided Rs 400 million in subsidy to farmers to import PB rope to raise per-acre cotton output across the crop sowing areas by minimising pest attacks, particularly from pink bollworm. PB rope is a thin tube of about 6 inches of fibre in which an aromatic substance is kept in a fine tube in the form of chemicals. These ropes are planted in a block of at least 25 acres, 150-100 ropes per acre. In the block of PB ropes, the aroma of the substance spreads and the male cannot find the female. The number of pink bollworms thus does not increase and the crop is protected from the attack of pink bollworm for at least 90 days.
PGCA rejected the 1.5 per cent turnover tax on cotton by-products in December, saying the step will immediately increase input costs for cotton farmers and force ginners to shut down businesses.
Grievances
The stream of grievances by trade bodies was quite long in Pakistan. In June, The Pakistan Yarn Merchants Association (PYMA) expressed its frustration at the government for not offering relief on imported raw materials to the textile industry and small and medium enterprises (SMEs) in the 2020-21 budget. It also termed the imposition of a regulatory duty of 2.5 per cent on raw materials 'disastrous'.
Around 70 per cent of the need for polyester filament yarn (PFY), an important raw material for weaving, knitting and home textiles, is met by imports. PFY was subjected to a higher customs duty of 11 per cent and additional customs duty of 2 per cent and PYMA has been opposing this for three years.
In November, the All Pakistan Textile Mills Association (APTMA) and the Pakistan Hosiery Manufacturers and Exporters Association (PHMA) reportedly crossed swords over the duty-free import of cotton yarn, with the latter demanding abolition of customs and regulatory duties on such imports, saying the raw material was unavailable for domestic apparel and home textile sectors. PHMA accused spinning millers of forming a cartel and blackmailing them hosiery manufacturers by selling cotton yarn at higher rates.
In the same month, PRGMEA called for revising the awaited notification of the government's energy relief package and remove the restriction on additional utilisation of electricity to make the package more comprehensive and attractive for SMEs, which comprise over 90 per cent of the industry.
In October, Pakistan's value-added textile exporters demanded duty-free import of yarn as rapidly rising prices of local fibres were severely affecting their competitiveness. Cotton yarn 30/1 prices increased by 17 per cent between July to September.
In July, APTMA Punjab unit complained of frequent power outages, inadequate supply of gas and extremely low gas pressure in the province. In addition, member mills were facing interruptions in the supply of critical furnace oil. In August, textile importers requested withdrawal of the 2 per cent regulatory duty on polyester spun yarn, arguing it can substantially hurt the industry and exports.
The Federation of Pakistan Chambers of Commerce & Industry urged the government to waive the 37 per cent tax on partially-oriented yarn (POY 5402.4600), the basic raw material for the textile industry and SMEs, so that investors can be encouraged to set up draw textured yarn (DTY) manufacturing plants. It expressed concern over the equal tax rate on imported POY and DTY.
But there are media reports of the textile industry in many pockets scaling up production to pre-pandemic levels, which is assuring in these times of business gloom.
Statistics
<![if !supportLists]>• <![endif]>Share of textile in annual export earnings is 60 per cent
<![if !supportLists]>• <![endif]>TPT exports grew by 11.3 per cent YoY to $1.189 billion in September 2020 compared to $1.068 billion in the same month last year
<![if !supportLists]>• <![endif]>TPT exports posted a negative growth of over 6 per cent to $12.526 billion in fiscal 2019-20 compared to $13.3 billion in 2018-19
Sri Lanka: Raw Material Origin Issue In Eu Gsp A Concern
The year began in Sri Lanka with the announcement that the European Union's (EU) generalised scheme of preferences plus (GSP) tax concessions will continue till 2023. Sixty per cent of the country's garment exports are to the EU. But late this year, Colombo wanted to take up with the EU issues pertaining to the GSP country of origin criteria so that exporters can reap the maximum benefit.
<![if !vml]>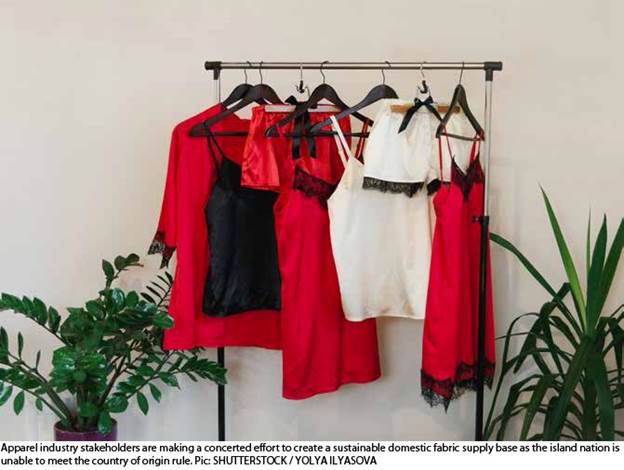 <![endif]>
Along with Indonesia, it submitted a joint request to the European Commission for cross-regional cumulation for raw material origin from Indonesia. A formal submission to the Commission to source fabric from Vietnam, in the backdrop of the latter's recent free trade agreement (FTA) with the EU, is also expected. Though there has been a gradual increase in exports to the EU after regaining GSP in 2017, the utilisation of EU GSP by Sri Lanka was only 62 per cent in 2019.
Apparel industry stakeholders are making a concerted effort to create a sustainable domestic fabric supply base as the island nation is unable to meet the country of origin rule. The available domestic fabric is only knitted fabric. The fabric capacity available is fully absorbed by the industry and as a result, a part of the knitted and woven fabric requirement is imported, according to the Joint Apparel Association Forum (JAAF). A minimum of three fabric plants will be promoted by JAAF, which said China is looking for attractive sites for such investments.
Sri Lanka imported 255,437 metric tonnes (MT) of fabric both for export-oriented apparel manufacturers and domestic consumption in 2019 spending $2.2 billion.
In this context, the cabinet's decision to set up a fabric processing park in Eravur in Batticaloa district as a strategic development project under the ministry of industries has been welcomed by JAAF. The park will help reduce such fabric import. Five new companies have expressed interest to set up textile plants in the new zone. Construction in the new zone is scheduled to commence early next year and by early 2022, production from the new mills will commence.
In February, apparel exporters requested the government to review policies restricting their access to the domestic market to cultivate their own brands, which can be later carried into the international market. The Sri Lanka Apparel Exporters Association (SLAEA) feels the idea of the domestic market being only for rejects or excess should be done away with.
At present, Sri Lankan firms operating under the purview of the Board of Investment (BOI) are required to pay Rs 100 per garment or Rs 100 for six packs of garments to supply their products to the domestic market.
As in any other country, the pandemic left its impression on Sri Lanka's export-centered TPT industry. SLAEA estimated the apparel industry's job loss at up to 100,000 this year, or about 30 per cent of the workforce. The association foresees a big issue in the next few months as there is no loading for factories. The government relief package of LKR 50 billion ($250 million) was quite small compared to the requirements, the association feels.
By May, the country had bagged over $500 million worth of orders for the production of PPE. Standard Chartered Sri Lanka in July announced that apparel company Brandix is the second firm to complete a drawdown from its global $1-billion COVID-19 financing commitment. Its extension of $12 million funding will assist the production switch to PPE across Brandix's plants in Sri Lanka and India. The company received an export order of 200 million face masks from the United States. Its chief executive Ashroff Omar offered its garments factory in Ponnani in the Eastern Province to be used as a quarantine centre for COVID-19 victims as well.
The Sri Lanka Export Development Board in July implemented a digital export promotion programme to address the negative impact of the COVID-19 outbreak on exports as its scheduled export promotion programmes were on hold due to the pandemic.
Sri Lankan batik, handloom and apparel minister Dayasiri Jayasekara in September met textile and yarn importers and entrepreneurs to discuss raising domestic garment production in rural areas in the next five years. A programme will be launched to recruit 10,000 for producing handloom textiles, 200 villages will be set up and equipment provided for this purpose.
Sri Lanka also plans to restrict textile and readymade garment imports and raise import tax on textiles. The government is considering revising the Rs 100 per kilo tax now being imposed on imported cloth and may increase it to as much as Rs. 185 as part of efforts to boost the domestic textile industry in the next five years, Jayasekara said.
<![if !vml]>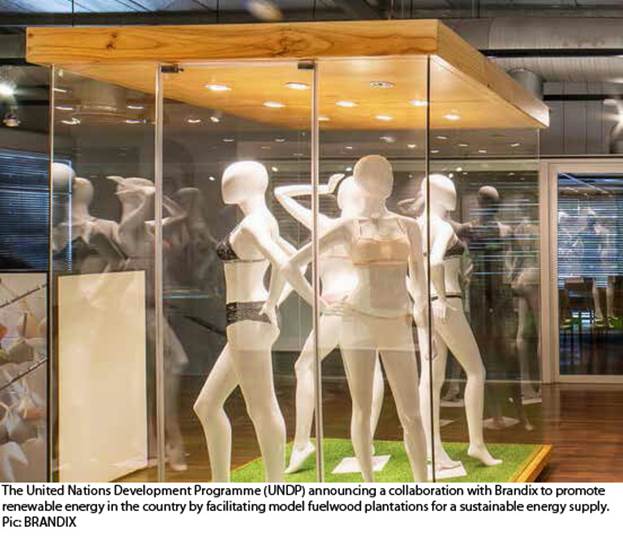 <![endif]>
In October, President Gotabaya Rajapaksa urged domestic companies to start producing high-quality textiles. He explored the possibility of sourcing a larger percentage of material for uniforms for schools and security forces to domestic firms. The import cost can be reduced by 68 per cent if domestic textile production is boosted, the president said.
Among industrial announcements, Knitline Apparels Ltd in January signed an agreement with BoI to set up a factory in Wattala to manufacture flat knit fashion apparel like pullovers, dresses, sweaters and beanies. In May, Hong Kong-based Kerry Logistics Network Ltd announced a new joint venture with Sri Lanka's IAS Holdings (Pvt) Ltd, called Kerry Logistics Lanka (Pvt) Ltd, to strengthen its international freight forwarding capabilities in South Asia.
Sustainability efforts included the United Nations Development Programme (UNDP) announcing a collaboration with Brandix to promote renewable energy in the country by facilitating model fuelwood plantations for a sustainable energy supply.  Weft knitted fabric manufacturer Ocean Lanka Pvt Ltd in December entered into a partnership with Cotton made in Africa (CmiA), one of the world's leading standards for sustainably produced cotton, to raise its sustainable cotton share.
The Star Garments group, owned by the US-based Komar, was certified CarbonNeutral in January for its entire portfolio of 14 factories. The company earned the certification from the Sustainable Future Group (SFG), a Sri Lanka-based sustainability verification and certification body. SFG is the regional partner of UK-based Natural Capital Partners.
SLAEA is, however, quite optimistic, hopeful of securing around $3.7 billion revenue for 2021. The exports in 2020 were boosted by around $750 million coming from PPE, but that segment is gradually drying up now.
Statistics (As box on website)
<![if !supportLists]>• <![endif]>Apparel export revenue of $5.6 billion in 2019; total annual import of fabric goes beyond $2 billion
<![if !supportLists]>• <![endif]>Earnings from TPT exports decreased by 21.5 per cent YoY to $3.286 billion during the first nine months of 2020. Exports of textiles dropped by 13.7 per cent to $181.6 million, while garment exports declined 25.1 per cent to $2.919 billion.
<![if !supportLists]>• <![endif]>Garment industry exports represent 43 per cent of the total exports, earning an annual income of more than $5 billion
<![if !supportLists]>• <![endif]>Over 300 garment factories employ over 300,000 workers, while a million earn indirectly
Apparel exports to the EU and the US during the first six months of 2020 fell by 32 per cent and 27 per cent to $753 million and $830.5 million respectively from $1.1 billion and $1.14 billion recorded during the same period a year earlier.