Denim is a staple of Alessandro Michele's collections, included as part of a wardrobe every season. For Epilogue, denim is reworked in jacquard with the House's distinct GG pattern. The cotton fabric is then washed to achieve an organic natural feel and look, and a vintage worn in effect. The denim is also treated so it is resistant to dirt and water. This fabric features in outerwear, jeans shoes, hats and other accessories. Many pieces are shaped with a retro look .
Product Details
As part of the Gucci Epilogue project, GG Denim is a jacquard fabric made from organic cotton. Thus, this material uses organic cotton where the cultivation and manufacturing processes restrict the use of chemicals, eliminate pesticides or artificial fertilisers and incorporate methods that respect biodiversity, improve soil quality and reduce water consumption.
The look is of a used and loved fabric, something that is achieved through the manufacturing and production processes. GG Denim is a 100% cotton fabric. Using denim threads, the GG logo is reproduced all-over by jacquard weaving: a thread in classic denim 'indigo' colour is used for the warp and a white one for the weft to highlight the logo. The indigo threads release a small amount of colour during the stone-washing process, resulting in a non-uniform, typical 'denim' look. Finally, in order to achieve a used and retro appearance, the fabric is lightly piece-dyed, giving an aged effect and body to the fabric; this also ensures that each piece is unique. The fabric is finished with a fixing treatment to improve the colour fastness.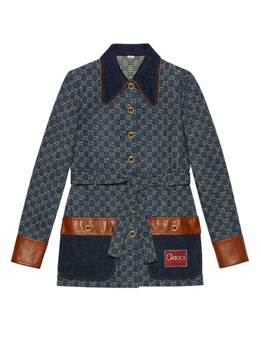 For menswear the styles recall the sartorial denim pieces that could be found in '80s boutiques - jackets, bombers and dressy denim trousers, all featuring the newly introduced GG Denim jacquard base and enriched by refined details such as leather inserts and buttons. Sartorial labels further enhance the exclusivity of these garments.
A retro-inspired fitted jacket features a prominent lapel and an elastic detail on the back, while a large and long workwear-inspired blouson comes with a refined contrasting-coloured satin internal lining. Both have leather inserts, buttons and piping along borders, which give the models a vintage appearance, and both also dis-play the same external sartorial label detail on a pocket. A regular denim top has been developed in order to convey the same retro mood.
The new GG Denim jacquard appears on flared denim pants characterised by a zip fly opening, a 32 cm bottom and leather details on the back pockets. As an alternative to these, the same fabric has also been used for regular jeans in a silhouette characterised by a 20 cm bottom. As a novelty, the newly introduced GG Denim fabric costructed as a base for a pair of dressy trousers too, with pleats and a 21 cm bottom with a 6.5 cm cuff detail. For men, the vintage vibe is enhanced by the introduction of a pair of Bermuda shorts in GG Denim jacquard fabric, embellished with the same leather details that characterise the longer trousers.
For womenswear, there is a blouson jacket and short-sleeve top in GG Denim, both with brown leather details, GG gold buttons and an external sartorial label on a pocket. A longer, unlined belted Sahariana Safari jacket has the same leather trim, gold buttons and label, while flared trousers in the fabric feature brown leather trim on the back pockets. Finally, a short flared skirt also has the brown leather trim as well as GG gold buttons on two front pockets, and a flared skirt with a double fold has front pockets in plain denim and details in tancoloured nappa leather on patch pockets.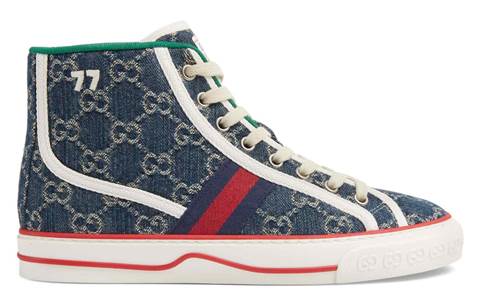 In footwear, GG Denim has been used to create a range of genderless sneakers: the Gucci Tennis 1977 in low-top and high-top lace-up models, both featuring the House blue-red-blue Web stripe and a white rubber sole with an engraved GG motif. The most recent addition to this Tennis range, the slip-on, also comes with the same sole, without the Web stripe. All these Tennis shoes display an insole tag with the name of the line and the size number. Then specifically for women, there are a number of different shoe styles in the GG Denim jacquard fabric: a slide with inter-locking gold metal G on each shoe, a platform slide, an espadrille and a wedge espadrille in an open- and closed-toe version. All have brown leather trim.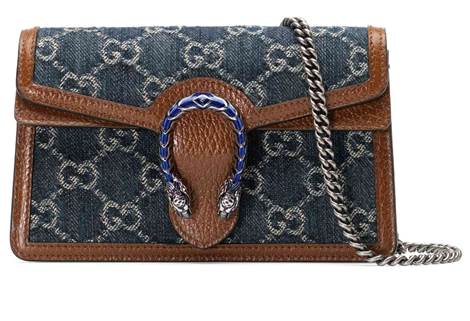 The GG Denim jacquard has been used for two sizes of handbags (small and mini) in the Dionysus and Jackie 1961 styles. The Dionysus bags feature a blue enamelled tiger-head buckle, while the Jackie 1961 has the famous piston closure but is without the House Web stripe that normally accompanies this. Both bag styles have the aged-looking GG pattern on its blue base, trimmed with grainy brown leather. Women's small leather goods echo this look, with GG Denim jacquard trimmed with natural tan coloured leather used for the sporty yet chic Dionysus, Supermini Dionysus and newest Jackie 1961 accessories lines.
Finally, there is a selection of soft accessories in the GG Denim jacquard three items, all characterised by the vintage-look GG pattern on its blue base: a unisex bucket hat with grainy brown leather trim, which combines a sporty attitude with a casual feeling; a more feminine hat with a deep brim, which creates a dramatic and refined effect; and a hairband, a playful and easy-to-wear everyday accessory.