The Southeast Asian region has five major textile-garment producing nations: Cambodia, Vietnam, Indonesia, Myanmar and the Philippines. The industry in all five faced pandemic-induced problems of supply chain disruptions, factory closures and export losses.
Fifteen countries across the Asia-Pacific signed the Regional Comprehensive Economic Partnership (RCEP) agreement on November 15, creating the world's largest trading bloc that is expected to help accelerate the member nations' growth following the COVID-19 pandemic. The deal excludes the United States and India, which pulled out of the agreement last year over concerns about cheap Chinese goods entering the country.
The RCEP comprises 10 Southeast Asian countries, as well as South Korea, China, Japan, Australia and New Zealand. Members of the RCEP make up nearly a third of the world's population and account for 29 per cent of global GDP. The new free trade bloc will be bigger than both the US-Mexico-Canada Agreement and the European Union.
The Southeast Asian region has five major textile-garment producing nations: Cambodia, Vietnam, Indonesia, Myanmar and the Philippines. The industry in all five faced similar pandemic-induced problems of supply chain disruptions, factory closures and export losses.
Meanwhile, the effectiveness of the EU's trade-based human rights policy in Southeast Asia is yet to be ascertained.
Cambodia: Economic Activity Picks Up As Restrictions Over
Before the pandemic hit Cambodia, which is over-reliant on the European Union (EU) for market access and on China for production capacity, the biggest development was the February 12 decision by the European Commission to partially suspend the 'Everything But Arms' (EBA) trade benefit for the country over human rights concerns. The withdrawal became effective on August 12.
Despite extensive lobbying and appeals by various trade bodies, including the Cambodian Footwear Association (CFA), the Garment Manufacturers Association of Cambodia (GMAC) and the European Chamber of Commerce in Cambodia (EuroCham), the EU did not change its decision announced after a year-long review.
When the programme was started nearly 20 years ago, its goals were development assistance, poverty reduction and dignity of employment. The EBA programme has been a clear success in Cambodia. The partial withdrawal will lead to nothing more than job losses and affect the workers livelihoods, especially women, GMAC said. EU tariffs will now be levied on about a fifth of Cambodia's exports to the bloc, or about $1.1 billion of shipments in dollar terms.
In February, Prime Minister Samdech Techo Hun Sen requested Chinese garment sector investors not to relocate their businesses from Cambodia after the EBA is partially withdrawn.
Hundreds of apparel units suspended operations due to pandemic-induced restrictions, affecting lakhs of workers. The government started reporting delays in delivery of yarn, buttons and shoe soles from China in February. Fifty five factories applied to suspend operations in early February due to a shortage of raw materials and textiles from China, affecting about 15,000 jobs.
By June, some 256 garment, footwear and travel goods factories had suspended operations, affecting more than 130,000 workers. The country's economy is expected to contract by as much as 5.5 per cent this year, according to the Asian Development Bank.
Most pandemic-related restrictions ended by September. A survey showed production volumes declined in the first half of 2020 by an average of 20-40 per cent per factory compared to 2019, and sectoral employment reduced by 30,000-40,000 jobs. The country's garment and travel goods sectors account for some 75 per cent of total merchandise exports and some 90 per cent of exports to the EU.
Policy
The government decided to raise the minimum wage for garment and footwear industry workers by $2 to $192 per month, effective from January 1, 2021, and allocated $1.16 billion to address the economic and social impact of the pandemic.
The ministry of economy and finance announced it is preparing a five-year (2020-2025) development strategy for the garment, footwear and travel bags sectors to promote their competiveness. To achieve this, the strategy will continue to strengthen human resources, increase productivity and create business lines for workers. It will continue to improve working conditions and the welfare of workers, promote direct domestic and international investment in value-added products, attract investment in industries that support the sector and promote export market diversification.
In March, Hun Sen said China arranged vessels to freight raw materials for garment and footwear production to the country until May. The ministry of industry and handicraft also initiated a 'green lane' to facilitate and speed up shipments, logistics and customs processing clearance so that the raw materials could reach Cambodia faster.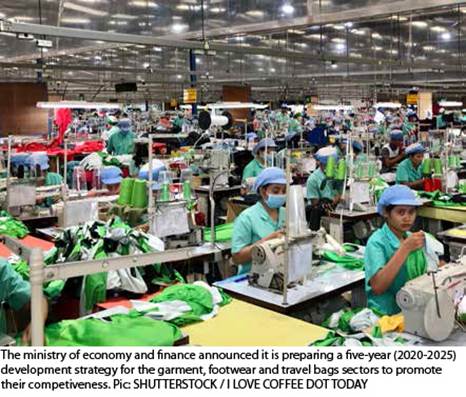 The government in April announced tax relief measures to mitigate the pandemic's impact on textile and garment enterprises, especially those affected by EBA suspension. In May, it allowed garment units to produce all kinds of face masks, medical equipment and protective clothing for domestic consumption and export.
In October, it announced another round of support measures to aid the garment, textile, footwear and travelling bag industries until the end of the year. This was the sixth such round of support measures for the private sector. The government decided to pay $40 per month for a worker who has been laid off; the garment factory owners were asked to add another $30 per month, so that each laid-off worker receives $70 a month.
The government also introduced a slew of institutional reform measures to facilitate trade and reduce costs for businesses. These include doing away with Camcontrol (the Cambodia Import-Export Inspection and Fraud Repression Directorate-General) checks at all border checkpoints, seaports, special economic zones and other export and import inspection zones within the country and launching online business registration.
The country's Logistics Business Association (LOBA) and the European Chamber of Commerce and Industry (EACHAM) in November signed an MoU to improve trade, investment and logistics between Cambodia and China. Initially headquartered in Belgium, EACHAM is a non-governmental organisation with ten offices around the world. The MoU covers garment and shoe accessories sectors.
China and Cambodia in October signed a bilateral free trade agreement (FTA) following three rounds of negotiations. The deal guarantees tariff-free access for Cambodian commodities to its largest export market. The FTA would eliminate tariffs on 98 per cent of Cambodia's total exports and 90 per cent of China's shipments. GMAC feels exports are set to increase by over 20 per cent as a result of the FTA and more investment will be seen in raw material supply for garment, footwear and travel goods.
Meanwhile, South Korea and Cambodia conducted multiple rounds of negotiations for an FTA. The first round was held in late July.
Industrial
Despite the pandemic, the government claimed 34 new garment, footwear and travel goods factories opened in the country in the first quarter of this year, employing 27,909. The Council for the Development of Cambodia (CDC) approved four garment and three travel goods projects in January, with investments totalling $33.4 million. In March, it approved three textile and garment projects with a total capital of $7 million, and in July, it gave permission to IGTM (Cambodia) Co Ltd to set up a new garment factory in Dangkor district at a cost of $2.1 million.
Forever Fug Garment will invest around $10.3 million in a new garment factory in the Korng Pisey district in Kampong Speu province. Logwood Apparel received a CDC nod in September to construct a garment factory in the Kandal province with an investment of $2.7 million.
China's Marvel Garment, which has been constructing a new production facility in Phnom Penh Special Economic Cone since March last year, commenced first-phase operations in early October. The project is designed as a cluster of apparel manufacturing facilities, with tailoring, sewing, printing, embroidery, packaging and warehousing units. It will recruit 5,000 workers for production of masks for export, specifically to Japan. Up to 16 production units are planned to be completed by 2021, which will then create 17,000 jobs.
On the workers front, Transparency International Cambodia signed partnership agreements in August to continue its support for the Coalition of Cambodian Apparel Workers Democratic Union (CCAWDU) and the Federation of Associations for Small and Medium Enterprises of Cambodia. The non-governmental organisation continues to work with CCAWDU to empower female union leaders.
The country's economy is projected to contract by 2 per cent in 2020, but is expected to bounce back and grow by 4 per cent in 2021, according to the World Bank's economic update for Cambodia released in December. Recovery in the garment and footwear exports is crucial to the country's post-pandemic economic revival and boosting industrial output.
Statistics
• The garment, footwear and travel goods industry earned gross revenue of $9.32 billion in 2019, up by 11 per cent compared to the year before
• The three sectors comprise around 1,100 factories employing 750,000
• Garment sector exports dropped by 5.4 per cent to around $3.78 billion in 2020 first half from more than $4 billion in the same period in 2019
Myanmar: Rcep May Not Benefit Exporters Much; Eba Withdrawal Threat Looms
Disruptions to the Myanmar garment sector first started in February, when raw material imports from China became sporadic as a result of COVID-19 closures and lockdowns. The situation worsened after coronavirus was declared a pandemic by the World Health Organisation (WHO). By March, several garment units had stopped operations in Myanmar as EU countries cancelled orders. Thousands of workers went on a strike in Yangon in March to halt layoffs amid production slowdown.
Around 90 per cent of all raw materials used to manufacture garments comes from China and disruptions to supply led to harsh consequences. In March, 13 garment factories, including three under construction, closed down operations. By April, 73 factories in Hlaingtharyar Township in Yangon had closed temporarily or permanently and laid off employees.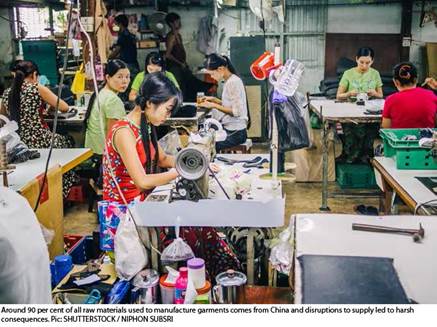 By May, government figures showed more than 60,000 factory workers had lost their jobs. During June, apparel imports from Myanmar were down by 41 per cent in the EU, 14 per cent in Japan and 10 per cent in the United States, the three main export destinations.
Government data showed garment exports declined to $2.7 billion between October 1, 2019 and May 31, 2020, representing a $24 million decline from the same period a year before due to order cancellations. Five hundred garment factories have been seriously affected since the pandemic started. Those that have reopened are only able to employ a third or half of their workforce due to COVID-19 restrictions.
Garment manufacturers struggled as EU orders for spring clothing declined by more than half, the Myanmar Garment Manufacturers Association (MGMA) said in September. August is when manufacturers normally start producing spring clothing for Europe but they barely received any orders.
Policy
Myanmar launched its second five-year National Export Strategy (NES) for the 2020-2025 period. Under that, six sectors, including textiles and garments, machinery and electrical equipment, and digital, have been added as priority sectors.
Myanmar will take measures to raise overseas demand for indigenous goods as cheaper imports from the region are expected to rise now that the country will participate further in the ASEAN Free Trade Area (AFTA). Under AFTA, Myanmar is expected to substantially lower the import duties for a list of goods to as little as zero and no more than 5 per cent. The country, however, has in place the Import Protection Law to ensure domestic manufacturers are not threatened.
In March, Myanmar announced a stimulus package to tackle the impact of the COVID-19 pandemic on the country's economy, including $70 million worth of loans, eased deadlines for tax payments and tax exemptions for affected businesses. The COVID-19 Fund was meant to help all sorts of businesses.
Like Pakistan, Myanmar also allowed Yangon's garment units to reopen even when the COVID situation in the city was not under complete control. State Counselor Daw Aung San Suu Kyi defended the decision, saying foreign investors might stay away if orders were not met for long. The factories were initially ordered to cease operations until October 21.
External assistance
Garment and footwear factory workers who had been laid off or furloughed, or who have had working days significantly curtailed by reduced order demands from abroad received some cash support using the mobile money platform Wave Money from SMART Textile & Garments, funded by the EU and co-funded by brands, retailers and factories.
'Smart Textile & Garments', until recently known as 'Smart Myanmar', was first developed in 2017 with support from the German Partnership for Sustainable Textiles and GIZ. Key topics addressed include conformance with zero discharge of hazardous chemicals recommendations and Globally Harmonized System chemical labelling requirements.
The EU declared it would provide €5 million as an emergency fund—named the Myan Ku Fund, meaning 'quick assistance' in Burmese—beginning in May to support female garment sector workers in the country affected by COVID-19. It aimed at providing direct cash transfers to more than 100,000. The Fund is managed by the United Nations Office for Project Services (UNOPS) and implemented by non-profit development organisation sequa gGmbH in cooperation with partners from employer organisations, trade unions and civil society.
Industrial
Companies from Myanmar, Hong Kong, China, Estonia and Taiwan would invest nearly $24 million in businesses in industrial zones in the Yangon region, including the Thilawa Special Economic Zone (SEZ), to manufacture garments and bags, the Yangon Region Investment Committee said in March. The decision was expected to create 8,920 jobs.
In October, the Shwe Lin Pan Industrial Zone requested the government to consider expanding the garment value chain in the country beyond CMP so that factories turn more profitable.
Future
Myanmar trade volumes in the first five weeks of fiscal 2020-21 declined by about $1.5 billion compared to the same period last year. The country's financial year is from October 1 to 30 September.
Despite the Myanmarese government claims of the RCEP being a 'landmark' one, the high level of Chinese sanitary and phytosanitary (SPS) measures and technical barriers to trade (TBT)—non-tariff barriers that the RCEP has failed to reduce—may not bring as many benefits to exporters in the country as has been claimed.
Though the government has been claiming that enquiries from foreign investors are flowing in despite a fall in garment exports, as 60 per cent of the country's apparel exports are to the EU, the risk of EU's GSP withdrawal over human rights issues may pose a setback to the industry in the near term. The EU has warned multiple times that Myanmar could lose its privileges under the EBA scheme due to its handling of ethnic Muslim Rohingyas. The 7th Myanmar-EU Human Rights Dialogue scheduled next year will indicate the future course.
But Fitch Solutions feels Myanmar's low-cost labour, proximity to China, its special market privileges granted by the EU GSP and low logistics and labour costs all work in its favour to position its apparel industry for strong growth in the coming years.
Statistics
More than 7,000 factories, 6,632 of which are in Yangon

Garment sector, which employs over 500,000, contributes over 20 per cent to exports; the EU and Japan are the top markets for apparel

Export value of garments was $4.6 billion in fiscal 2018-2019 and $4.8 billion in 2019-20.

Around 420 factories are MGMA members, including 236 Chinese-owned ones, 67 South Korean, 20 Japanese and 92 domestic ones
Vietnam: Hopes High With Evfta, Rcep; Rules Of Origin Requirements A Barrier
Vietnam surpassed Bangladesh to become the second rank holder in global garment and textile exports during the first half of 2020. Government data from both the countries showed Vietnam earned $13.18 billion from such exports in the first six months of the year, while Bangladesh earned only $11.92 billion.
Domestic firms were encouraged by the pandemic to connect among themselves to secure raw materials and establish joint production operations. It was especially important for smaller firms as they could learn from bigger players to adopt better technologies and access more advanced machines. Vietnam depends on China for 60-70 per cent of its textile feedstock and fabrics imported from South Korea account for only 15 per cent of its total requirement.
In March, many US and EU partners sent notices to Vietnamese garment and textile businesses informing they will temporarily stop receiving goods for a few weeks. Half of all textile exports from HCM City go to the United States, while the EU accounts for 15-18 per cent of annual exports.
Vietnam imports more than 7 billion metres of fabric material from China, Taiwan and South Korea for production and export. The textile and garment industry exports nearly $40 billion worth of products and requires around 10 billion metres of fabric each year. Domestic materials used by textile and garment businesses in Vietnam comprises only about 40-45 per cent of the total materials, according to the ministry of industry and trade (MOIT).
Up to 70 per cent of Vietnam's textile export revenue belongs to foreign direct investment (FDI) enterprises, according to The Vietnam Textile and Apparel Association (VITAS), which said the export turnover of the sector was $39 billion last year and is expected to reach around $32 billion this year despite being heavily affected by the pandemic.
The export turnover of Vietnam's textiles and apparel sector in the first seven months of this year is estimated at $16.18 billion—a fall of 12.1 per cent over the same period in 2019. Production of fibres and textile fibres decreased by 20.9 per cent over the same period in 2019. As of July, many businesses had almost no orders for the last two quarters, especially in high-value products.
Exports to the US and European markets will continue to face difficulties due to a shortage of orders, according to MOIT, which said the 15 per cent decrease in exports is, however, still lower than the 20-25 per cent plunge in global demand this year.
Several textile and garment products from Vietnam faced the risk of attracting safeguard duties from the Eurasian Economic Union (EAEU) in 2020 as the export volume to this economic bloc was at the verge of exceeding the threshold mentioned in the Vietnam-EAEU free Trade Agreement signed in 2017. The Eurasian Economic Commission (EEC) cautioned MOIT about this in an October note. The products include certain types of dresses and women's clothing. The export volume of these products to the EAEU from January to July this year reached 79.4 per cent of the threshold set for all of 2020.
In June, The Vietnam General Confederation of Labour (VGCL), the Vietnam Chamber of Commerce and Industry (VCCI), VITAS, the Vietnam Leather, Footwear and Handbag Association (LEFASO) and the National Federation of Christian Trade Unions in the Netherlands (CNV) signed a statement on joint initiative to address the impact of COVID-19 on workers and businesses in the country.
Early this year, the United States removed Vietnam, among other countries, from its list of developing nations. That allows the United States to penalise such countries after a countervailing duties (CVD) investigation. The move implies Vietnam will stop receiving some preferential treatment. The decision is expected to have a minimal effect on Vietnam, as Vietnam has applied subsidies of 2 per cent to goods in all its CVD investigations, according to Vietnam's trade remedies department.
The decision, however, could be problematic in the long run if the United States further investigates Vietnamese exports and the subsidies applied is less than 2 per cent, according to a 'Vietnam Briefing' document by pan-Asia multi-disciplinary professional services firm Dezan Shira & Associates.
RCEP & EVFTA
Vietnam's National Assembly recently ratified the European Union-Vietnam Free Trade Agreement (EVFTA), which took eight years to negotiate and will reduce or eliminate 99 per cent of tariffs on goods traded between the two nations. It also approved the EU-Vietnam Investment Protection Agreement (EVIPA). EVFTA took effect from August 1, whereas EVIPA will only enter into force after all EU members ratify the agreement.
Under EVFTA provisions, 77.3 per cent of Vietnam's textile exports to the EU will enjoy zero per cent tax within the first five years while the rest follow a seven-year road map. EFVTA will see Vietnam eliminate 99 per cent of its import duties over 10 years and the EU doing the same over seven.
Despite the novel coronavirus causing numerous difficulties for exporters, EVFTA has helped several textile and footwear companies sign major export contracts, VCCI president Vu Tien Loc emphasized.
Vietnamese companies are, however, struggling to fully benefit from EVFTA as the country's underdeveloped fabric production base does not produce enough or competitively-priced raw materials for its textile industry. Businesses are unable to meet rules of origin requirements to enjoy tax incentives. The domestic fabric industry manufactures around 2.3 billion metres of fabric a year, meeting only a quarter of the country's demand.
The Vietnam National Textile and Garment Group (Vinatex) said tax incentives under EVFTA are not attractive enough for businesses to switch from Chinese to Vietnamese fabrics as the former are 10-40 per cent cheaper and delivered faster due to the scale of production.
Vietnam's MOIT and its South Korean counterpart signed late this year many agreements, including an exchange letter on the implementation of the cumulation of origin of textile materials between the two countries in EVFTA. Both sides signed an action plan to complete the target of raising bilateral trade to $100 billion by 2023.
VITAS feels RCEP is likely to boost China's demand for garments made in Vietnam. Japan, another potential market, requires Vietnamese companies to prove their products are sourced from other ASEAN countries or from Japan to enjoy incentive tariffs, while most Vietnamese products are made from materials imported from China, according to the trade body.
Industrial
Textile production grew by 2.8 per cent YoY in the first half of the year compared to 11.5 per cent in the same period last year. Many export orders were cancelled or delayed in May and June. Up to half of the global orders were cancelled or postponed in May, and global prices fell by 20 per cent as a result of the plunging demand.
In 2020, the export turnover of the textile-garment industry is forecast to drop by $8.5 billion while that of the leather-footwear-handbag sector may fall by $5.5 billion. Due to COVID-19, shipments to the European Union alone by both industries are projected to decrease by nearly $5 billion in 2020.
In January, The Viet Tien Garment Joint Stock Corporation signed up with Luenthai and Newtech to establish the Viet Thai Tech fabric factory to supply fabric for the domestic market. With a total investment of $20 million, the project's first phase will involve $12 million and the second, $8 million.
Chinese yarn company Texhong decided to shift its production line to Vietnam, partly due to the US boycott of cotton items originating in China's Xinjiang province. It started recruiting labourers in the Quang Ninh province for its latest $214-million project, Texhong Knitting Vietnam Ltd, part of its $500 million investment plan in Vietnam in 2020. The first phase will get operational in late 2021, and the second phase will be constructed 20 months after that.
The Rang Dong Infrastructure Investment and Development JSC, the owner of Aurora Textile Industrial Park in Vietnam, handed over land to Top Textiles Limited and Jehong Textile Company Limited to construct their factories.
Taiwanese enterprises have been investing in the country's Southern Key Economic Region comprising Ho Chi Minh City and the provinces of Binh Duong and Dong Nai key due to market-related advantages and supporting industries.
In August, after two years of renewing commercial operations, the Vietnam Petrochemical and Fibre Joint Stock Company 's (VNPOLY) DTY yarn, produced along with a partner, passed quality checks from two domestic customers that supply material to the Adidas group and the Target group. Around 437 tonnes of this yarn has been sold to the two enterprises. These two main material suppliers are scheduled to maintain regular orders with VNPOLY and import about 50 tonnes of fibre per week.
Garment 10 Joint Stock Company (Garco 10) received a drawdown of $4.3 million from Standard Chartered Vietnam's $1-billion COVID-19 financing commitment. The bank in March committed to provide not-for-profit financing to companies that provide goods and services to help combat the novel coronavirus pandemic. The credit limit was extended to Garco 10 as working capital for the production of medical and cloth masks to meet the increasing global demand for PPE.
A piece of news that drew attention was a face mask made from Vietnamese coffee. To address the issue of medical waste generated due to use of single use face mask, ShoeX, a brand from Veritas Bespoke, introduced this mask, which, it claimed, is anti-bacterial, reusable and biodegradable. The mask has natural coffee aroma as well.
SaigonTex/SaigonFabric 2020 event was postponed because of the pandemic. The trade fair will now be combined with the 2021 event scheduled on April 7-10.
Future
Experts feel FTAs and a diversified supply chain have set the stage for a strong comeback for Vietnam's footwear and textile sectors, despite the adverse impact of the pandemic. VITAS said the sectors reported strong export figures for 2020, with foreign brands and partners saying they would either increase production or place additional orders in 2021.
As domestic companies have been making efforts to shore up revenue by producing low-value products to ensure cash flow, many of them too expect new trade pacts to help boost exports in future.
Statistics
The textile-garment industry's export revenue in 2019 was $39 billion, $1 billion lower than target; the 2020 figure is expected to be $35.2 billion

The country's textile-garment industry ranks sixth in textile exports in the world and second after China among the largest textile exporters to the European market

Produced over 2.5 million tonnes of yarn in 2019, of which over 1.5 million tonnes valued at $4 billion were exported

China in 2019 accounted for 60 per cent of Vietnam's garment imports and 55 per cent of fibre imports
Indonesia: Boosting Domestic Raw Material Production A Challenge
For the first time in two decades, recession hit Indonesia due to the pandemic-induced crisis. Southeast Asia's largest economy's real GDP fell by 3.49 per cent in the three months ended September from a year earlier. The slowdown follows a 5.32 per cent contraction in the previous quarter.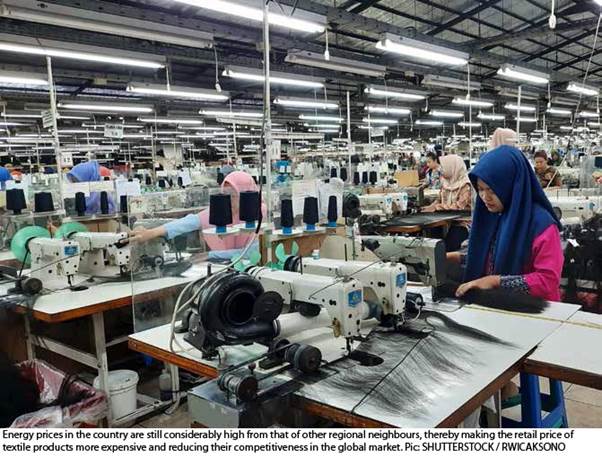 The country's TPT industry, plagued by low productivity, high logistics and energy costs, multilayered value-added tax regime and outdated machinery, went on a PPE production spree during the pandemic resulting in a surplus within a few months, despite complaints over quality and distribution. Most part of funds invested have been reportedly on developing new buildings and not upgrading machinery and equipment, investment on which fell by 12.87 per cent YoY in the second quarter.
Energy prices in the country are still considerably high from that of other regional neighbours, thereby making the retail price of textile products more expensive and reducing their competitiveness in the global market.
The Indonesian Chambers of Commerce and Industry feels the domestic textile industry's focus remains increasingly unwavering on apparel products, leaving enough scope for non-apparel textile products to expand. That was one of the reasons why till August, the country was not prepared to respond to the demand of PPEs.
The TPT sector, which has contributed significantly to economic growth, contracted by 8.37 per cent in the second quarter of 2020 as a result of a decline in domestic consumption and exports, according to industry ministry data, which showed the sector bounced back to 2.97 per cent growth in the third quarter.
Data from Omnilytics implied the bounce back was because of the rapid shift by retailers and consumers to online marketplaces for textile purchases. According to Statistics Indonesia (BPS), the textile industry contracted more than the manufacturing industry.
Policy
In September, Indonesia revised down its 2020 GDP outlook expecting a steeper contraction because of the fallout of the pandemic. It also tried to raise spending to absorb the negative impact. Its economy is expected to shrink by 1.7-0.6 per cent on an annual basis this year, according to finance minister Sri Mulyani Indrawati.
The country also witnessed protests on the controversial omnibus law, which President Joko Widodo signed into force. The law seeks to reduce red tape to increase investment. While President Widodo sees the law as crucial to reigniting economic growth and jobs, labour unions, students and Islamic organisations have raised concerns about the law, which they say damages workers' rights.
Textile is one of the sectors identified by the government for import reduction, but the initiative was hampered due to the pandemic, which resulted in millions losing jobs. The government had spent 56 per cent of its 2020 budget between January and August, up 10.6 per cent from last year, while state revenue had fallen by 13.1 per cent, with corporate tax payments under pressure, official data showed. In June, it announced that the state budget to fight COVID-19 had been increased to Rp 677.2 trillion, up from the Rp 641.17 trillion allocation in May and the initial allocation of Rp 405.1 trillion.
A Decent Work Country Programme (DWCP) 2020-2025 was launched by the government in October. Its three priorities are effective social dialogue that promotes sustainable business and workers' welfare; job creation; and enhancing protection for vulnerable groups of workers.
Exports & imports
The Indonesia-Australia Comprehensive Economic Partnership Agreement (IA-CEPA), signed last year and ratified by Indonesia's parliament in February, became effective from July 5. The deal eliminates most trade tariffs between the two sides and aims boost investment and bilateral trade that was worth $7.8 billion in 2019.
The country exempted fabrics made in Vietnam and India and synthetic yarn and curtains made in South Korea and Hong Kong from new import tariffs imposed on some textile products from May this year till November. The move aimed at protecting the domestic upstream industry from a surge in imports.
A steep decline in textile exports to Turkey was seen after that country imposed additional duties on such imports. The pandemic's impact on global trade is also a reason. Between January to August this year, such exports to Turkey were down by nearly half YoY at $168.9 million. To back the domestic industry amid the economic downturn, Turkey introduced in April additional duties of 4 to 50 per cent on textile products imported from countries with which it has no trade agreements. The duties will be in place until the end of 2020.
Indonesia also imposed tariffs on import of certain textile products till November 2022 to protect domestic producers from a surge in import of fabrics, curtains and yarn.
The trade committee of World Federation of the Sporting Goods Industry (WFSGI) decided to actively participate in the safeguard investigation on certain apparel and clothing accessories initiated by the Indonesian government on October 1. It will register WFSGI and individual WFSGI member companies as interested parties in the investigation. The applicant for the case in Indonesia is the Indonesian Textile Association (API). The safeguard action might result in restricted imports if the increased imports of the product are found to be causing, or threatening to cause, serious injury.
The investigation may also negatively affect Bangladesh's export of the products there. The Indonesian Safeguards Committee has notified the issue to the World Trade Organisation. The move comes at a time when both Bangladesh and Indonesia are in negotiations to sign a preferential trade agreement.
Industrial
In February, Indonesian President Joko Widodo inaugurated Indonesia's largest integrated viscose rayon production facility. The new facility of integrated viscose producer Asia Pacific Rayon (APR) is located in the same production complex as that of APRIL Group in Pangkalan Kerinci, Riau province, Sumatra. The co-location allows integrated operations where renewable plantation pulp supply from APRIL feeds directly to APR for viscose rayon production. The total investment is nearly $1.1 billion.
APR in August opened the Jakarta Fashion Hub, a collaborative space that combines fashion and creativity to unlock the potential of the domestic fashion, textile and creative industries. It will offer fashion enthusiasts space to formulate concepts and original work.
Amid the worldwide rush to launch anti-viral textile products, knitted fabric producer Shinta Indah Jaya unveiled a range of anti-viral fabrics using Swiss HeiQ Viroblock NPJ03 treatment.
Four garment and textile unions and three employer associations signed a joint commitment to promote safety, health and welfare of workers and business sustainability. The declaration refers to the ILO Call to Action in the global garment industry, and commits to protect workers and employers from contracting COVID-19 and reduce unemployment and loss of income.
IndustriALL affiliate Garment and Textile Trade Union Federation is among signatories of the declaration. The Indonesian Employers' Association, API and the Indonesian Footwear Association represent employers.
Challenges
One of the big challenges for the sector is to bolster local rayon fibre production so that the country attains raw material sovereignty, while exporting, instead of just importing less sustainable raw materials. The other is to strengthen domestic TPT production base by machinery upgradation and by training. The government is conducting a sustainable fashion campaign targeting both producers and consumers to demonstrate its support for circular economy. Addressing issues related to competitiveness by making appropriate policy amendments is the key to future growth in the sector.
Statistics
TPT exports valued at $13.8 billion in 2019; sector employs more than 1.5 million

30 per cent of total production meets domestic demand with the remainder exported to mainly the US (36 per cent), the Middle East (23 per cent), the EU (13 per cent) and China (5 per cent)
Philippines: Absence Of Domestic Textile Industry Big Barrier
Around 30 per cent of garment workers in the Philippines, which is almost devoid of a domestic textile industry, are expected to be sacked by year end because of the low demand triggered by the COVID 19 pandemic, the Confederation of Wearable Exporters of the Philippines (CWEP) said in September.
CWEP said a month before that garment factories are operating at marked downtime to comply with safety protocols. Many factories developed a rotational work base that allows employees to report for at least two weeks. However, the majority of factories continue to work, with 40-50 per cent capacity. Factories that agreed to repurpose their operations had to compete with imports, it said. The repurposing programme attracted $35 million in investments and saved 7,450 jobs amid the weakening of the global economy.
The country's garment exports registered flat growth this year as firms struggled to find alternative sources of raw materials outside China, South Korea, Taiwan and other Asian nations in the first half of 2020. The Foreign Buyers Association of the Philippines (FOBAP) revealed in March that nearly all of the country's apparel production stopped due to raw material unavailability and no trusted domestic manufacturer of the stuff.
The Philippine Exporters Confederation, Inc. (PHILEXPORT), an umbrella organisation of Philippine exporters, said the country cannot continue to rely on imports and called for attaining some degree of self-reliance in textile production.
The EU in September threatened to revoke its trade preferences to the Philippines in response to 'the seriousness of the human rights violations' committed by the administration of President Rodrigo Duterte. The country now enjoys privileged access to the European market under the EU's GSP, which grants duty-free entry to more than 6,200 products.
Once the subsidy is over, buyers of Philippine garments will have to pay 15-20 per cent more, according to the Philippine Chamber of Commerce and Industry, which said it may lead to the closure of several garment factories.
To strengthen the country's trade with the European Free Trade Association (EFTA)—Switzerland in particular—the Philippine DTI-export marketing bureau and the Swiss Import Promotion Programme (SIPPO) initiated a market study in September on three key Philippine export products, including natural fibre and textiles. Non-governmental organisation Swisscontact, as SIPPO's implementing body, DTI-EMB and the embassy of Switzerland in The Philippines signed an agreement to implement the project that is expected to be completed in December.
The market study aims at learning EFTA markets' trade regulation, market access requirements and market demand. It will also determine the unique selling position of Philippine products in their market and acquire information on potential importers. The results of this study will guide Philippine exporters to maximise benefits.
EFTA comprises Iceland, Liechtenstein, Norway and Switzerland and was established during the Stockholm Convention in 1960. In 2019, Philippine exports to EFTA were valued at $433.81 million while imports were valued at $384.19 million.
The Textile-Garment Industry Roadmap 2020-2029, launched by the department of trade and industry's (DTI) Bureau of Investments (BOI) in December 2019, envisions a 'competitive, integrated and sustainable' industry that generates inclusive growth. But nothing much was heard this year about the roadmap because of the pandemic-induced crisis.
Actions recommended for the short term (2020-2022) are creation of a Federation of the Philippine Textile and Garments Industry to serve as a link between the textile and garment industry and the private sector and the government. For the textile sector, other strategies include investing in research and development for product development and marketing, incorporating loom weaving in the curriculum to create awareness, and establishing regional/localized ecosystems.
The roadmap also presses for the strict enforcement of Republic Act 9242, or the Philippine Tropical Fabrics Law, that mandates localising suppliers for the uniform of civil servants.
Addressing infrastructure gaps and logistical bottlenecks are part of medium-term (2023-2025) strategies. Another is to improve the textile value chain by requiring the registration of chemicals and substances used, establishing a regulatory framework for the use of biocidal products, and establishing environmental and social standards.
In the long-term (2026-2029), focus shall be on cultivating a global Filipino brand and increase supply of natural fiber raw materials, according to the roadmap, which also wants to stop import of second-hand garments from North America and Europe for charity distribution that are smuggled out from ports to grey market retailers.
The president's office in November approved P77.8 million for setting up the Department of Science and Technology (DoST)-Philippine Textile Research Institute Medical Textile Testing Centre. Testing of medical PPE will be offered as early as the second quarter of 2021. It will also cater to non-medical protective clothing; health and hygiene products like diapers, incontinence pads, sanitary pads; occupational safety products like dust masks; and pollution protection products.
A cotton processing centre opened in the municipality of Patnongon in Antique province in December. It was funded under the 2018 General Appropriations Act under the Philippine Fibre Industry Development Authority.
The Japanese government signed a grant contract with the Organisation for Industrial, Spiritual and Cultural Advancement International (OISCA), a Japanese non-governmental organisation, for a sericulture project in the Philippines. Filipinos commonly rely on imports from other countries for some of its raw silk materials, including those used for traditional costumes such as the Barong Tagalog.
In this project, seven provinces—Benguet, Nueva Vizcaya, Aklan, Iloilo, Antique, Misamis Oriental, and Negros Occidental—will witness leadership development seminars for spreading sericulture operations, short-term training for sericulture farmers and mulberry field maintenance.
Salay Handmade Products Industries Inc (SHPII), a firm in the Philippines exporting handmade paper products, started producing face masks for the domestic market using abaca paper. Another firm Modishchey Creations launched reusable face masks using indigenous banana fibre woven textile after receiving a suggestion from DTI.
The Philippines supplies 8 per cent of abaca fibre demand to the world market. A test by DoST for filtration and porosity showed that abaca paper's filtration rate is seven times better than cloth and it has lower water absorption than an N95 mask.
In November, Pakistan's exports of cotton yarn, raw leather and cotton fabric to the Philippines declined, whereas those of home textiles and garments increased significantly compared to November 2019.
How dedicatedly the government takes the Textile-Garment Industry Roadmap ahead will decide the future of the sector in the country.