Circular economy (CE) today has become a necessity to protect our planet from landfills and reduce pressure on non-renewable resources. This case study involving Bangalore-based start-up Urbanomad throws light on how the brand is seriously trying to incorporate CE in its business model by creating unique and meaningful upcycled products.
The traditional linear economy model is increasingly becoming obsolete as it does not fit in with the UN sustainable development goals. On the other hand, circular economy, often defined as an organised system to restore and regenerate through technology and design, is becoming widespread across all sectors. It uses natural resources in an optimum way. CE's concept includes principles like sustainable design and zero waste, increasing product life span and recovery of natural resources and services towards repairing and remanufacturing. The circular model is based on the 3Rs, i.e reduce, reuse and recycle. These 3Rs must be applied across the complete production, consumption and disposal stages. The model thus needs engagement of all stakeholders. The European Union (EU) promotes CE with an approach to improve the environmental condition as well as the economic performance. A number of other countries like China, Japan and the United States are implementing CE in their policies. CE aims at circulating the resources repeatedly and thus reducing the pressure on the non-renewable resources of the world.
In India, the concept of CE has been deep-rooted in our culture. All items, including clothes, were often passed on from one generation to other, thus increasing their life span. However, with the rise of globalisation, there has been a change in consumer behaviour. In fast fashion, apparel often become obsolete after the consumer merely wears them for seven to eight times. Almost 40 per cent of clothing produced do not even reach the stores and end in landfills. If no measures are taken, the waste generated from the textile sector can reach 150 million tonnes by 2050, according to an estimate. Maintaining profitability in this scenario with a linear model will become a challenge. Besides, there is a risk of loss of reputation for brands with negative environmental and social impacts.
Several brands, designers, and entrepreneurs are working towards a more sustainable solution to address this issue. More prominent international names, like Patagonia, Houdini and H&M, are leading in research and product development. Yet, the initiative has to come from all stakeholders across all levels. Thus, Indian entrepreneurs with a cultural background of reusability and recyclability are coming up with innovative solutions.
One such brand with a circular model in view is Bangalore-based start-up Urbanomad, founded by National Institute of Fashion Technology Delhi alumnus Kaushik Das in May 2019. It is a sustainable lifestyle and accessory brand whose range includes washable cotton masks, bags and a portable ergonomic workstation called 'Lapbuddy' that adapts to the shape of the body.
Das observed the volume of textile surplus and wastes that go into landfills and thought of converting them into beautiful accessories. The brand targets to create value for society and the environment, adapting to CE practices of repair, reuse, refurbishment and recycling. The motivation behind this drive was also to create employment through the process of upcycling and incorporate the traditional Indian craft techniques in mainstream usable products. The brand is targeted to a market of ethically and environmentally conscious, free-spirited, non-conformist and youthful urban consumers.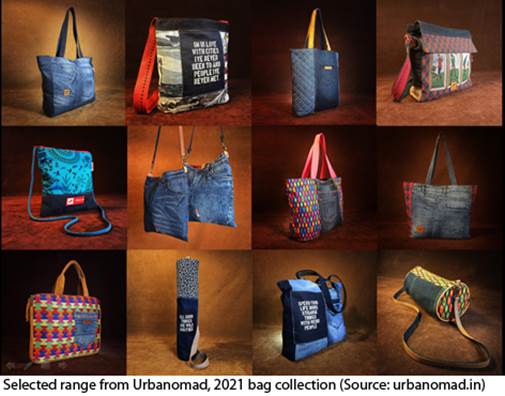 As a latest initiative, Urbanomad is producing upcycled bags made from old jeans sourced from different parts of India. The Urbanomad 2021 bag collection includes laptop bags, sling bags, tote bags, duffle bags, yoga mat bags, etc. The Urbanomad team sources raw materials not only from large export houses but visits smaller towns for traditional handcrafted materials. The team has sourced over 2,500 pieces of jeans from second hand markets and through community collections. Along with these, they have also sourced an assorted range of items like cushion covers, table runners, bed runners, etc, from the export houses as seconds. Thus, at a discreet level, the brand handles pre-consumer waste generated from unsold items. It also uses end-bits of fabrics sourced from several production houses, thus addressing the post-industrial waste generated in the apparel industry. The handmade tapestries used in the products are sourced from different weaver communities across India, thus providing an alternative and contemporary design solution to the dying craft clusters. The brand also works with urban clusters and self-help groups of women to create different trims, like crochet, handmade buttons and embroideries, which are used in their products to revive the traditional handcrafted techniques.
However, as each item sourced is unique, the production process becomes too tedious and time-consuming. Each piece is manually sorted according to colour and composition. The panels from each jeans or cushion-cover is cut individually and then matched with the tapestries' cut panels. The distinctive materials need special handling, and thus, exquisite craftsmanship is required during stitching. However, Das is hopeful that this process can be standardised in the longer run, thus reducing the time needed to produce each piece. He aims to achieve the 'zero-waste' production model. Das ensures that the items produced are of superior quality and are durable. The collection is sold through the brand's digital platform.
The strategies undertaken by any organisation towards environment-friendly innovations depend on the entrepreneur's commitment and values. Urbanomad's explorations with patterns, panels, shapes, prints, textures and embroideries is targeted to create more from less, thus optimising the available raw materials. The brand's biggest challenge is to create a consumer base for ethical products. The modern Indian consumer is still price conscious and price tags often govern their purchase decisions. A shift in the consumers' mindset is required and awareness needs to be created regarding the impact of the textile sector on the people and the planet. "We aim to create unique and meaningful upcycled products and accessories using handcrafted techniques. Through this brand, we wish to encourage and promote the best of Indian design and materials, giving it a modern twist and yet retaining the magic of the legacy," says Das.
It is high time that the fashion industry transits to a CE model, leaving the existing linear model behind. The sustainable business model of Urbanomad transforms industrial fabric waste into exquisite collections. However, new policies and systems need to be developed to create awareness and educate consumers about their purchase, usage and disposal habits. Digital platforms and social media can be used to increase the reach. Influencers can also play a pivotal role. Urbanomad's story may inspire many other start-ups to innovate alternate design solutions and existing companies to close the loop of their business model.
References:
1. Danigelis, A. (2020). Retailers Bank on Environmentally-Friendly Clothing for Increased Sales. Environmental Leader, 100, 1-8.
2. Ellen, M., & Company, M. &. (2014). Towards the Circular Economy: Accelerating the scale-up across global supply chains. World Economic Forum, January, 1-64.
3. Ellen MacArthur Foundation. (2015). Growth within: a circular economy vision for a competitive europe. Ellen MacArthur Foundation, 100.
4. Ellen MacArthur Foundation. (2017). A new textiles economy: Redesigning fashion's future. Ellen MacArthur Foundation, 1-150.
5. GreenPeace. (2018). Detox my Fashion. Greenpeace International, 1-5.
6. Lazarevic, D., & Valve, H. (2017). Narrating expectations for the circular economy: Towards a common and contested European transition. Energy Research and Social Science, 31(March 2020), 60-69. https://doi.org/10.1016/j.erss.2017.05.006
7. Prieto-Sandoval, V., Jaca, C., & Ormazabal, M. (2018). Towards a consensus on the circular economy. Journal of Cleaner Production, 179, 605-615. https://doi.org/10.1016/j.jclepro.2017.12.224
8. URBANOMAD. (2021). https://urbanomad.in/