In its most recent 2020 Resale Report, Thredup shared insights from contrasting consumer perspectives: that of pre-covid, and that of post. The data confirmed two trends — the further acceleration of online shopping (expanding the opportunities of e-commerce and marketplace businesses) as well as the sudden value placed on quality over quantity of goods, thus enticing consumers towards the world of secondhand and resale shopping.
Even before the pandemic hit, subsequently shifting the fashion industry towards a more sustainable path, online secondhand marketplaces had already begun to gain attention. According to its most recent Resale Report, Thredup declared that online reselling had grown 25 times faster than retail in 2019, with a reported 62 million women having bought secondhand products that year. The trend has proven to have close associations with Gen Z and Millennial consumers, who feel a genuine responsibility for the environment and hope to actively decrease their footprint. In just a few short months, the pandemic has made deep impacts in accelerating these trends and its ensuing goals.
<![if !vml]>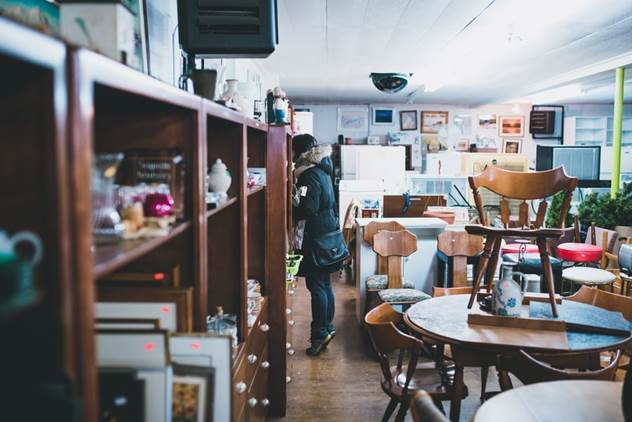 <![endif]>
One major selling point of secondhand and resale market pieces that has helped solidify its appeal amid a pandemic is its low cost. With unemployment claims peaking in April at 6.9 million, shopping luxury and quality pieces at an affordable price has become a key point of concern for shoppers. According to ThredUp's report, 88 per cent of consumers have already adopted a new thrifting hobby during the pandemic, which they look to continue into the future. Such choices indicate the possibility of long-term behavioural changes that will last beyond the pandemic.
Though low prices may have accelerated the consumers' move towards secondhand shopping, it is not something entirely new. Rather, many had already made the leap to shop via secondhand shops long before the pandemic. The appeal revealed itself in its sustainable aspects. Shopping secondhand has the capability to reduce fashion's footprint on the environment and instead drive it towards a more circular economy.
"If everyone in the US bought just one used item instead of new, it would save nearly 6 billion pounds of carbon emissions —  the equivalent of taking half a million cars off the road for one year," says Erin Wallace, VP of integrated marketing at ThredUp, in her recent interview with Refinery29.
The pandemic has also all but forced us into directing our attention towards the state of the world, specifically that of the environment. As we hunkered down at home and reconsidered our values, fixing the impending doom of our earth revealed itself as a priority. ThredUp's report confirmed that 70 per cent of consumers agree that addressing the issue of climate change is more important now than ever before.
A recently published report by Vestaire Collective, a global marketplace for pre-owned luxury and designer fashion, looked at how consumer behaviour has changed since the pandemic started. It revealed that sustainable and ethically produced brands such as LOQ, Marine Serre, Vejas, Ulla Johnson all have shown a considerable jump in demand. "Buying a pre-owned piece and using it for just another nine months can reduce its water and carbon footprints by 20 to 30 per cent," says Fanny Moizant, president and co-founder of Vestaire.
Thinking sustainably also means thinking long term, which is cause to pause and contemplate one's purchases. With the secondhand and resale markets increasing, shoppers may also begin to consider the value of the items which they buy. Such thinking may subsequently shift our values away from fast fashion and towards quality pieces that can outlive trends.
The RealReal, a sustainable luxury fashion consignment shop, has seen a somewhat unexpected jump in luxury spending amid the pandemic. Sasha Skoda, head of Women's at The RealReal, states that there has been a rise in the purchase of high-value handbags, particularly amongst Millennials. "Millennials actually purchased more Hermes handbags last quarter than any other demographic," says Skoda. "We've also seen strong interest in high-value watches since March, with the greatest year-over-year increase among millennials."
Despite the pandemic greatly affecting how we shop and what we shop for, the emphasis on secondhand and reselling does not seem to be a mere trend that will fade. Rather, ThredUp's report predicts that reselling will outpace fast fashion sales by the end of the decade — with reselling predicted to yield 44 billion in sales; traditional thrift and donation 36 billion; and fast fashion to produce around 43 billion in overall sales.
"Year after year, the resale market just keeps getting bigger. As consumers increasingly seek out value, sustainability, and convenience, we expect that the secondhand market will continue to explode," says Wallace. "As shoppers continue to take a close look at the brands and companies they support to make sure they're protecting their wallet and the planet, we see no signs of the secondhand market slowing down."
The pandemic, coupled with Gen Z and Millenials' passion for mending the current unsustainable practices within the textile industry, has actively set the stage for the establishment of a circular economy. Secondhand and resale marketplaces including ThredUp, Vestiaire Collective, The RealReal, Poshmark, and DePop, to name a few, will continue to increase in popularity as these two major consumer groups come into their spending powers. The hope is that such habits will inspire other sustainable practices, so that a fully circular textile economy may be established.
This article has not been edited by Fibre2Fashion staff and is re-published with permission from synzenbe.com