Designers are increasingly committing themselves to sustainability, and fashion shows are going online—all reducing their environmental impact in the bargain.
In October, the International Federation of the Red Cross and Red Crescent Societies (IFRC) said that torrential rainfall, river floods and flash floods had affected 192,594 people across 22 states in Nigeria, leading to 826 injuries, 155 fatalities and displacing 24,134 people in just two months.
"This hits close to home, and puts in perspective everything being said about climate change," reacted Ose Okpamen, creative director and founder of Hollerose, a Nigerian fashion brand based in Lagos. "It hurts more that my industry is probably responsible." The environment impact of the textiles and fashion industry across the world—not just in Nigeria—is well documented. Okpamen says that is exactly why sustainability has been a key part of her brand since she launched in 2012.
"To curb waste, we have practiced made-to-order or bespoke for couture pieces and this has been very popular locally. We make samples, market them and create for clients based on demand," she enthuses. Environmentalists now see made-to-order as the future of sustainable fashion.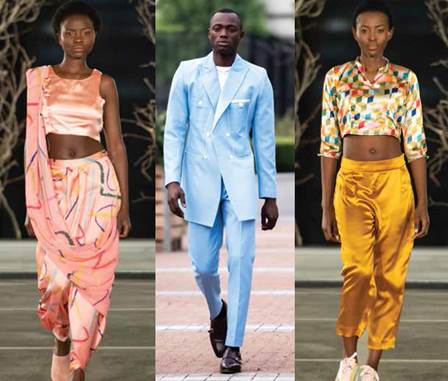 As a brand committed to sustainability, Okpamen's Hollerose has also pursued environment-friendly opportunities, recycling pieces of leftover fabrics to make fashionable accessories.
"We also have an alterations arm that helps to mend damaged garments or convert them into more stylish pieces for our clients," Okpamen adds, noting that this is better than throwing away the garment altogether—a usual occurrence since Africa became a dumping ground for second-hand clothing from the West and cheap imports from Asia flooded the African markets.
Hollerose also prioritises natural fibres, weaning its entire production off chemically-made fabrics like polyester and nylon. Okpamen's company had done this despite existential challenges like local price resistance. "Sustainable fashion is not cheap. Therefore, on many occasions, we have had to choose between price and staying true to our sustainability principles."
Okpamen says Hollerose upholds these principles even as far as sales and packaging. The fast-growing fashion brand uses 100 per cent cotton Kaliko drawstring bags to package its garments, especially those shipped to customers across the globe.
Another major part of Hollerose's sustainability principle is prioritising local production and sourcing. But Okpamen admits that the textiles industry in Africa does not yet have the capacity to meet domestic demands for certain types of quality.
"A good example is our Modele basket dress that went viral after a Nigerian reality TV star wore it. Orders kept coming in for the beautiful design and we worked night and day to fulfil all, but we ran out of the fabric used.
However, the industry is experiencing a steady growth and I believe sourcing the eco-friendly materials we love to use locally, will become easier," says a hopeful Okpamen.
As fashion brands like Okpamen's Hollerose in Nigeria, Awa Meité in Mali, Naked Ape in South Africa and Nehanda & Co in Zimbabwe continue to commit themselves to sustainability, other players across the textiles value chain are also playing their part.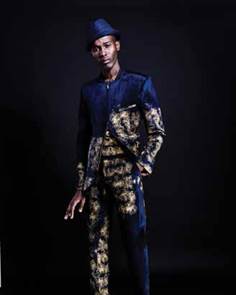 The Shows go Digital
This year's South African Fashion Week (SAFW) in October was an environmentfriendly digital experience. For more than two decades, it had been hosted physically at packed venues, but the current pandemic meant the event had to be reimagined. SAFW, now branded the "business of ethical fashion," streamed 27 digital runway shows over three days, with trans-seasonal collections on display. SAFW is a move towards "slow fashion", with timeless design and sustainable production.
The show did not use the number of equipment it normally would, the number of models reduced significantly, and the teams were not as large as earlier. Lucilla Booyzen, founder and chief executive of SAFW, said before the event that all these would reduce its carbon footprint. Also, the average carbon footprint of a professional fashion buyer is twice that of an average global citizen, according to the Zero to Market report released in February 2020. The report explained its findings: to attend showrooms at fashion weeks, a retailer flies an average of 19,214 km every year. Booyzen was able to cut that out with the digital week, and this reduced carbon footprint may become permanent if the digital SAFW continues post-covid and other shows too explore digital options.
Before SAFW, the Lagos Fashion Week (LFW) had hosted a three week digital presentation on social media. The presentation titled 'Woven Threads' highlighted the work of ten designers. It also had a series of digital live talks and workshops, as founder Omoyemi Akerele continues to push her commitment to textile and traditional craftsmanship, which she sees as one of the ways to promote sustainable clothing production. Weeks after LFW took its show online, Congolese designer Anifa Mvuemba, founder of Hanifa, also hosted an Instagram Live runway show.
Okpamen doesn't think hosting fashion shows online is such a bad idea, especially as it helps reduce the carbon footprint of the industry. "This year has shown us how much more we can do online; the opportunities are limitless. We just have to be more open minded. For example, I don't understand why I would postpone a highly anticipated fashion show just because it can't be held physically."
The Hollerose founder opines that the digital shift should even be easier for fashion shows that have built a large fan base such as the GTBank Fashion Weekend, but it was unclear (at the time of going to the press) whether the event earlier scheduled for November 14 and 15 will still be held this year. The Kampala Fashion Week too was postponed, and new dates are yet to be announced.
"Regardless of whether shows were forced online by covid-19, this is an opportunity for other stakeholders in the industry, including fashion show organisers and online retailers, to play a significant part in reducing the deleterious effects of our industry on the environment," Okpamen adds. She hopes that other brands like hers would commit to sustainability, so much that the textiles industry which holds huge promise for Africa's economic transformation would not be its end.
This article was first published in the February 2021 edition of the print magazine.