Five young entrepreneurs are putting their creativity into top gear and dreaming up innovations that will help the production of various products as well as the fashion industry in a more sustainable and helpful manner that will not only aid the environment but also mankind.
Sukanya Dikshit, Founder, Phabio
Sukanya Dikshit, a trained biotechnologist and a graduate from the Indian Institute of Technology, Roorkee, founded Phabio in 2019, with co-founders, Rishab Gupta and Anmol Bansal. Phabio is building a sustainable, scalable and affordable alternative to single use plastics. The properties of the material are tuneable and can be optimised to fit multiple use cases ranging from packaging to fibres. The vision of the brand is big—to become the leading provider of biodegradable plastic resins to product manufacturers at a global scale. The head office of the company is in Mumbai with production units in Kanpur, Uttar Pradesh.
The idea was inspired by the thought that "answers to some of the most complex problems facing mankind lie in nature itself." We started researching for alternatives to plastic and came across this wonderful material called PHA, which is 100 per cent biodegradable and biocompatible, but has the same properties as conventional plastic. PHA is made using microorganisms in nature and using organic waste as the raw material. The USP is that it is: a) 100 per cent biodegradable and home and marine compostable under 90 days; b) has thermo-mechanical properties like conventional plastic; c) has ease of integration with current product manufacturing setups; d) made from organic waste using non-GMO microbes.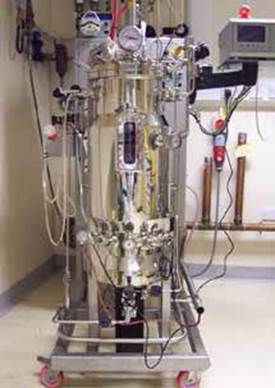 The product is created using a cutting-edge technology devised by technology experts wherein 100 per cent organic and renewable resources are converted into a polymer using 50 per cent less chemicals and water and much less energy. The procedure includes a culturing of the bugs in organic juices in a bioreactor setup and a subsequent extraction using cost-effective and chemical free methods.
The product is a biodegradable resin out of which any kind of article, which is made from conventional plastic, can be made. After pandemic, the world requires green recovery wherein the use of plastic needs to be minimised and sustainable alternatives need to come in play. Biodegradable alternatives offset carbon footprints by huge amounts and also aid to reverse the global warming caused due to increasing petrochemical plastic waste, which remains on earth for centuries.
We are currently promoting our product through various social media channels and trying to raise awareness through social media campaigns and launching interesting tools to gauge the impact of conventional plastics on our environment. Currently, we are in the pilot phase and are pre-revenue.
The company was started in 2019. We are still growing but continuously evolving in terms of the maturity of our technology and partnerships and collaborations for possible codevelopment of our products.
There are a few large-scale PHA manufacturing companies worldwide but none in India who are competitors. But when we compare the properties of their resins with ours, we are almost at par and even better than some companies. In terms of pricing, we are currently at $5 a kg as against $6–10 for most others even at a large scale. Our PHA resins are priced similar to other bioplastic resins such as PLA by Natureworks ($5/kg). We believe we can come down to as low as conventional plastics as we scale up.
The product is aimed at product manufacturing companies. The business model would involve direct sales of pellets in a B2B mode. Our first-year plan (after the successful scale-up at the pilot phase) is to start production at 100 MT capacity per year. With that, we will start sending commercial orders to packaging companies and ask for their feedback on our materials and improvise on our technology. With this, we will get customers by providing customised solutions, keep them by giving our products at low prices and grow by scaling and entering FMCG packaging. Our revenue streams would be mainly from direct B2B sales of our resins, consulting projects with partners and technology licensing later, once we receive our patents. Since incorporation, we have continuously evolved on the technology readiness levels and currently we are at TRL 6 and hope to reach TRL 9 by the first quarter of 2021 with our incubation at IIT, Kanpur. After that we will be raising seed funds for a full-scale plant.
Ashita Singhal, Founder, Paiwand
Ashita Singhal, a design graduate from Pearl Academy, New Delhi, is a weaver, designer and social entrepreneur. Being born and bred in Delhi, one of the most polluted cities in the world, she started to see waste as a raw material source and a key element for her design explorations. Ashita has been challenging the conventional norms of the textiles-fashion industry via her design studio, Paiwand.
My journey in the fashion and textiles industry was an "awakening" moment during my internship with a luxury design label when I noticed conscious designers saving their textile waste so that those could be reused or upcycled. However, they did not have enough time or resources to do so. In my graduation project, I explored weaving with textile waste and worked closely with a weavers' community in Bharat Nagar, New Delhi to produce upcycled yardages for apparel. In 2018, I won an International Business Grant of $25,000 from the Laureate International Universities Network, US to support my social enterprise, Paiwand Studio.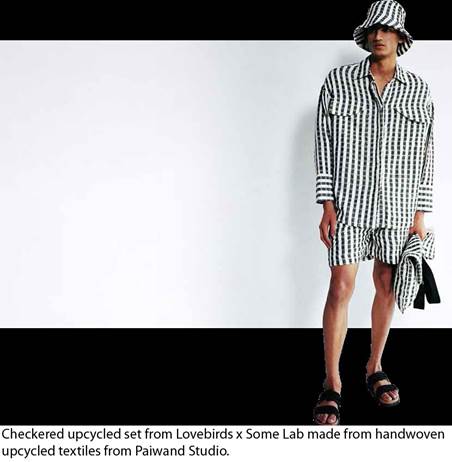 Paiwand has also won multiple awards for innovation in textile design that include EDIDA 2019 (Elle decor International Design Award India), India's Best Design Project (IBDA 2019), Lexus Design Award India 2020 (LDAI). Paiwand was also among the top six finalists of Circular Changemakers 2020 by Lakme Fashion Week, CAIF and Intellecap.
Paiwand is an exclusive upcycling textile studio with its head office in Noida that sees beauty in bits and fragments, unwanted things in life and believes in adding value by repurposing those forgotten pieces. It is a textiles studio that upcycles fashion waste and turns it into elegant fabrics for apparel and home furnishing. It collaborates with design houses and artisans to repurpose fabric waste into meaningful textiles. It upcycles fabric scrap through various handcrafted techniques like handloom weaving, patchwork, knitting, embroidery and felting.
Paiwand sees waste as a resource that is available around us in abundance and uses it in traditional craft techniques to revive and redefine things in a new light simultaneously creating employment opportunities for weavers/ artisans. It is contributing towards transforming social and environmental standards in the fashion industry by developing sustainable and meaningful textiles through an ethical and fairtrade business model. Paiwand has a unique business model and design language. Our team of designers and artisans work closely with a fashion label or design house to provide solutions for repurposing their textile waste as per their budgets and design aesthetics. We add value to waste by using different techniques like weaving, patchwork, embroidery and knitting.
Our target audience includes conscious design houses and fashion brands facing issues while repurposing their textile waste. We define our target audience as someone who is sensitive towards the environment, sensible while repurposing their textile waste and aspires for sustainable business models, both economically and environmentally.
Combining scrap with handcrafted techniques to make high-quality textiles and products creates Paiwand's products and textiles. We work with artisans/ weavers to repurpose fashion waste. Our model is simple and transparent. We follow a circular economy model. We upcycle fashion waste from design houses and develop customised yardages which can be used by them to offer a sustainable product range to their respective clientele. We follow an exhaustive process to recycle textile scrap. Once the textile waste arrives at the workshop, we sort it as per different colour categories and fibre types. The waste is washed and ironed, and then cut into strips and joined together as per a specific design. Then, the spools or bobbins are prepared for weaving. On the loom, weavers insert the prepared textile waste bobbin as weft. The process ends with a thorough quality check and ironing before it goes to the client. The process is dynamic and keeps changing as per the technique we use for repurposing the waste.
The awareness and need for sustainable practices have grown since the pandemic. The fashion industry is working more dedicatedly on sustainable business practices and looking out for ways to repurpose textile waste. The unpredictable downfall in sales has led to a lot of wastage of ready products and raw material. Paiwand offers solutions to such brands and companies in repurposing such waste and bring it back into the production cycles.
We follow an organic growth strategy. At present, word of mouth promotion has proven to be most effective. We also promote our fabrics through collaborations with different brands. Instagram is also an important tool for us to tap the potential market. Our turnover is ₹40-50 lakh.
The design innovation and collaboration models have been the biggest factors of growth. We follow a transparent and clear production method that helps a client to develop trust in our company and process. We understand that the goal of repurposing textile waste or waste in general cannot be achieved alone. We consider our competitors more to be collaborators as we are working on a big common cause.
Paiwand aims at upcycling of textile waste whereas most other companies are recycling and down cycling the waste, which means they are making low value products from items like mops, rugs and sometimes apparel. At Paiwand, we add more value to the products by using handcraft techniques. We work on a B2B model providing upcycling solutions and services to fashion brands and design houses. At present, we work with handcrafted techniques to add value to the waste we receive. We work as per the client's budget and requirements.
Paiwand mainly works on a B2B model where we collaborate with design houses and fashion brands, and help them upcycle their textile waste. The final fabric is then sold back to the fashion houses at a higher price so that they can create an exclusive upcycled sustainable product range for their own clientele. This has opened up a revenue channel for brands collaborating with us. Our model includes providing solutions to the brands for repurposing their textile waste as per their budgets and aesthetics. The clientele we work with is eco-conscious, sensible and sustainable, making our source of raw material and final customer for textiles one and the same. We also work on a B2C model where we design an upcycled range of products that includes apparel, home textiles and accessories, which we retail through multi-designer stores and online platforms.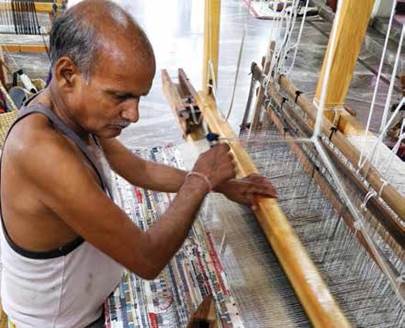 We believe that in order to make substantial change one starts to look at waste as a resource, especially in a country like India where waste is available in abundance. Paiwand's ideology is to use such waste as a raw material to develop meaningful textiles and high-quality products. We are focusing on making our techniques and process more accessible for fashion brands and designers by increasing our production scale and adding more designs. We are researching on developing upcycled yarns from textile waste to tap a bigger market. We are on a mission to upcycle 40,000 kg of waste by 2024. We are building a collaborative movement within the industry. In the near future we would want to collaborate with more people, reduce the carbon footprint and help create sustainable living space for future generations.
Paiwand was just a year old when the pandemic hit us. A few months before the pandemic, we were receiving a great response from the industry, as everyone's purchasing power was high. But since the pandemic, the industry has become more sceptical about investing in a new project and tried to stick to their bestsellers. However, we can see the market slowly gaining stability again and the end-consumer shifting towards conscious fashion more than ever. Our growth strategy lies in making the products and textiles more accessible to a bigger market. We are working towards making Paiwand a one stop upcycling/recycling solution for all the textile waste needs.
Lakshya Arora, Abha Agrawal, Hitesh Kanjale, Co-Founders, DesiHangover
DesiHangover was founded by a team of three-Lakshya Arora, Abha Agrawal and Hitesh Kanjale-in 2013. All three are believers of Indian craftsmanship and entrepreneurs at heart. While Lakshya and Hitesh met on an AIESEC internship in Egypt back in 2013, Abha who was Hitesh's college professor at that time, joined hands with them to execute the dream and launch the brand. The three have since brought the idea to life and created DesiHangover that provides 'Conscious Fashion for Your Feet'.
Our business model is extremely simple and Indian. Leather is upcycled around the production village where our artisans live and work. Treated with natural ingredients like turmeric and the barks of the sal tree, this leather then reaches the homes of our craftsmen. Once it reaches them, using the legacy and skills of an 800-year-old craft, Desis are handcrafted before being shipped to our warehouse in Mumbai where the quality control (QC) and packaging takes place, before being dispatched to different corners of the country and the world. The process also involves regular training and skilling of the artisans and a constant focus on product and design development.
For several reasons, our brand with its head office in Mumbai and production unit in Belgaum, Karnataka is inspired by the craftsmanship of the artisan community that we find across India in small villages. Each of these communities has a beautiful craft and a story that must be shared with the world—DesiHangover was our small attempt at doing that. We, in all possible ways, attempt to tell the story of our shoemakers based in a small village in Karnataka. With mass production having taken over, their skills were no more revered and cared for. Nevertheless, we realised their skills had the ability to compete with global products—which is why DesiHangover started: with the idea of shaping lives, making Indian handicrafts into a global brand and building better communities.
The idea was born during our AIESEC internship days in Egypt, where our "traditional" Indian shoes got appreciation from 25 nationalities. There! An idea! Handcrafted shoes from India for the world to wear!
Back home, we realised we had unearthed something much bigger. A story that began with procuring shoes, touched upon several topics from rehabilitating communities to reviving folk art, to creating employment and empowering a sustainable future through education. Suddenly, the idea of "selling shoes" was overshadowed by the ambition of "empowering an entire community of Indian artisans." Today, DesiHangover creates global market access for over 70 artisan cobblers (50 per cent of whom are women). All treated equally—be it pay scales or opportunities. We also adopted the village school, which tutors over 100 children.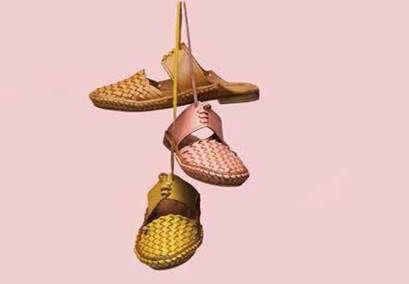 All the Desis are handcrafted by artisans, whose ancestors were engaged in the craft of leather weaving for over eight centuries (fun fact: they used to craft shoes for erstwhile royals). The midsoles of shoes are made from leather upcycled at local tanneries around our village cluster in Belgaum. The shoes are also pending patents for some added comfort and ergonomic support features that our teams have invented. The designs fill in the muchneeded void of comfortable handcrafted leather shoes that can be worn across multiple occasions and connect Indian handicraft to global trends and a global marketplace. Our target group is young professionals, who care and believe in sustainability, longevity and love beautiful shoes.
The various procedures start with designing by a team of highly qualified designers from NIFT, who are constantly in sync with market needs. The leather is then sourced from the tanneries who upcycle our midsoles and from other government-certified agencies. The shoes are then executed together with the experienced craft of our artisans and the insights from our designers. The shoes are then QC'ed by one of our master craftsmen and then by our team in Mumbai. Once approved, the shoes are shipped. There are numerous other brains and hands working at communicating the story and reaching out to people across the world. The pandemic has taught us all a lesson in pursuing conscious fashion / consciously-made products over exploitative fast fashion. That makes us all the more effective.
We are a digital-first brand. While our story is communicated everyday on our Instagram channel @desihangover, our shop front is on desihangover. com. All our advertising happens on Instagram, WhatsApp and Google. We also have partners like The Green Collective (Singapore); Leather Ore (US) and numerous others like Jade Blue, Delco and Urban Theka to name a few in India that help us reach out to audiences in different parts of the world.
We have pretty much had a 100 per cent year-on-year growth in terms of both revenues and our positive impact on the communities that make this craft possible. We are currently present in India, Singapore, Malaysia and the US, while we ship across the globe from our website. While there is no direct competition for our product category, there are tons of footwear brands. What differentiates us is the trademark craft and the story that is unique to our brand and every shoe that we produce.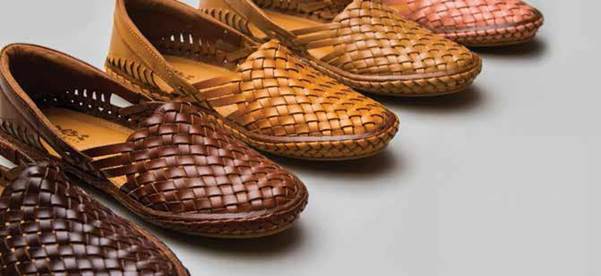 The cost of our shoes varies between ₹2,500 and ₹5,000. We are a consumer brand; hence, the shoes are for individuals, while we also provide access to the craft via our systems to major brands like FabIndia. We are a conscious fashion brand: we aim to scale 100 per cent year-on-year and reach out to more consumers with our products and stories in India, the US and Singapore. We plan to employ 500 craftswomen and men over the next five years and give them an opportunity to make a dignified living. We were a retail heavy brand (with 60 POS) that started its direct-to-customer (D2C) journey in early 2019—determined to increase our scale in the global markets. This contributed to building a digital-first approach that helped us perform even during the pandemic. We plan to build on this and scale further as a D2C brand.
Sujata Chatterjee, Founder, Twirl.store
Sujata Chatterjee, founder of Twirl.store, is an electrical engineer with a post-graduate diploma in management. She joined an IT company but spent most of her working career as part of the sales team at Hewlett-Packard India Sales Pvt Ltd (HP). Besides being a social entrepreneur, her Twirl.store is an initiative to reduce cloth wastage, encourage women's empowerment, conserve natural resources like water and meet the clothing needs of the less fortunate. The company's office is located in Kolkata.
We live in an age of a retail boom where everything is easily available to us through online-offline routes. This constant shopping led to my wardrobe being filled to the brim. Looking around, I knew my friends and family—everyone—had the same problem. Overflowing wardrobes, yet still shopping for new things and not really sure what to do with all the unwanted things lying on their shelves. This led me to think that there must be a better use for all these fabrics lying trapped in unwanted things, and there must be a better way to keep on shopping that will benefit society and environment too. Fashion as just a linear line of consumption bothered me increasingly and I knew it was necessary to make retail a sustainable circle. I felt deeply about the problem but realised there was not much being done about it. So, I decided "to be the change that I want to see" and launched the idea of Twirl.store.
While most brands/manufacturers are focused on consumption, Twirl. store is addressing socio-environmental problems associated with fabric wastage. Thus, the innovation of Twirl.store is in its business model and supply chain management which is aligned with the goals of (i) women's empowerment; (ii) minimising cloth wastage; (iii) supporting the clothing needs of the less privileged; and (iv) conserving resources.
The Twirl.store range of products is unique, eco-friendly and handcrafted with care by rural women. In fact, each and every Twirl.store product stands for sustainability and women empowerment.
Overflowing wardrobes is a very common issue among modern consumers, especially Gen Y and Gen Z. Modern, urban consumers are looking at convenient ways to solve their wardrobe worries and be "socially responsible." For them Twirl.store is the easy but rewarding solution they needed. At the same time, there is an increasing demand for unique, handcrafted eco-friendly products that help individuals stand out in the crowd. Organisations are also now developing environment friendly policies and want to be associated with women empowerment initiatives and use eco-friendly products for their regular use/gifting needs. Twirl.store caters to both these B2B and B2C segments.
Unwanted clothing/fabrics is collected from consumers/organisations across the delivery through dropoff boxes or free pick-up facility. The collected items are sorted and segregated for donation and upcycling. The clothing suitable for donation is kept separately and distributed at periodic intervals through huge drives in slums and villages. The material that is separated for upcycling is further utilised by rural women to handcraft different products. These talented manufacturers make products in range of bags, accessories, home-decor, gift items, etc. All these get sold online on Twirl.store or through offline modes. They also form part of bulk orders / corporate gifting.
Twirl.store is a social enterprise and we have not done any big-budget marketing/advertisement. Our growth has been organic and through word of mouth predominantly. We are a self-funded start-up, and this is just the beginning of our journey. The covid-19 pandemic has made us realise the need for socio-environmental initiatives like Twirl.store even more. In fact, over the last few months, our model of empowering rural women has been appreciated on social media by Niti Aayog too. Twirl.store has a mission and our focus towards the issue we are solving, along with our unique up-cycled products—this has helped establish Twirl.store as a brand with a difference and attracted more customers.
In India, there is perhaps no one else who has the same business model that Twirl.store does. There may be organisations working in upcycling or for clothes donation or with second-hand clothes, but only Twirl. store is focused on the entire circle of consumption. Twirl.store offers free home pick-ups or drop-off facilities for unwanted clothing/fabrics, etc. Also, our upcycled products are extremely reasonably priced at ₹199- 899 so that everyone can enjoy these handcrafted wonders. Twirl.store caters to both individuals (B2C) and organisations (B2B).
Our plans for Twirl.store include getting millions of people across the country connected to the Twirl circle! Together we can all Twirl to a better world! The road for Twirl. store, as a social enterprise, is a difficult one but we are happy to say we serve customers, individuals and organisations across the country. In two years, Twirl.store has conducted numerous donation drives across urban slums, villages ad shelters of West Bengal and basic clothing has been provided to over 3,000 needy people including the differently-abled, the elderly, children and many others.
At the same time, conserving resources like water through each product, thousands of fabrics have been upcycled till date. To encourage women's empowerment, Twirl has worked with various self-help groups / NGOs for extensive skill development training and has ensured sustenance for women from the lower economic strata by selling thousands of upcycled products handcrafted by them.
Twirl.store has been felicitated at the Tata Social Enterprise Challenge 2019 and apart from various prestigious awards, it has been named as one of the best ideas to transform India by IIM-C and DST, Government of India. UN Women and DO School, Berlin have also named us an "Industry Disruptor."
Parth Patil, Chief Executive Officer, Infinichains
InfiniChains was founded in 2018 with seed funding from Purushottam Agrawal, founder of Ajanta Pharma. The company started with the goal of solving the counterfeit drug problem in Uganda by using blockchain. Before co-founding the company, Parth Patil worked for 15 years in Silicon Valley in various technology leadership roles. The head office of InfiniChains is in Pune, with production units in Pune and San Francisco.
After working on the counterfeit drug problem in Uganda, we were looking at other sectors where our technology could be applied. That's when we met Shreyaskar Chaudhary, founder of Pratibha Syntex Ltd (PSL), a leading manufacturer of organic cotton-based apparels. We learnt that the sustainable cotton supply chain could benefit immensely by the use of traceability solutions based on blockchain. So, we started working closely with PSL to adapt our solution to the textiles industry.
Deep transparency at every stage of the sustainable cotton value chain is the USP of the product. We put a lot of emphasis on collecting evidence from the field along with the digital identity of the person collecting the evidence. Our target audience are fashion brands and their manufacturers. The system is a cloud hosted software platform. Our team of engineers has developed the software platform and we keep adding new features based on the feedback from customers. We are seeing increased traction in the non-apparel sector of textiles. Also, our platform is getting good adoption from the organic produce sector in India. We promote and advertise through LinkedIn, Twitter and other social media channels; our annual turnover is ₹1 crore. The growth factor of the company since its first year of production has been the deep customer support. Yes, there are competitors, but compared to others we have a more comprehensive solution for sustainable cotton textiles and our traceability insights are more detailed.
The system is also more flexible in adapting to needs to different customers. We have a volume-based cost model based on the number of goods tracked on our system and the complexity of the supply chain that we have to support. This system is aimed mainly at companies, but there is a consumer product too that allows retail consumers access the traceability of the product they are purchasing, though the brand has to enable this traceability aspect for their consumers by putting our QR code on the products.
Our plan is that we want to be the catalyst that helps accelerate the adoption of sustainable cotton fibre. With that goal in mind, we are building various features on our platform to empower organisations across the cotton value chain to switch to sustainable cotton with minimum effort and cost.
The pandemic has created challenges for the fashion industry and hence also affected us. But there are adjacent sectors in textile that are doing well. Also, the demand for organic food is growing rapidly where we have a compelling product.
This article was first published in the February 2021 edition of the print magazine.