The summer of 2021 brings a ray of hope and promises to offset the gloomy period of the bygone year. Ruby Sood discusses the noticeable trends in bridalwear for Summer '21.
The onset of 2021 brings along hope for a safer, Covid-free environment to celebrate special occasions like weddings yet again. The uncertain circumstances due to the pandemic have influenced bridalwear trends in terms of styling, fabrics, embellishments and trims. Though individualistic style statement reigns supreme, versatility is much sought while selecting the dress for the big day to adapt to last minute changes. There is a strong trend for convertible clothing offering different looks to the bride. Separable sleeves, removable trains and overskirts are some of the noticeable trends.
To offset the gloomy times, Summer 2021 is set to witness vibrant and playful prints like florals and graphical abstracts. Home bound for nearly a year, there is an innate desire to connect with nature this time of the year. So, 'botanical' is the prime theme as many designers take inspiration from the classical gardens and the blooms. Delicate floral patterns are embroidered or printed on sheer gauze and chiffons, styled into tiered gowns. Handmade flowers to accessorise simple, clean silhouettes accentuate the floral mood.
The focus this summer will be on fabric, the detailing and finish achieved through exquisite workmanship. Lace fabrics and tulle are prominent fabrics in the international bridal collections. Lightweight fabrics are fashioned into ruffles, tiers, and layers to add volume. There is also emphasis on bead work and embroidery.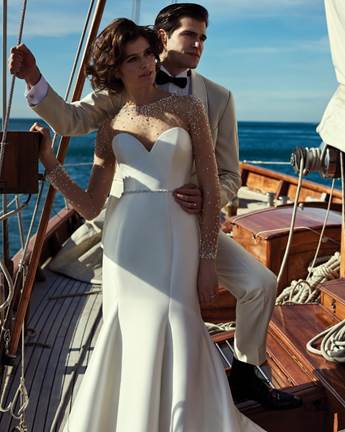 Justin Alexander's bridal collection
Renowned New York designer Justin Alexander who specialises is bridalwear has incorporated lace and glitter tulle in his summer '21 collection. "This season features eye-catching details such as bold beading and lace, floral and leaf motifs, attention to detail through impeccable craftsmanship," states Alexander. Though lace is a popular choice for bridalwear, the material has been explored in multitude of ways, be it 2D or 3D embroidery, applique, laser cut or multi-layered for unusual effects. Dutch designers Viktor and Rolf have contemporarised classic lace with graphical laser-cut lace borders to decorate a fitted satin gown. Alongside white on white embroidered fabrics, broderie anglaise are highlights of the collection. Evergreen fabrics like delicate crepe, organza, taffeta, charmeuse satin, duchesse satin and soft mikado are also part of the 2021 collection.
On the domestic front, lightweight silks, banarasi georgette, chanderi silk, brocade, mashru, modal satin, organza and crepe are fashionable. Breathable, airy and flowing fabrics like chiffon, sheer cotton silk blends and nets with subtle embellishment stand out.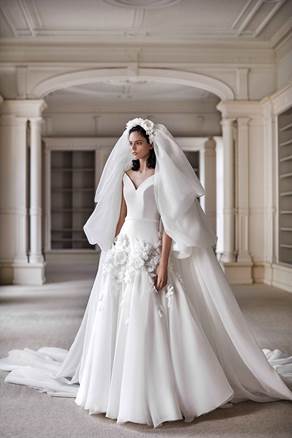 Viktor & Rolf's bridal collection
Alluring and intriguing, glitter and shine are here to stay for wedding fabrics. The runways showcase subtle glitter that is not over the top yet defines chic classiness. The dreamy look is accomplished by way of embellished surfaces using tone on tone beads, sequins, pearl trims and silver crystal embroidery on sheer layers of fabric. The beauty lies in the detail; intricately textured fabrics add elegance to a variety of silhouettes, from a flowing gown, short dress to a jumpsuit.
The Covid-19 scare has highlighted the importance of sustainable fashion and a growing concern towards the environment. Eco-dyed fabrics, biodegradable materials, handwoven textiles, handmade laces and trims, and fabrics made of recycled fibres are gaining importance. There is a desire for natural, indigenous fabrics and materials, and handcrafted techniques like crochet and macrame. Designers are also utilising recycled vintage laces and fabrics to create unique ensembles for the bride seeking for eco-friendly and ethical designs. Interestingly, the trend for changeable clothing with multiple looks is rising, giving an opportunity to repeat the dress for different occasions for the eco-conscious consumer.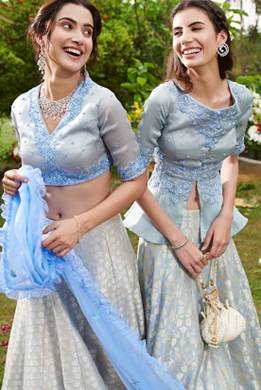 GG by Asha Gautam
Designer Gautam Gupta affirms that there is a lot of focus on styling and designing separates that are reusable. Today's bride would prefer to invest in a superior quality dress that uses environment friendly fabrics and materials, transformable and a prized possession that can be regarded as a family heirloom. British designer Vivienne Westwood has designed a sustainable bridal collection using eco-friendly fabrics like vegan silk and recycled polyester with adaptable style elements like removable sleeves, capes and trains. Indian designer Pratima Pandey points to the growing importance of using natural fabrics and sustainable trims as embellishments. The pandemic has paved the way towards a more sustainable trend, with focus on classic, finely crafted fabrics that can be cherished for many generations.